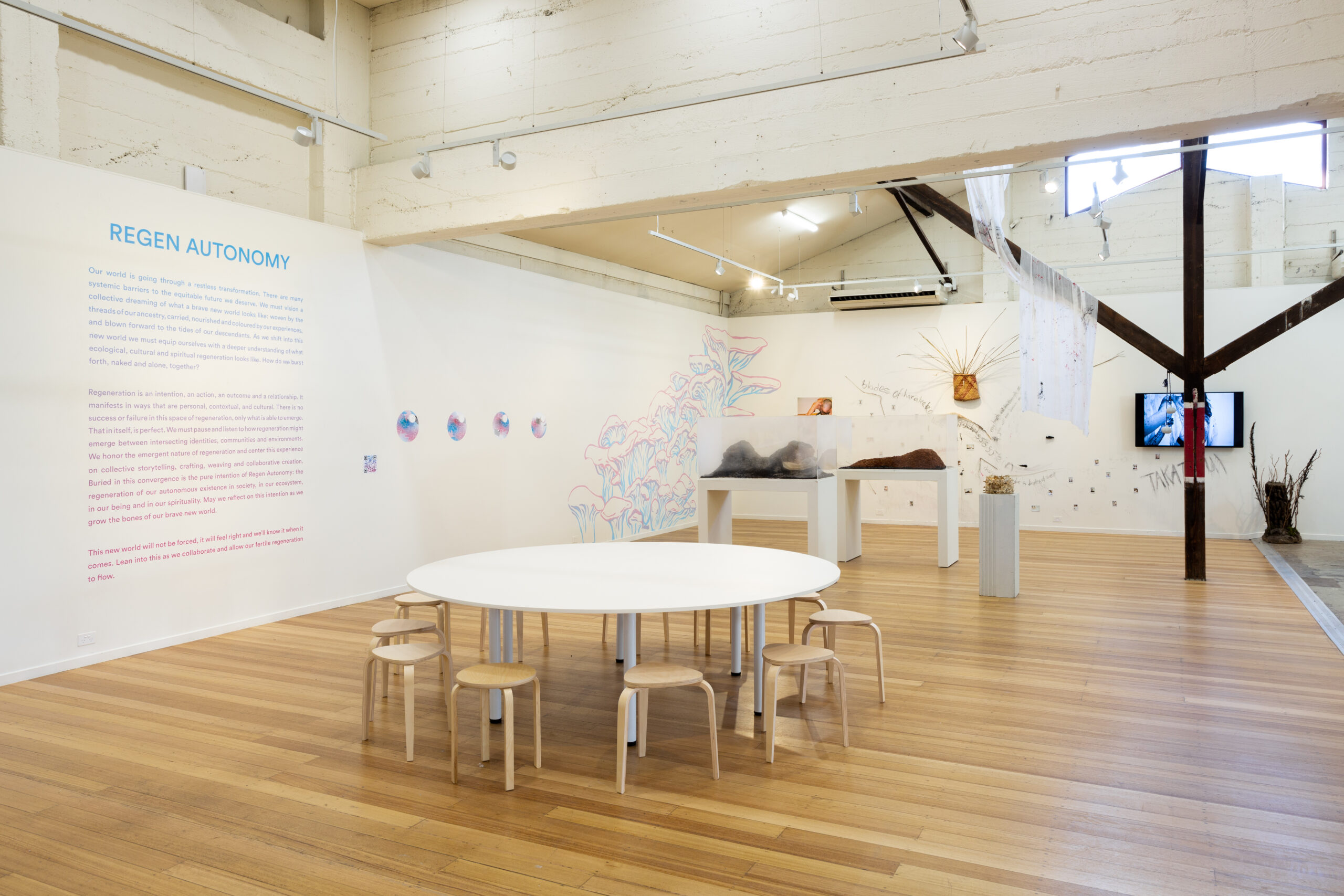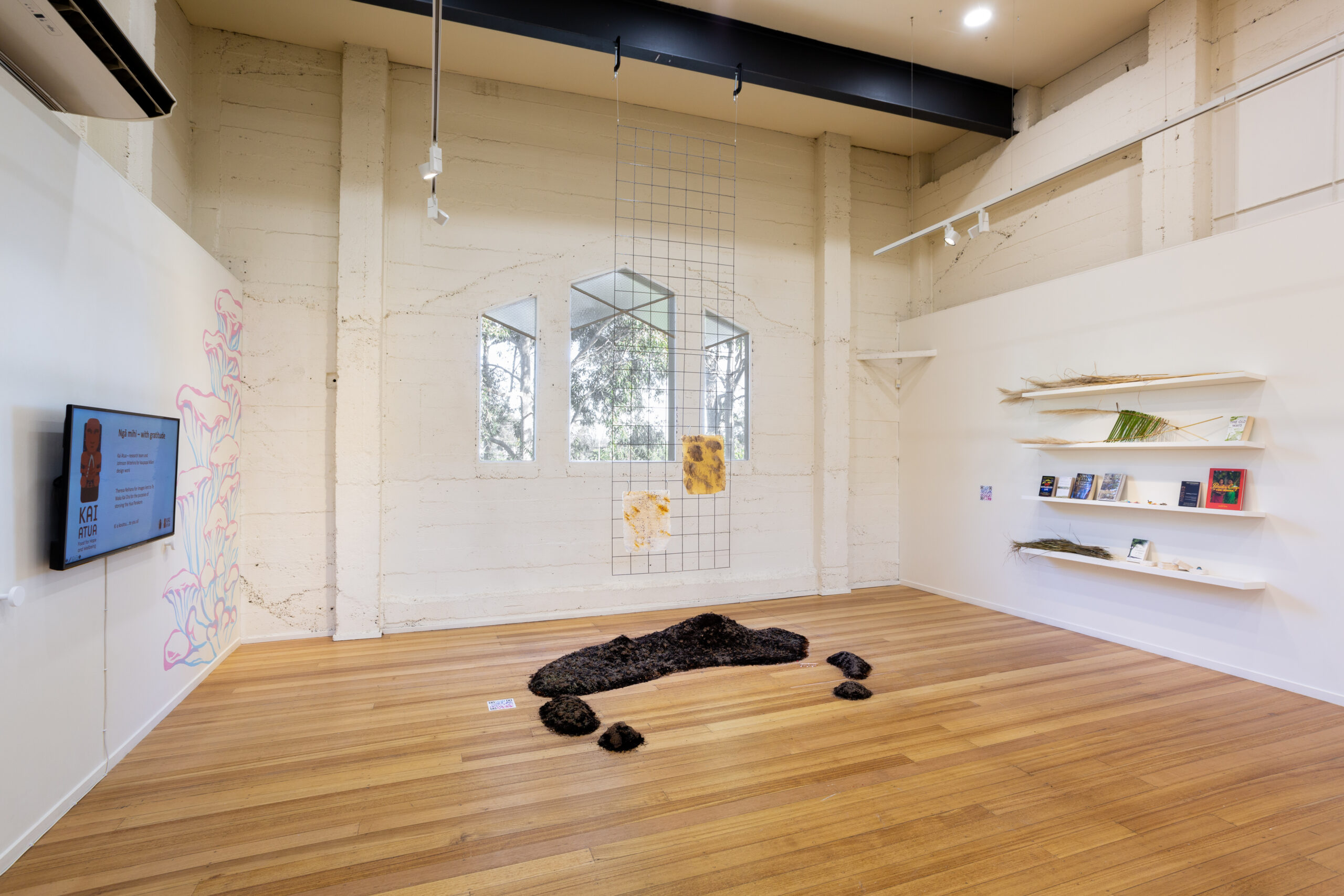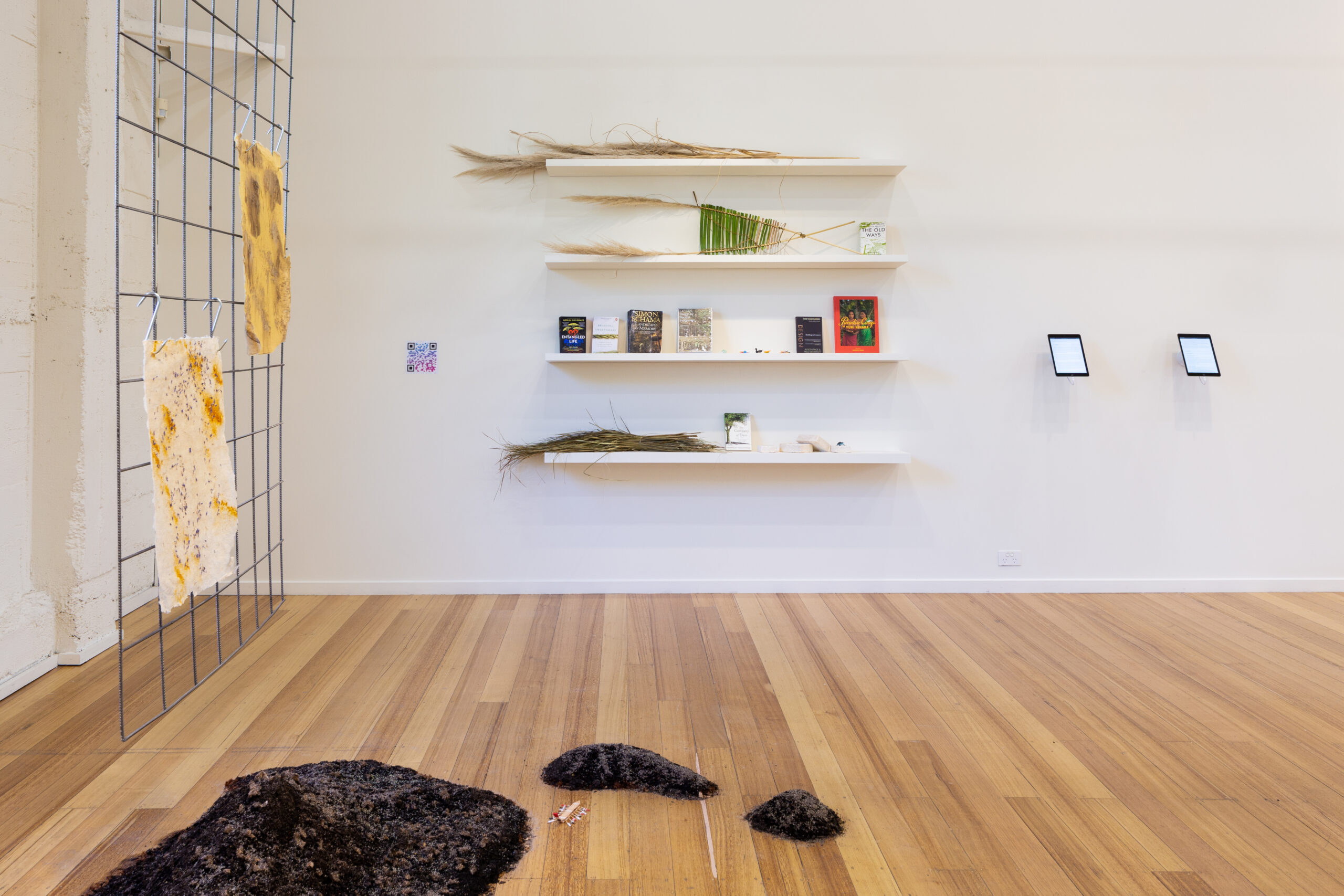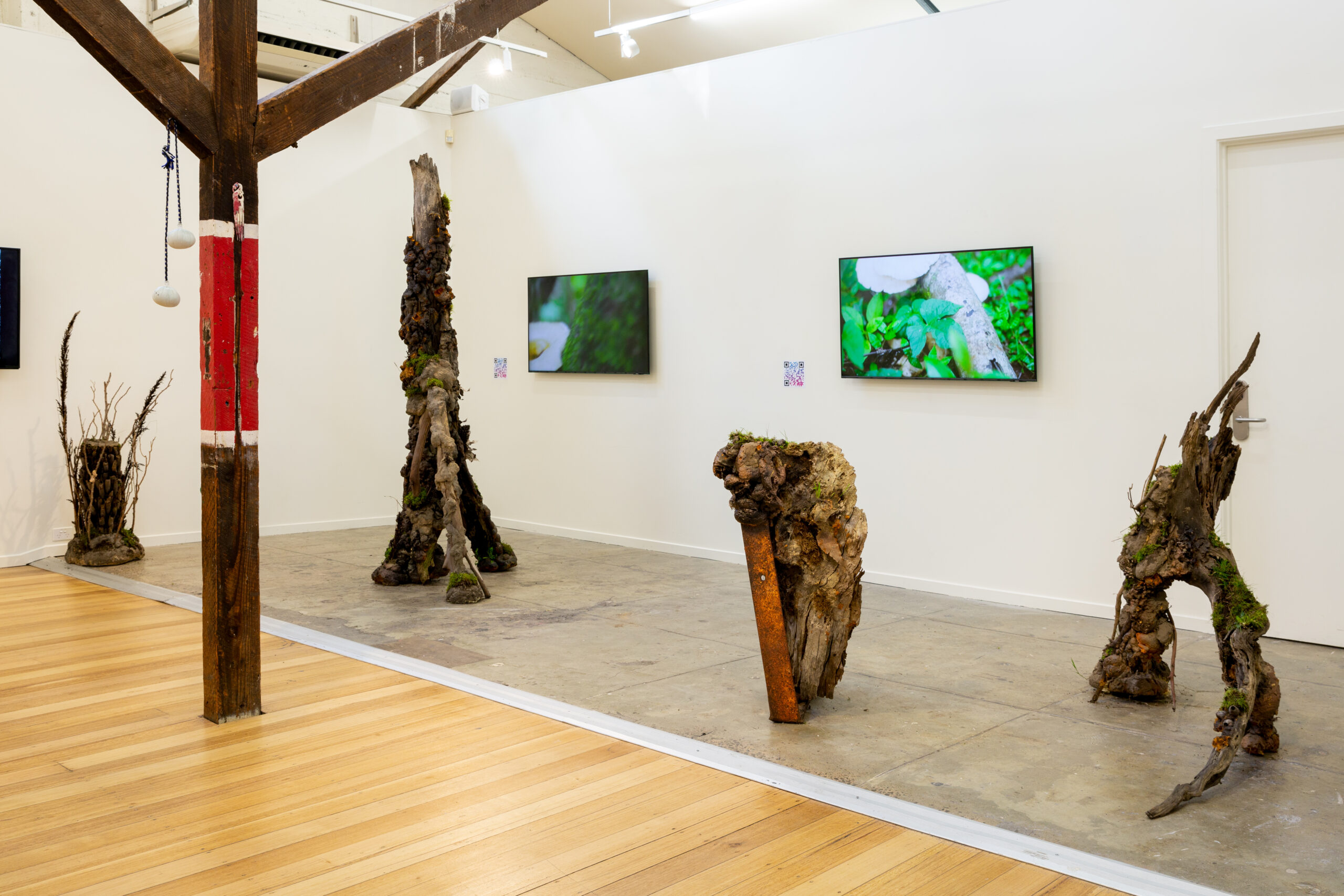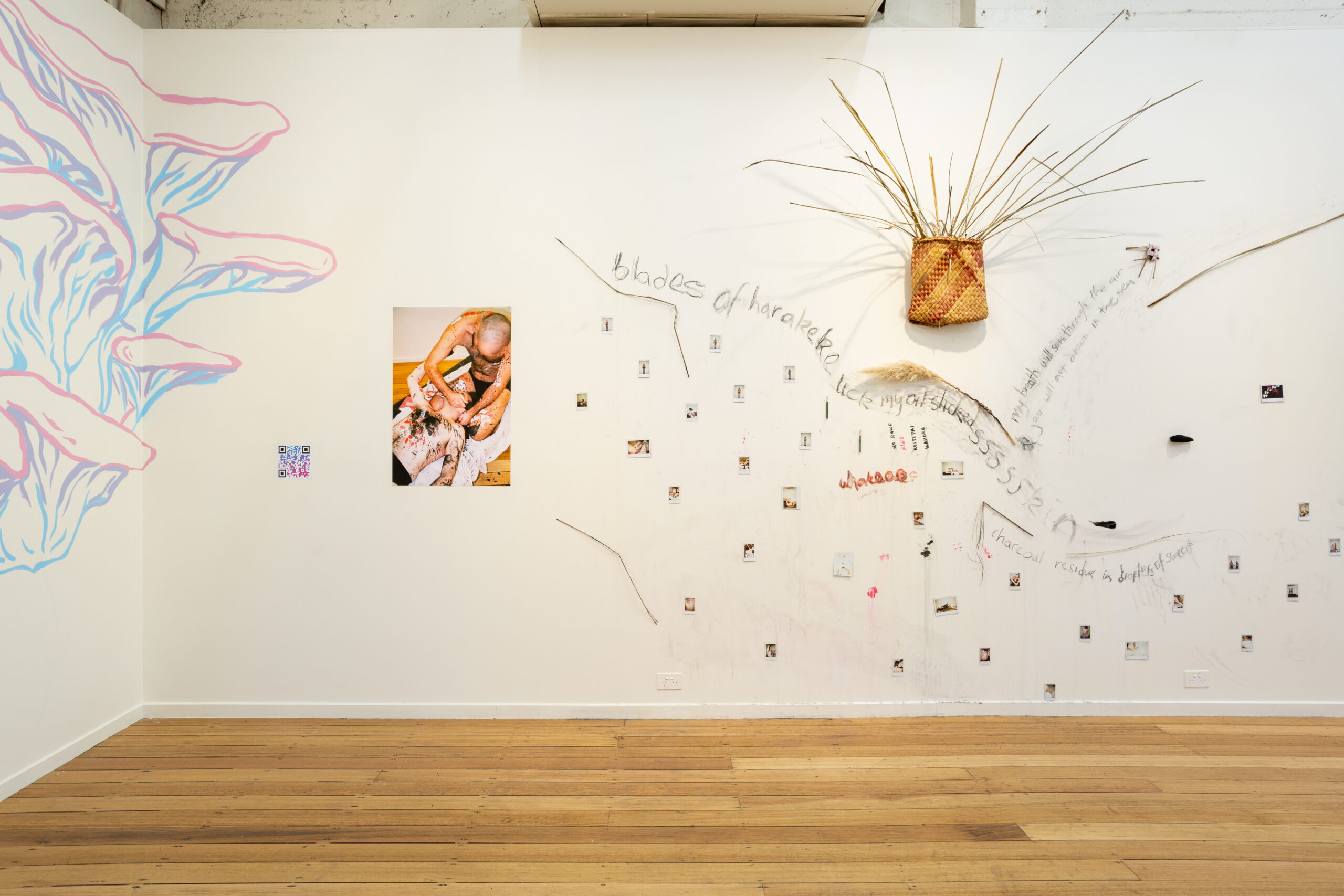 Regen Autonomy, 2022, installation view Incinerator Gallery. Photography: Lucy Foster
Regen Autonomy, 2022, installation view Incinerator Gallery. Photography: Lucy Foster
Regen Autonomy, 2022, installation view Incinerator Gallery. Photography: Lucy Foster
Regen Autonomy, 2022, installation view (with sculptures by Juan Rodriguez Sandoval ) Incinerator Gallery. Photography: Lucy Foster
Regen Autonomy, 2022, installation view (with installation detail by Guy Ritani, J Davies and kori) Incinerator Gallery. Photography: Lucy Foster
29 July 2022 - 4 September 2022
Regen Autonomy, the combination of: Regenerate (verb) to bring new and more vigorous life; and, Autonomy (noun) the right or condition of self-government.
In activist spaces, the goal is to combine collective efforts in order to achieve systemic change in policy, decision making, investment and resource dispersal. In activist spaces, we gather together because these things tend largely to be outside our direct control⁠—this is a viable top-down systemic approach when our core needs are met and we are able to regenerate ourselves.
Co-curated with Guy Ritani, this exhibition is an expression of a 2-week program tangibly uplifting regenerative culture within marginalised communities. Regen Autonomy presents an intersection of arts and activism supporting the direct micro-changes that individuals and communities require to disengage from degenerative over-systems. In doing so, the exhibition builds resources, resilience and stability within the autonomous control of these individuals and communities.
Guy Ritani (Ia/they/them) is a proud Ngāti Toa Rangatira, Ngāti Koata, Ngāti Kahungunu & Macnamara takatāpui Māori artist, activist, designer and teacher currently living on Wangerriburras Country. Their work is within the growing edge of our systemic relationships to whenua/Country, building food systems, economic support systems and housing that aligns to our planetary limits. Guy's interested in the ways we can use functional & cultural design to combat current systems of violence for a just and abundant future. Protecting Country is important to Guy because they know Country is the core of who we are as humans. Colonial violence, white supremacy and capitalism has shifted social norms away from the truth-telling of what our role on Country is. A majority of today's issues stem from this and Guy works to speak this reality.
Toad Dell (they/them/it) is an Irish/English settler living on unceeded land of the Wangerriburras People in so called Australia. They are a co-founder of PermaQueer, board member of Permaculture Australia and are deeply committed and passionate about using permaculture education to help break up the hegemony and reliance upon cultural systems of violence. Toad's favourite quote and guiding star is "the masters tools will not dismantle the masters house" by Audre Lorde. From that place Toad seeks to create systems of abundance, liberation and connection through the tools of transformative justice instead of shame and punitive violence, lest we use the language of liberation to perpetuate systems of violence under a progressive veneer. Toad enjoys long walks to the fridge, naps in the garden and learning, slowly, to play the banjo.
Juan Rodriguez Sandoval (he/him) is a Guatemalan-born, Australian interdisciplinary environmental artist and educator, working and based in Brayakaulung country, South East Gippsland (Victoria, Australia). His work and practice seek to create fictional manifestations coinciding and echoing the bygone place and era that has become historically and geographically distant. To create a mythos and lore that explores timeworn ecologies, ways of being, and how these passages and precincts should be practised and preserved. With an emphasis and interest in the aesthetics of scientific language and documentation methods, Rodriguez's practice is informed and moulded by bridging forestry, archaeology, topography, geology, geography, ecology, and fine art. He works with an array of earthly, bio-organic matter, found, recycled/up-cycled materials through contemporary technologies to bring a consensus and a studious experience to further remind the spectator about ecological awareness, culture, and sustainable approaches to art-making.
Sean Miles / kori (Ngāti Raukawa) is an interdisciplinary and process-based takatāpui artist, respectfully doing mahi on sacred Wurundjeri and Boon Wurrung land in Naarm. Sean predominantly utilises performance, installation, sculpture, photography, video and poetry as mediums to explore/articulate ideas, knowledge and stories. Sean's current practice spurs from an enquiry into the correlations between trickster archetypes in ancient knowledge systems and contemporary queer performativity, attitudes, actions and resistance tactics. Sean holds a particular interest in the stories of Māui—the trickster demigod of Māori mythology—and how Māui's clever wit combined with the powers of shape-shifting and interdimensional travel are used to undermine structural authority and cause a paradigm shift in power distribution - a social and systemic change that benefits those with less privilege and access. Inspired by gothic horror and speculative fiction, Sean manifests visions that confront the ongoing damage of colonial and heteronormative social structures, whilst concurrently fostering a space for contemplation on transgression, liberation, humour, healing, regeneration and resilience.
J Davies is a queer, agender, First Nations (Māori) photographic artist living and working on stolen lands of the Kulin Nation (in Melbourne, Australia). J graduated with a Bachelor's Degree of Fine Art from The Victorian College of The Arts in 2017 and has been exploring and experimenting with photography since 2008. Through the use of analogue and instant photographic processes, J is developing a body of work that highlights and celebrates the importance of queer life and community. Creating this work relies on the development of safe spaces and intimate relationships between artist and subject, which has shaped the artist's practice into one of empathy and collaboration.
Sonja Hammer (la/she/they)  is a diaspora First Nations Pasifika-Maori ( Ngati Kahungunu, Kuki Airani/Cook Islands ) woman originally from Aotearoa/NZ, identifying as Takatapui ( 'queer' meaning in Te Reo Maori/Maori language ), and is Takiwatanga ( Autism spectrum ). Sonja is an experienced radio broadcaster, beginning in 2009, producing community radio as diverse as an intersectional feminist show, to the longest running queer speculative genre show and podcast on Australia's only full-time LGBTIQA+ radio station Joy 94.9. Currently she is a co-producer of an informative queer Pasifika podcast called PXWhanau airing once a week on the experiences and impact of Covid-19 on queer Pasifika Australians. Sonja is the co-founder of the first Australian LGBTIQA+ pop culture advocate organization called Queer Geeks of Oz. It was with this platform that she and her queer cohorts were able to hold panel discussions on the importance of queer culture within video gaming,comic books, TV and cinema.
Amanda Morgan is the Co-Founder at Fungi Solutions. She leads the research and development of our cultures into Mycomaterial products. She brings expertise in innovative social and environmental programs and an enthusiasm for helping others to get involved with cultivating fungi. With initial focus on the development of a targeted recycling program, using the material by-product from the process as circular packaging, Amanda has developed a range of targeted mycelium strains for the remediation of pollutants and the production of Mycomaterials (alternatives to single use plastics, animal by-products and timber milled products).
Cainne (they/xim) is an art worker, body worker and sex worker who is currently prioritising rest. They are focused on taking part in the creation of new frameworks that support collective safety and wellness for intersecting communities that they are a part of. You can find out more about them and their projects by getting in touch through their instagram profile @beyonceskneesplease
Bexx Djentuh-Davis (she/her) is a Ghanian/Maori (Tainui, Ngati Maniapoto) woman from Aotearoa. Bexx has been working with communities outside of her role at the drum for over 7 years! This role has encouraged Bexx to think more about supporting future generations and ensuring they can use the tools they have to enhance their existing leadership capabilities! Bexx has prioritized QTPOC communities through engaging with topics of inclusion, accessibility and art practices. Through events such as 'Strength in Visions' with Fringe festival, mentorship with the creation of 'Mana' for Darebin-feast, she supports young people to connect with their wider communities and resources. Bexx has a leading role in (in)visible and Queer International English Classes.
Korra Koperu (she/they) is Māori and Moriori whakawāhine. They have been advocating for TGNB youth since they were 13 and have had to navigate through legal barriers and discrimination to be the person they are today. Korra is passionate about intersectionality and collaborating with QTIPOC young people to ensure that we all have a place at the table and we are represented, heard and seen in conversations that we are often disproportionally excluded from. Korra was instrumental in creating events like Whittlesea's first Rainbow Summit, Dance The Rainbow (disco), and has created training videos like The Rainbow Film Project and Youth Against Risky Drinking campaign.
​
UPCOMING
Join co-curators Guy Ritani (Ia/they/them) and Jake Treacy (they/them) for a round table discussion on Regen Autonomy. Built through meaningful engagement of community-led workshops, this round table discussion offers an opportunity of reflection upon regeneration from the curators, community members, and artistic collaborators who have contributed toward this collective world-building and nurturing. You are invited to join us in reflection at the close of the exhibition with a cup of complimentary tea.
PAST
Permaculture & Queer Regenerative Design
Saturday, 30 July, 11am-3:30pm
What is Queer Regeneration? A workshop on how can we use Permaculture design & queer theory to transform our pathway forward.
Permaculture can be an incredible design methodology to help create equitable systems that care for community and the planet. Alternatively, it can be another tool of eco-colonialism if not implemented meaningfully or with the feedback from diverse communities. Permaculture has so much to offer in terms of tangible systems design support to Queer communities and Queer folks. Queer theory is equally helping steer permaculture into increasingly diverse and equitable outcomes. The fringe edge of innovation and transformation has always been queer. Queering the pathway that have been laid before us has never been more important.
Click for more information and tickets.

Kōrero reGENERATION
Sunday, 31 July, 12-3:30pm
Kōrero REGENERATION is a workshop, Rauhi, a gathering, a Talanoa, a skill sharing on the art storytelling through podcast.
Kōrero REGENERATION is a workshop, Rauhi, a gathering, a Talanoa, a skill sharing, that brings together people who want to learn how they can turn their personal stories into a podcast style recording. They will be able to take home with them a copy of this podcast, with the option for it to be integrated into the Regen Autonomy exhibition space. Sonja as the host/ facilitator will guide participants in interviewing styles, microphone work, and HDZoom recorder techniques which will be provided on the day.
As a host/facilitator, Sonja Hammer (Ia/she/them) wants to be able to work with participants in this Rauhi workshop, guiding them to tell their stories, share their yarning and develop these into a recorded kōrero that is up to 10 minutes long. Collected into a podcast capsule, the kōrero can then begin it's time to be heard and thought about, bringing laughter, hope, intrigue, reason, delight and connection. After completion, with consent, the recording will become a featured part of the Regen Autonomy Exhibition.
There will also be Kai (food) to share.
Click for more information and tickets.

Mycelial Bloom
Tuesday, 2 August, 11am-2pm
Mushrooms & Mycelium, our greatest regenerators! A workshop on their amazing functions and learn to make mushroom paper!
This workshop focuses on the powerful regenerative role mushrooms play in our ecosystem. Mycelium is the filament network underneath a mushroom and acts in incredible ways to sustain the lifecycle of an ecosystem. Joined by incredible mushroom enthusiast, founder of Fungi Solutions and Mycopreneur, Amanda Morglund, we learn about the incredible functions these strange creatures play in our environment.
In the social environment, our role in regeneration can function in many ways like mushrooms. Together, we map the ecological function of Mycelium against our social patterns to illuminate the areas of regeneration we can burst forth into. Using mushrooms to guide us, this workshop engages hands-on action of mushroom paper crafting so we can uncover the mycelium knitting network together. Using waste materials to be created, the beautiful textural paper can be used for a range of incredible purposes. What a great place to start regenerating.

A Labour of Love: A Teen Mother's Reflection on Abortion, Adoption, Access and Authority
Monday, 29 August, 7-8:30pm
A Regenerative workshop on a teen mother's reflections: abortion, adoption, access and authority
In the wake of the overturning of Roe vs Wade, an African American Adoptee and Birth Mother shares a brief history of their experiences on both ends of the Industry and invites attendees to brainstorm for a future where unplanned children and unsupported pregnant people are at the forefront of care work for scattered bloodlines.
This is an online workshop.