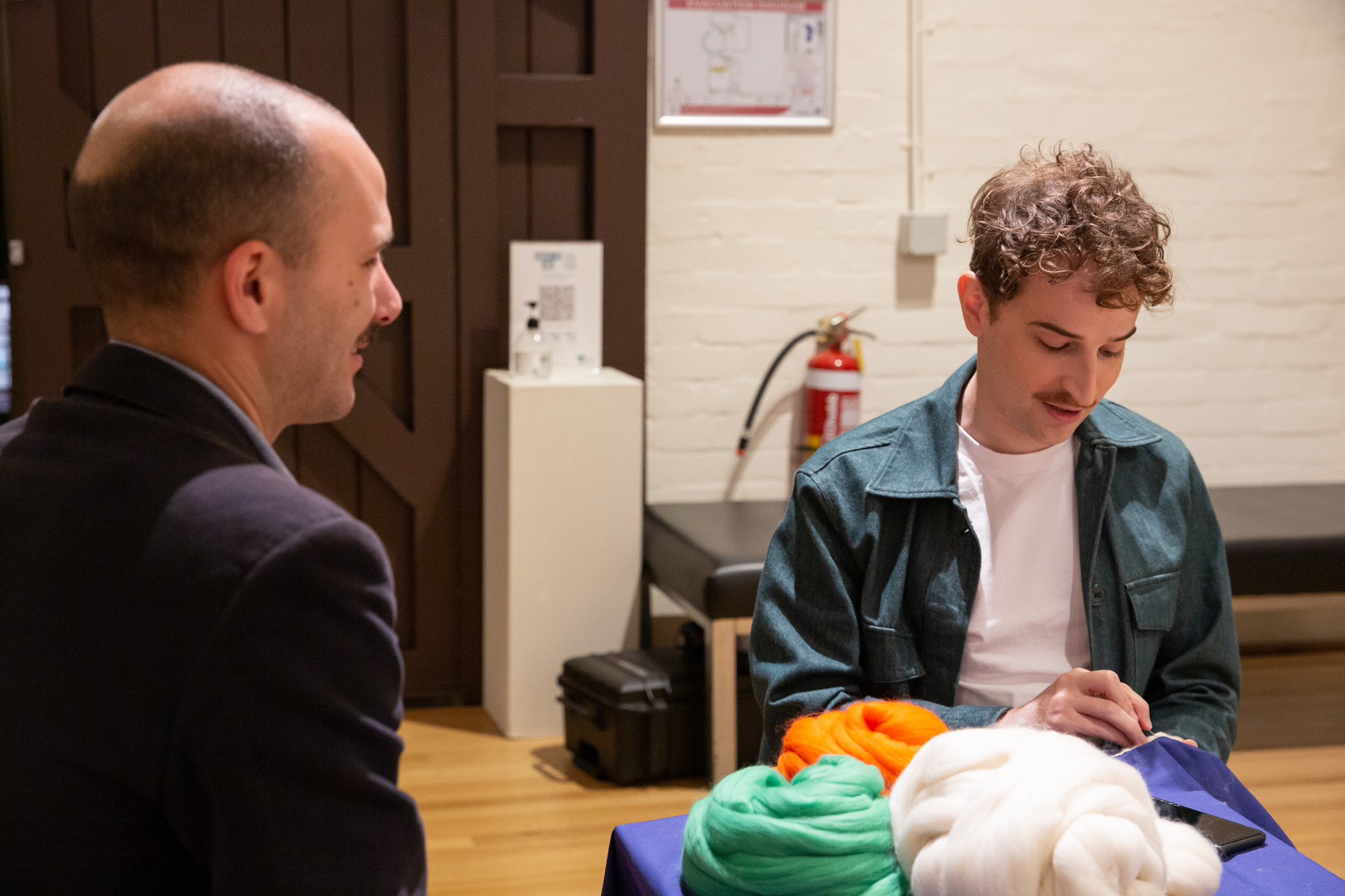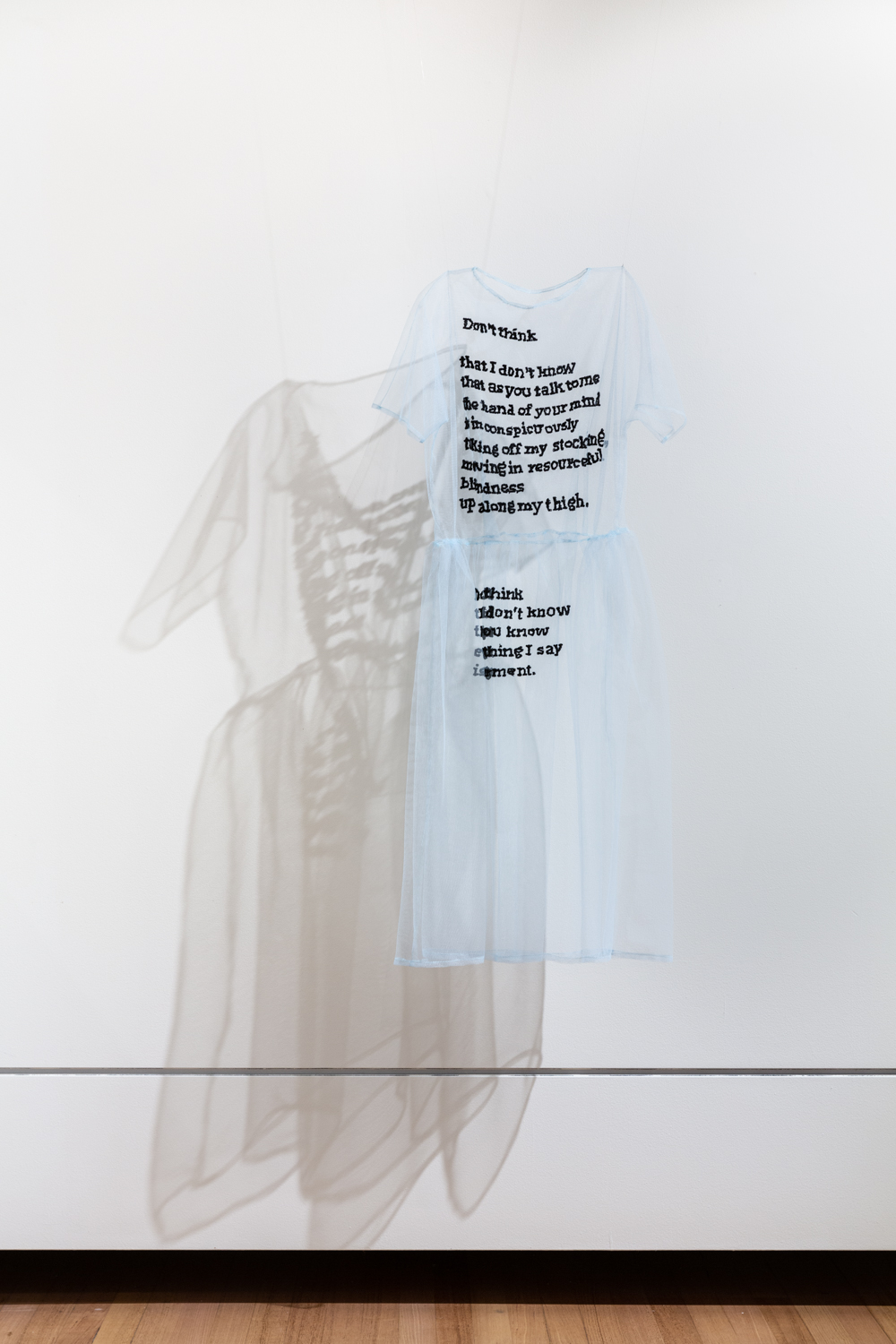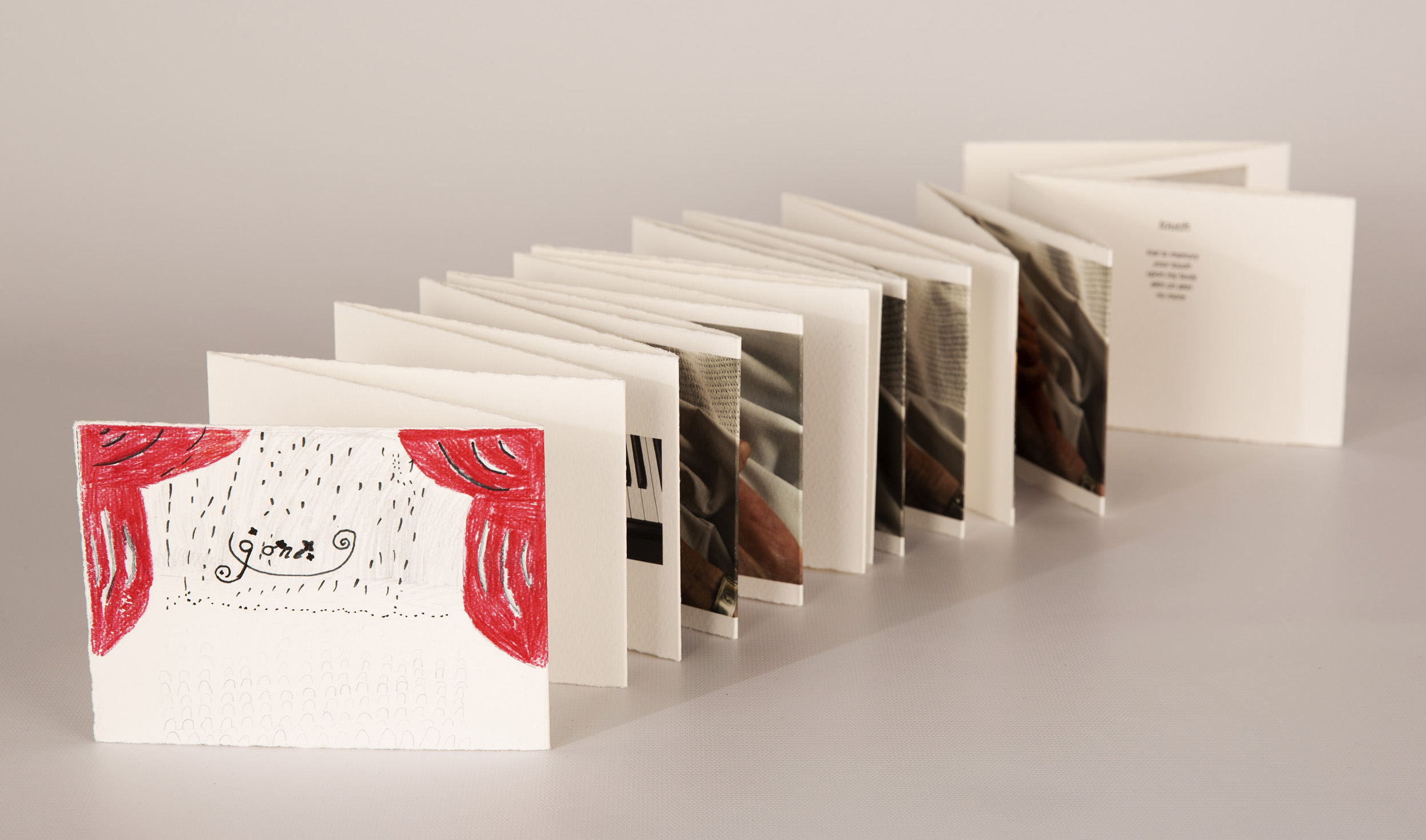 Even more beautiful IRL (detail), 2022, installation view in Boadle Hall. Photo by Janelle Low.
Even more beautiful IRL (detail), 2022, installation view in Boadle Hall. Photo by Janelle Low.
Even more beautiful IRL, 2022, installation view of work by Ema Shin. Photo by Janelle Low.
Even more beautiful IRL (detail), 2022, installation view of works by Josephine Mead. Photo by Janelle Low.
Even more beautiful IRL (detail), 2022, installation view of works by Karima Baadila. Photo by Janelle Low.
Even more beautiful IRL (detail), 2022, installation view of works by Amelia Dowling. Photo by Janelle Low.
Luciano, Spinning Yarns, 2022, public performance & textiles, 55 x 55 cm. Photo by Lucy Foster.
Aaron Billing, Sampler quilt, 2022, Embroidery floss, linen, cotton, velvet, silk and calico, 146 x 205 cm. Photo by Janelle Low.
Madeline Bishop & Celine Dore, Crossover 1-5, 2022, framed Inkjet print, 57 x 59 cm (each). Photo by Janelle Low.
Mig Dann, The Colour of Time (Sous Entendu), 2017, fabric, thread, embroidery, 58 x 10 x 103 cm.
Mig Dann, gone, 2022, artist book, photographique rag paper.
19 April 2022 - 29 May 2022
Artist(s): Aaron Billings, Amelia Dowling, Ema Shin, Josephine Mead, Karima Baadilla, Luciano, Mig Dann, Madeline Bishop and Celine Dore
Even more beautiful IRL is a group exhibition which seeks to savour moments of human intimacy and physical tenderness amidst the backdrop of a global pandemic.
Artists Aaron Billings, Amelia Dowling, Ema Shin, Josephine Mead, Karima Baadilla, Luciano, Mig Dann, Madeline Bishop and Celine Dore have utilised multiple mediums, including photography, textiles, painting, poetry, and storytelling to reflect on the deep and enduring impacts of Melbourne's lockdowns.
Exploring themes of intimacy, closeness, and connection, the exhibition examines individual and societal shifts and challenges created by the need for social-distancing and the subsequent loss of face-to-face interactions as a result. In some instances, it has not been possible to be with or touch those we love, and much of our regular social interaction has been moved online. While isolation, disconnection, and loneliness have been felt by many throughout this experience, Even more beautiful IRL celebrates the personal and communal significance of re-connecting with art and with one another, in real life.
Join us for the opening of Even more beautiful IRL in Boadle Hall, alongside Incinerator's other April exhibitions, Aeon Resurrection curated by Jake Treacy in the Main Gallery and Explosive Forming by Nicholas Burridge in the Atrium.
Opening event: Friday 22 April, 6 - 8pm
Audio recordings of each artist statement is available to listen to here.
Aaron Billings (he/him) makes work featuring the male form, particularly the feminised male form. Aaron focuses on versions of masculinities that mess with gender representation, alternatives to capitalism, and resisting homogenisation. His work through the medium of zines, comics, books, and textiles ties into queer art through history, exploring queer political power and agency, and resistance to heteronormative ways of seeing.
Amelia Dowling is a Melbourne based textile artist and curator. Trained in fashion design, art history and curatorial studies, Dowling uses textiles, language, and embroidery to explore the intimate and the public power that art holds to connect, protest, subvert, play and heal.  Dowling's work explores concepts of vulnerability, memory, and the unconscious. The result is a visual study of radical softness and resistance interwoven with grief and humour. Dowling exhibits in solo and group exhibitions, undertakes commissions and her work is held in private and commercial collections in Australia, New Zealand, and the UK.
Ema Shin is a Japan born Melbourne based artist of Korean descent who studied traditional and contemporary printmaking at university in Tokyo andcompleted a Master of Fine Art degree in Nagoya. Her work incorporates tapestry, mixed media embroidery, printmaking and paper-mache and presents mental and physical experiences and the fecundity of the female body. Shin aims to create compositions that express sensitivity for tactile materials, the contemporary application of historical techniques, physical awareness, femininity and sexuality. Shin has exhibited in solo and group exhibitions, was awarded first prize of the Kate Derum Award of small tapestries in 2017 and has conducted a number of woodblock print and textile workshops and artist residencies in Australia and abroad.
Mig Dann is a Melbourne-based artist who is undertaking a practice-led PhD in the School of Art, RMIT University, Melbourne. Her art practice is multi-disciplinary and autobiographical, exploring and expressing issues of childhood trauma. Her work is informed by memory and forgetting, absence and presence, feminism, queer culture and decades of lived experience. Making memory visual and working with it as a set of possibilities is a strategy that she is investigating through installations that combine objects, sound and moving images, in order to explore the poetics as well as the politics of memory and personal cultural history. Mig has exhibited nationally and internationally. In 2016 Mig was commissioned to make a site-responsive work for the Sculpture Walk at Wesenberg Sculpture Park, Mecklenburg, Germany, followed by a six-week residency, where the research on memory originated.
Josephine Mead is a visual-artist, writer & curator, based on Wurundjeri woi-wurrung Country. She works through photography, sculpture, installation, sound & text, investigating personal notions of support. She has exhibited widely in Australia and abroad and has undertaken residencies in rural Victoria, Mexico, Portugal, Turkey & Germany. Her recent work has positioned female family members as support structures; examined the body as a site of discursive practice; explored the sonic nature of images and writing; re-imagined language as an embodied experience; and investigated notions of deep listening. She is co-founder of Co- Collaborative Publishing & Chair of Artistic Directors for Blindside Gallery.
Madeline Bishop is a photography and video artist based in Melbourne, Australia. Bishop's work is conceptually centred around relational dynamics. Exploiting the persistent tension between distance and closeness in photographs, Bishop's work uses a performative and constructed approach to dissecting the relationship between photography and intimacy. Bishop is a Master of Fine Arts graduate with First Class Honours from the Victorian College of the Arts in Melbourne and recently won the 2021 Perth Centre of Photography IRIS Award.
Celine Dore is a Melbourne /Naarm based artist whose work spans drawing, videography and animation. Celine combines analogue and digital techniques, incorporating lo fi digital software such as MS paint with delicate drawings. Her work finds parallels in tongue-in-cheek symbolism and nuanced, personal anecdotes.
Karima Baadilla lives and works on Dja Dja Wurrung country. Her creative practice is informed by her personal quest to find her place in the world as a migrant settler in Australia, by exploring the emotional and psychological aspects of a person's life.
In many of her works, Baadilla paints on top of old paintings in an attempt to create new spaces in existing ones. The aim is not to erase the past, but to add new perspectives and dimensions. The act of choosing to de-frame, re-paint, re-frame and then re-define an existing painting is to demand space where there is none. It adds layers of time, space, place and history instead of creating a wholly separate figurative world – rejecting the notion of 'othering'.
Luciano is a Melbourne-based arts educator and multidisciplinary artist. Inspired by domesticity, traditions of storytelling and the interwoven relationship between society and fibre, his artistic practice explores aspects of human nature, the shared and differing experience of communities and the relationship between people and textile crafts.
Exploring various handcraft techniques, Luciano endeavours to link contemporary society with craft traditions through interactive experiences, intertwining the stories, symbolism, and memories of his materials – and those of the participants – into new forms.
Public Program
Spinning Yarns by artist Luciano is a site-specific, public performance and interactive textile artwork, which records local stories within spun wool. Over the course of the exhibition, Luciano invites you to sit with him at the worktable in the gallery and engage in conversation as he spins yarn, incorporating your stories into the design of the final tablecloth work.
If you would like to participate, the work will be presented during the opening event on Friday 22 April, 6.00 – 8.00pm in 30min intervals, no bookings required.
If you would like to participate after the opening event, please book a free ticket to confirm your time.