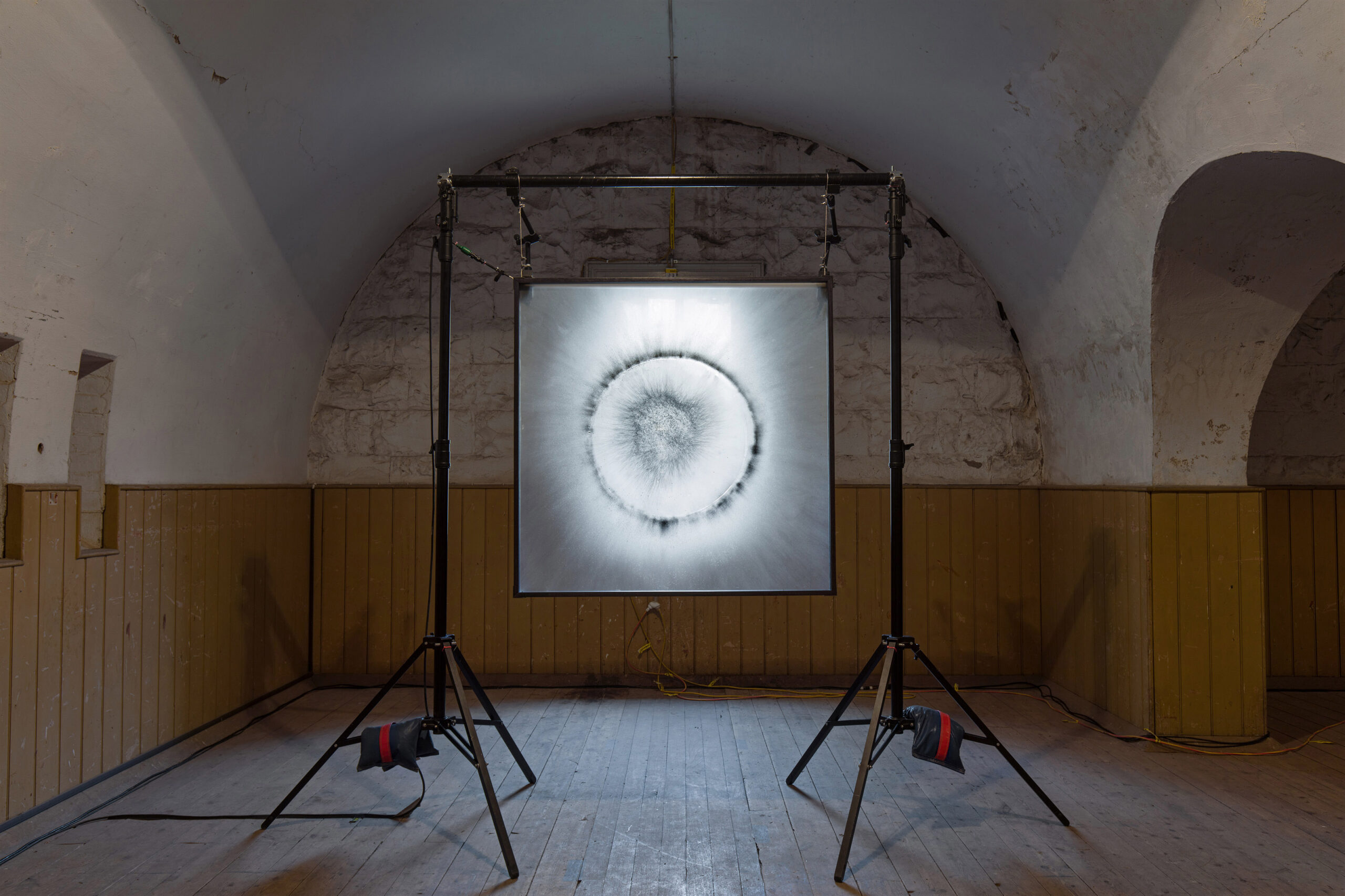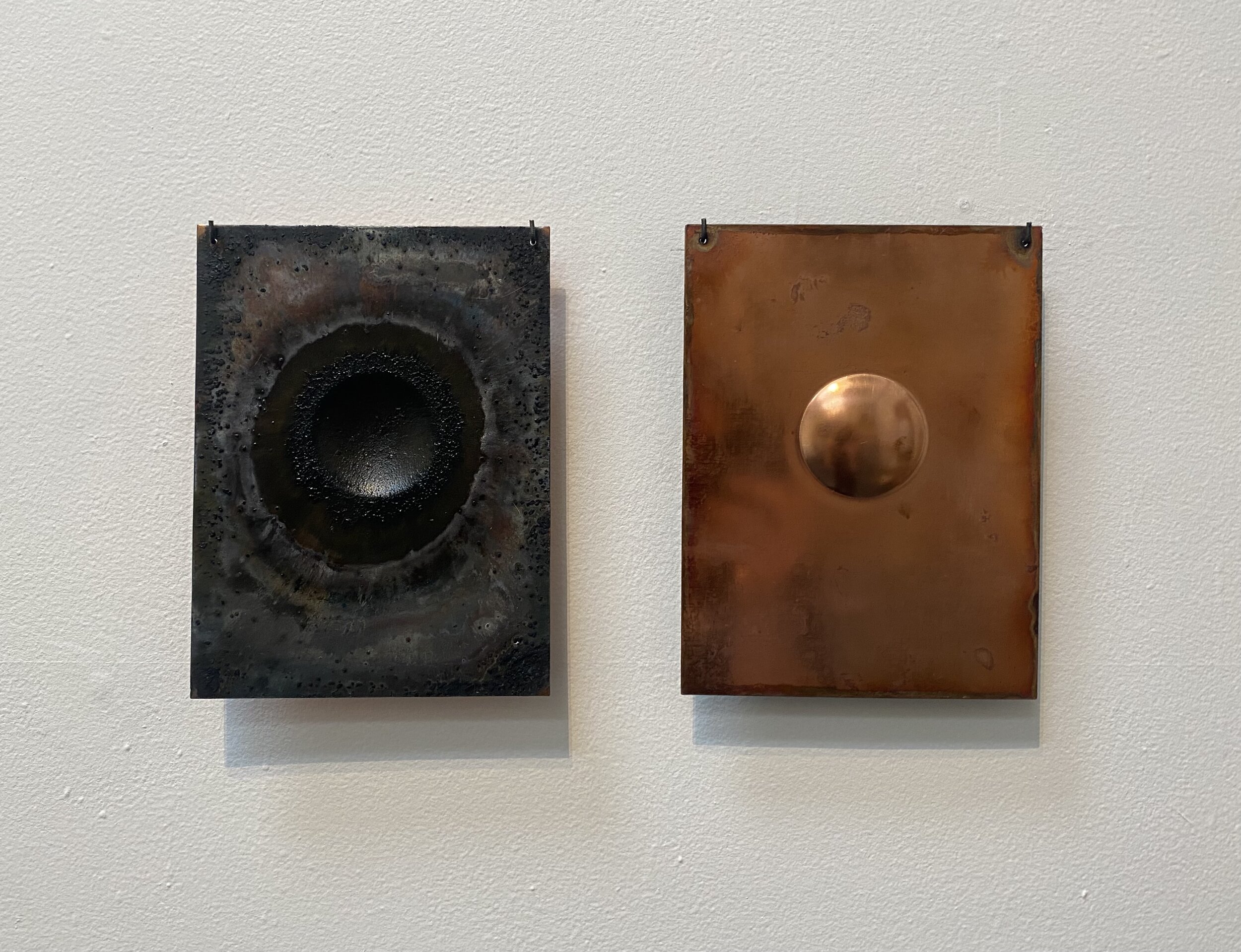 Nicholas Burrdige, Sitting at the Edge of Eternity 2019, glass, gunpowder residue, timber, and steel cabling
Nicholas Burridge, Explosive forming (diptych) 2021, copper, gunpowder, edition of 7 + 2 AP's
Explosive Forming: Nicholas Burridge
19 April 2022 - 29 May 2022
Artist(s): Nicholas Burridge
Explosive Forming is an exhibition illustrating and investigating the complex interplay between industry, ecology, and geology. Artist Nicholas Burridge takes its starting point from the local Footscray Munitions Factories, a site adject the Incinerator Gallery.
The conceptual foundation for this project is metaphoric, drawing a parallel between the mark left by a bullet or bomb and the mark left on a landscape by industrial manufacturing. Both are examples of energy transfer—they leave a mark that radiates from an epicentre.
Adapting bullet casing manufacturing techniques traditionally used in the munitions industry, Nicholas has developed a unique process that forms brass utilising gunpowder. The force of the exploding gunpowder pushes the brass sheet into a hemispherical mold. As time passes and the copper and sulphur react, processes of oxidisation, growth, and corrosion become evident. This chemical aftermath mimics the heavy metals and chemicals remnant and still reacting within the landscape after the munitions industry has since left.
Nicholas Burridge is an emerging artist who grew up in central Victoria and is now based in Footscray, on the traditional lands of the the Wurundjeri Woiwurrung and Boonwurrung people. His art practice explores the complex relationship of humans altering their environment, with a particular focus on the earth sciences in the age of the Anthropocene. He recently completed a Residency at Melbourne's Living Museum of the West culminating in his solo exhibition 'Terraforming'. He has been apart of NotFair 2021, the Incinerator Art Award, Footscray Art Prize and holds a Bachelor of Fine Arts from Monash University 2016.
Walking Tour and Artist Talk: Explosion Forming X Jacks Magazine
Sunday, 1 May, from 1pm

Join artist Nicholas Burridge and Incinerator Gallery curator Jake Treacy, alongside former munitions worker Andy, for a walking tour of Jack's Magazine. 
Nicholas' recent research and practice illustrates the implications of industry within Melbourne's west as illustrated through sculpture and explosives presented in his exhibition at Incinerator Gallery.
In conversation with Nicholas' exhibition Explosion Forming at Incinerator Gallery, participants will explore Jack's Magazine – the intriguing former explosives storage facility by the banks of the Maribyrnong River. Opened in 1878, Jack's Magazine has been locked up and unused since the 1990s. Jack's Magazine is now open for regular guided walking tours. 
TICKETS
Please note this walking tour and artist talk will only be conducted on Sunday, 1 May. Please select tickets for this date. Limited spaces available.