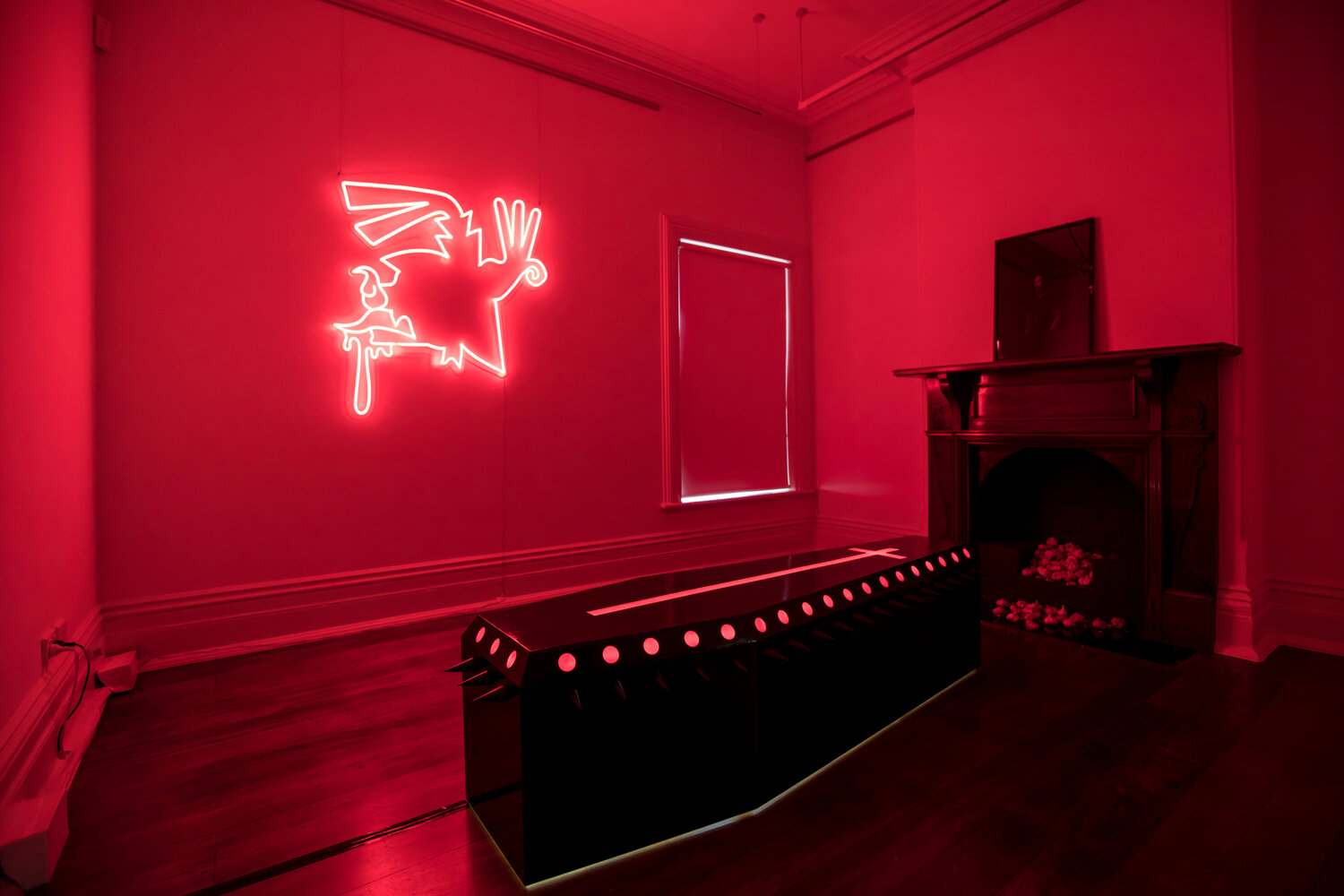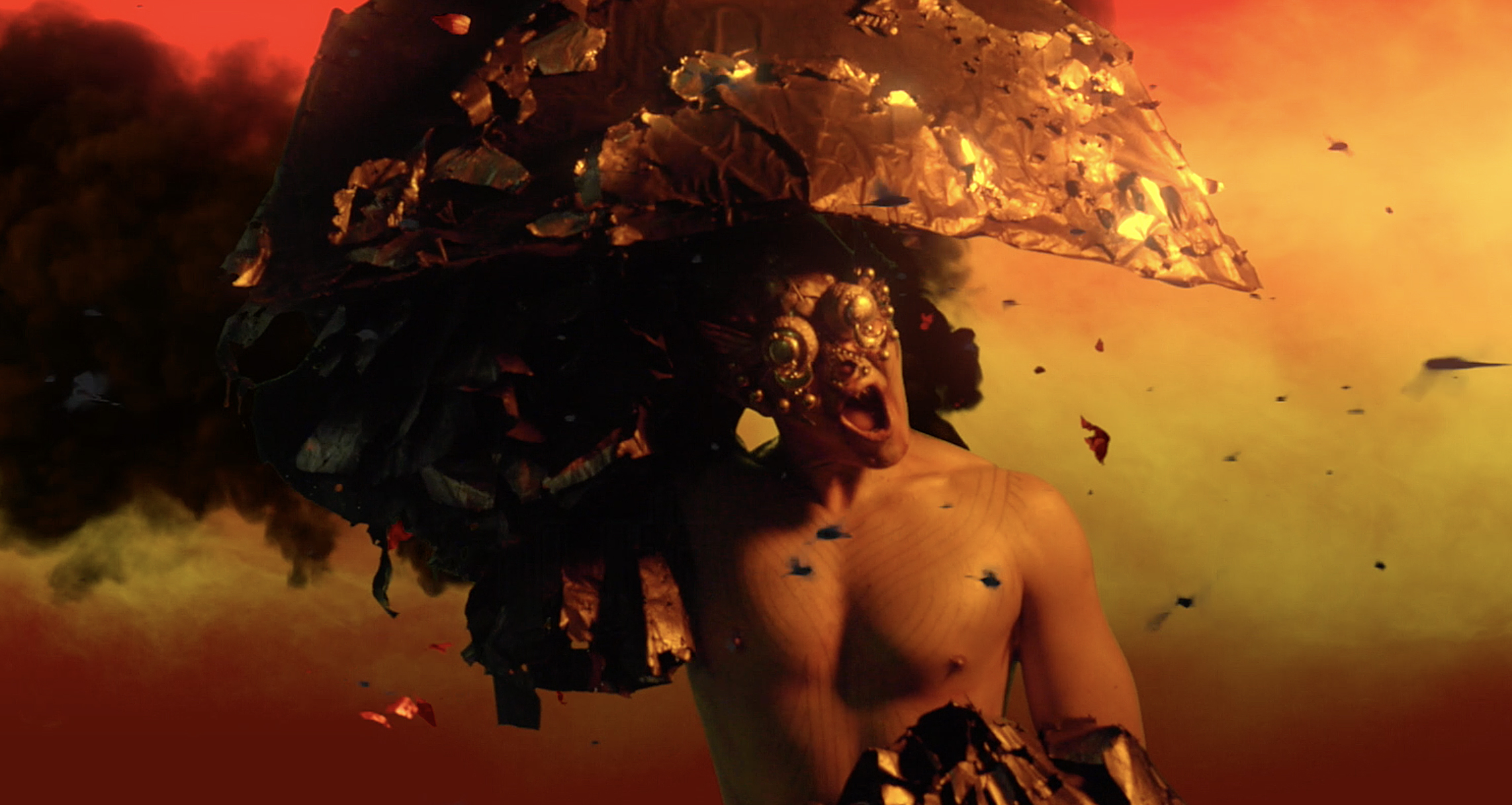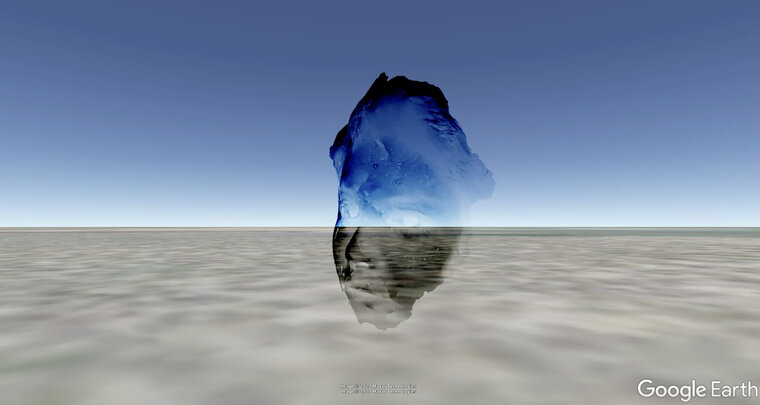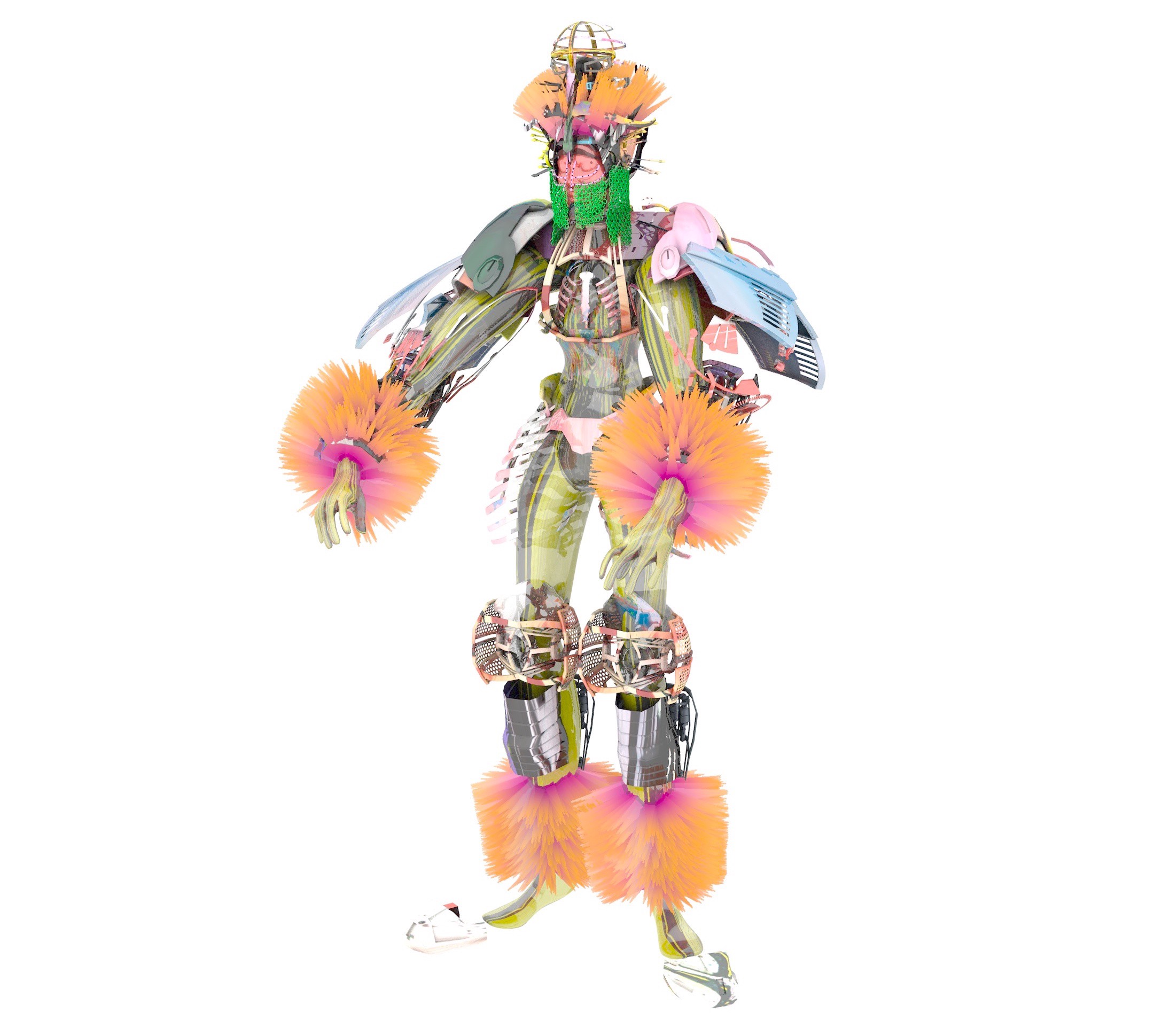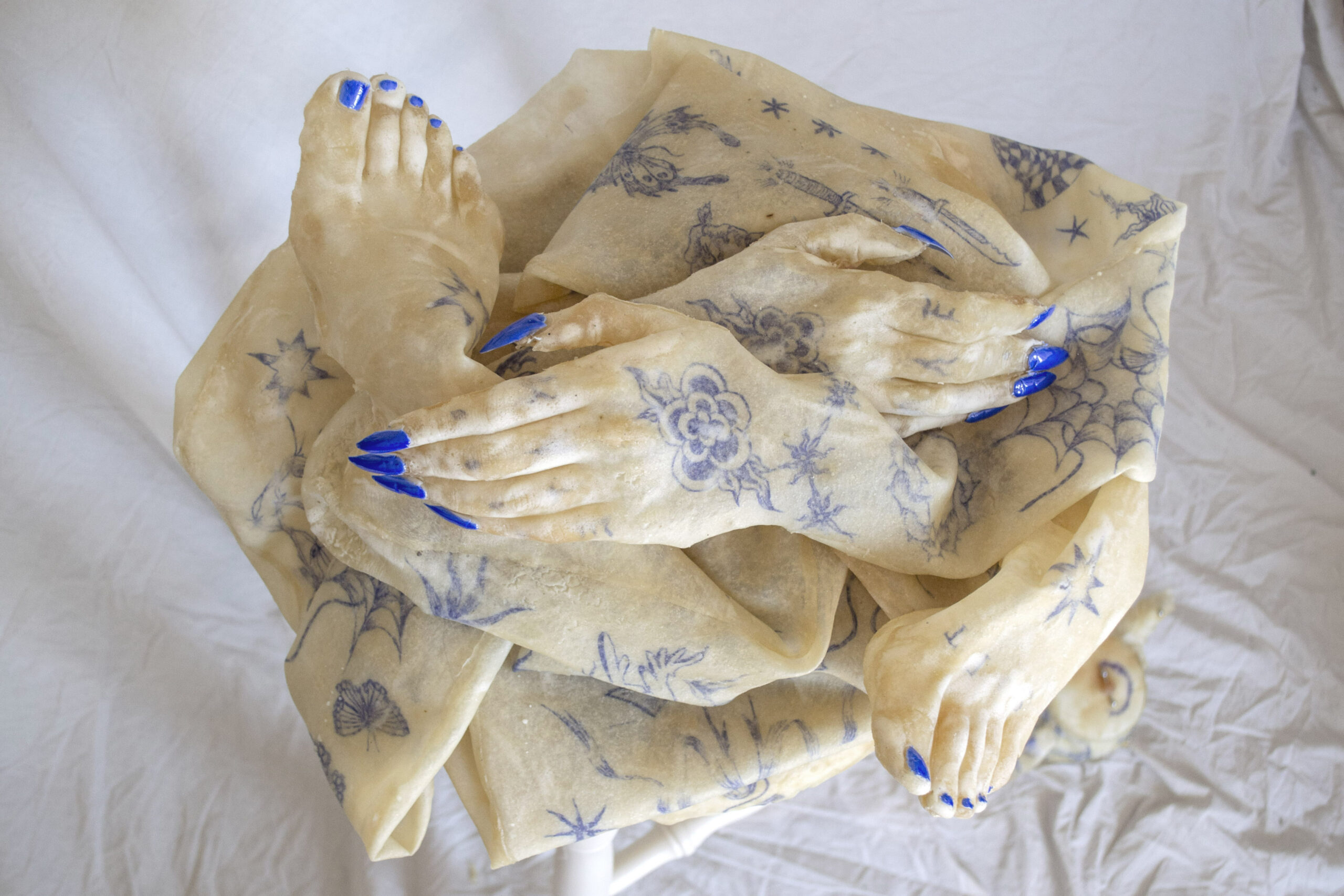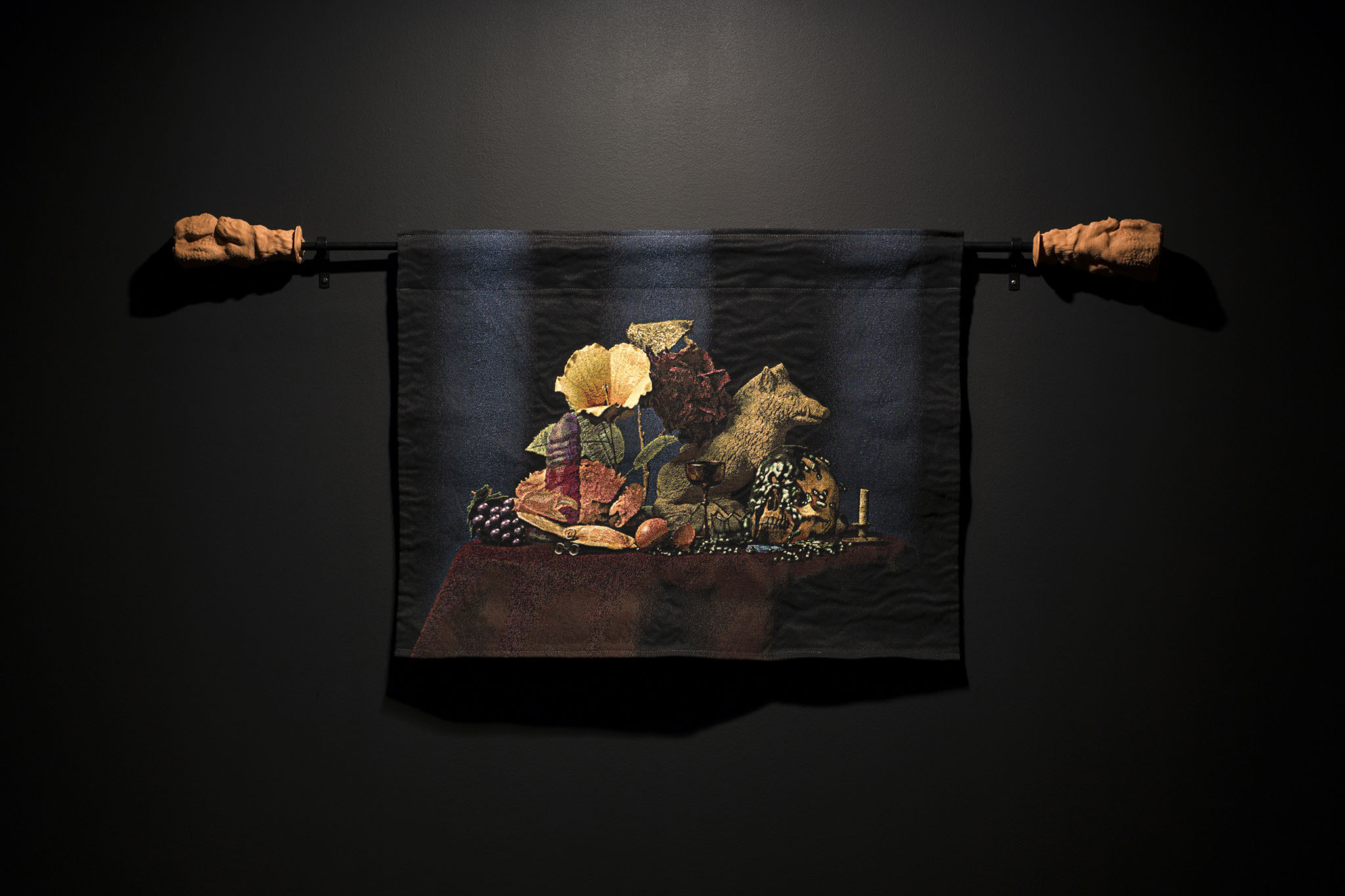 Diego Ramirez, The Infinity of the Past , 2019, neon. The Infinity of the Past , 2019, coffin-shaped light-box.
Justin Shoulder, AEON+ EP1, 2021, two-channel video
Jahkarli Romanis, (Dis)Connected to Country (Floating) , 2019, Google Earth mapping technology
Huntrezz Janos, Virtual Garments, 2021, screen capture.
Emma Finucane, The Body as a Space We Inhabit, 2019, latex, acrylic. fake nails, and ballpoint pen
Nicholas Aloisio-Shearer, Remember You Must Die (Pleasure), 2021, Jacquard woven tapestry, silicon, pigment, metal
19 April 2022 - 29 May 2022
Artist(s): Ange Jeffery, Em Finucane, Diego Ramirez, Justin Shoulder, Jahkarli Romanis, Huntrezz Janos, Nicholas Aloisio-Shearer and Thin Red Lines.
Aeon Resurrection is an exhibition exploring transformation, resilience and healing within unstable environments. Framed within global and local epochs of 'unprecedented times', wherein conventions, codes and structures are dissembled and dismantled, this exhibition heralds ways of co-habitation within cataclysmic moments of death and regeneration.
Considering the apocalyptic miasma of colonisation and the heavy gloam of COVID-19, this exhibition navigates eco-socio-politico-psychical future-making during times of crises, decolonisation, and how we may re-world through long-standing ways of knowing and being.
Re-worlding is a concerted effort to reimagine the places and spaces we inhabit, by generating a multiplicity of futures with which to affect the present positively. Re-worlding takes the notion of worldbuilding beyond any ostensible purpose as art or entertainment and deploys aspects of it as a radical tool to instigate change in the world.
Whilst the impacts of colonisation, capitalism and individualism upon landscape and psychology– enmeshed as a terra-psyche–continue to truncate the present, a collective and rhizomatic future-making imagines reality beyond the human in the crepuscule aftermath of apocalypse.
The artists presented within Aeon Resurrection draw upon ideas including posthumanism, avatars, the afterlife, mycelia, queer death studies, Indigenous knowledges, quantum time, critical science fiction, ludology, technology and parallel worlds.
Ange Jeffery is a Wiradjuri artist who grew up on Country in central west NSW, with Wambul (Macquarie River) having a lasting influence and inspiration in her art practice. She is an environmental scientist by background who balances her technical ability with creative pursuits, particularly jewellery making.  She also delivers jewellery and weaving workshops for her local community and has completed several commission projects. Ange's values are strongly represented in her work using responsibly sourced materials including collected and recycled natural and manmade items.  Her work is organic, combining her culture with contemporary techniques and objects, including ceramics, painting, stencilling, graphics, and jewellery.
Em Finucane is a self-taught tattooer, visual designer and emerging artist working in Naarm 'Melbourne'. Their practice centres around tattooing, culture and identity using an illustrative and collaborative approach to projects. Ideas behind permanent mark making and self expression inform their work across mediums.
Diego Rameriz, originally from the Catholic capital of Guadalajara, Mexico, Diego currently resides in Narrm Melbourne, Australia. He completed a Bachelor of Fine Art at RMIT University and an Honours Degree of Fine Arts at Monash University. He is represented by MARS Gallery.
Huntrezz Janos has been existing in flux since quantum pre-history, in a future that has long past, She is one with a beyond inherent to all things. Currently a resident artist with Transfer Gallery and NAVEL LA. Huntrezz is currently making work across mediums online. She presents her range of works in writing, 3D graphics sculpture, animation, painting, music, and performance internationally.
PHASMAHAMMER is the pseudonym of shape-shifting artist Justin Talplacido Shoulder. Working primarily in performance, sculpture, video and collective events Phasmahammer is an eco-cosmology of alter personas based on queered ancestral myth. Creatures birthed are embodied through hand crafted costumes and prosthesis and animated by their own gestural languages. The artist uses their body and craft as an instrument of metaphysics towards a queer Filipinx futurism. P.H. believes in performance and shared ceremony as communal medicine for difficult times. P.H. is a founding member of queer artist collective The Glitter Militia (Monsta Gras, Pink Bubble) with partner and key collaborator Matthew Stegh and Club Ate with collaborator Bhenji Ra.  Their works have been presented across Australia and Internationally where they work between gallery, nightclub, theatre and cinema contexts.
Jahkarli Romanis' practice involves subverting representations of Aboriginal people made since settler occupation in Australia. Her practice engages with disrupting colonial ways of thinking and image making, with the aim to obtain agency over her representation as an Aboriginal woman through self-portraiture. Through focusing on Country, Pitta Pitta Country, she is researching the limitations and affordances of mapping technologies such as Google Earth from an Indigenous perspective. By exposing these mapping technologies as ideological rather than 'neutral', she aims to destabilise contemporary mapping technologies of place and Country, opening a dialogue and contributing to national discourse.
Nicholas Aloisio-Shearer is an artist and independent curator whose practice is concerned with the digital conditions of contemporary life. His practice engages with the cultural functions of imaging technologies and examines how networked cultures make use of the history of representation.
Thin Red Lines is a quarterly poetry event in Naarm (Melbourne), curated by Thabani Tshuma and Georgia Kartas. TRL creates space for poets and multidisciplinary artists to share their work and challenge the parameters of performance. Featuring four artists at each show, it is an opportunity for audiences to access and experience a curated poetry program.
Asiel Adan Sanchez  is a non-binary, Mexican poet based in Naarm/Melbourne.
Lia Dewey Morgan is a poet and sometimes artist. Grappling with the continuity and chaos present in contemporary living, Morgan draws formal inspiration from Japanese verse, hip hop and house music, memes and esoteric theory. Her first book, Bath Songs, was published earlier this year with local press nomorepoetry.
Evelyn Araluen is a poet, researcher and co-editor of Overland Literary Journal. Her widely published criticism, fiction and poetry has been awarded the Nakata Brophy Prize for Young Indigenous Writers, the Judith Wright Poetry Prize, a Wheeler Centre Next Chapter Fellowship, and a Neilma Sidney Literary Travel Fund grant. Born and raised on Dharug country, she is a descendant of the Bundjalung Nation. Evelyn's debut collection Dropbear was shortlisted for the 2021 Judith Wright Calanthe Award for a Poetry Collection and shortlisted for the 2022 Stella Prize.
Laniyuk is a Larrakia, Kungarakan, Gurindji and French writer and performer. She has been published in poetry collections such as Solid Air (2019), Fire Front (2020) and forthcoming collections of speculative fiction Unlimited Futures (2022) and This All Come Back Now (2022). She is completing her first collection of work to be published through Magabala Books. 
Thabani Tshuma is a Zimbabwean writer and performance poet. Writing is the aperture through which he views the world and experiences self in relation to others. 
Georgia Kartas/Saint Jorge is a poet and performer. Their research explores the relationship between quantum physics and metaphysics, as a pathway to radical re-worlding. They are a 2020–21 Wheeler Centre Hot Desk fellow, bookseller, and tarot reader.
Opening Night
Friday, 22 April, from 6-8pm
Join us to celebrate the opening night at Incinerator Gallery with light refreshments and opening speeches.
Free, please RSVP incinerator@mvcc.vic.gov.au
Artist and Curator Talk
Saturday, 7 May, from 1pm
Join curator Jake Treacy and a selection of artists participating in Aeon Resurrection for an afternoon tour and conversation exploring the themes of the exhibition. 
Thin Red Lines: Poetry Program
Sunday, 29 May, from 6pm
Join us for the closing event for Aeon Resurrection presented by Thin Red Lines. Through a curated poetry program featuring four artists, this event challenges the parameters of performance whilst drawing upon themes presented in the exhibition, culminating in an immersive presentation of language, text and poetry set within the dystopic landscape of the gallery.
Aeon Resurrection by Tara Heffernan
for MeMO Review
"This crepuscular aesthetic is carried throughout the exhibition, which is housed on the upper level of the building. The artworks are punctuated by elaborate props that create an immersive atmosphere. In the open-plan space, you're confronted with a neon emblazoned coffin lined with spikes (by Diego Ramirez), a tapestry of the grim reaper riding a giant dribbling dick dinosaur (care of Nicholas Aloisio-Shearer), roadblocks, scattered bricks, shreds of black plastic and tattooed oranges pierced with burning incense (part of an installation by Em Finucane). It's difficult to assess the vibe cultivated by the artworks and elaborately curated art-mess. It might be best described as an abandoned Church occupied by pagan squatters with interior design degrees crossed with a macho, incel-adjacent gamer dungeon."
Aeon Resurrection by Celina Lei
for ArtsHub
"Aeon Resurrection begins the moment you ascend the stairs at Incinerator Gallery. One can almost imagine having a game console in hand, carefully guiding the avatar towards what looks like a post-apocalyptic wasteland, brought back to life with the infinite run of cracked display screens and the low hum of unattended motors. "