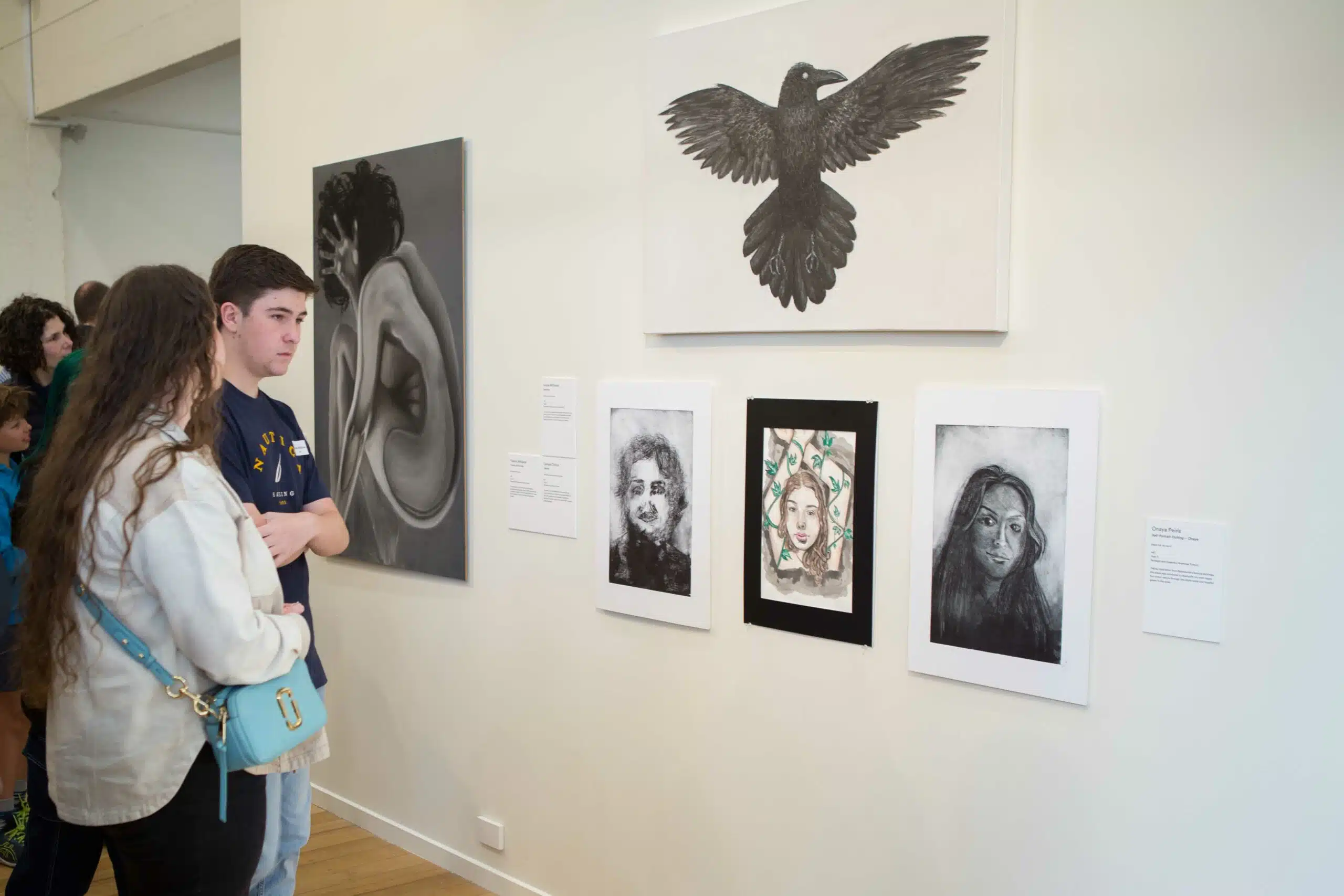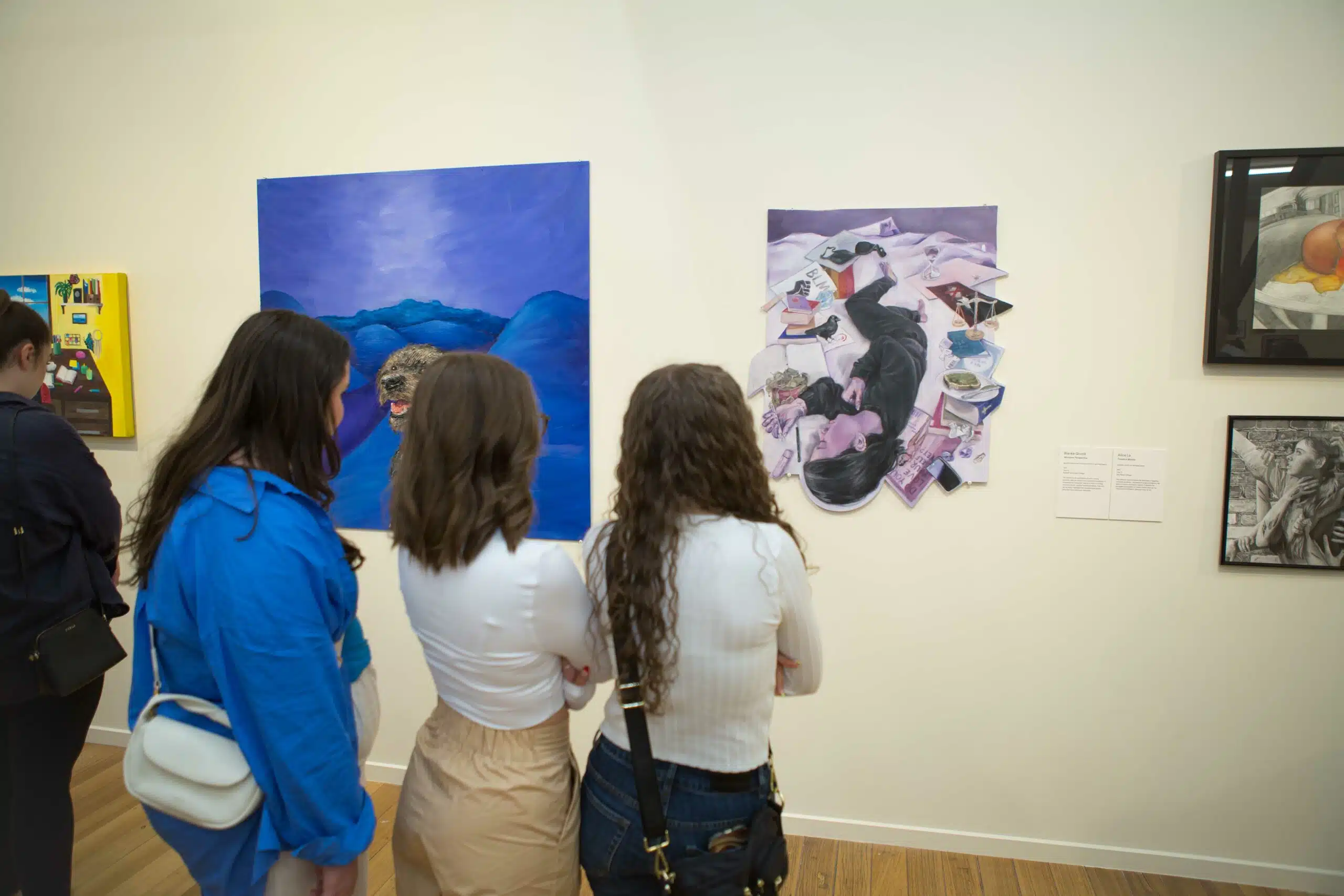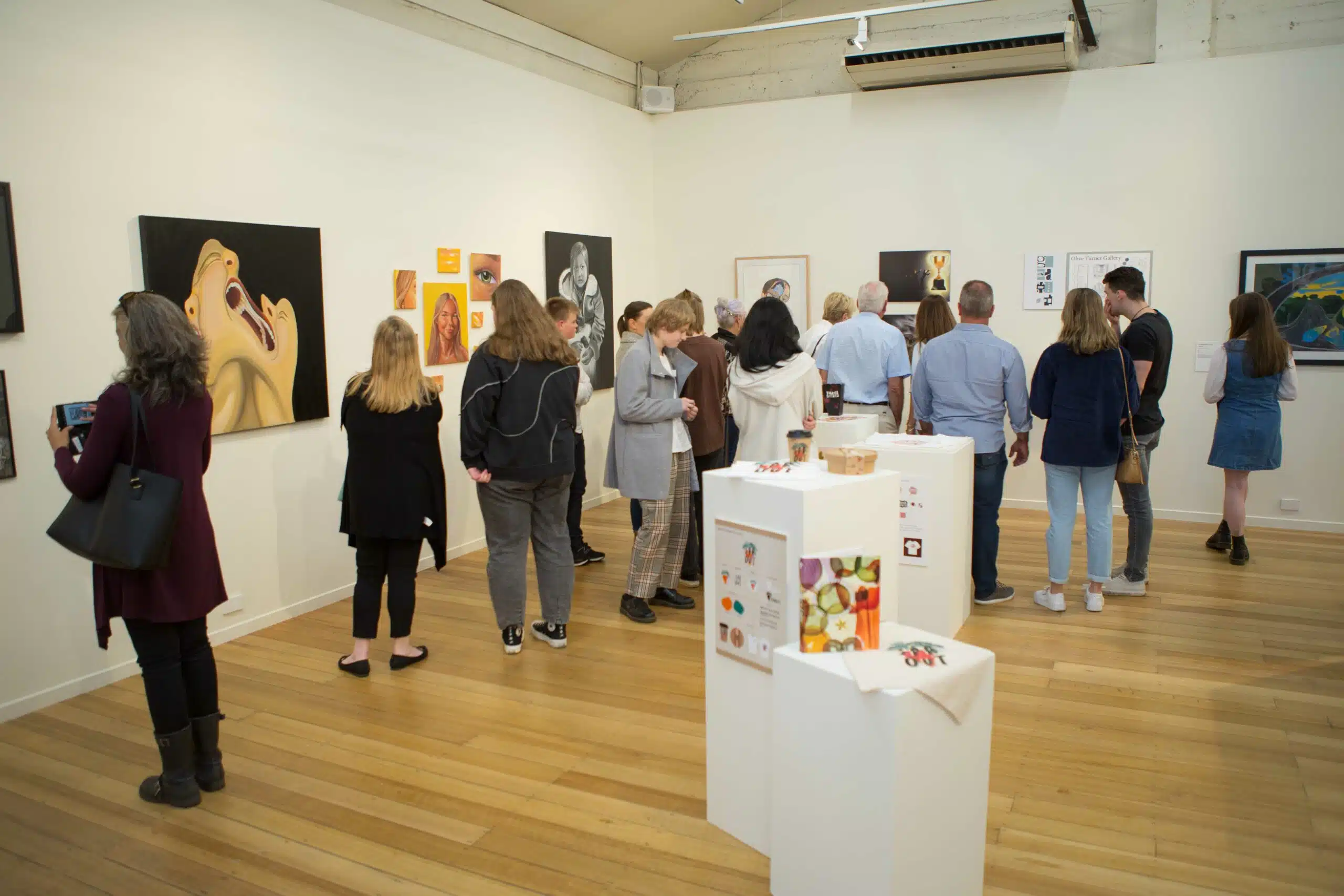 Fireworks, 2022, installation view.
Fireworks, 2022, installation view.
Fireworks, 2022, installation view.
1 December 2023 - 21 January 2024
Artist(s): Moonee Valley Year 11 and 12 Students
Welcome to Fireworks 2023, a compelling exhibition spotlighting the achievements of Years 11 and 12 art and design students from Moonee Valley. In its eleventh year, Fireworks is more than an exhibition, it is a dynamic reflection of our students' perspectives on the multifaceted tapestry of life.
From expressive drawings to poignant sculptures, witness the fusion of creative and critical thinking across various mediums. This year's exhibition explores a diverse range of themes, delving into narratives surrounding self-discovery, companionship with animals, environmental shifts, psychological well-being, familial bonds and cultural roots.
Congratulations to all of the shortlisted artists: Abby Bird, Ace Dal Corobbo, Alex Rivette, Amy Tran, Ava Cropper, Cartier Clarey, Chiara Pratico, Dinithi Devendra, Douglas Lambert, Ela Guler, Hadi Ahmad, Harrison Cardamone, Isabella McAvoy-Wood, Jade Pearson, Jasmyn Carr, Liam Scott, Lola Beaton, Maya Barr, Melanie Aranguiz, Mia Chindamo, Micaela Xerri, Micah Maisano, Montana Brayshaw, Natalia Vescio, Robbie Ly, Rosha Milani, Ruby McInnes, Samridhi Samridhi, Thien An Vo Ho, Trisha Tan, Wendy Wong and Willow Prout.
Participating schools this year are: Ave Maria College, Buckley Park College, Essendon Keilor College, Lowther Hall Anglican Grammar School, Mount Alexander College, Penleigh and Essendon Grammar School, Rosehill Secondary College, St Columba's College and Strathmore Secondary College.
View the Fireworks 2023 catalogue here.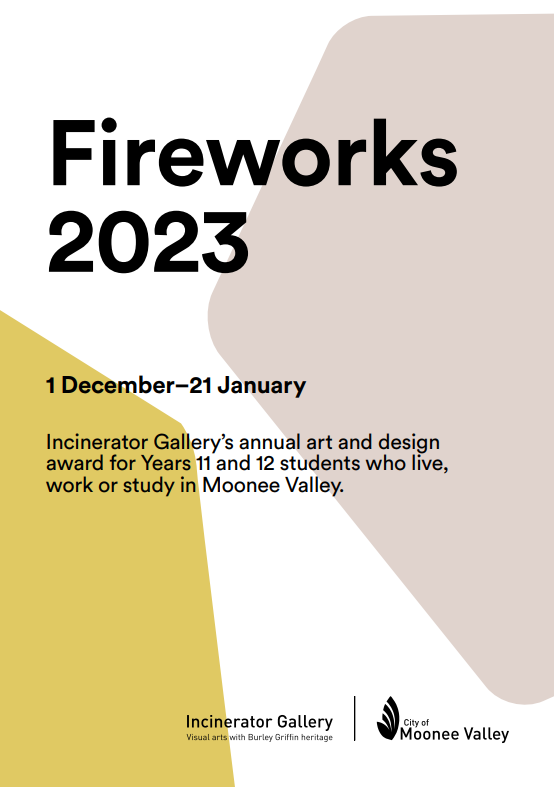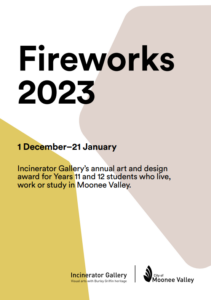 The formal exhibition opening and awards presentation will be held at 6pm on Friday, 1 December 2023.
Kindly RSVP for this event by clicking here. 
Prizes to be awarded at the opening are:
Fireworks Art Award $500
Fireworks Design Award $500
Mayoral Award for Excellence in Art $200
Mayoral Award for Excellence in Design $200
Visitors to the exhibition can vote for their favourite work. The People's Choice Award will be announced on social media in the week after the exhibition closes. The winner will receive a $200 voucher to spend at a local art supplies store.
 Susan Lowe – Fireworks Art Award Judge
Susan's tertiary qualifications include a degree in Visual Arts Education and a postgraduate degree in Cultural and Heritage Management. She has over forty years teaching and practising in the fields of Visual Art and Design in various parts of Australia.
She has been a partner in a design company; created costume designs for theatre productions; contributed to several publications; and worked as a consultant developing educational materials. She has received awards in Interior Design, Drawing and Painting.
Presently, Susan is an exhibiting artist and volunteers as a guide at The National Gallery of Victoria.
Adrian Montana –Fireworks Design Award Judge 
Adrian is experienced arts leader in Secondary and Tertiary education, art galleries and museums education and public programming. He has a demonstrated history working in the education management industry and is skilled in lecturing, research, editing, curriculum development, and arts management. Adrian has a Masters in Educational Leadership (Monash University) and two separate Bachelor of Arts degrees in Art History and Music composition (La Trobe University).