The Incinerator Gallery's Studio Workshops are designed for adults wanting to learn new creative skills or further develop an existing one. We offer high quality art instruction in an encouraging studio classroom environment.
Students of all abilities build their skills quickly through interactions with artist tutors and peers.
Bookings essential as class sizes are limited to small groups.
Workshops include all materials (unless stated otherwise).
Studio Workshops run for two hours each week over eight weeks.
Classes run in autumn, winter and spring aligning closely with school terms.
Please read our Public Programs – Terms and Conditions before buying your ticket.
All classes are $260 for eight sessions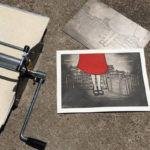 This course offers a range of print-making techniques including mono-printing, linocut, collagraph's and etching. Students will explore mark-making and layering of different processes in the development of a finished artwork.
Read More