Fireworks 2021 exhibition and awards showcases the accomplishments of high achieving art and design students in Years 11 and 12 who live, work or study in Moonee Valley.
This exhibition on display at Incinerator Gallery provides a platform for our young creatives to share their works with the greater community and to encourage their ongoing creativity.
This ninth Fireworks exhibition demonstrates Moonee Valley City Council's ongoing commitment to the support and promotion of  local artists and designers.
We celebrate the achievements and resilience of students working towards completion of their Victorian Certificate of Education during another challenging year.
Creative and critical thinking is evident in the design works including models, posters, fashion and packaging design. Artworks display skills and conceptual accomplishments in a broad range of media including drawing, painting, collage and sculpture. These works show imagination, thoughtful decision-making and technical competence.
Fireworks 2021 speaks to the concerns for young people today. Submissions reflect themes including identity, the environment, mental health, feminism, beauty and social justice.
We wish these young creatives well for their futures. The skills and knowledge they have gained from studying arts subjects is central to fostering positive wellbeing, improved health and living happier lives.
Incinerator Gallery invites you to support our artists and designers by voting for your favourite Fireworks work for the People's Choice Award when you visit the Gallery.
Congratulations to the winners of this years Fireworks:
Fireworks Art Award: Alana Grcic-Tenner
Fireworks Design Award: Leila Daher
Mayoral Award for Excellence in Art: Mya Mollica
Mayoral Award for Excellence in Design: Ivana Ovcaric
Alana Grcic-Tenner

Lockdown 2021

biro on paper

ART
Ave Maria College
These drawings are portraits of my family and close friends. My aim has been to reflect on the emotional impacts of the pandemic.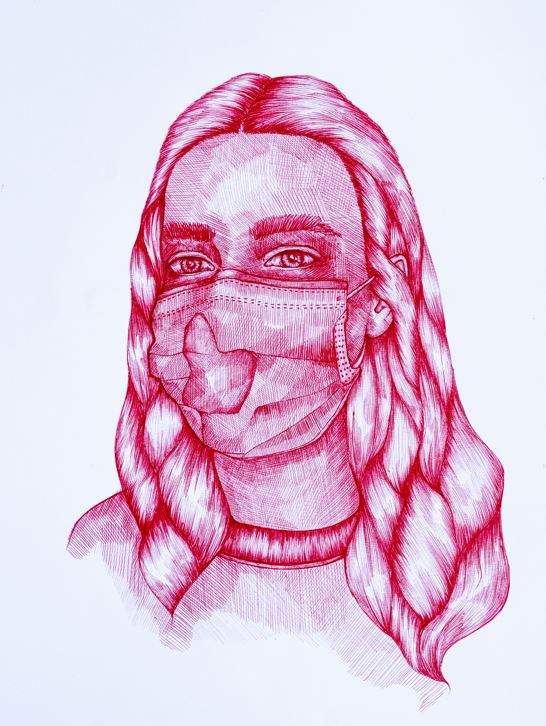 Alyssa Africano

Tranquil Seas

watercolour, fine liner, paint markers and pencil on watercolour paper

ART
Ave Maria College
This collection of drawings allows for a personal interpretation of nature's beauty. I have emphasised the organic shapes and added detailed patterns to show my appreciation for the natural sea environment.
Amalia Birch

The fog in his head

charcoal on board

ART
Penleigh and Essendon Grammar School
Representing internalised emotion and male aggression, my artwork is an allegory of the very common 'only one option' type of thinking. It illustrates there are repercussions to our actions but also understands there is a release of struggle in our anger when it seems like our only way out of the fog.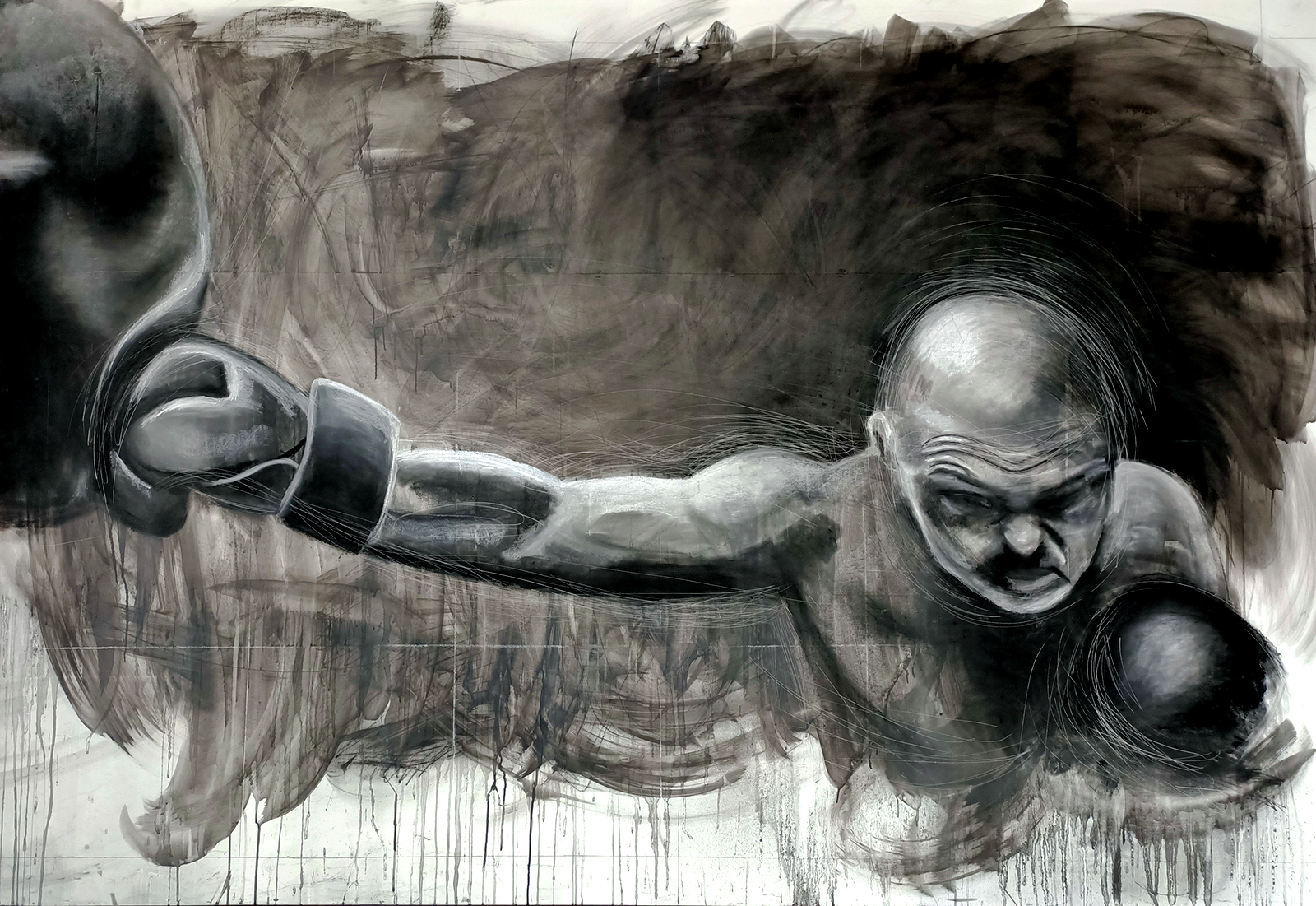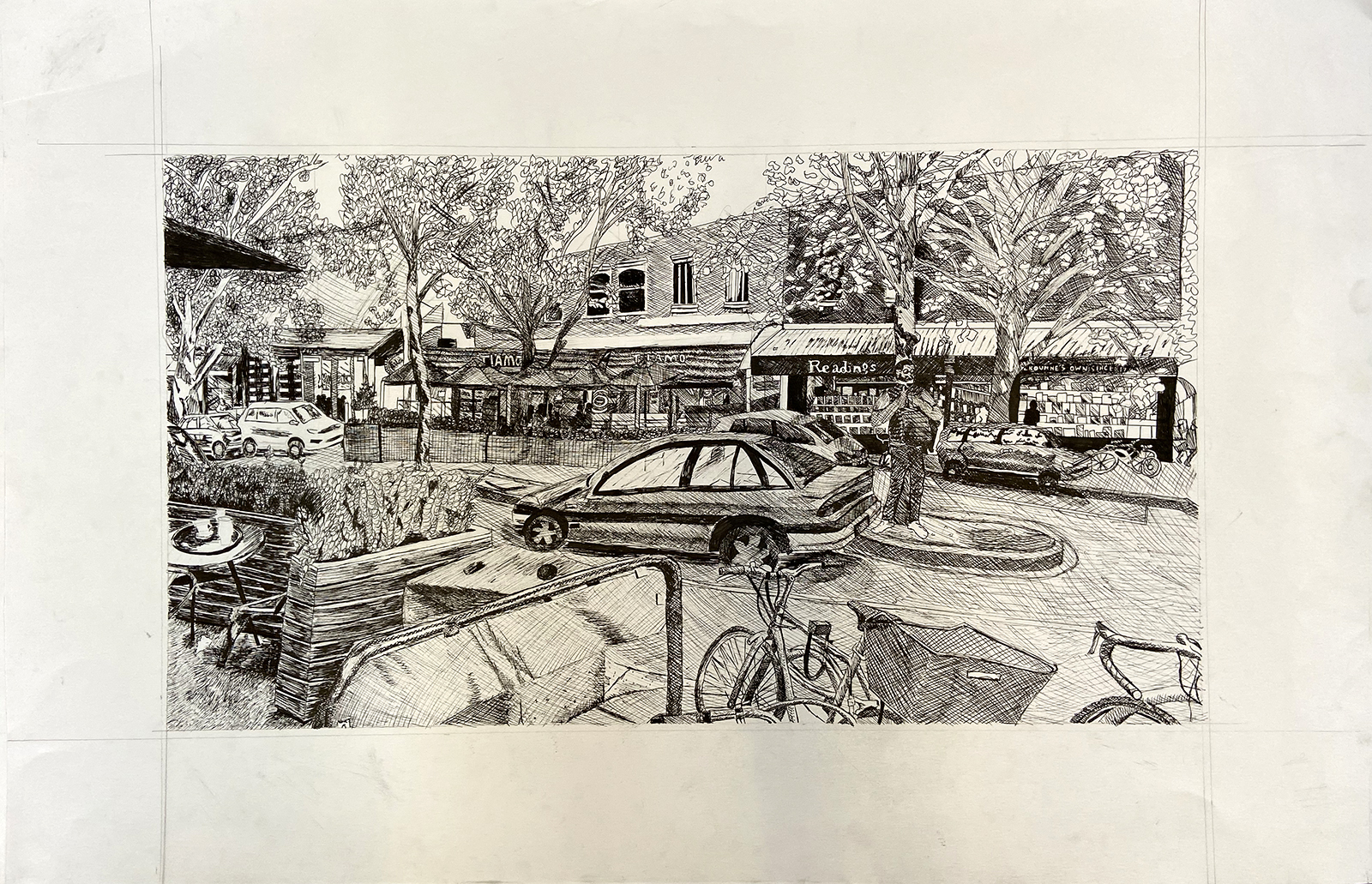 Amy Todd

Lygon Street, July 2021

fine liner on cartridge

ART

Penleigh and Essendon Grammar School
This artwork is a fine liner drawing completed from a photo taken on Lygon Street Carlton.
I developed this drawing over a week. I closely examined the photo I was trying to replicate and used different sides of the pen in order to achieve different textures.
Chelsea Murphy 

Windows, Walls & What-Ifs

gouache and pastel on Arches canvas paper

ART
Buckley Park College 
A figure sits alone in her murky purple and pink bedroom, seemingly sinking into the piles of cluttered mess behind her. It seeps into each third of the room, but the figure pays it no mind as she stares through her only window at the ethereal, pastel sky. Whether she'll ever get up is unknown.
Everybody teeters on this edge in some way, deciding whether to stay in the monotonous comfort of their clutter, or to risk it on the ethereal scene behind the glass.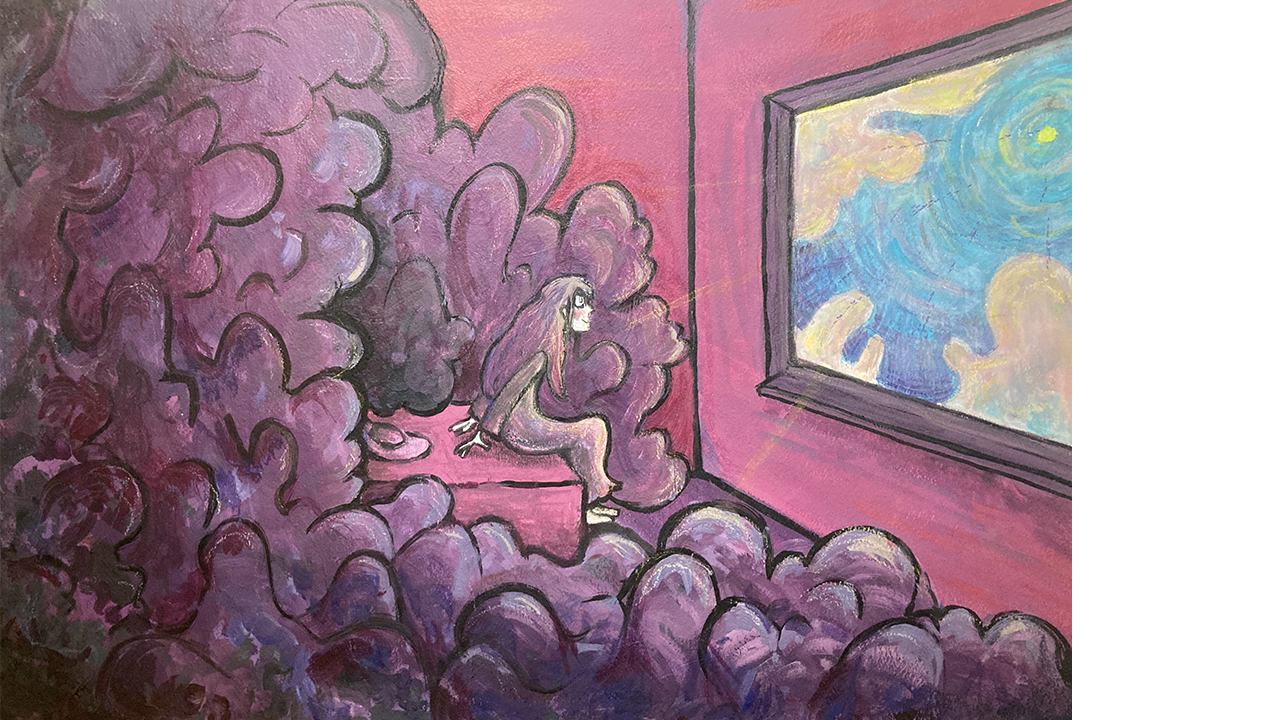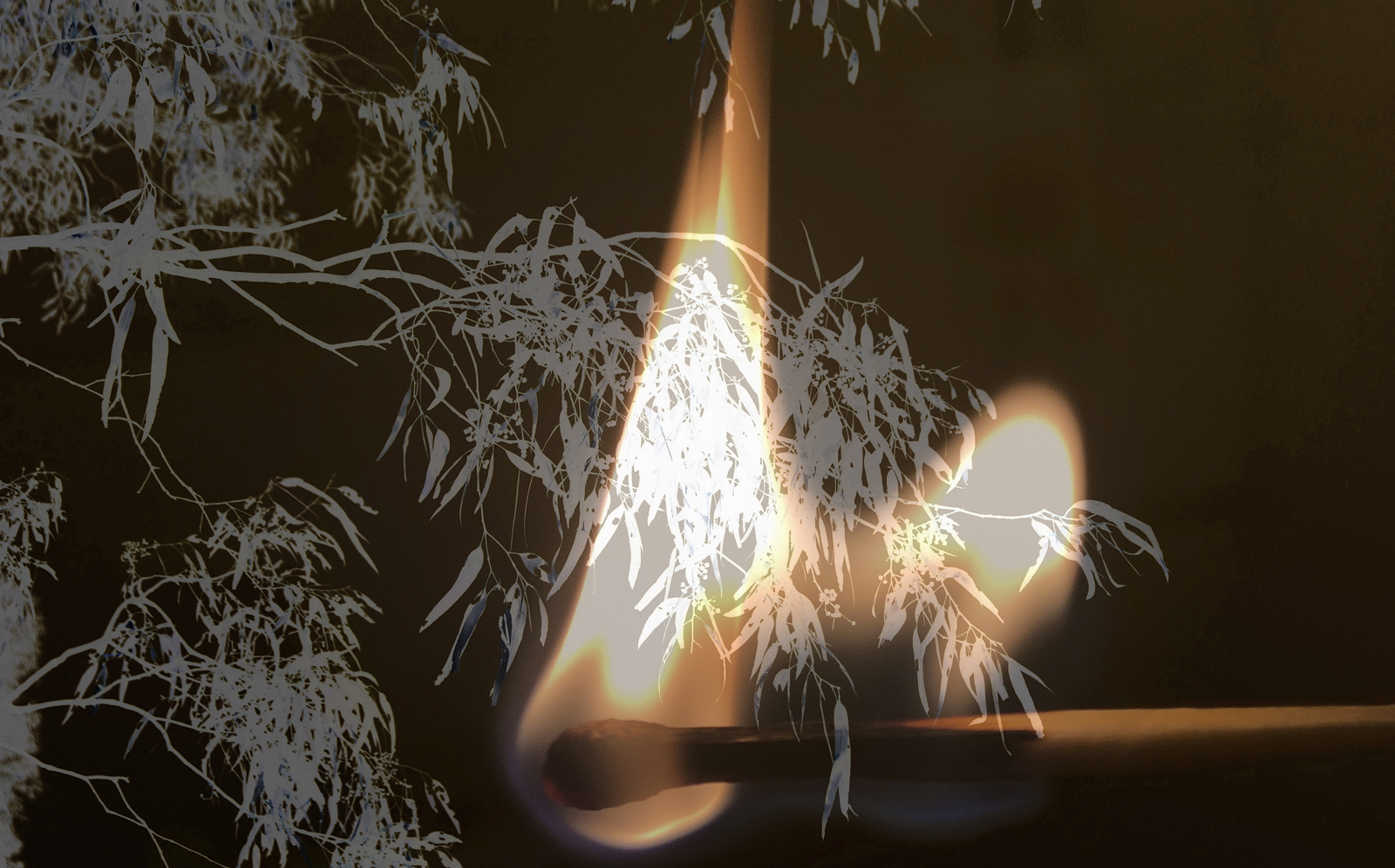 Cynthia Gale 

The Smog Between the Trees

digital prints

ART
St Columba's College 
My artwork emphasises the relationship between industrialisation and nature. Industrialisation is expanding due to the growth of urbanisation and the increasing demand for consumerism. This rapid growth causes issues such as climate change. I hope my images generate discussion and action.
During the COVID-19 lockdowns travel was restricted which meant I could only photograph in the local Moonee Valley area. This was a blessing in disguise as I discovered the diverse and different areas it has to offer.
Deniz Cavdar 

Manipulative Daydreamer

acrylic paint on canvas

ART
Rosehill Secondary College 
Using pastel and darker colours, this painting expresses the freedom of letting the brain wander into representations of reality where one seeks comfort. The flowers in the background represent the intertwined branches of the imagination filled with emotions and memories without an identity.
I painted this after finishing Studio Arts. It was a freeing experience to paint for myself without worrying about being graded for it.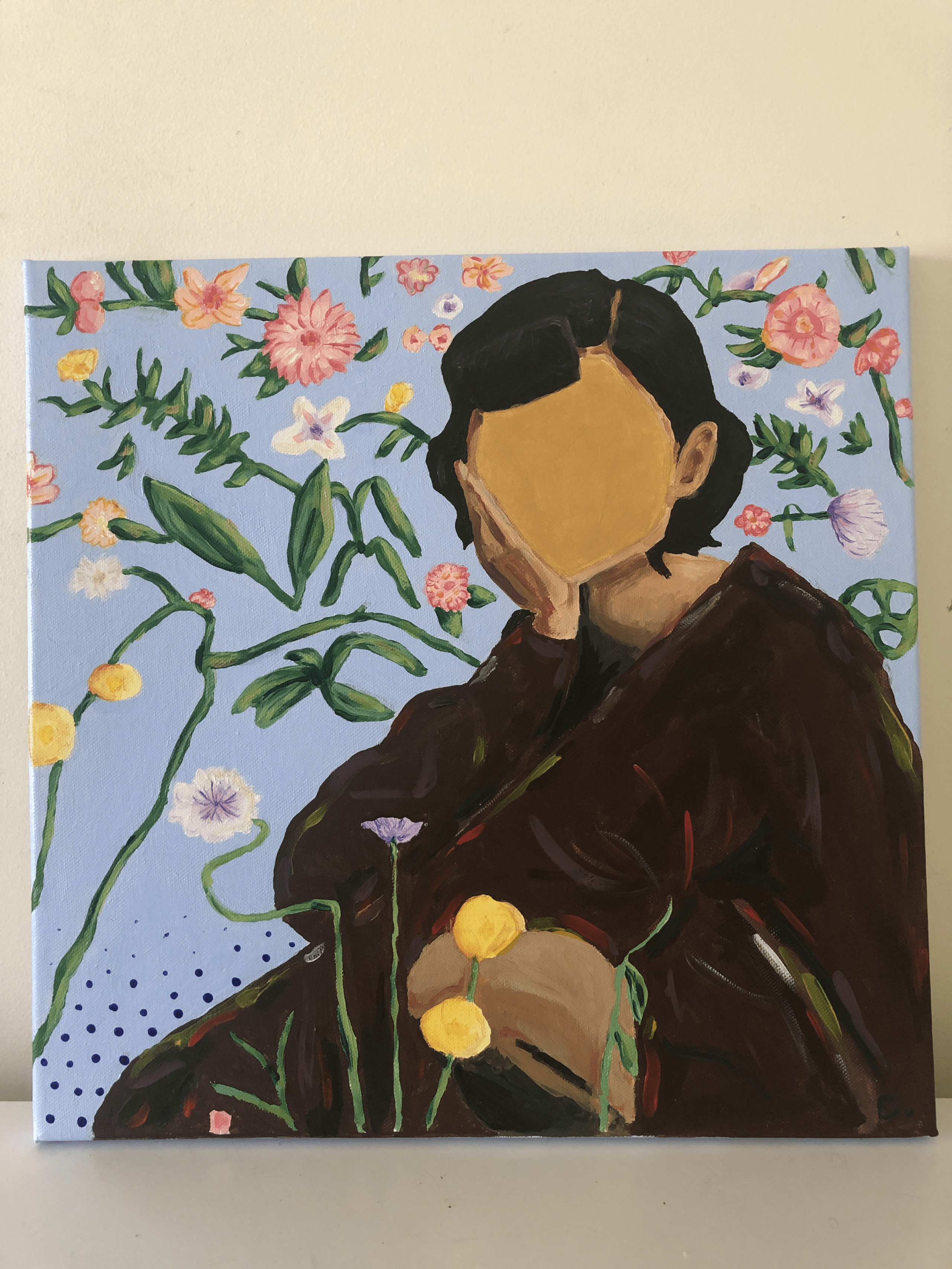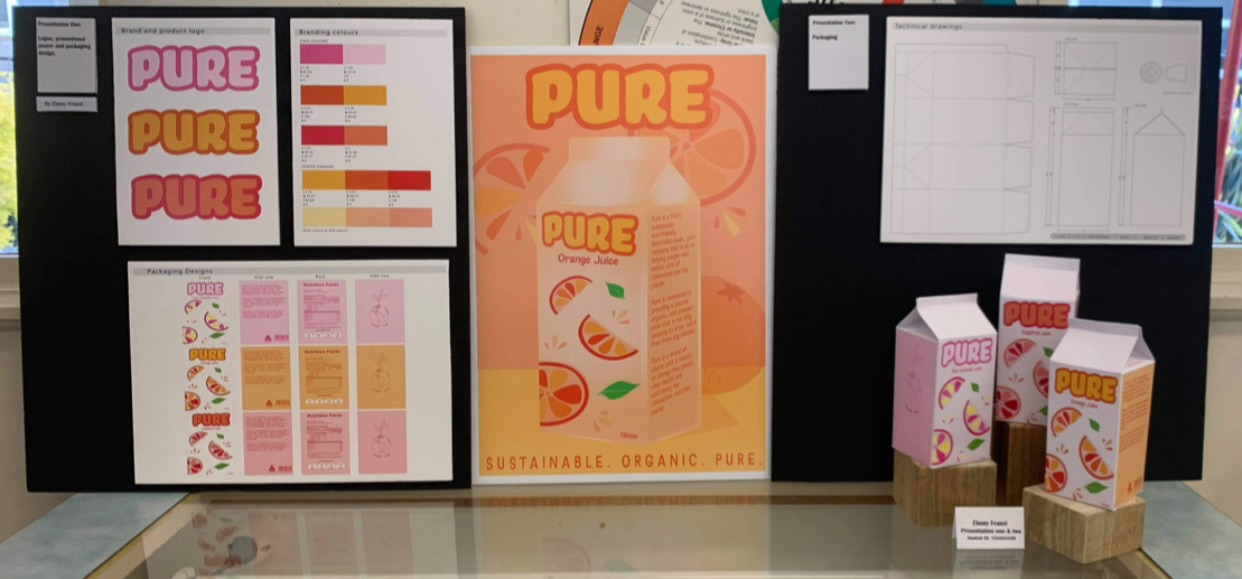 Ebony Franzi 

Pure Juice 

cartridge paper, inkjet print and foamcore

DESIGN 
Buckley Park College 
Pure Juice is an eco-friendly brand dedicated to reducing waste.  They are made from recyclable products to foster a sustainable future and lead to improvements in the community.
Ebony Franzi 

Everyday 

gouche paint on Arches paper, mounted on foamcore

ART
Buckley Park College 
My artwork is presented as a still life painting that captures the view outside my bedroom window. It depicts nature and the surrounding environment.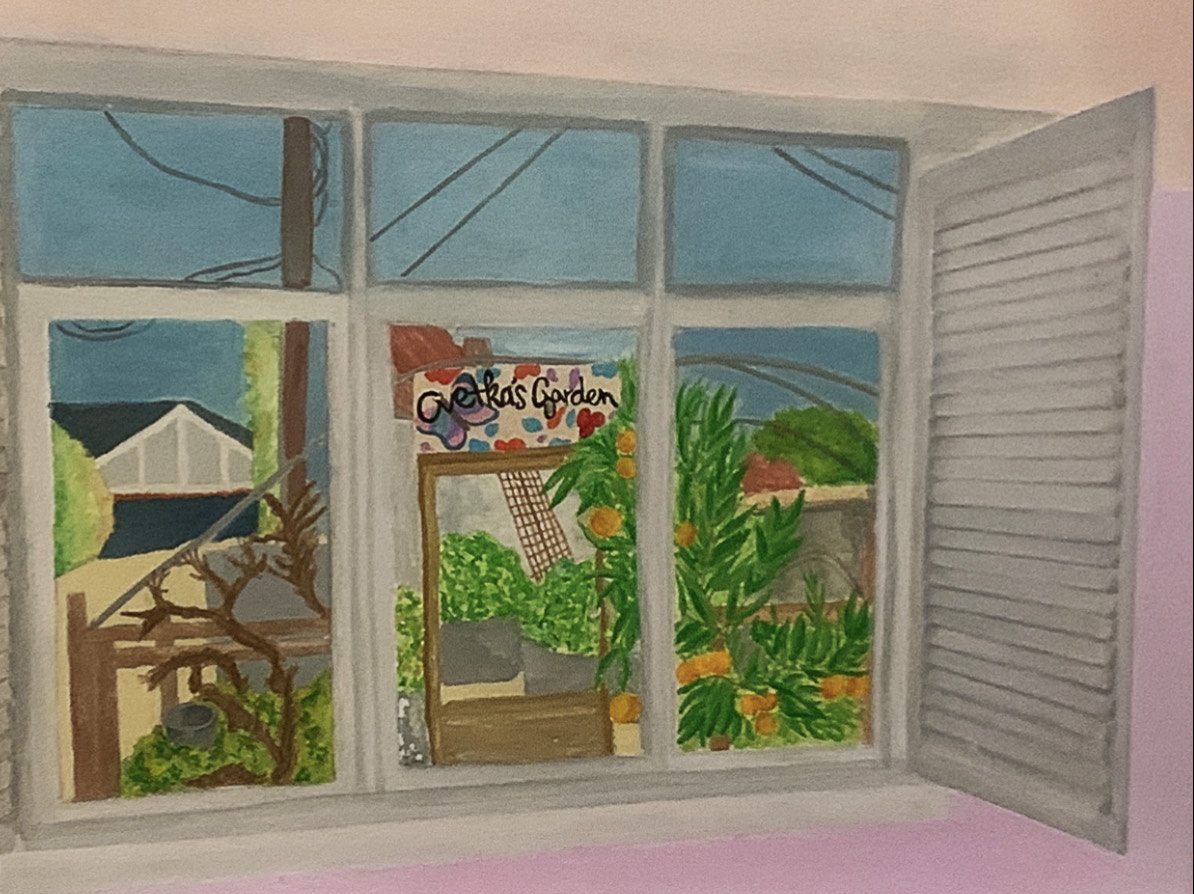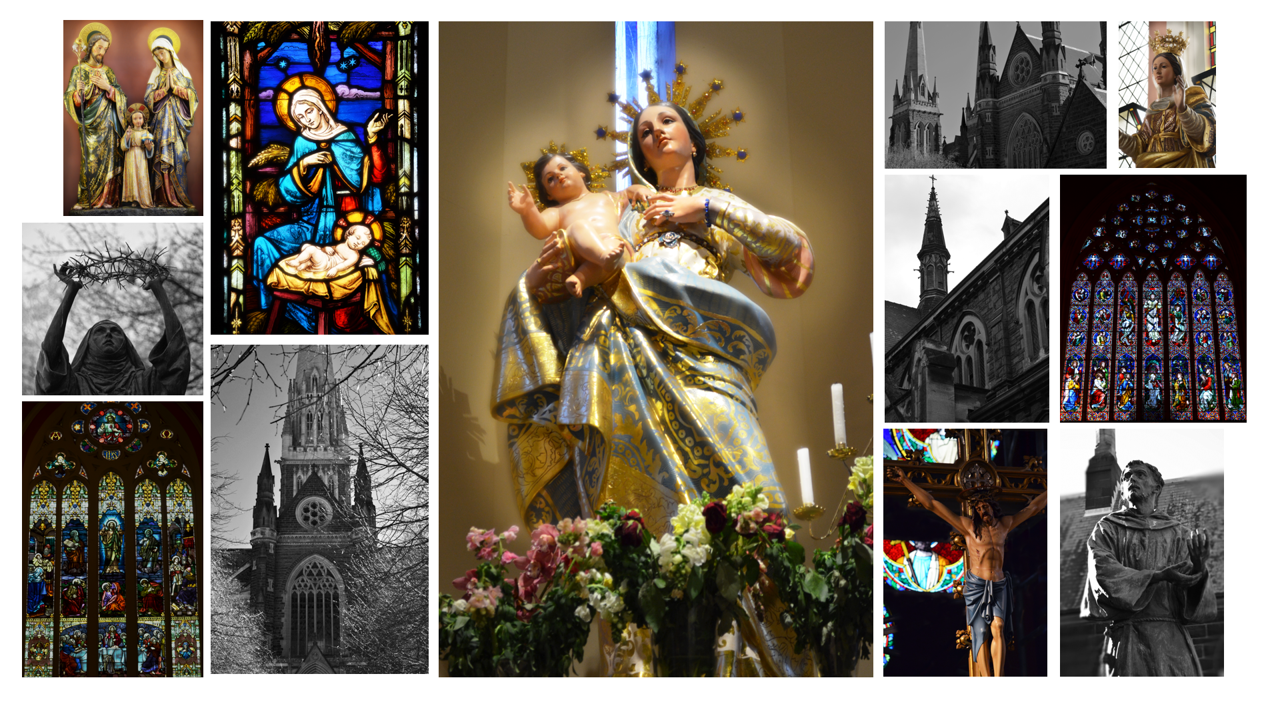 Elisha Andres 

Ad Maiorem Dei Gloriam (For the Greater Glory of God) 

digital photograph

DESIGN
Ave Maria College
This design is a visual testimony to the Lord's true perfection that is inherently present in Catholic Churches. Ad Maiorem dei Gloriam is a homage to my Catholic Faith, for the Greater Glory of God.
Emily Inserra 

Aching 

ballpoint pen and watercolour paint on homemade paper

ART
Buckley Park College 
My artwork represents perfectionism and the negativity that comes from it. The idea of being perfect and comparing myself with others is something I have struggled with for long time. I have depicted a 'self-oriented' perfectionism which can lead to mental health issues for people this affects.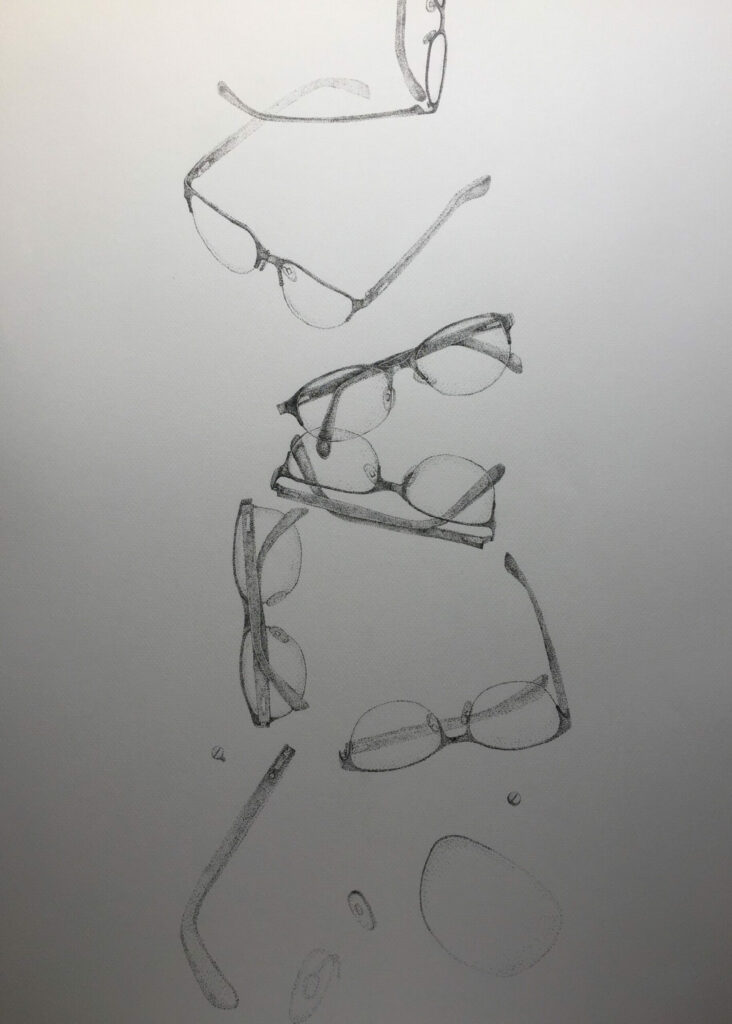 Gillian Poparisut 

Glasses

fine liner on paper 

ART
Rosehill Secondary College 
The theme for this drawing was 'Lost and Found'. I explored a possession that we keep losing yet is necessary to our daily lives. The stippled glasses portray a soft, fleeting look as the dots slowly disappear and fade away.
The blank white space around the glasses evokes a sense of emptiness for losing something important, and the emptiness of a blurry world without clear vision.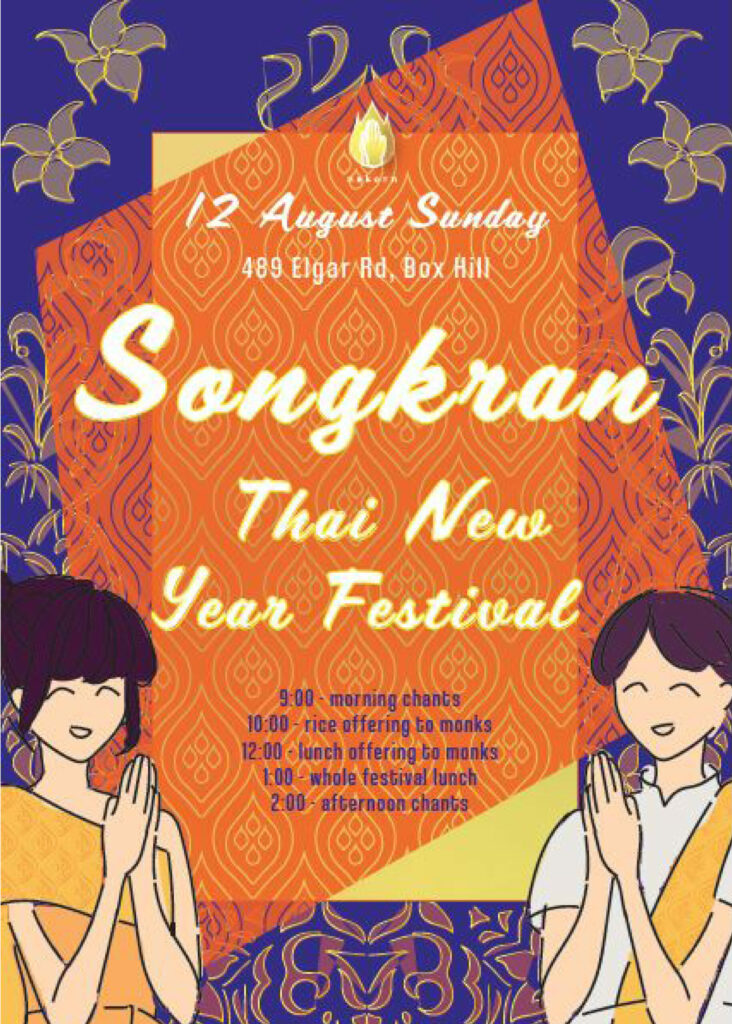 Gillian Poparisut 

Modern Thai Temple 

digital print on foam core board 

DESIGN 
Rosehill Secondary College 
This design is for a traditional yet contemporary Thai Temple. It is a large-scaled building with sleek curved walls topped with a recognisable traditional gold roof linking it to Thai culture. A Thai festival will also be based at the new temple and a poster has been designed to promote the event.
The contemporary design appeals to younger generations attracting them to visit and experience traditional Thai culture. Merchandise has also been created for the festival.
Indiana Doody

Moore Cafe

graphite pencil on cartridge paper

DESIGN
Buckley Park College 
I have created a new visual identity, logo design and layout for a fictional cafe. I designed a poster to advertise the cafe and attract new customers. For the new floor plan I have built a model to show the interior and exterior of the new cafe.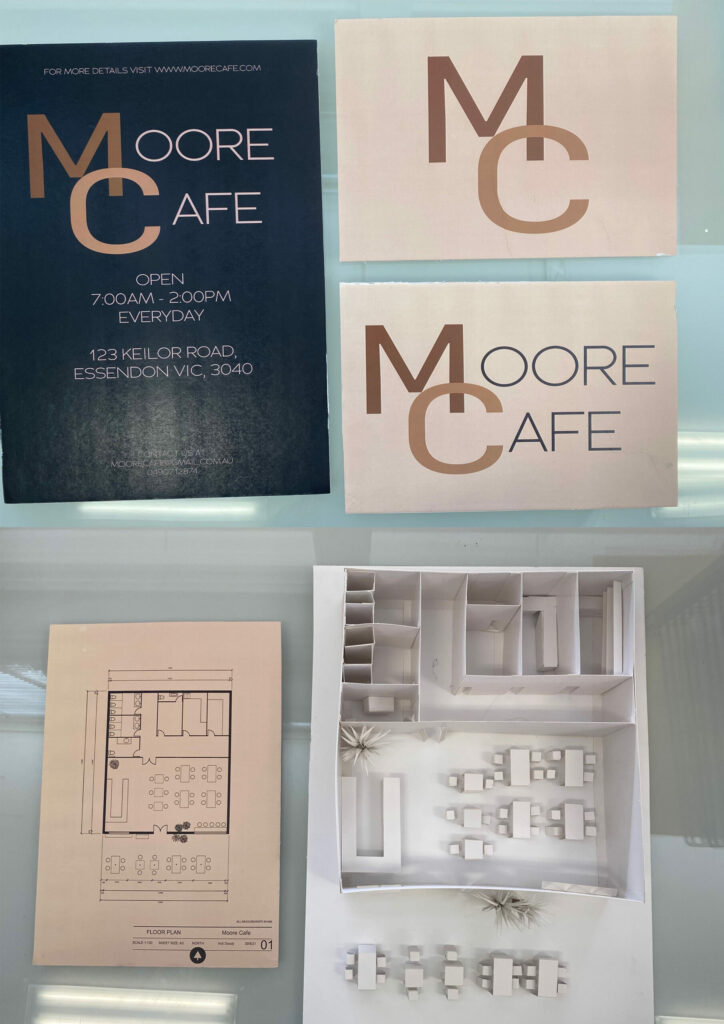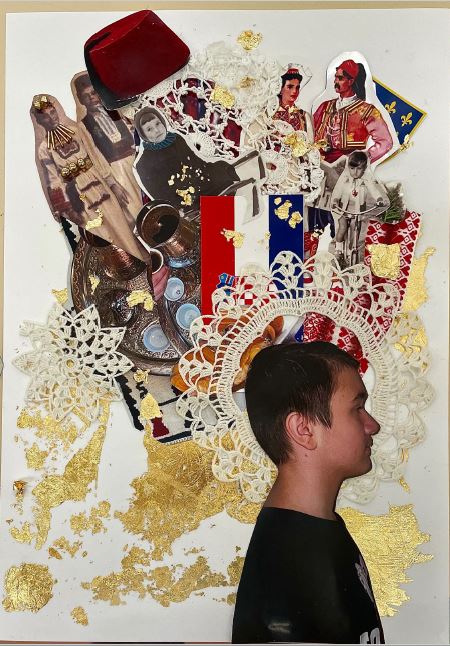 Isabella Horvatovic

Carrying Culture

photographs and fabric on cartridge paper

ART
Essendon Keilor College 
Each photograph within the overall artwork is a symbol of my culture and represents the history of it. At the top, there is a traditional Bosnian hat. This conveys how I will forever 'carry' my culture and as such will preserve it. However, this will be done in my own unique way so I can develop my own identity.
Isabella Roberts 

Welcoming Arms 

sculpting wire and aluminum foil armature, polymer clay, foam clay, acrylic paint, wooden mounting frame and satin black spray finish.

ART
Penleigh and Essendon Grammar School
This creature is meant to embody the concept of death without falling back on the traditional depiction of the Grim Reaper. The creature is foreign yet familiar and is not meant to be threatening. There is an element of etherealness about the creature which surpasses the bounds of reality.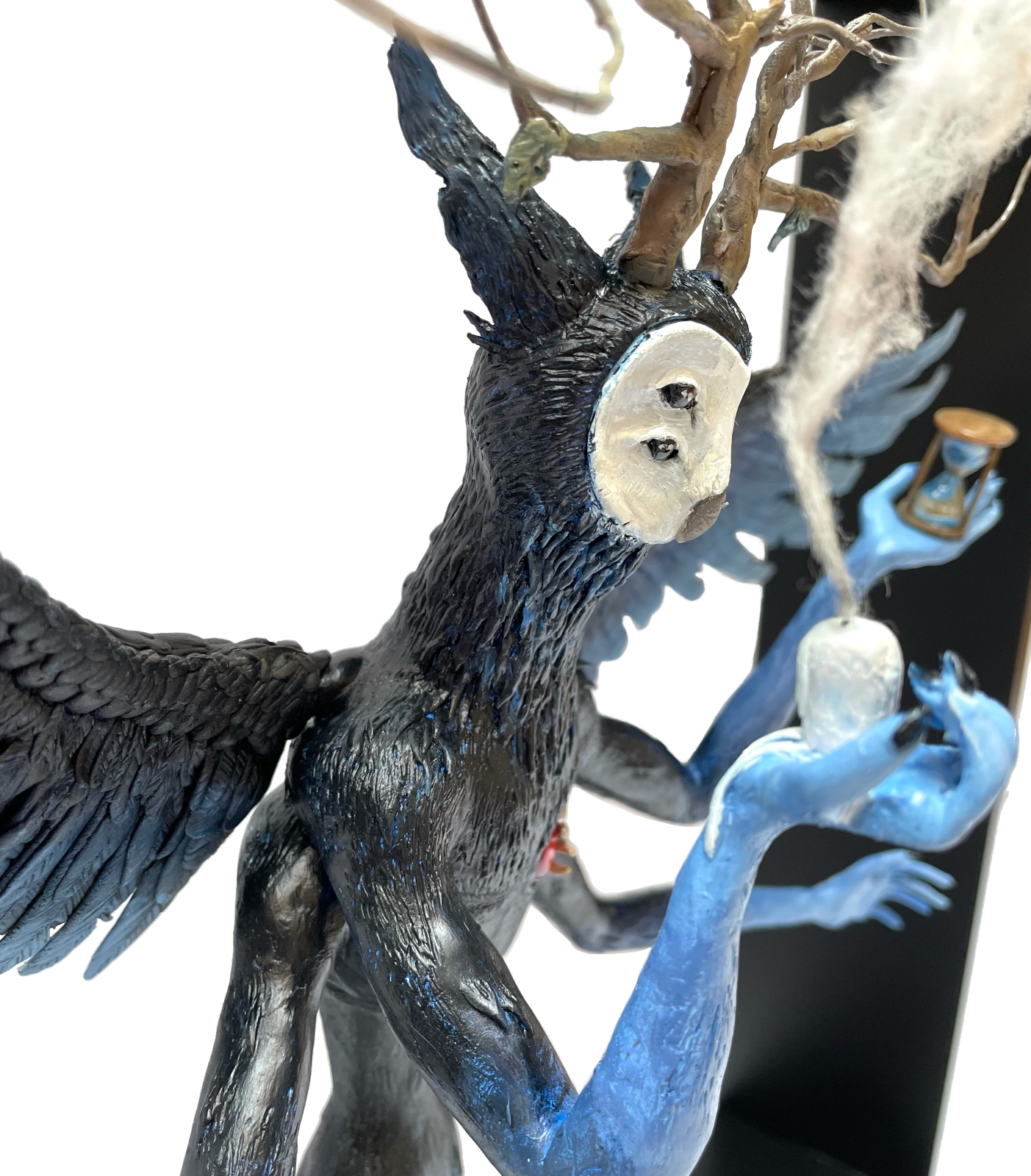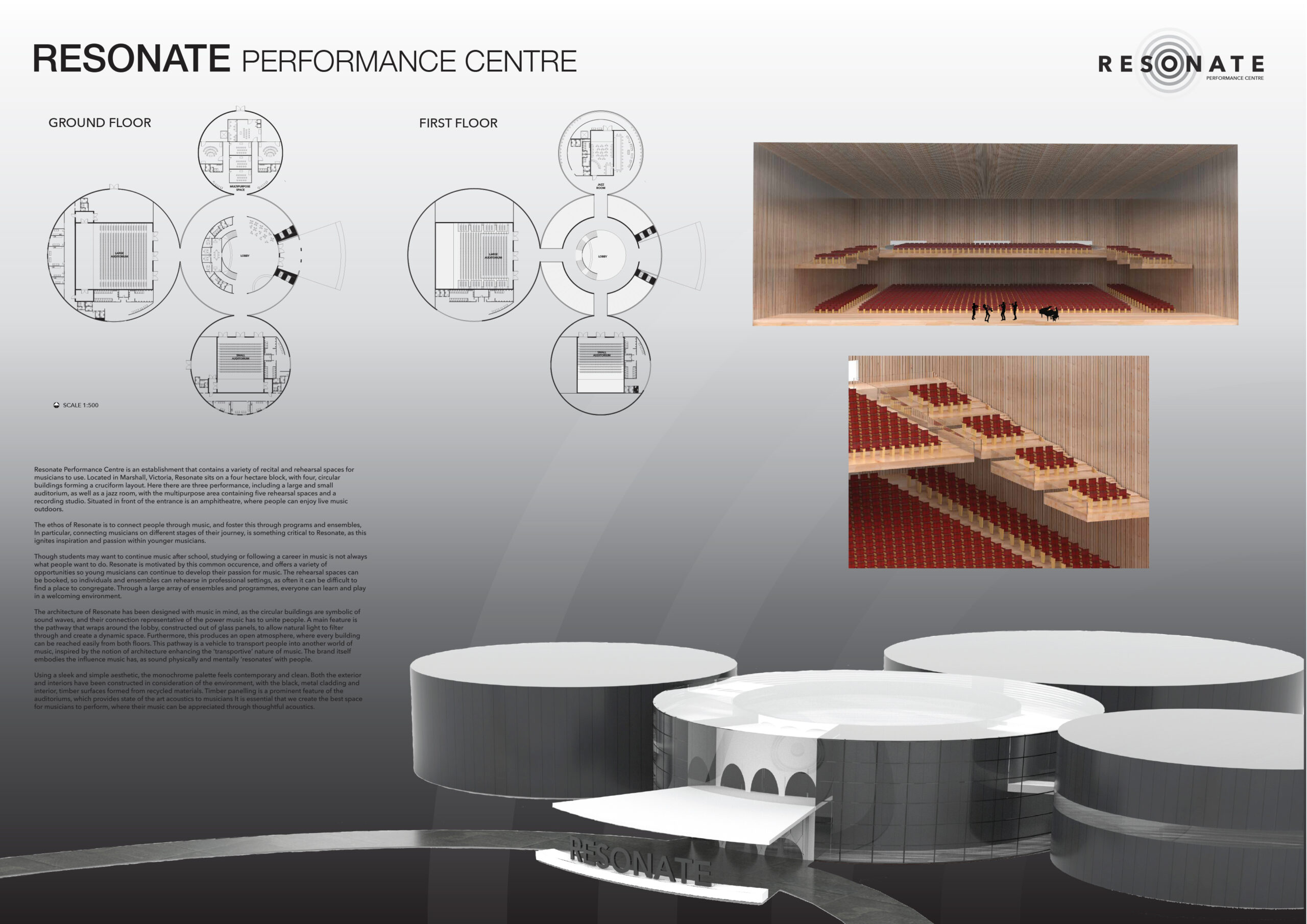 Ivana Ovcaric

Resonate Performance Centre

digital prints, foamcore

DESIGN
Lowther Hall Anglican Grammar School
Resonate Performance Centre is a building with a variety of recital and rehearsal spaces suitable for musicians of all ages to use. The architecture has been designed with music in mind. The circular buildings are symbolic of sound waves and their connection representative of the power music to unite people. The ethos of Resonate is to connect people through music, and foster this through programs and ensembles.
Julia Brock 

Walk Like a Woman

photographic print on white chiffon

ART
St Columba's College 
I wanted my artwork to capture the raw emotions women feel after fighting for so long against oppression, harassment and everyday misogyny.
It depicts the exhaustion, acceptance and frustration.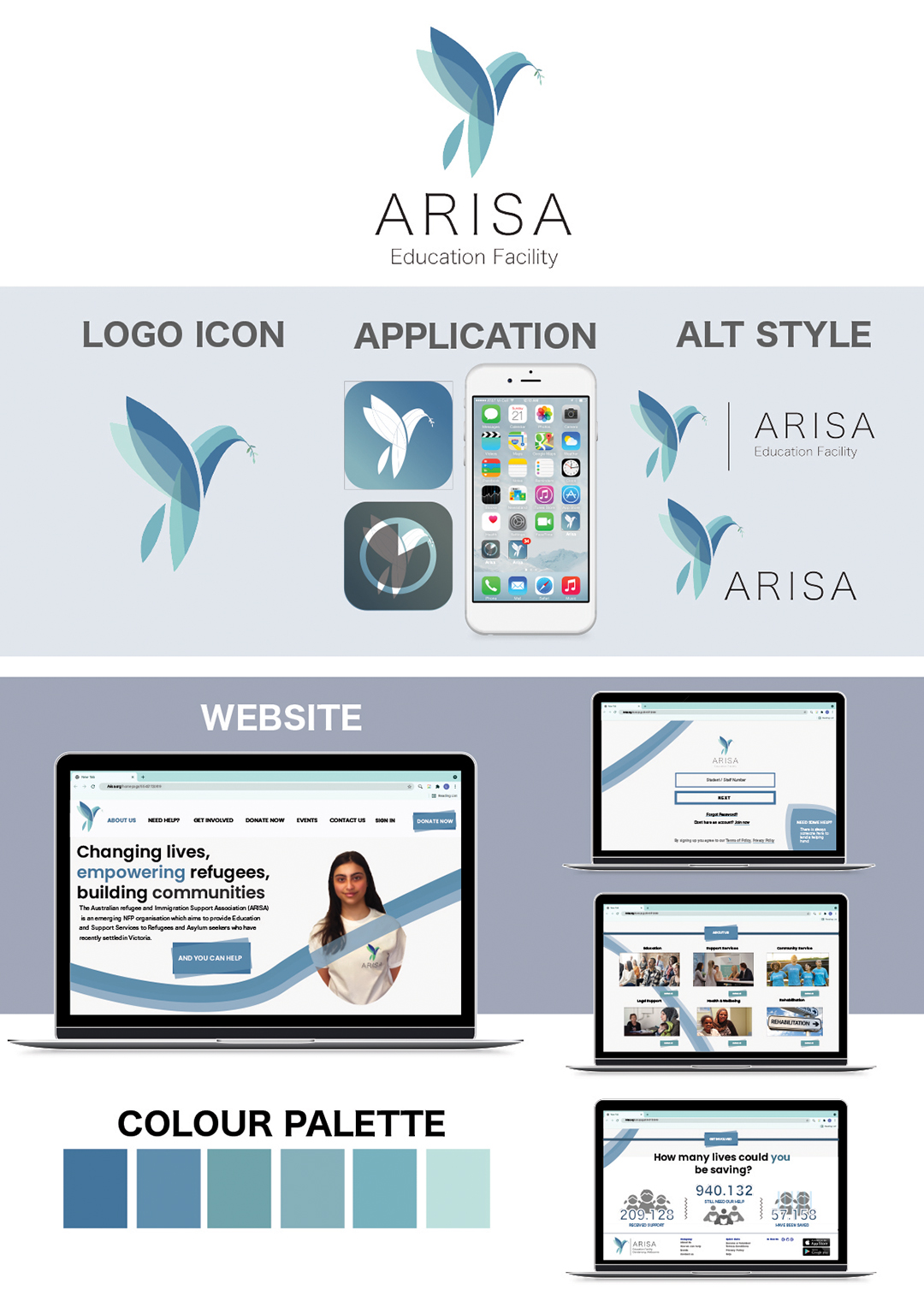 Leila Daher

Arisa Education Centre 

digital print on foamcore

DESIGN
Lowther Hall Anglican Grammar School 
This series of architectural floor plans, elevations and renders depicts the ARISA facility. The centre offers educational services for refugees. It helps to free them from the stress and difficulties associated with moving to a new country and living in a foreign environment.
Lucy Nelson

Front Beach

acrylic paint, gel medium, watercolour, and ink on acetate and acrylic sheets

ART
Buckley Park College 
If I have learned anything about myself it's how much I appreciate tranquillity. Through the development of this work I have reflected on the significance of peace in life and how it is present in the form of place.
My artwork is my search for tranquillity. My selection of materials is unique and allows for exploration of light through the transparent layers.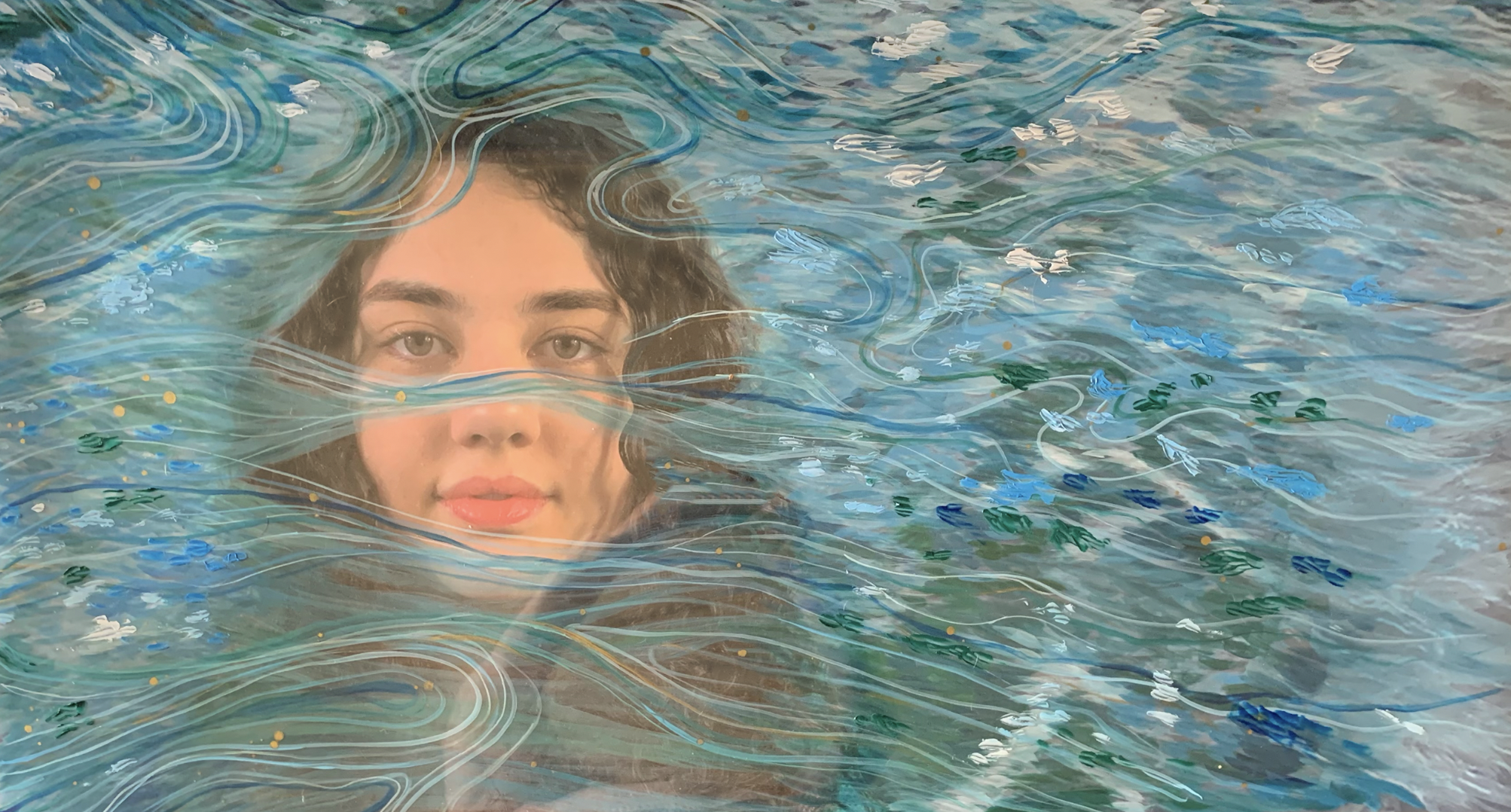 Lucy Turner 

The beauty of Scyphozoa

acrylic, paint and watercolur on cartridge paper 

ART
Ave Maria College
My artwork consists of 4 smaller images that work together to create a larger composition. This piece explores a view of the ocean and underwater sea creatures. Through my use of dots, I focused on the jellyfish, bringing attention to their fascinating body features and movements, as well as the world that surrounds them.
Michaela Vimba 

Sky in Motion Over Cityscapes

oil paint on card and mounted on foamcore

ART
Ave Maria College 
These paintings display each building as being unique through its shape, structure and detail. Together they form a unified cityscape, showing the beauty and complexity of a 'concrete jungle' with the ever-flowing and changing world around it.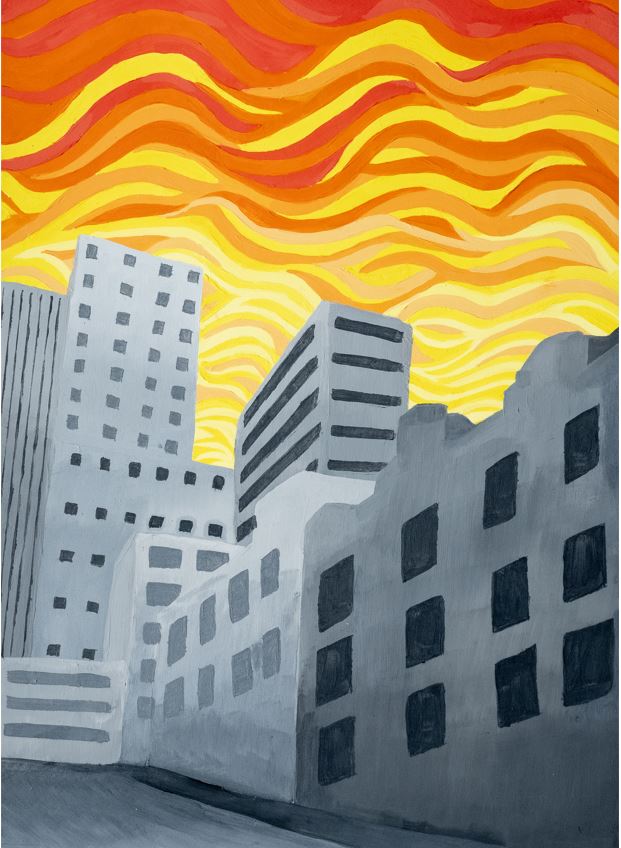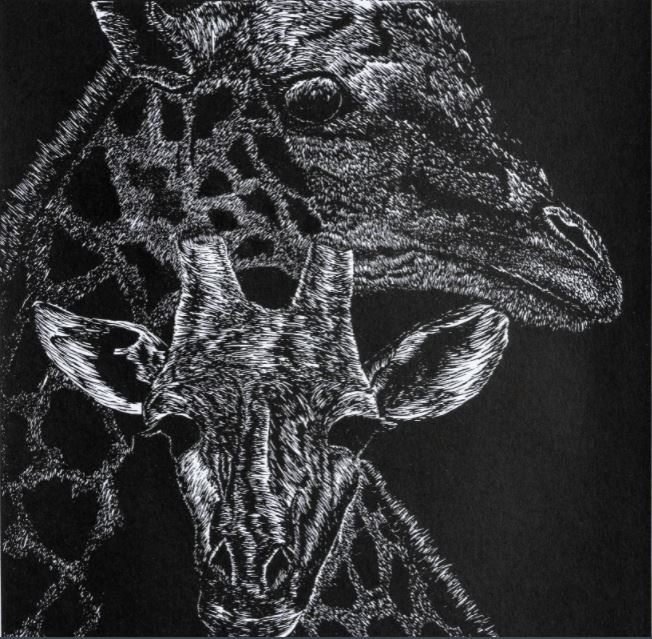 Monica Trang

Matris Amor (Mother's Love)

ink print on paper

ART
Ave Maria College 
Through these pictures I share my fascination with wildlife. Rather than being a quick glance of animal species it is a fastidious consideration of the unique, maternal relationships that exists between a mother and her cub, her hatchling or her calf.
This is my homage to the very first mothers of our world.
Mya Mollica

The Truth Behind OCD

digital prints mounted on foamcore

ART
Ave Maria College 
Obsessive Compulsive Disorder (OCD).
It is not neatness, it is a legitimate illness, it is hell. With my photography, I aim to fight the stigma surrounding OCD and reveal the truth behind this torturous disorder. By sharing my story, I hope that others can find the strength to speak up and seek help.
No one should struggle in silence as I did. Sharing my story could be the light someone needs to help themselves out of a dark place. When 'I' is replaced with 'We' illness becomes wellness.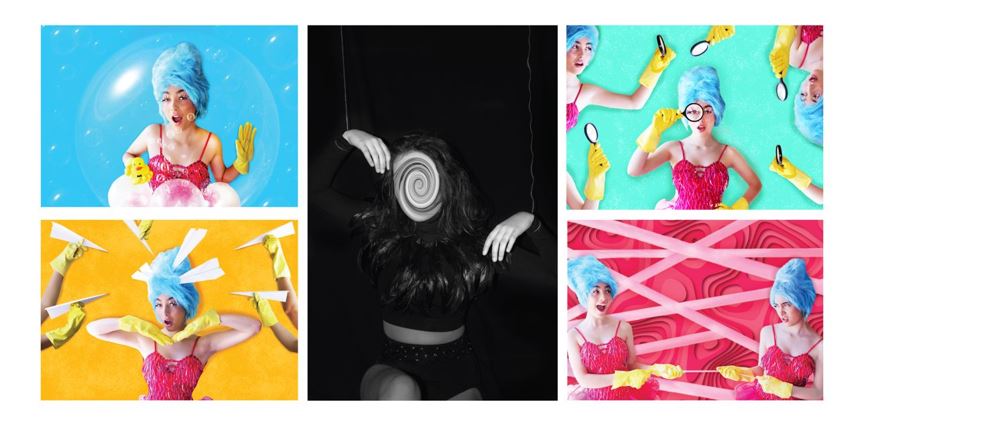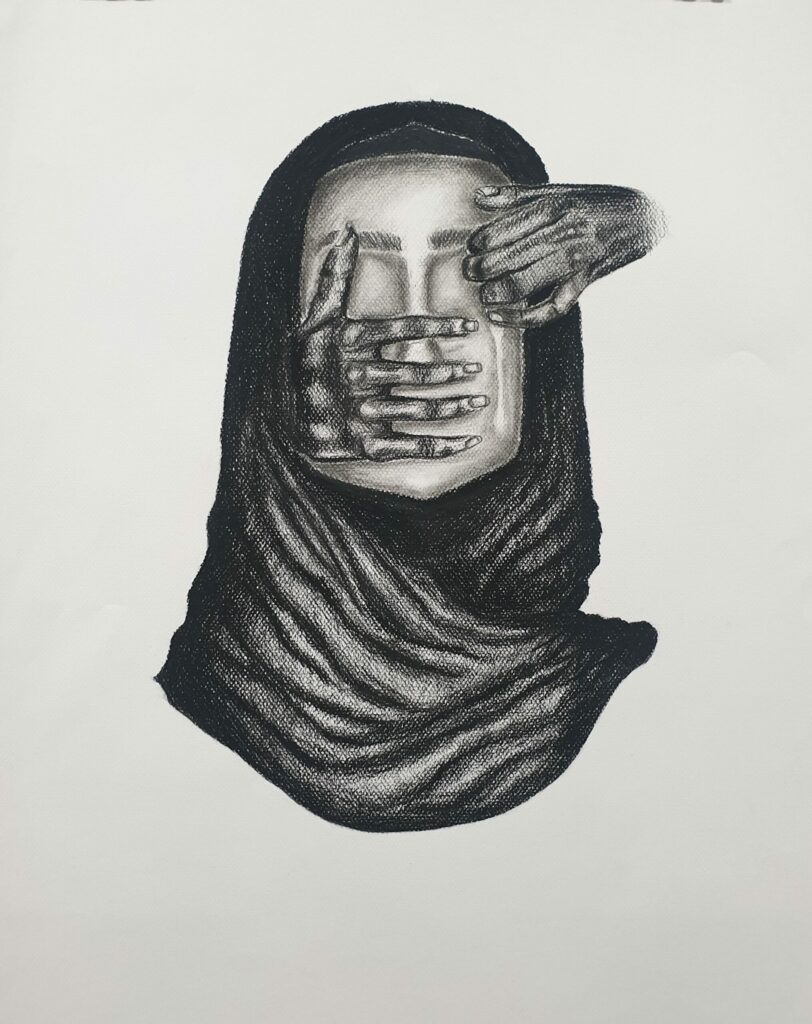 Nafeesa Zulfikar 

Liberation

charcoal pencil on watercolour paper

ART
Rosehill Secondary College 
In the attempts to 'liberate' Muslim women from the supposed oppression of wearing the hijab, white and western societies show inconsistency in upholding the right to freedom of religion, and freedom of choice.
Natalia Cachia 

Doors of Culture 

mixed media on cartridge paper

ART
Ave Maria College
These artworks represent my Uruguayan and Maltese cultural background. They are traditional doors made of paper, collage and gouache paint. I wanted to create an artwork that would ultimately represent me and show my passion for these cultures.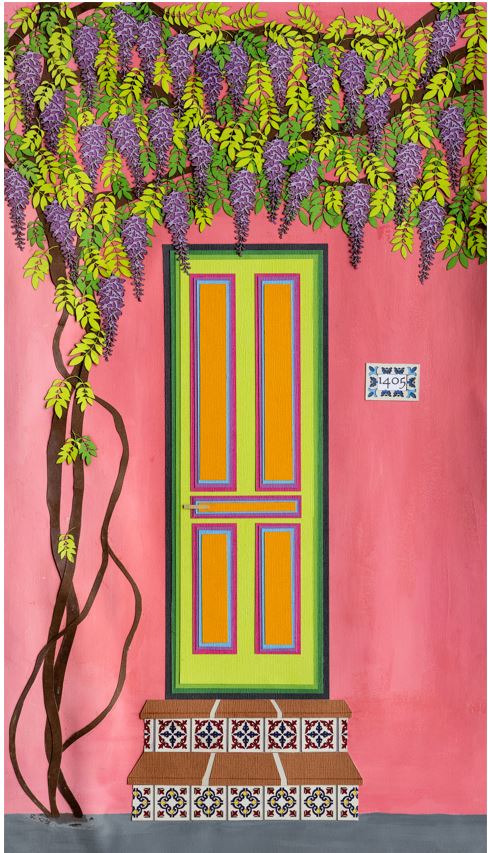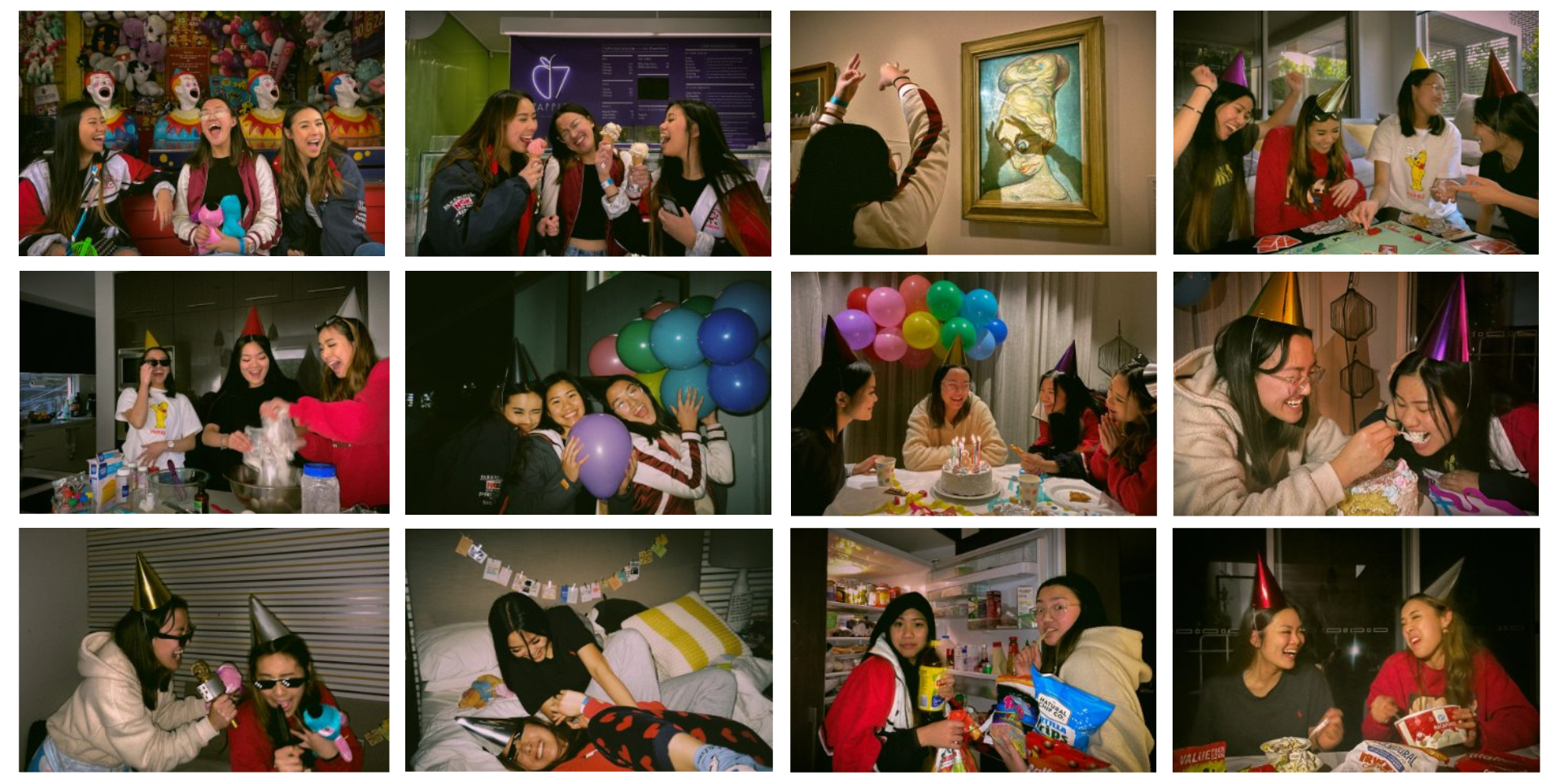 Rachel Nguyen

Forever Young 

digital prints

ART
Ave Maria College 
'At what moment did you know you were growing up?'
In telling a story about childhood and play, I believe there is no time limit to childhood wonder. It is important to allow yourself to reclaim your childhood and connect to your inner child, at any age.
Riley Taylor

Kinkyu

cardboard, artificial grass, paper, card, wood, digital print and foamcore

DESIGN
Rosehill Secondary College
These presentations have been designed for use in Japan after natural disasters. The folding model allows for easy storage and deployment. The geometric style creates a contemporary aesthetic, fitting Japan.
The diagram incorporates easily recognizable symbols that can be interpreted regardless of age or language.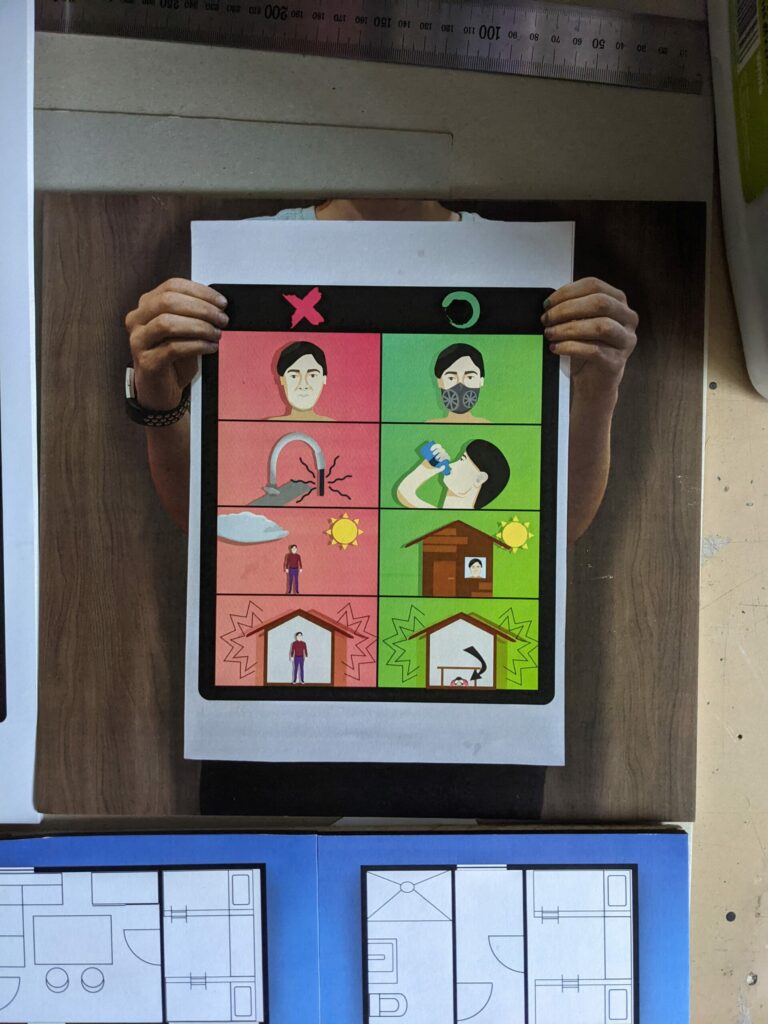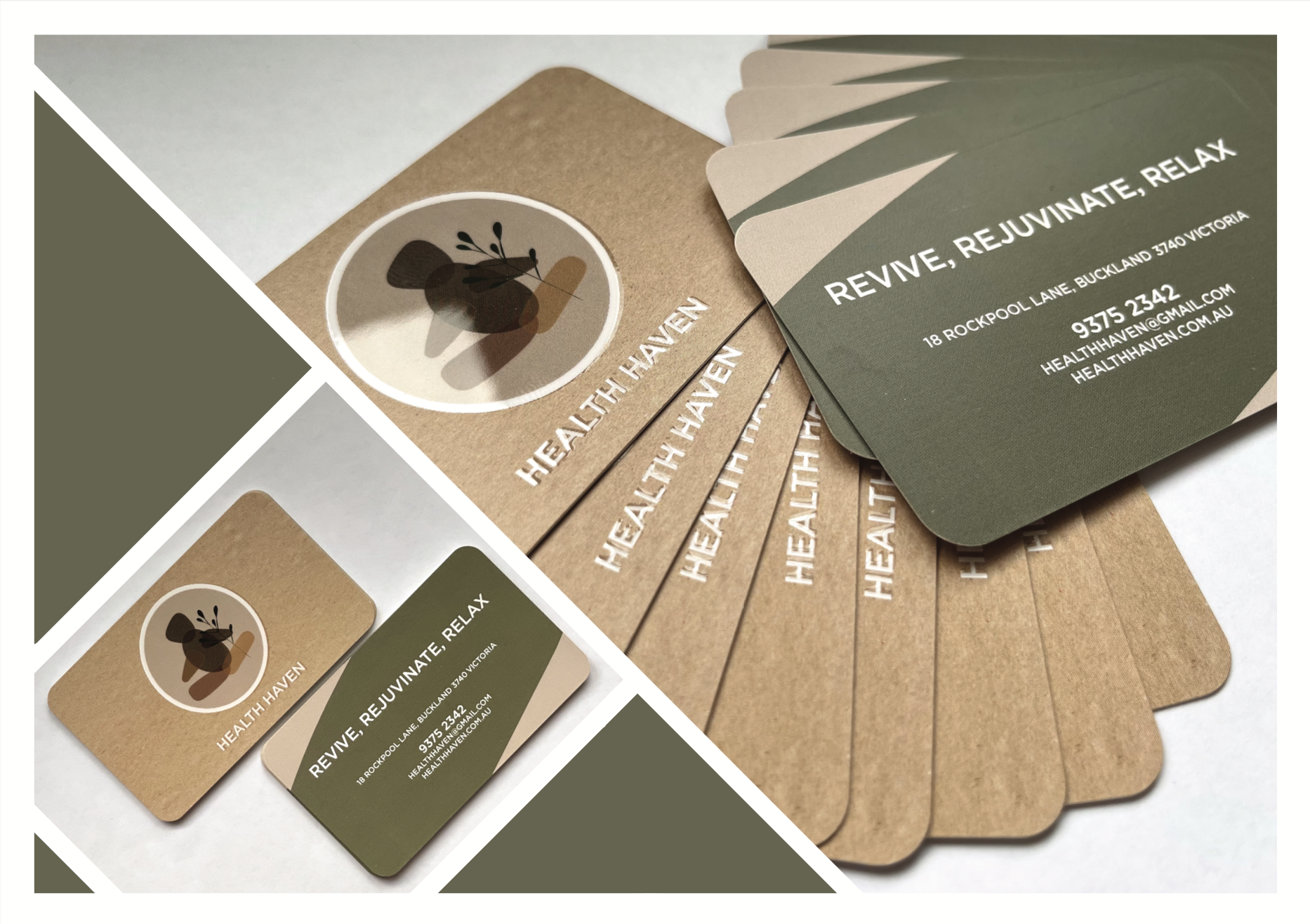 Ruby Caruana

Health Haven

digital prints

DESIGN
Lowther Hall Anglican Grammar School 
The client's focus on the natural beauty of the environment and the importance of rejuvenating and relaxing for improved mental health influenced my design for this work. The design was created as an attractive place for people to enjoy a weekend getaway.
Sabrina Astuto 

The Figs Began to go Black

graphite on paper

ART
Penleigh and Essendon Grammar School
This drawing shows me looking into the future. It depicts my struggle with having to make choices like in the novel The Bell Jar. Time catches up when you think too much and options diminish, leaving you with 'black figs'. This is something I worry about that I hope to overcome and live in a future with more optimism.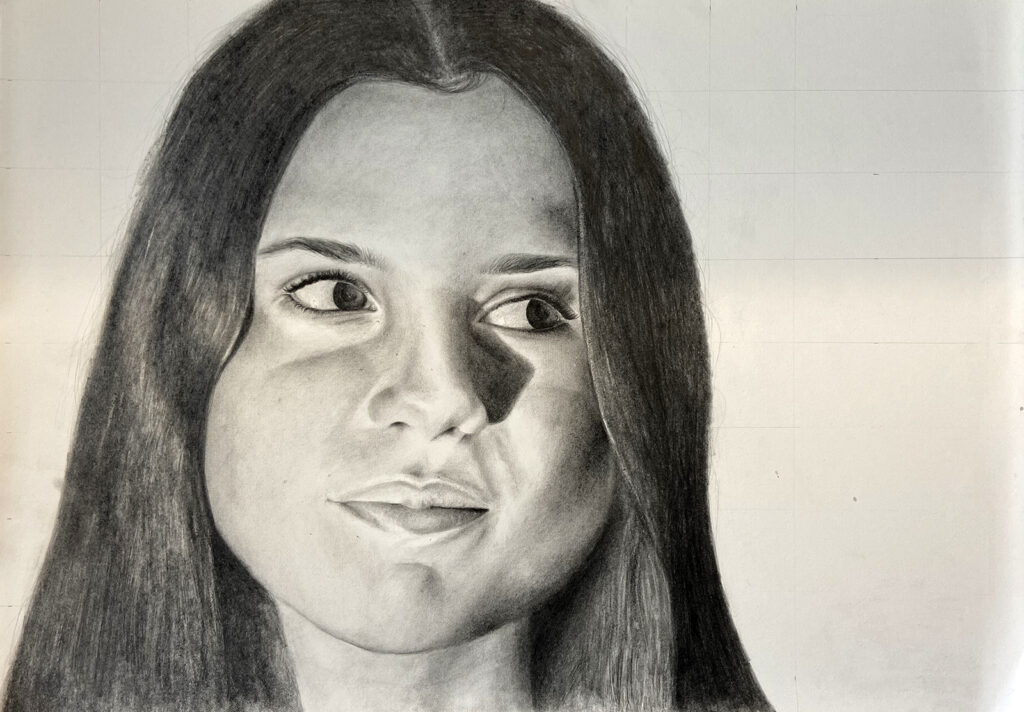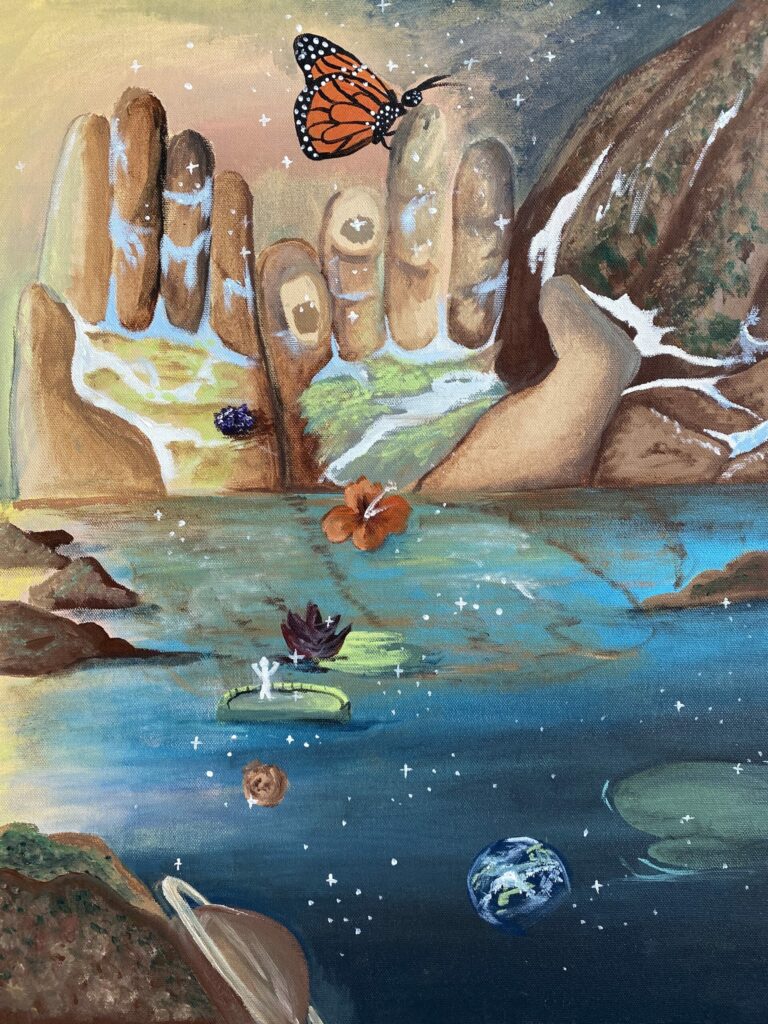 Sophia Lima

State of Mind 

acrylic paint on canvas

ART
Essendon Keilor College 
This artwork captures the state of mind many of us go to when listening to music. While making this artwork I listened to all genres of music and painted wherever my imagination took me. At first this was somewhere for me to escape the harsh reality of COVID-19 then it became a peaceful place where I could rest. I want people to interpret the piece in their own way.
Stephanie Mason

Wonders

oil paint, acrylic spray, glitter, white marker on wood

ART
Penleigh and Essendon Grammar School 
The seal swims in the night sky, pure wonder. The night sky is associated with dreams and the most untamed imagination. For me, the seal represents imagination, purple symbolises it, and blue stimulates it.
Personally, I have a vivid imagination. This seal represents an extension of me along with my favourite colours. Being able to drift off into one's own imagination can be cathartic and I believe essential.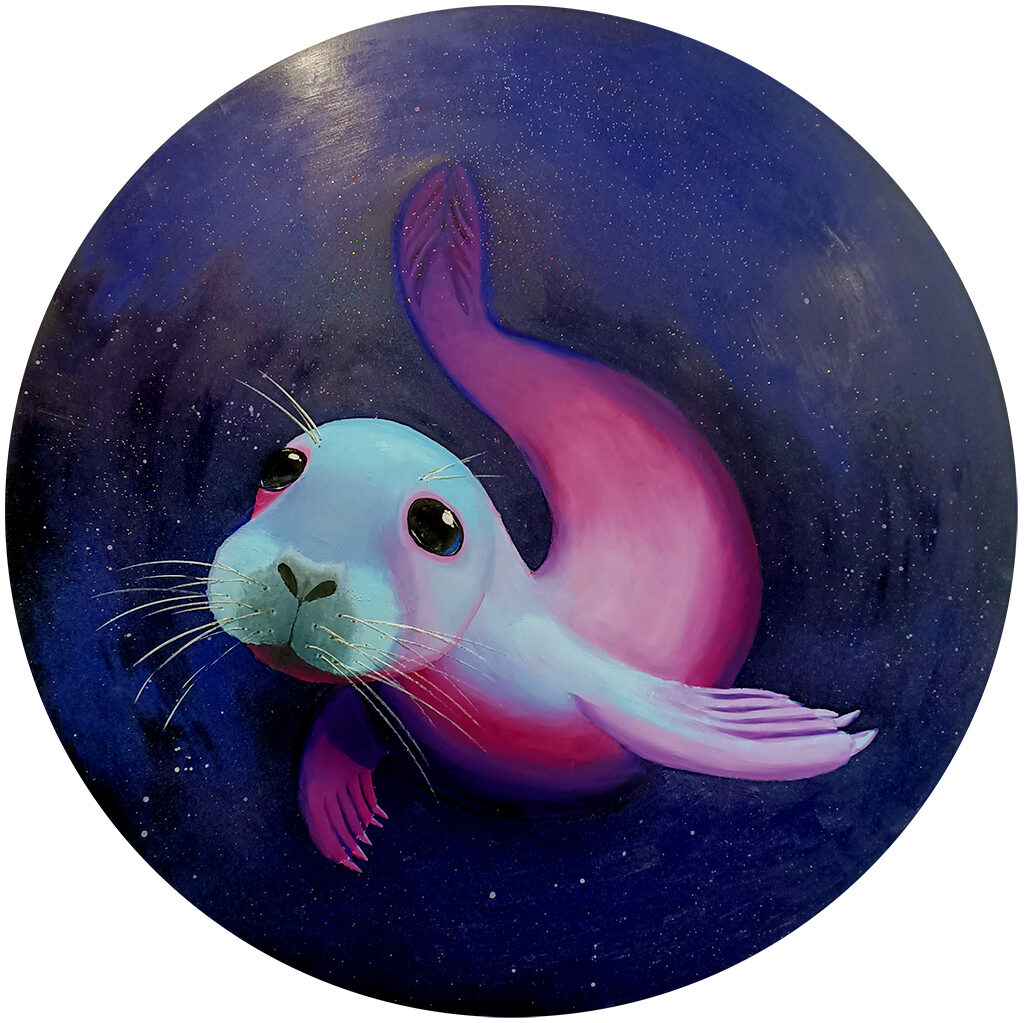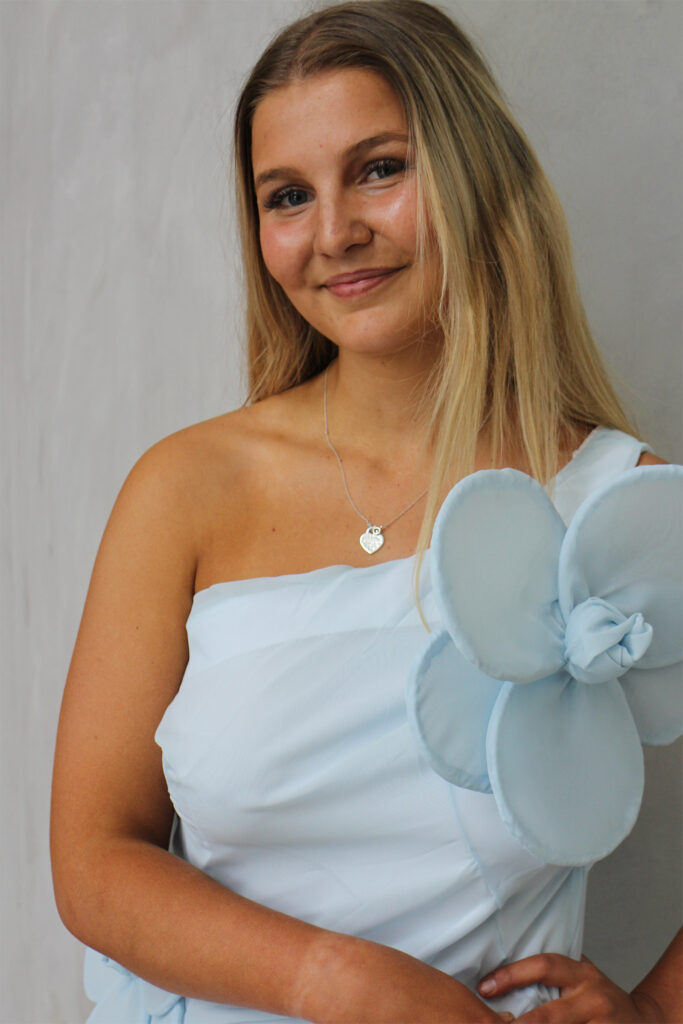 Taylor McCarthy

Spring Floral

polyester chiffon

DESIGN
Ave Maria College
This is a full-length, flowy, hand-made garment created specifically for the Spring Racing Carnival.  I have followed a 'Spring Floral' theme, inspired by Australia's colourful spring season.
Zoe Novacek 

Life on Repeat 

acrylic paint on photographs, nails, wooden frames, chipboard, glass and non-slip matting

ART
Strathmore Secondary College
This artwork is a series of self-portraits depicting a seven-day period. It shows the masked and unrealistic facade that is worn publicly in contrast with hidden feelings of distress, tiredness, lack of motivation that I was unable to escape.
Producing this artwork was a very personal experience. I felt vulnerable creating self-portraits but it helped me realise my strength and ability to create something meaningful.