Fireworks 2020 exhibition and awards showcases the accomplishments of high achieving art and design students in Years 11 and 12 who live, work or study in Moonee Valley.
This exhibition – shown both at Incinerator Gallery and online – provides a platform for our young creatives to share their works with the greater community and to encourage their ongoing ingenuity.
This eighth Fireworks presentation demonstrates Moonee Valley City Council's ongoing commitment to the support and promotion of young local artists and designers.
We celebrate the achievements and resilience of students working towards completion of their Victorian Certificate of Education during this challenging year.
Creative and critical thinking is evident in the design works including models, posters, fashion, animation and packaging design,demonstrating imagination, thoughtful decision-making and technical competence. Artworks display skills and conceptual accomplishments in a broad range of media including drawing, painting, installation practice, collage, sculpture and digital arts.
Fireworks 2020 is an engaging array of works that speak to contemporary concerns for young people. Submissions reflect themes including identity, the environment, mental health, feminism, beauty and social justice.
We wish these creatives well for their futures, knowing the skills and knowledge gained from studying arts subjects is central to fostering positive wellbeing, improved health and living happier lives.
Incinerator Gallery invites you to support our artists and designers by voting for your favourite Fireworks work for the People's Choice Award.
Alana Shrubshall

A Piece of the Puzzle

watercolour, pen, colour pencil on paper
29.8 x 37.5 cm

ART
Rosehill Secondary College
Through this artwork, my goal has been to communicate how our identities go beyond our names and birth certificates. Moreover, I have also tried to express the deep connection between ourselves and our culture. Ultimately though, we are all like puzzles, piecing ourselves together in search of our own identity.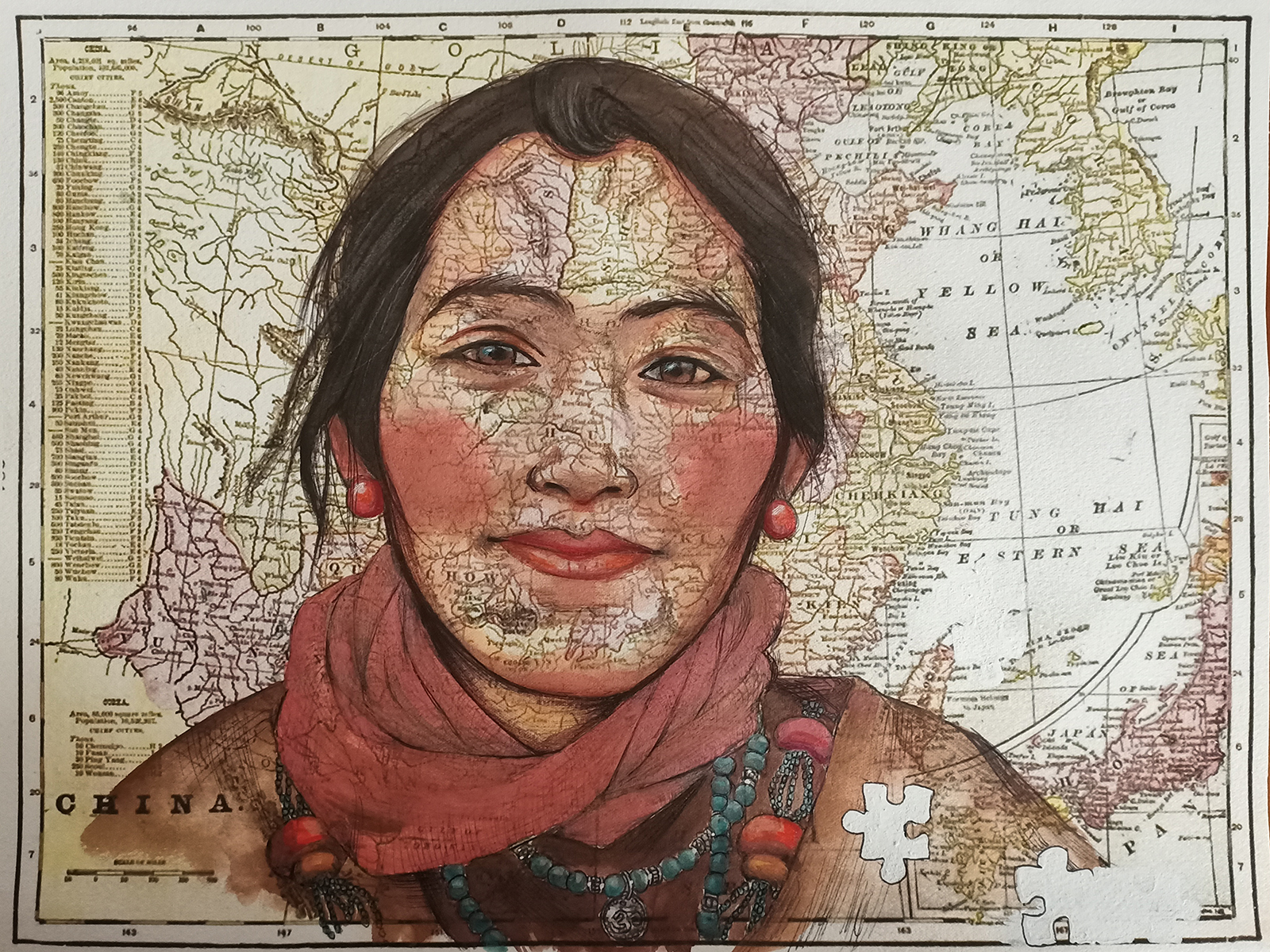 Alessia Massara

Mechanical Eye #Red
Mechanical Eye #Green

graphite pencil on cartridge paper
each work 40 x 40 cmr

ART
Ave Maria College
This drawing incorporates mechanical cog-like shapes, and enlarged human eyes. Together they intertwine to represent a biomechanical organ, that represents relationships between 'natural' and 'man-made' structures in our world.
Alexandra Ridgeway

Alone

white earthenware clay
16 x 100 x 32 cm

ART
Pascoe Vale Girls College
This artwork symbolises autophobia – the fear of being alone. As people with phobias are stigmatised and belittled, I wanted to create an artwork that would generate feelings of empathy and compassion for other people who might be suffering.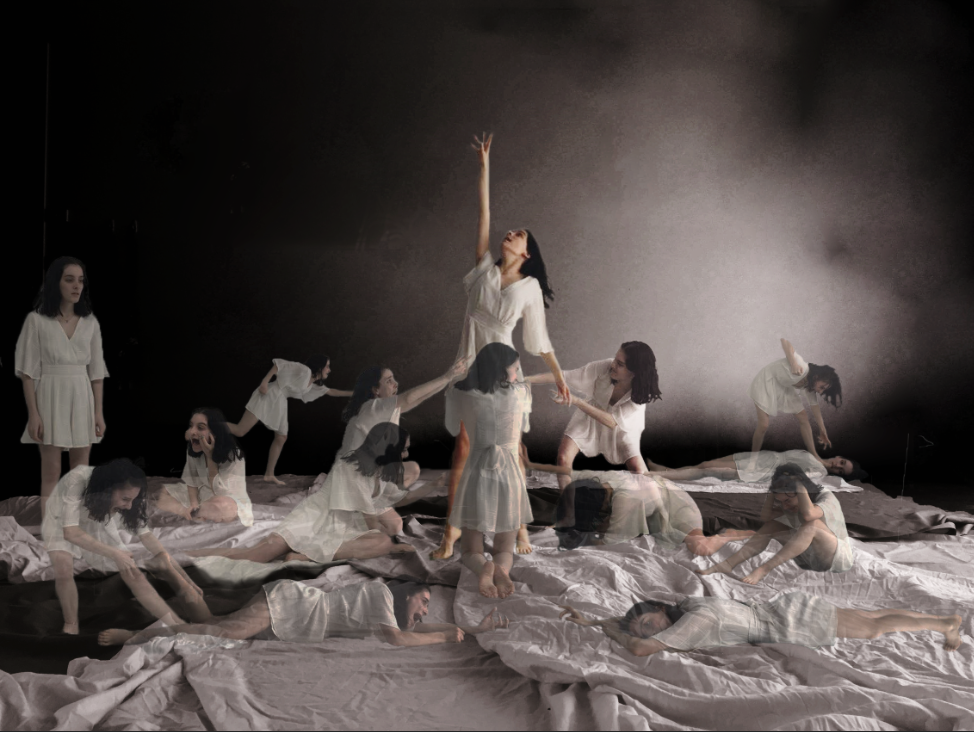 Alyssa Liberman

Unforeseen Battles

digital print
41 x 55 cm

ART
Ave Maria College
Within this composition there are sixteen self-portraits that express my visualisation of depression. Opacity and a dull colour palette were used to describe the constant negative thoughts that can consume people's minds. The central figure shows me reaching for hope. Through this artwork have tried to provide insight into the reality that many people experience.
Anastacia Calleja

Trepidation Personified

colour pencils on paper
29.7 x 42.7 cm

ART
Rosehill Secondary College
This artwork aims to represent fear and anxiety in relation to sickness. During difficult times, such as COVID-19, sickness is over reported so feelings of trepidation and nervousness fester. This artwork aims to turn that uncertainty into what I view as my "anxiety of sickness".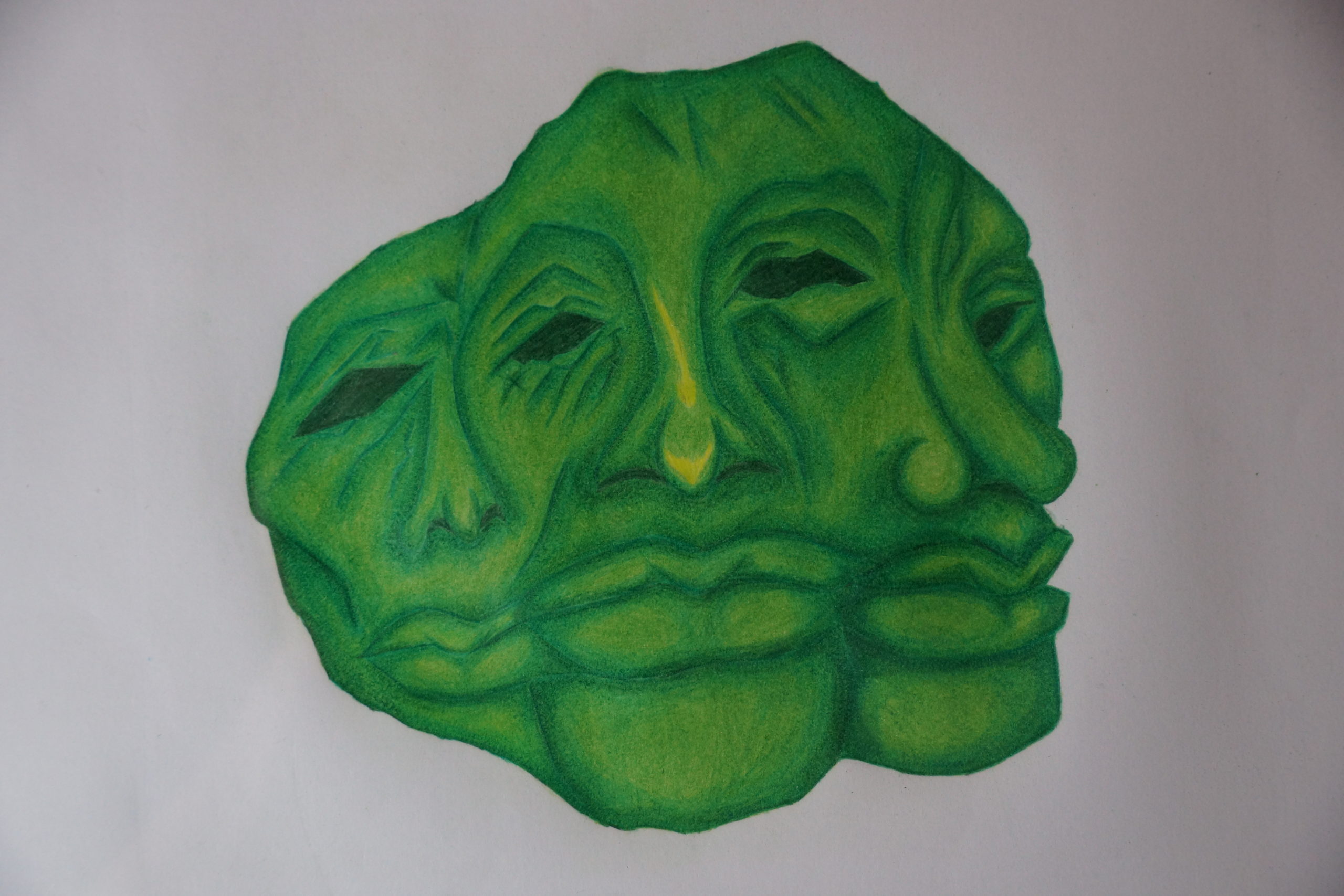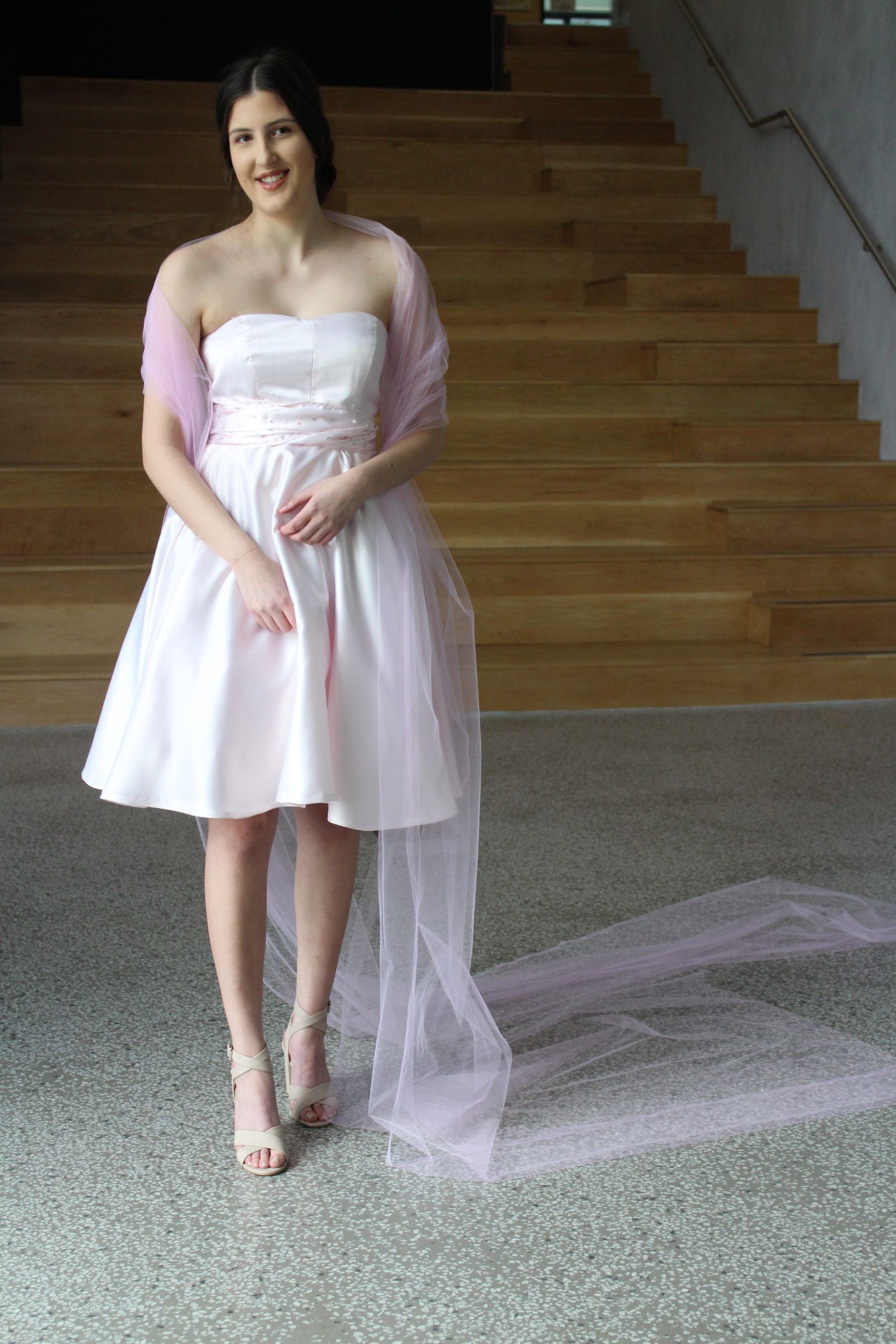 Anastasia Roumeliotis

1950's Glamour

silk, chiffon and beads
dimensions variable

DESIGN
Ave Maria College
This dress has been designed to be worn to the Cannes Film Festival. It represents 1950's glamour with a modern twist on it, with the beading on the fabric belt.
Anisa Haddad

Mary Magdalene

watercolour, acrylic, felt tipped pen on wood
90 x 60 cm

ART
St Columba's College Essendon
This artwork is inspired by the Christian story of Mary Magdalene, a faithful follower of Jesus accused of being a prostitute as a way to discredit her. My aim is to give overlooked women who are written out of history – like Mary Magdalene – the praise I think they deserve.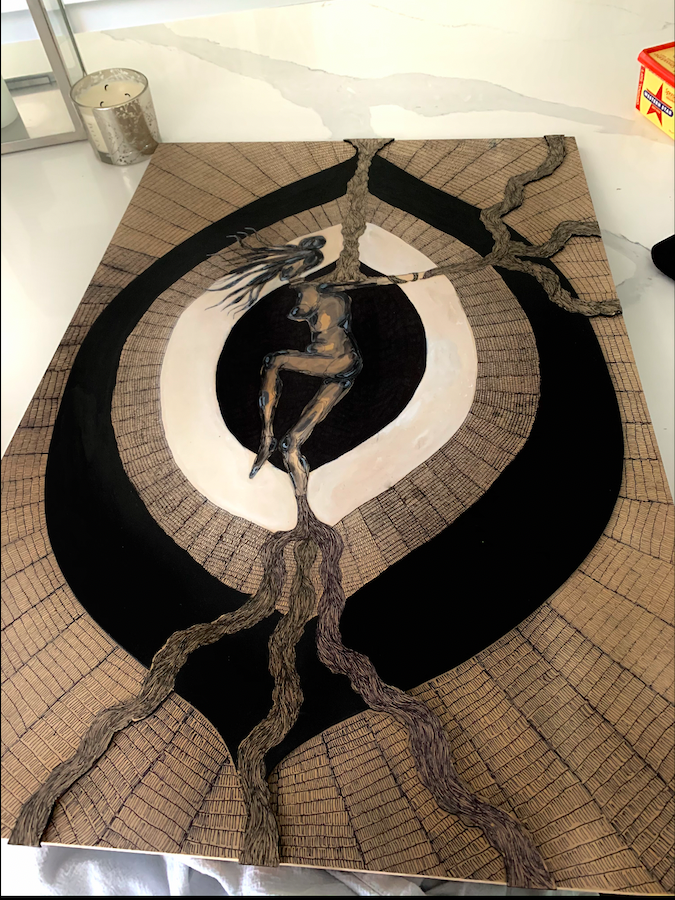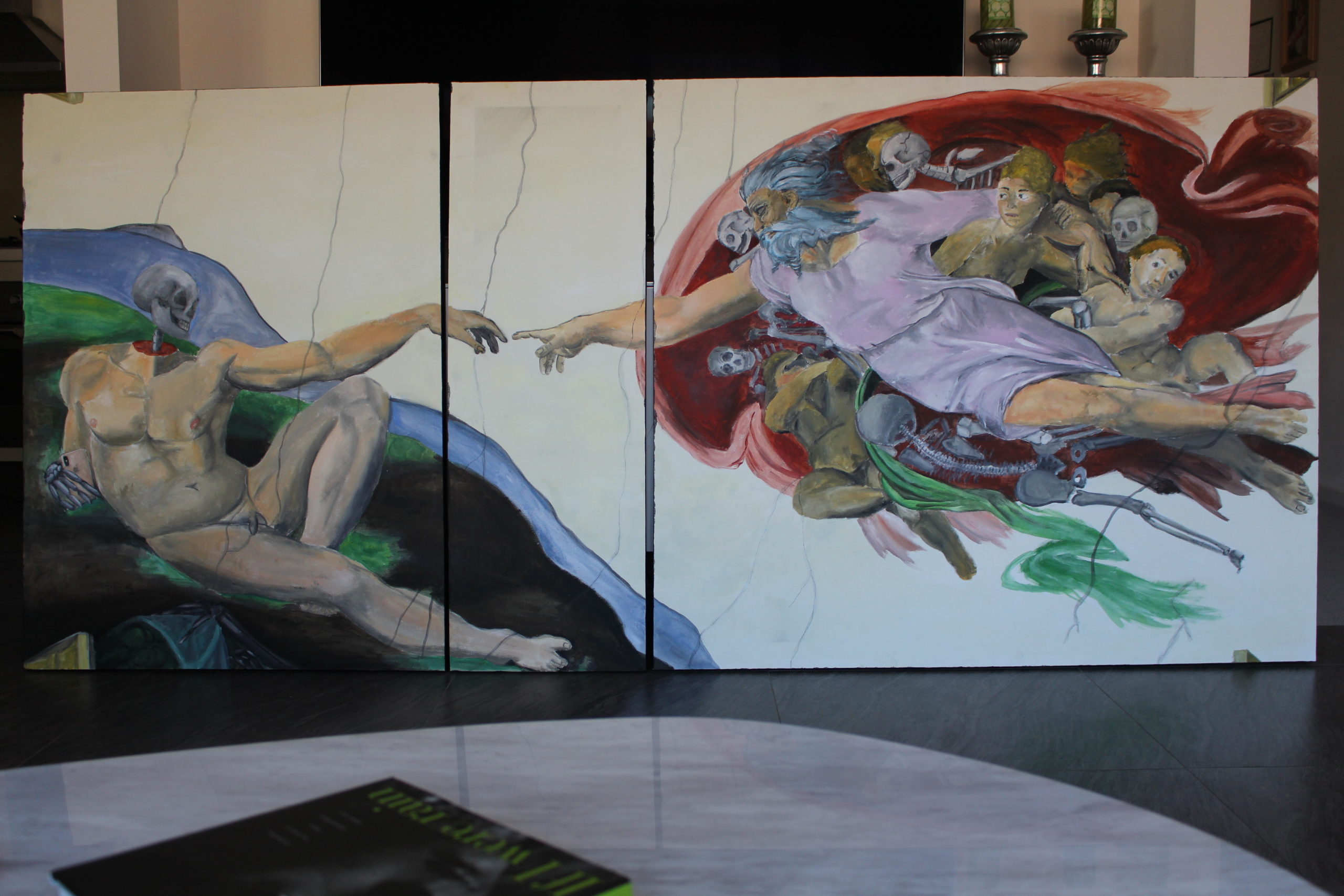 Blake D'souza

The End of Creation

acrylic paint on canvas
113 x 250 cm

ART
Strathmore Secondary College
This artwork is created in juxtaposition to Michelangelo's Creation of Adam. My aim is to highlight a common fault within society of our natural habit to revert to technological interaction over physical. Through the use of appropriated features, an alienated and deteriorating depiction of society is portrayed.
Caroline Timpano

Hostage

digital print
27.9 x 42 cm

ART
St Columba's College Essendon
This artwork explores a fear of being unable to leave and feeling trapped. Arms hold the hostage down causing more distress.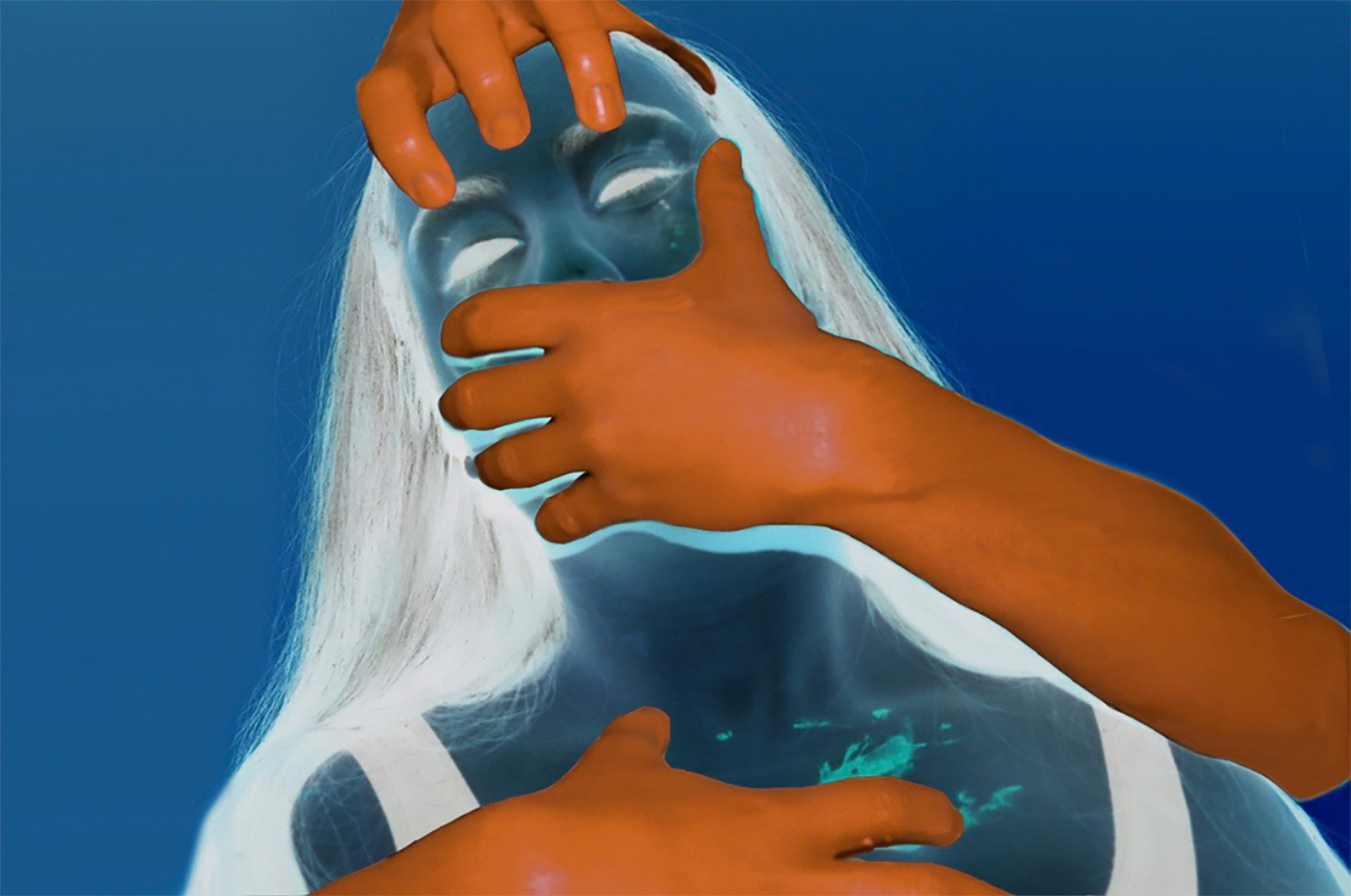 Claudia Vendramini

Family Women - The Series

acrylic paint on canvas
each work 40 x 30 cm

ART
Ave Maria College
In these portraits of inspiring women in my family, colours found in the subjects have been essential in conveying their moods and emotions. The colour palette also symbolises and enriches the aesthetics of the 1960s. The iconic fashion items add further expression and describe my sitters' identities.
Studio Art this year has been one of the most positive outlets for my mental health. It enabled me to calm my thoughts and improve my work for art and other subjects.
Daniella Scambiatterra

Maria
Bruno


colour pencils on paper
each work 297 x 420 cm

ART
Ave Maria College
This artwork uses everyday colour pencils to depict the subjects in an unrealistic way. With a focus on repetition and contrast I have applied art elements and principles that give a sense of unity to the final compositions.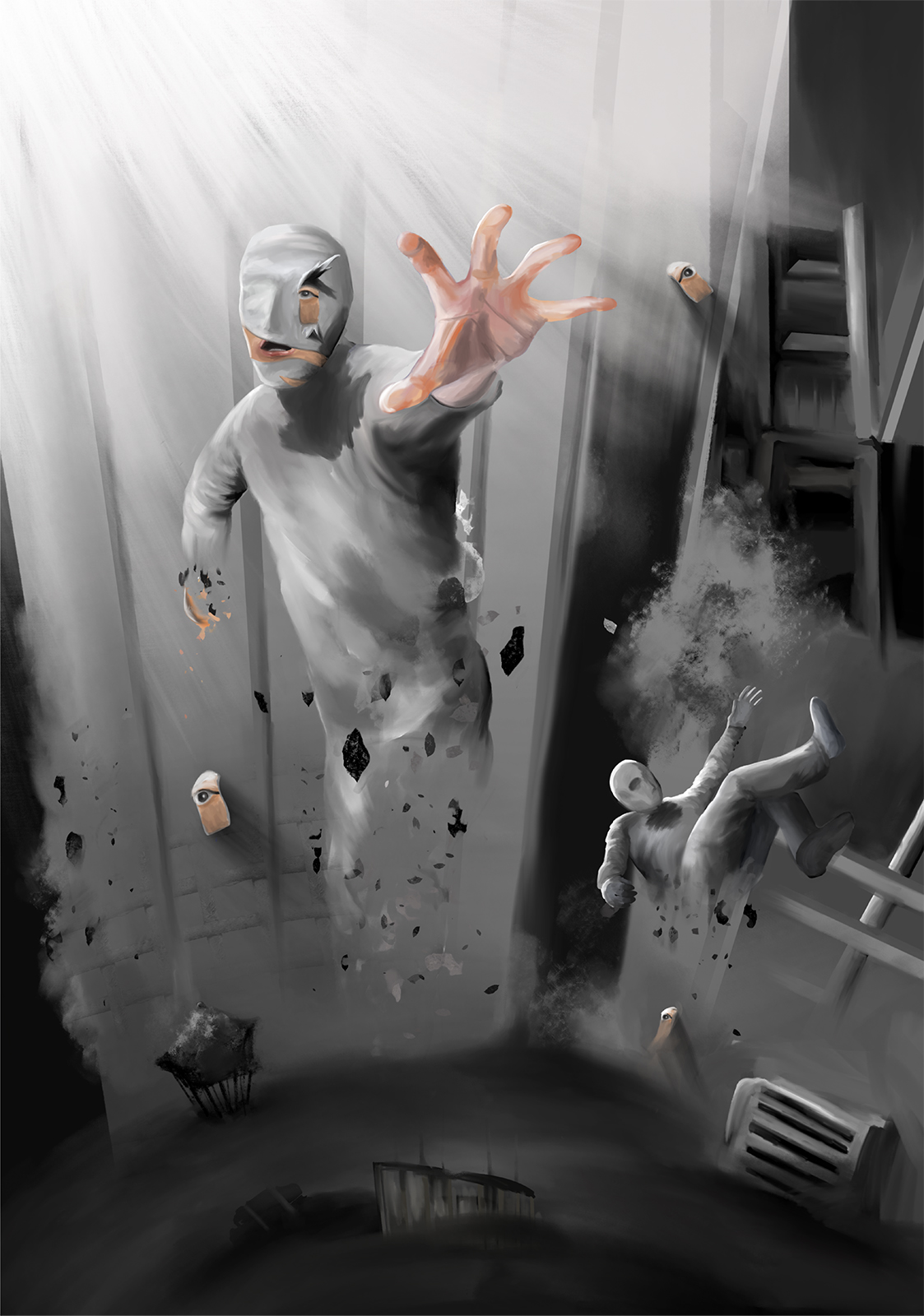 David Xie

F.o.S

digital print
42cm x 59.4cm

ART
Penleigh and Essendon Grammar
The central figure is desperately trying to escape a deteriorating city and speaks about how I see many countries or societies in the world today. The figure acts to convey their lack of freedom and individuality and how they are torn down through government control and media depictions of them.
Deniz Cavdar

The Red Biome

Acrylic on canvas
29.7 x 42 cm

ART
Rosehill Secondary College
This painting was created using only reds, white and black. Red represents adventure and anger. The concept of overcoming challenges is depicted in each layer of the artwork. The idea of light at the centre of darkness is portrayed in the foreground. .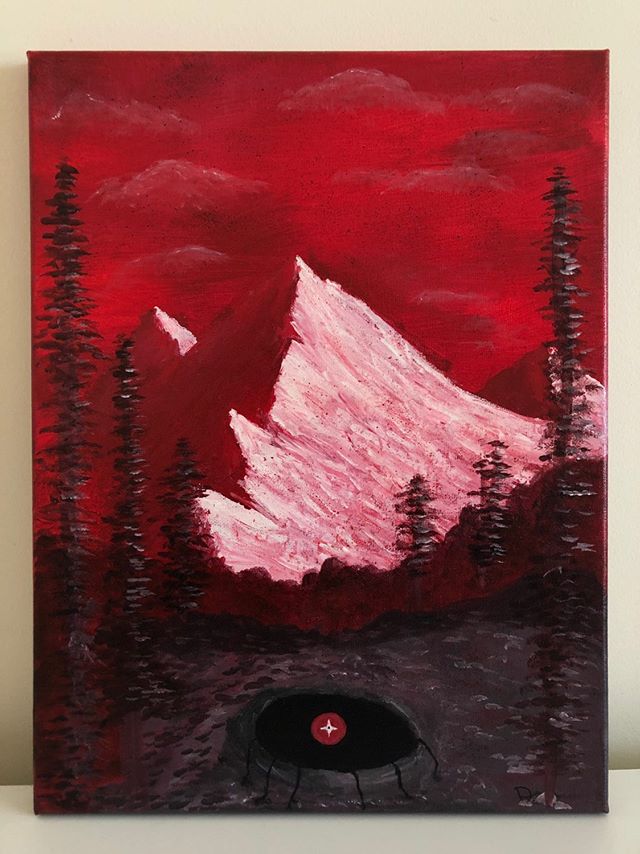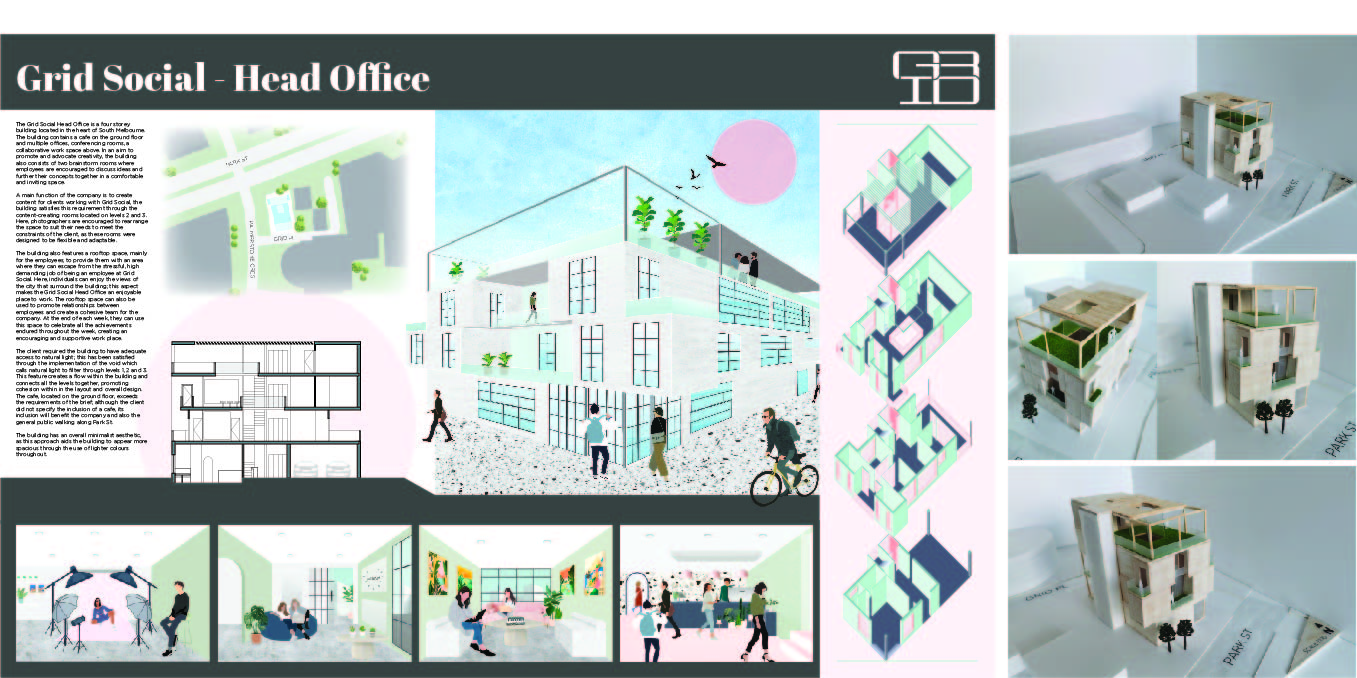 Eliza Saundry

Grid Social

digital print, balsa wood and foam core
concept board 130 x 84.1 cm
model 56 x 59 x 20 cm

DESIGN
Lowther Hall Anglican Grammar School
The Grid Social Head Office is a four-storey building located in South Melbourne. The building consists of a ground floor café, offices, conference rooms and a collaborative work space atop. It aims to promote creativity for the employees and includes brainstorming rooms where people are encouraged to discuss ideas together in a comfortable space.
Ellyn Ryan

Brain #2

acrylic, medium-density fibreboard, wood, paper, glue, bark, branches, wire, glass, china and resin
242 x 122 x 155 cm

ART
Penleigh and Essendon Grammar School
This artwork is a tactile representation of time and the world we live in. I am interested in how people manipulate their lives to generate particular outward appearances for specific outcomes.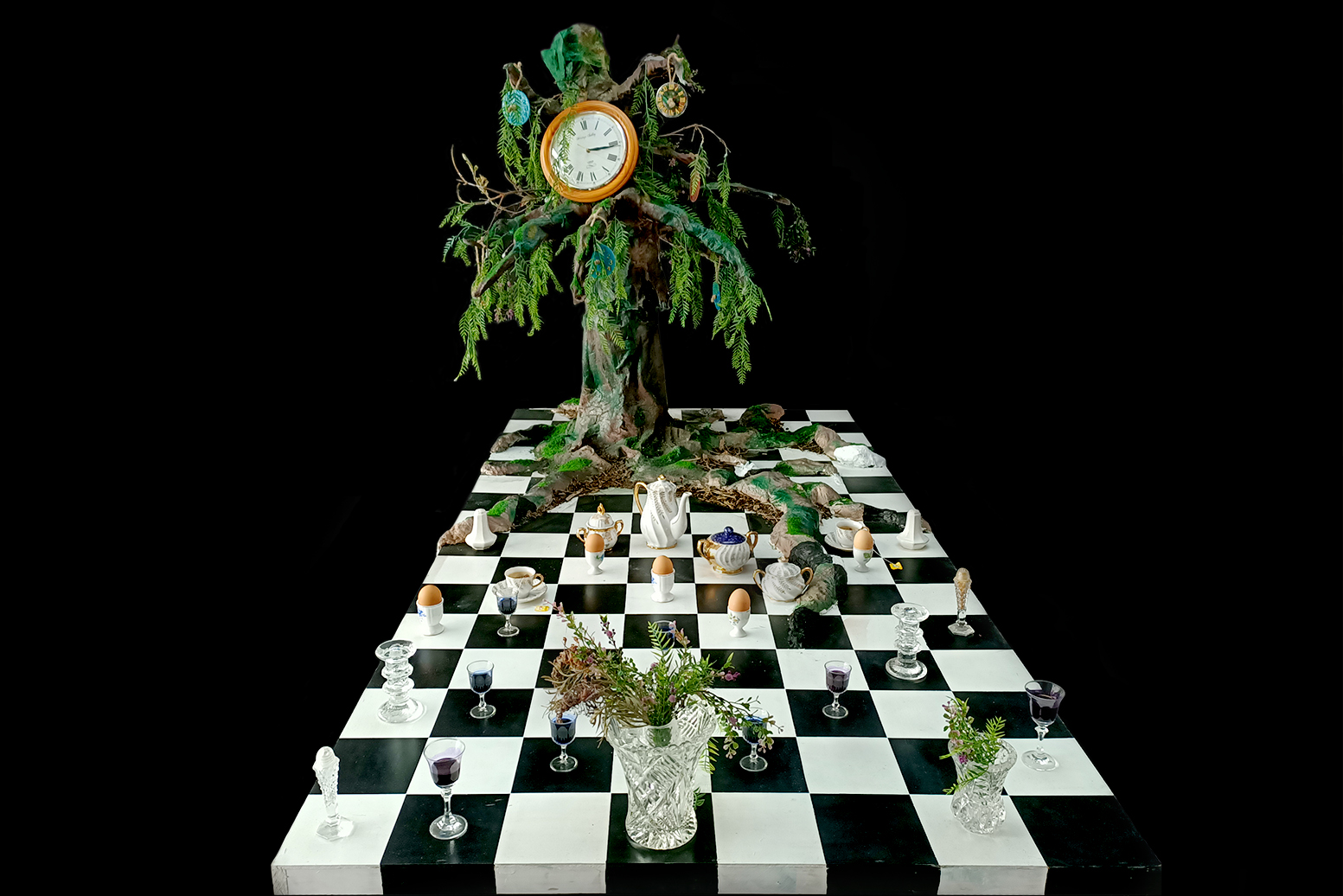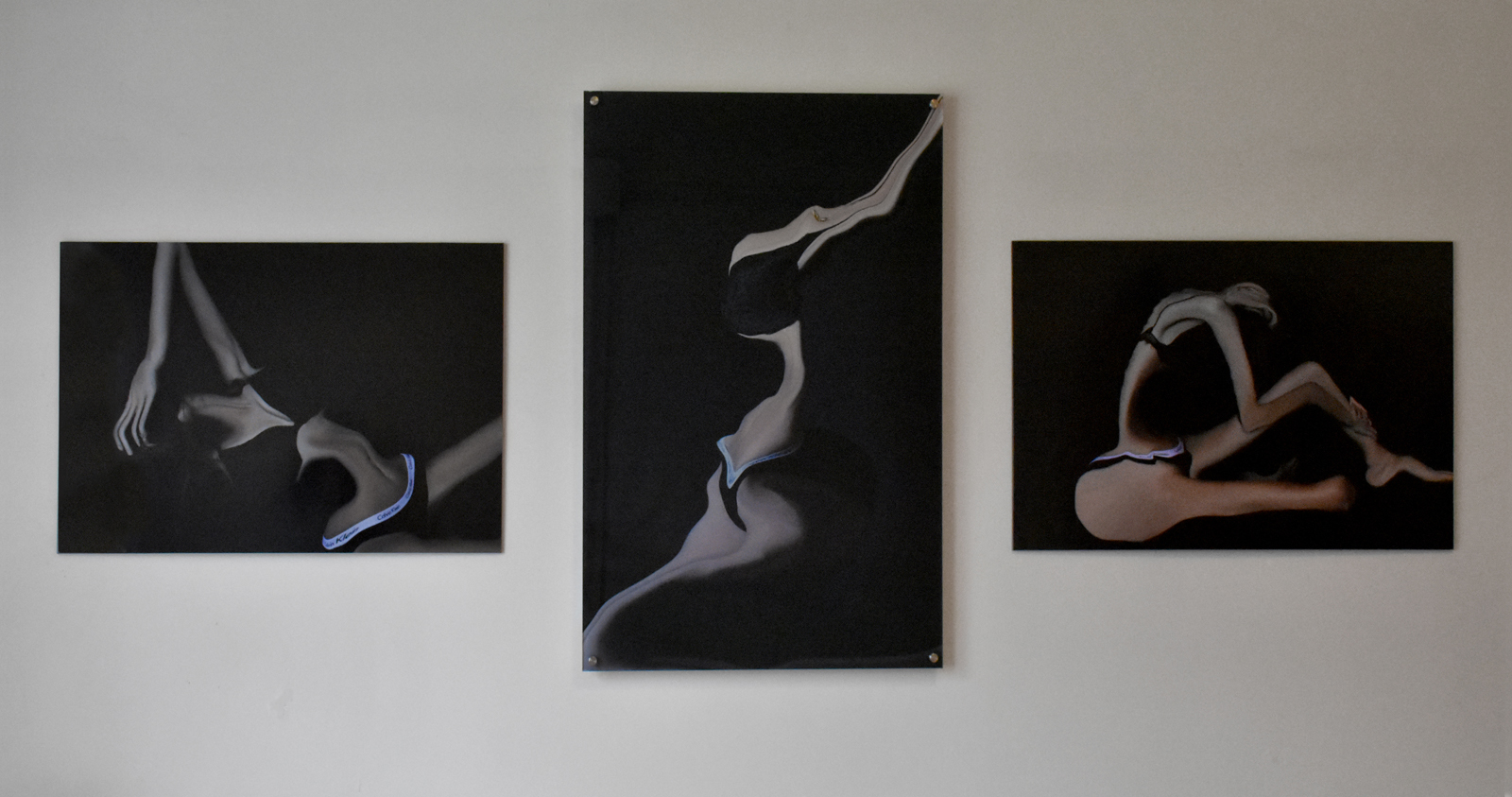 Emma Pagotto

Liquified

digital print, Perspex, paper
1= 75 x 50 cm, 2= 34 x 51 cm

ART
Strathmore Secondary College
The centre image is printed on acrylic glass to make it appear fragile and elegant – like the human body and mind. The images on either side are printed on metallic photographic paper to enhance the theme of mystery and elegance. The stretched and distorted body represents how society has manipulated and contorted our views of what is an acceptable and attractive body.
Erica Fridell

Breathe, make your decision, then execute properly

oil paint on canvas
140 x 170 cm

ART
Penleigh and Essendon Grammar School
This figure symbolises strength and determination which has become more relevant due to the strain COVID-19 has placed on many people around the world.
Finger painting this piece was challenging but made painting it feel more personal. It also illustrates the growth and confidence I have experienced over the years.
Georgia McShanag

Crustacean Number One
Crustacean Number Two

mixed media collage
24cm x 24cm
ART
Ave Maria College
In my collages I have used bold colours and organic shapes to convey a whimsical representations of crustaceans. The sea creatures are layered with glossy magazine paper, watercolour and pencil to create a playful and delicate artwork.
The completion of my studio work has been impacted by COVID-19 as access to resources was limited.
Gillian Poparisut

Still Human

ballpoint pen on paper
59.2 x 45.5 cm

ART
Rosehill Secondary School
This drawing is inspired by Escher's drawings of unravelling heads and our imaginations capacity to liberate us.
My theme 'Abstractions from Reality' is based on how people may not feel connected to their surroundings and wish to escape to a better place. However, no matter how much we wish for something different from reality, that is part of being human.
Hannah Dau

Yin
Yang

acrylic paint on canvas
each work 40 x 90 cm

ART
Ave Maria College
I have attempted to capture the essence of my personal connection to Vietnam. I have done this through the interplay of traditional landscapes, heritage buildings and the inclusion of symbolic lanterns.
Hayley Oldfield

Jordyn Mitchell Stationery

digital print
45 x 32.7 cm

DESIGN
Rosehill Secondary College
This piece is a representation of various corporate items for the fictional company Jordyn Mitchell Stationery (JMS). This company's targeted audience are young females aged between 16-25 and attend school or university. The items display the main logo and various other secondary logos to identify the company.
Visual Communication Design is my favourite class to attend as it is a passion of mine and something I really enjoy.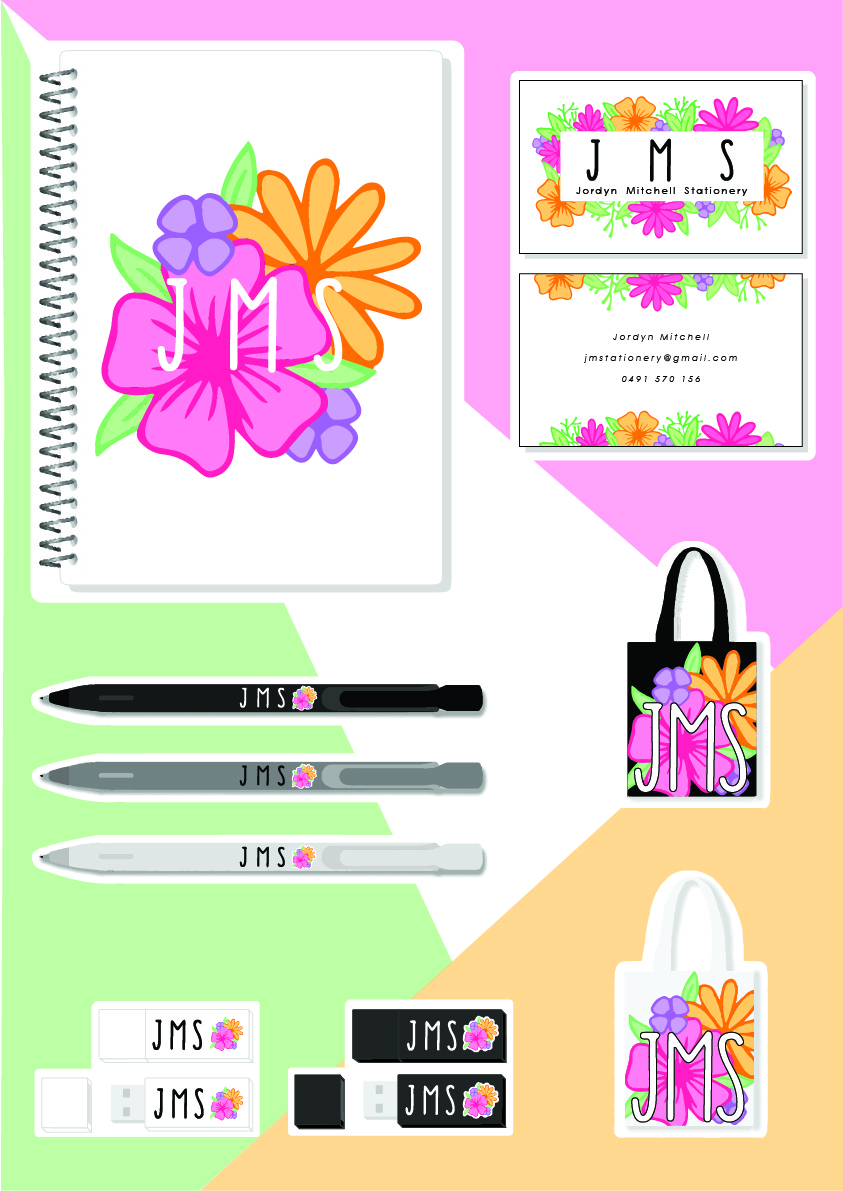 Henry Smith

Caged

Super Sculpey clay, artificial fur, acrylic paint and cage
37.5 x 35.5 x 27 cm

ART
Strathmore Secondary College
This surreal self-portrait of my head on the body of a caged raven depicts my struggles with mental health in a raw and vulnerable way. As a dyslexic student, the bleak representation of a caged creature explores feelings of self-loathing and alienation caused by verbal and psychological abuse from other people.
Holly Poulter

Track Record

digital print, hooded top, business cards and vinyl record
dimensions variable

DESIGN
Lowther Hall Anglican Grammar School
My client Track Records required a logo and company website that captured the essence of their visual identity. The logo forms a distinctive and easily identifiable label that attempts to give insight into some of the story behind the company.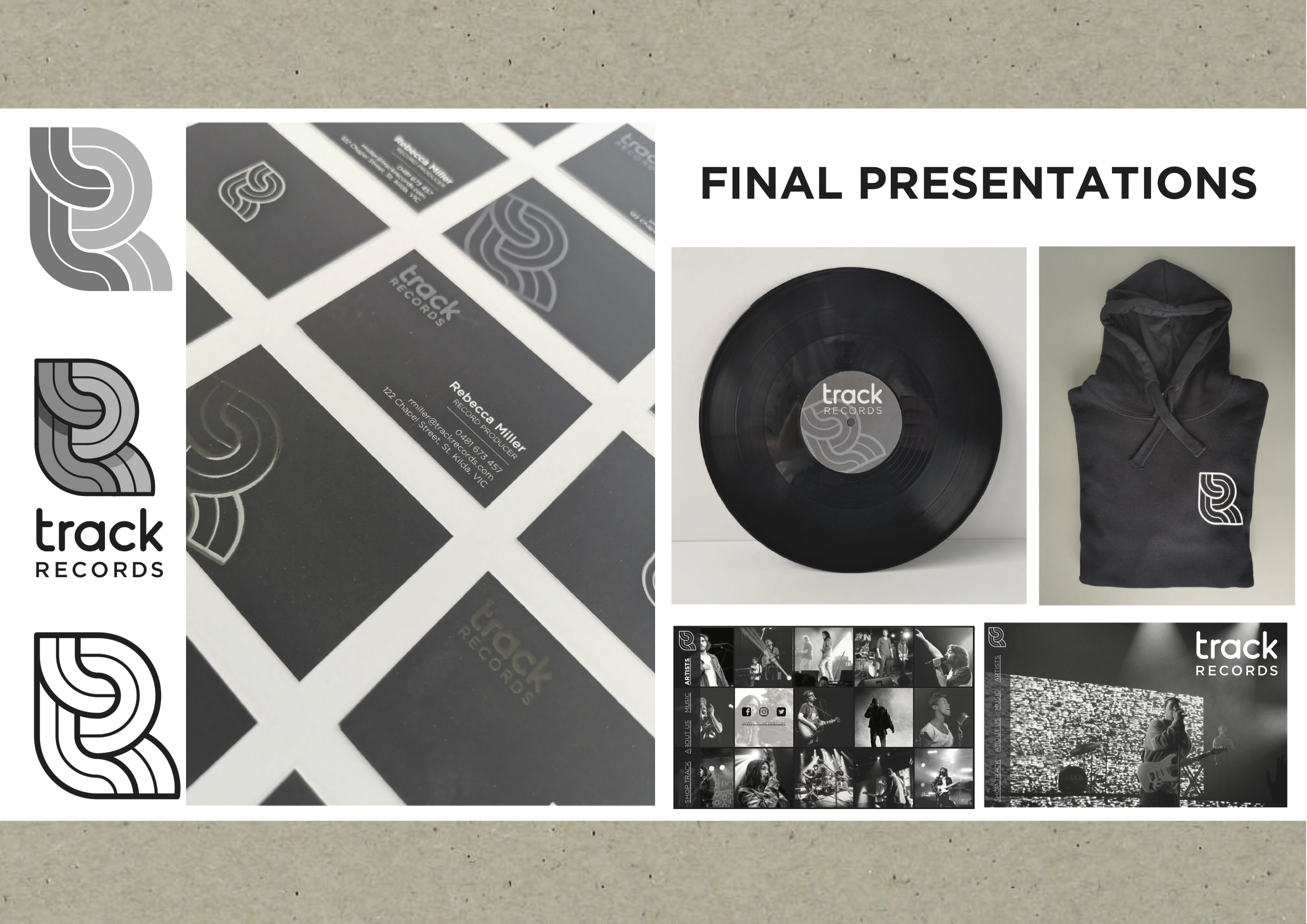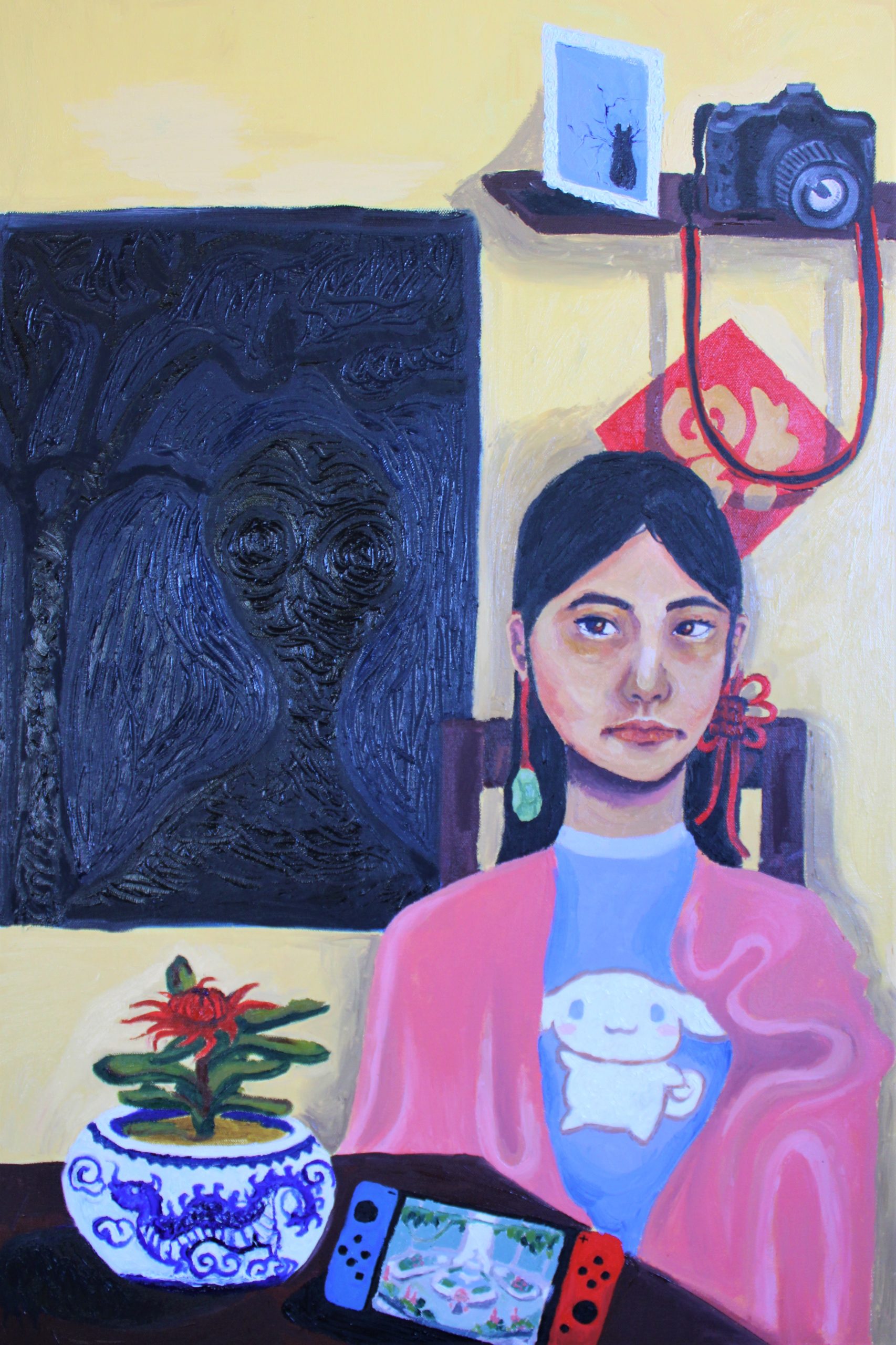 Isabella Deng

Placebo

oil paint on canvas
91.4 x 61 cm

ART
Lowther Hall Anglican Grammar School
On the surface this painting resembles a clean, organised representation of an identity. However, there are still many aspects of my own identity that I will need to navigate outside the explorations of my arts practice.
Placebo reiterates my current thinking as I graduate high school and enter into a world of unknown.
Isabella Farfaglia

Subject #2 Purple and Orange Figure

oil pastel on mount board
100 x 125 cm

ART
Ave Maria College
Unrealistic and bold colours depict exaggerated proportions of the female form creating a unique mood and feeling. My goal is to continue to create artworks that celebrate the female form and body-positivity.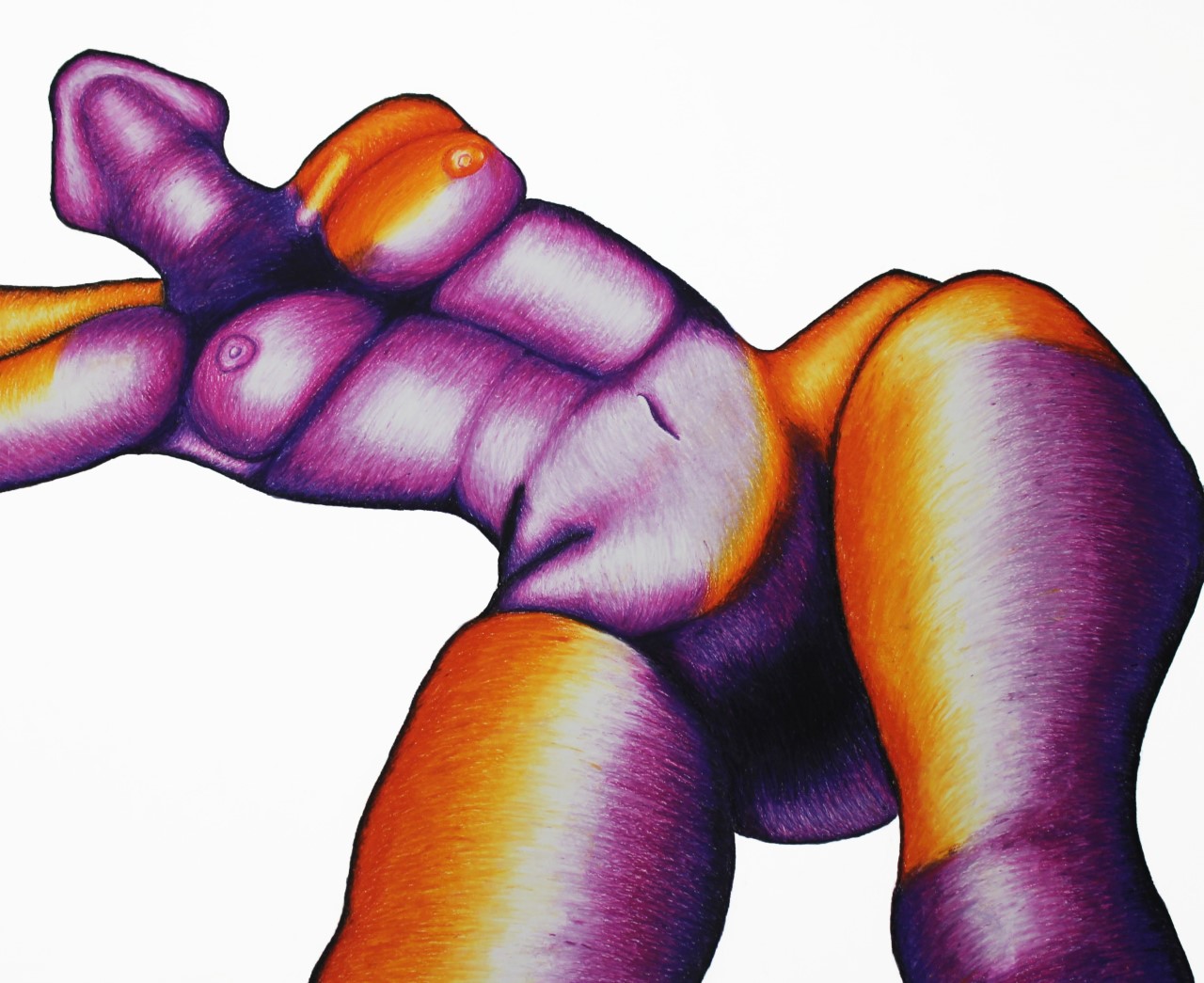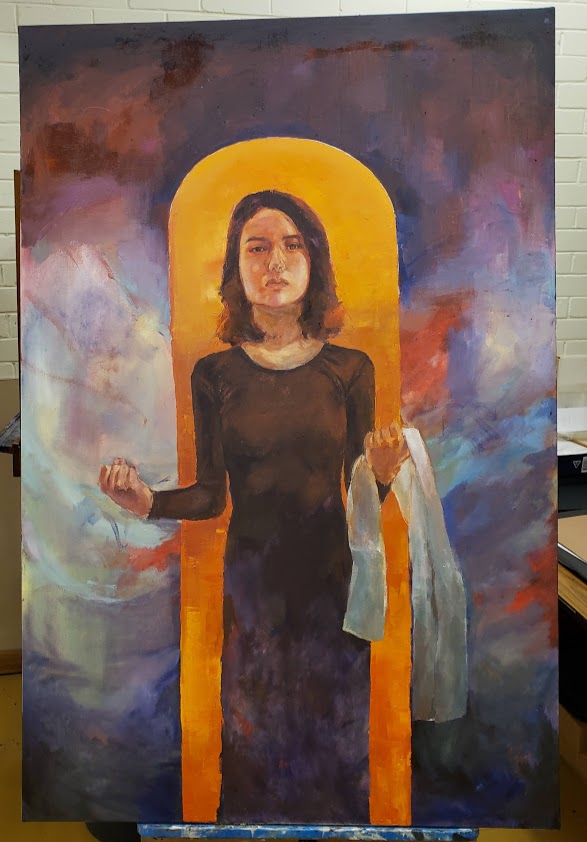 Karmen Hardy

Marigold

oil paint on canvas
100 x 150 cm

ART
Lowther Hall Anglican Grammar School
My painting explores how people are influenced by the ways they are perceived by others. Art trends and beauty standards can influence the ways artists create art. Self-portraits can be created to alleviate the pressure of others' expectations.
To me, this artwork represents self-acceptance and growth. I have found that as the confidence in myself grew, so did the improvement in my art.
Kayla Murray

Reflection

digital print
29.7 x 42 cm

ART
Rosehill Secondary College
This artwork has been inspired by my younger brother who is also my best friend. It explores the human condition with a focus on mental health. Brightly coloured eyes express inner thoughts and feelings that contrast with the dark background. Part of the face appears to submerge into water, conveying ideas relating to feeling overwhelmed.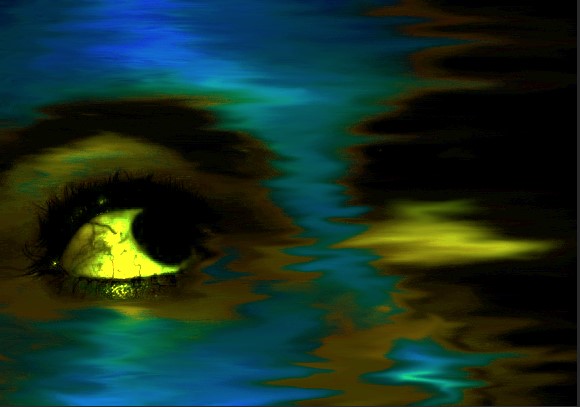 Lauren Frankas

Dinosaur Viewer

digital animation

dimensions variable

DESIGN
Penleigh and Essendon Grammar School
This retro viewfinder was made to create an engaging, enjoyable and immersive learning experience for students. It has interchangeable slides, that slot into the top and match the themes of each site. These include plant life, animals, historical and Aboriginal/Indigenous contexts.
Due to COVID-19, a lot of my work was completed digitally this year.
Lucas Marston

Fruit Bowl

oil on canvas
122 x 91 cm

ART
Penleigh and Essendon Grammar School
As a young member of the LGBT community, my artwork expresses a very important message about body image and a critique of toxic double standards young gay men find themselves pressured to uphold. Referencing Renaissance art, the subject matter is intentionally painted in a romantic style to show that these damaging expectations can be disregarded.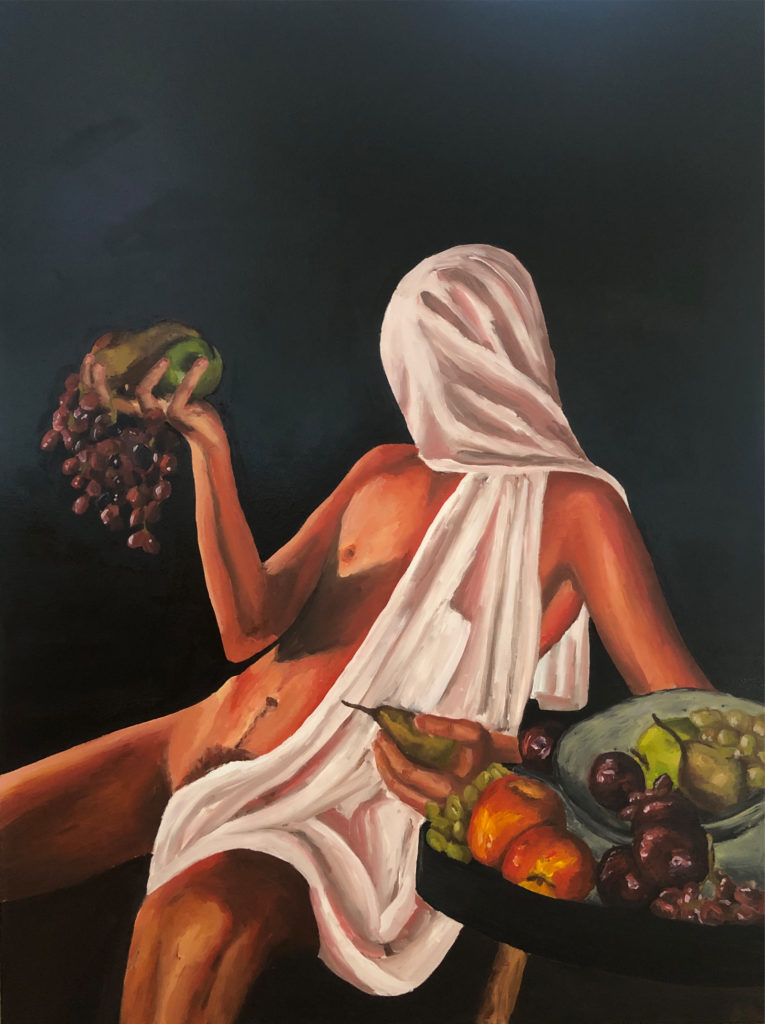 Lucy Nelson

Evolet & Co.

digital print, medium-density fibreboard and foam core
dimensions variable

DESIGN
Buckley Park College
My client Evolet & Co. were seeking designs for posters and packaging that reflected the quality and uniqueness of their product. By using vibrant colours, I developed a modern look that will appeal to art lovers and meets current market trends.
In completing my Visual Communication Design folio this year, I was met with quite a few challenges on account of COVID-19. It was difficult not being able to discuss my ideas face-to-face with my teacher, which sometimes left me uncertain of the development of these designs.
Lucy Parente

Australian in Summer

acrylic paint on canvas
123 x 62 cm

ART
Ave Maria College
Gestural paint marks depict the harsh Australian sunlight in a typical outback bushland setting. The ridged and thick tree trunks are exaggerated through the application of rich crimson reds and deep purples.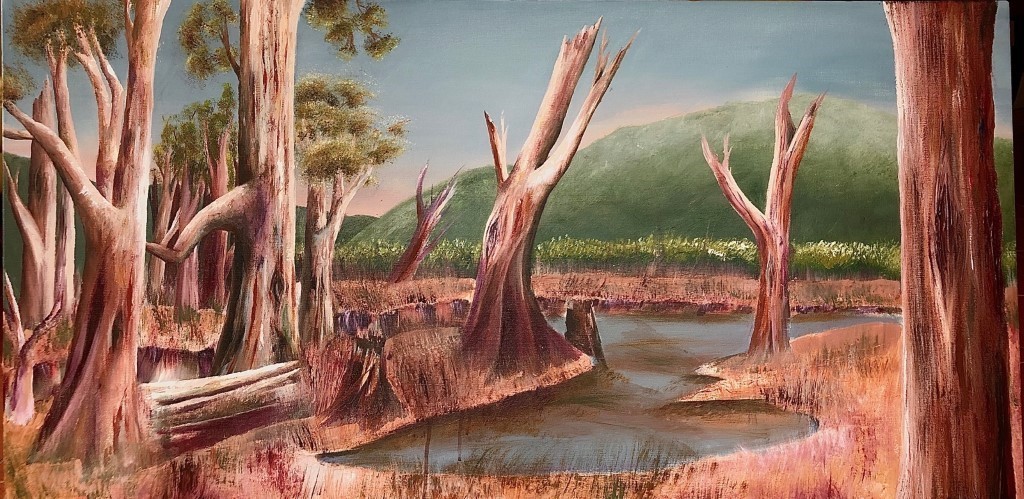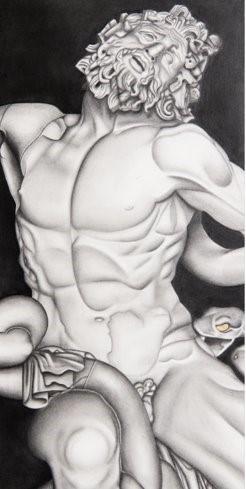 Mia Sciberras

Appropriation of 'Laocoön and his Sons'

graphite pencil on paper
80 x 40 cm

ART
Ave Maria College
This illustration depicts an appropriated version of 'Laocoön and His Sons' (42 BC) by artists Agesander of Rhodes, Athenodoros of Rhodes, and Polydorus of Rhodes. My graphite adaption of the white marble sculpture conceptually depicts the dimension of human form through articulately blending an extensive scale of grey tones.
Myan Nguyen

Bottled Up

glass, paper, foil, chalk pastels, paper clay and PVA glue
30 x 80 x 20 cm

ART
St Columba's College Essendon
This artwork is about how the environment is linked to our emotions and the human spirit. Beakers are used to represent human bodies and minds. They contain different objects to represent the different emotions we feel.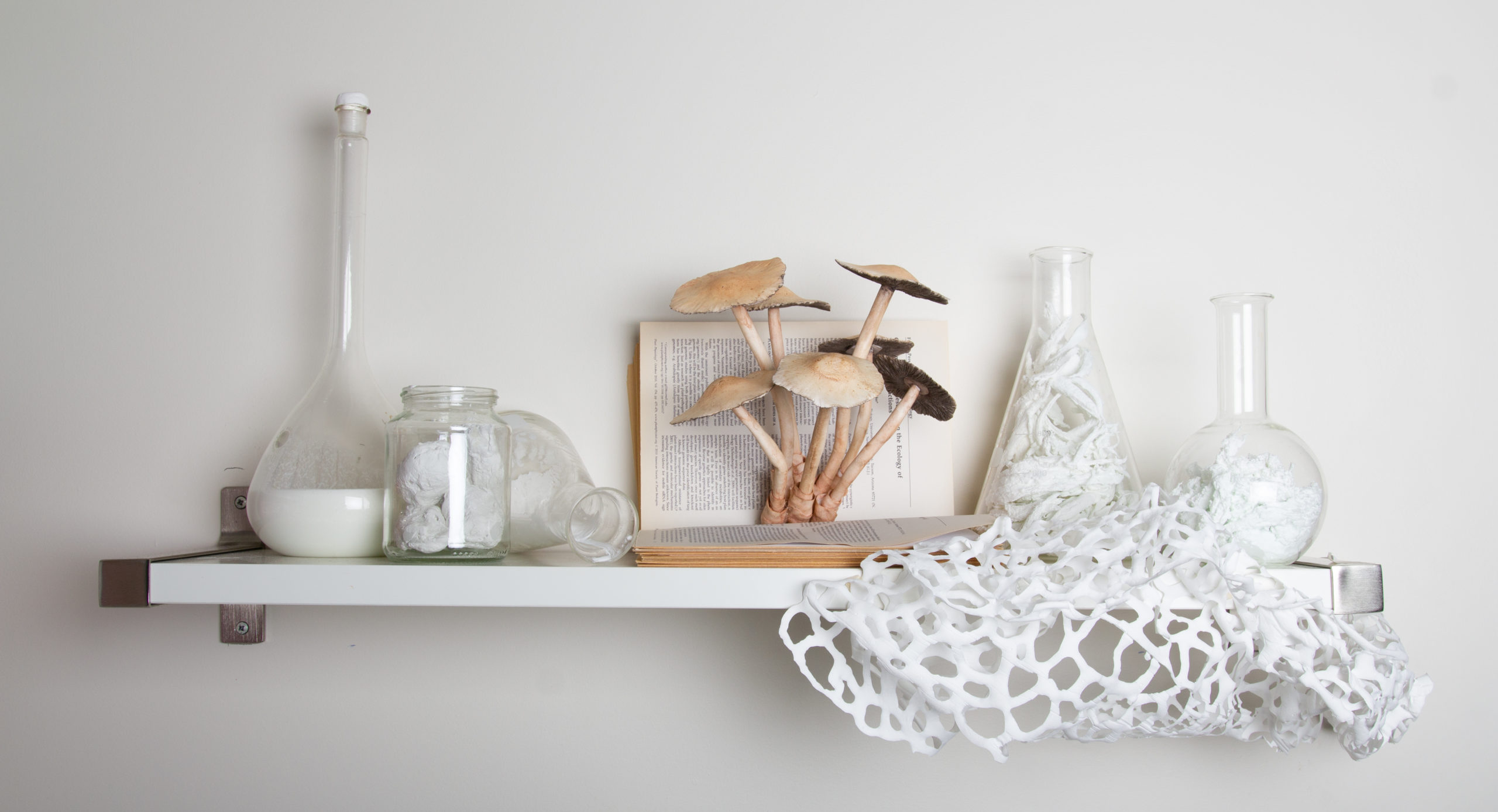 Olivia Spitaleri

Offshore Boards

digital print, medium-density fibreboard and foam core
concept board: 84 x 119 cm
model: 120 x 60 x 65 cm

DESIGN
Lowther Hall Anglican Grammar School
Offshore Boards create surfboards made of materials sourced from ocean plastics. I have designed a store that is built from recycled materials with curvaceous forms on the building that mimic surf waves. My design also caters to their need for commercial and design areas to manufacture and sell their products, as well as showcasing their environmentally sustainable production practices.
Rachel Nguyen

Vọng Nguyệt

watercolour, fine liner, pencil on paper
53 x 30 cm

ART
Ave Maria College
This artwork communicates my Vietnamese cultural heritage through the interplay of symbolic koi fish and landscape. Koi fish hold cultural significance in Vietnamese mythology. They are illustrated as a helper of the heavens, symbolising perseverance and strength.
Vọng Nguyệt translates to fish watching the moon.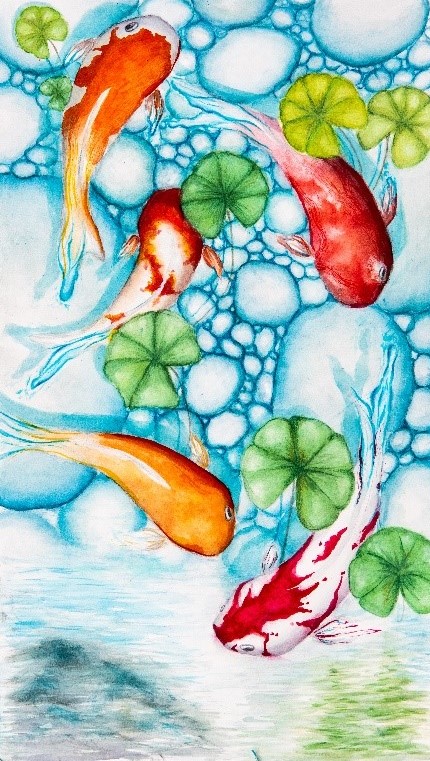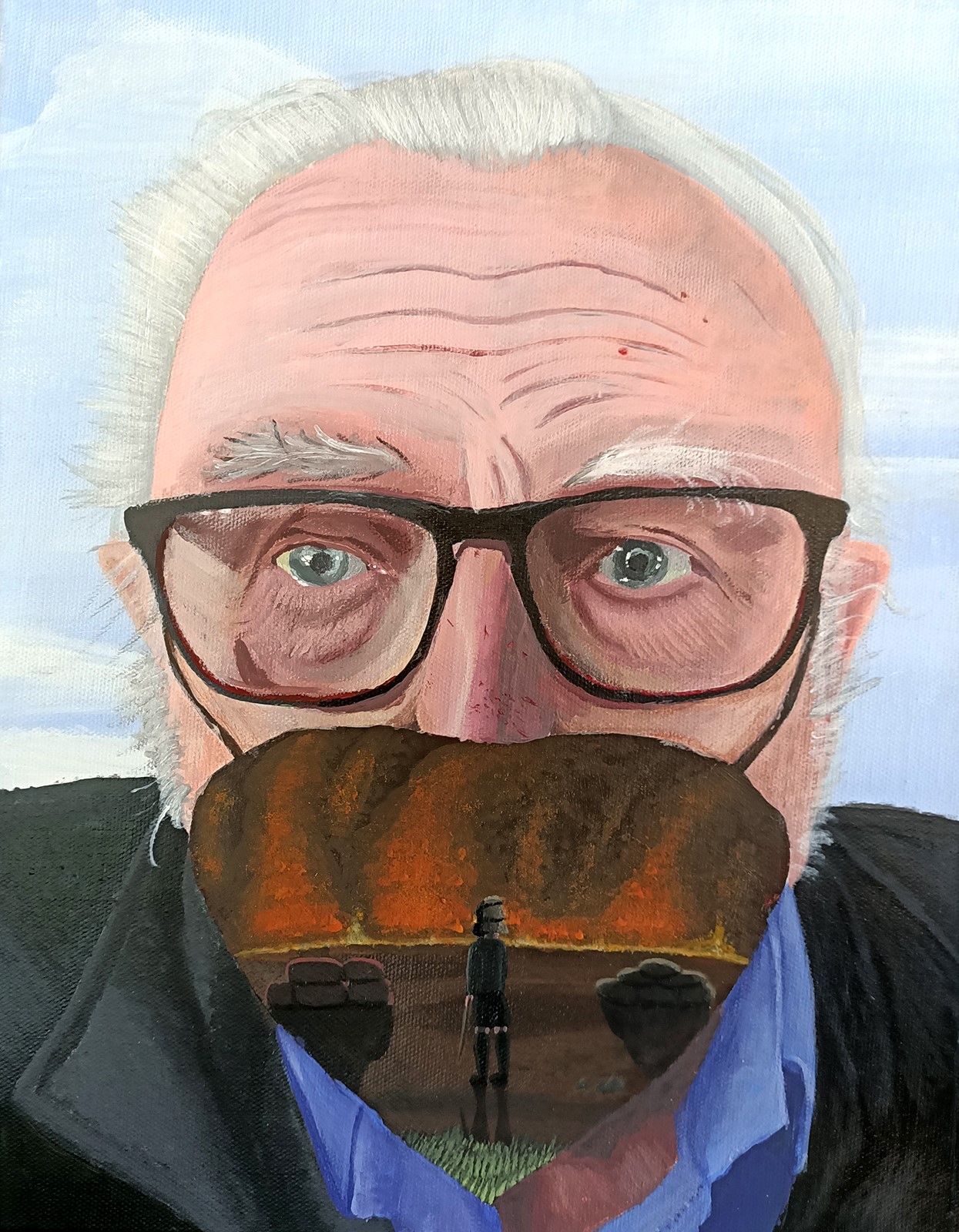 Stephanie Mason

Survivor: From One Mask to Another

acrylic paint on canvas
35 x 25cm
ART
Penleigh and Essendon Grammar School
This is a portrait of my grandfather wearing a mask that also depicts him as a child wearing a gas mask during the Blitz. The idea that he lived through such a difficult time during the Blitz at ten years of age is difficult to comprehend. The work represents the fragility of life and how humans can endure and succeed.
Tahlia Tassone

Gargoyle #1
Gargoyle #2

grey lead and charcoal on watercolour paper

ART
Ave Maria College
These drawings are placed together to form one intriguing artwork. I used gargoyles to represent a gothic theme and applied line and tone to create movement. The watercolour paper creates a grainy texture.
Taylor White

Pointe Performance

digital print, card, glue, paper, artificial grass and foam core board
model: 30 x 30 x 90 cm
concept board: 84.1 x 118.9 cm

DESIGN
Lowther Hall Anglican Grammar School
I have created a design for a performing arts boarding school. This has included a range of two-dimensional drawings as well a three-dimensional model.
This year everyone has faced challenges, although it has also allowed for greater independence in the improvement of my skills. I have very much taken it upon myself to work hard this year. I am also very passionate about dance and believe this comes through in my designs.