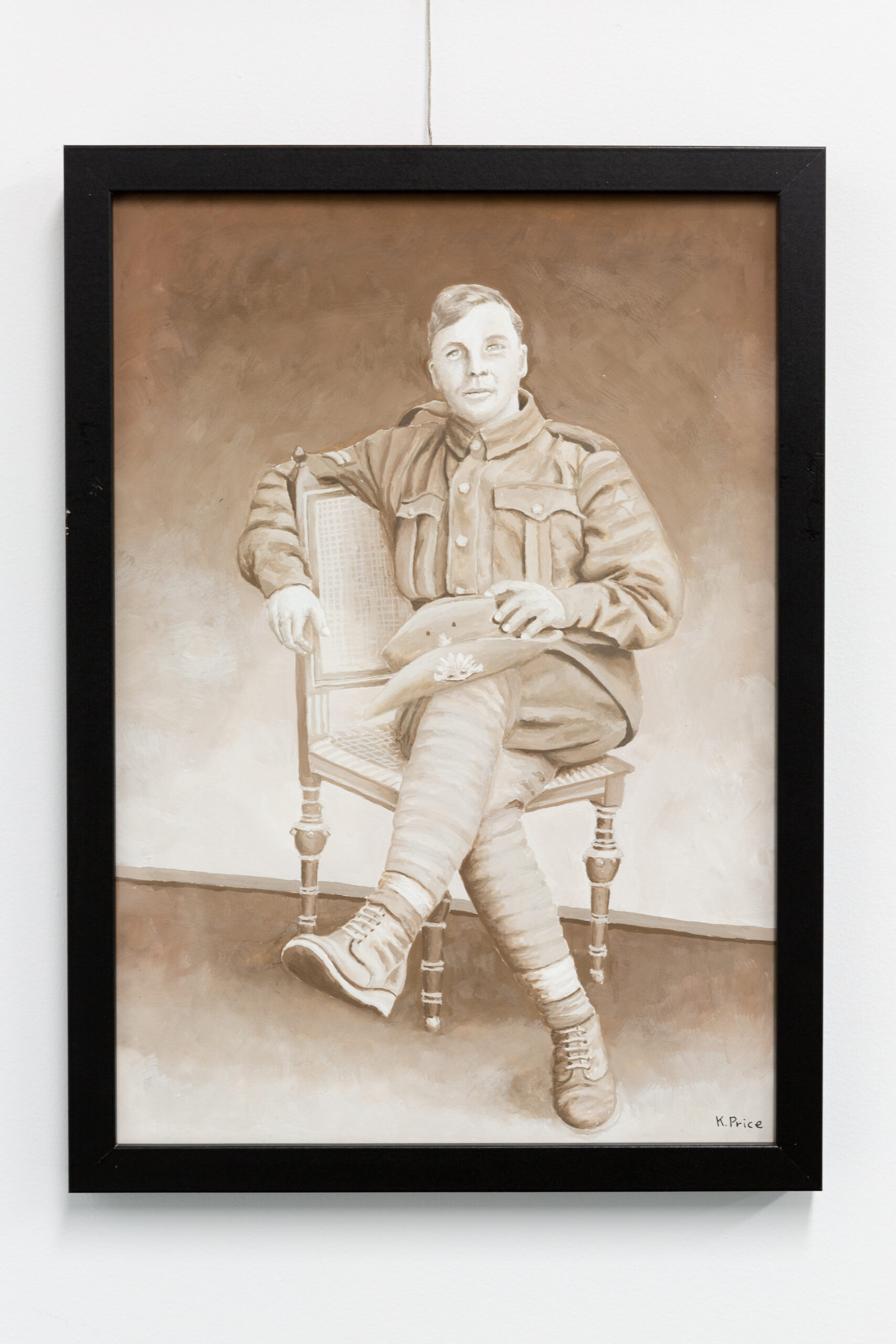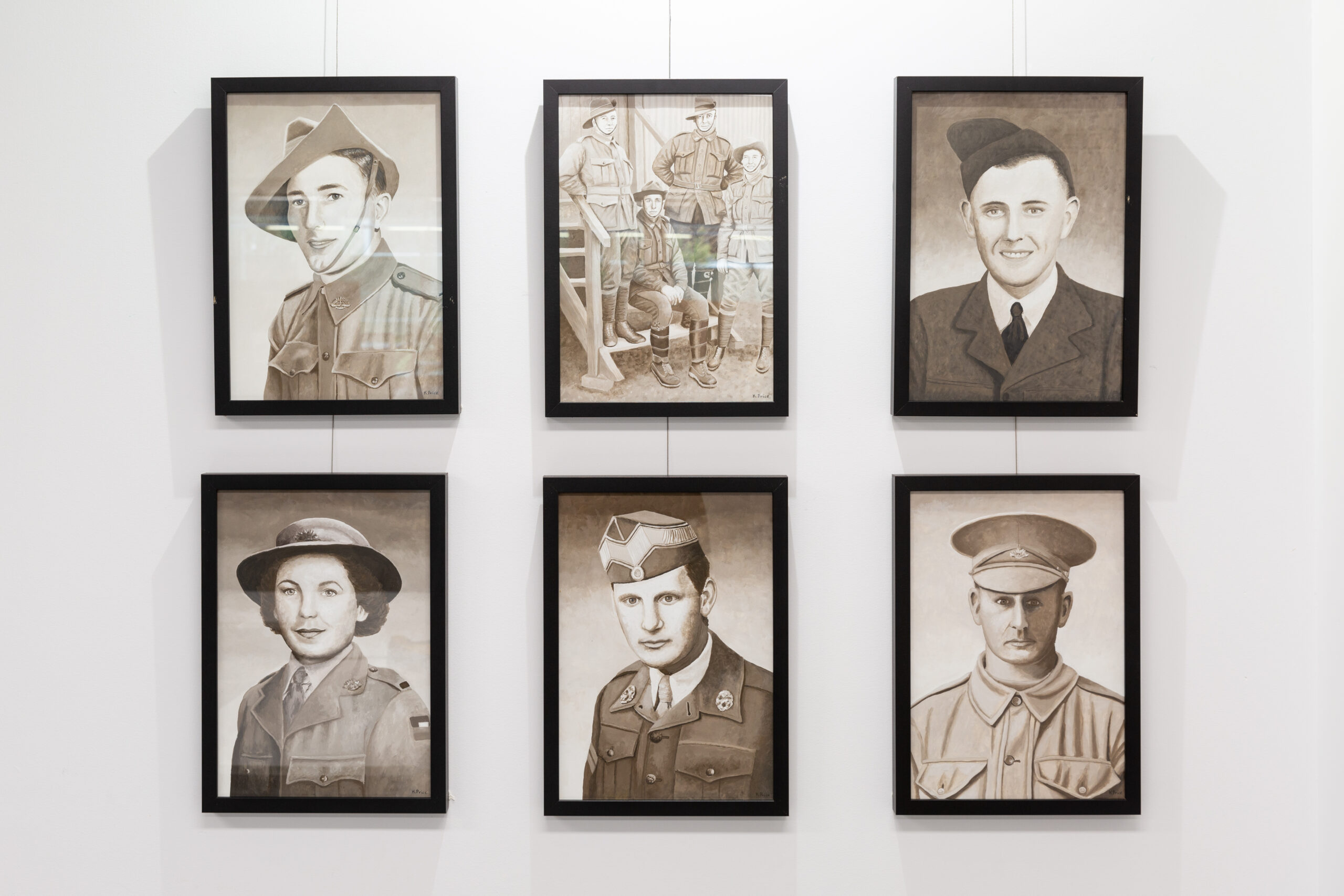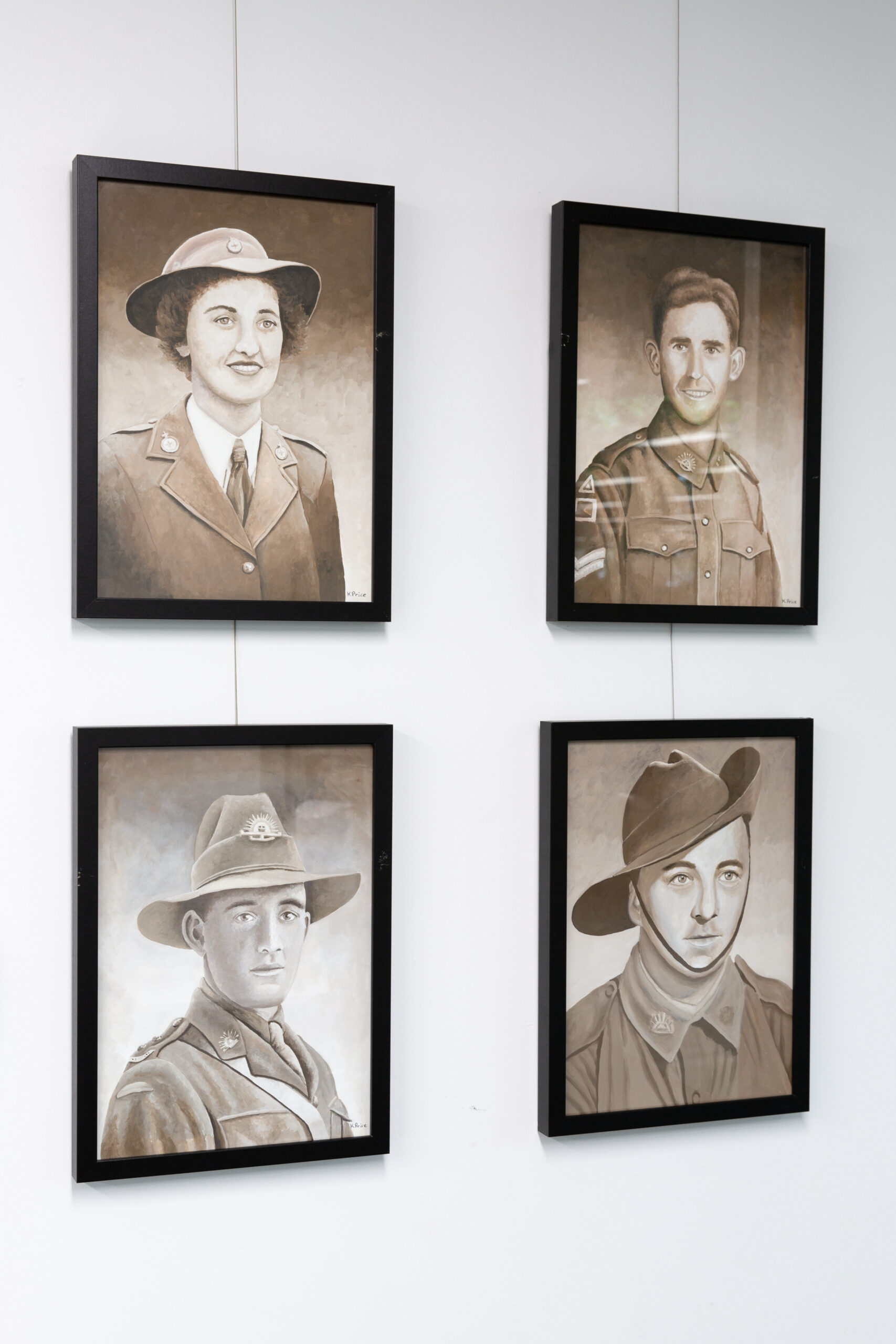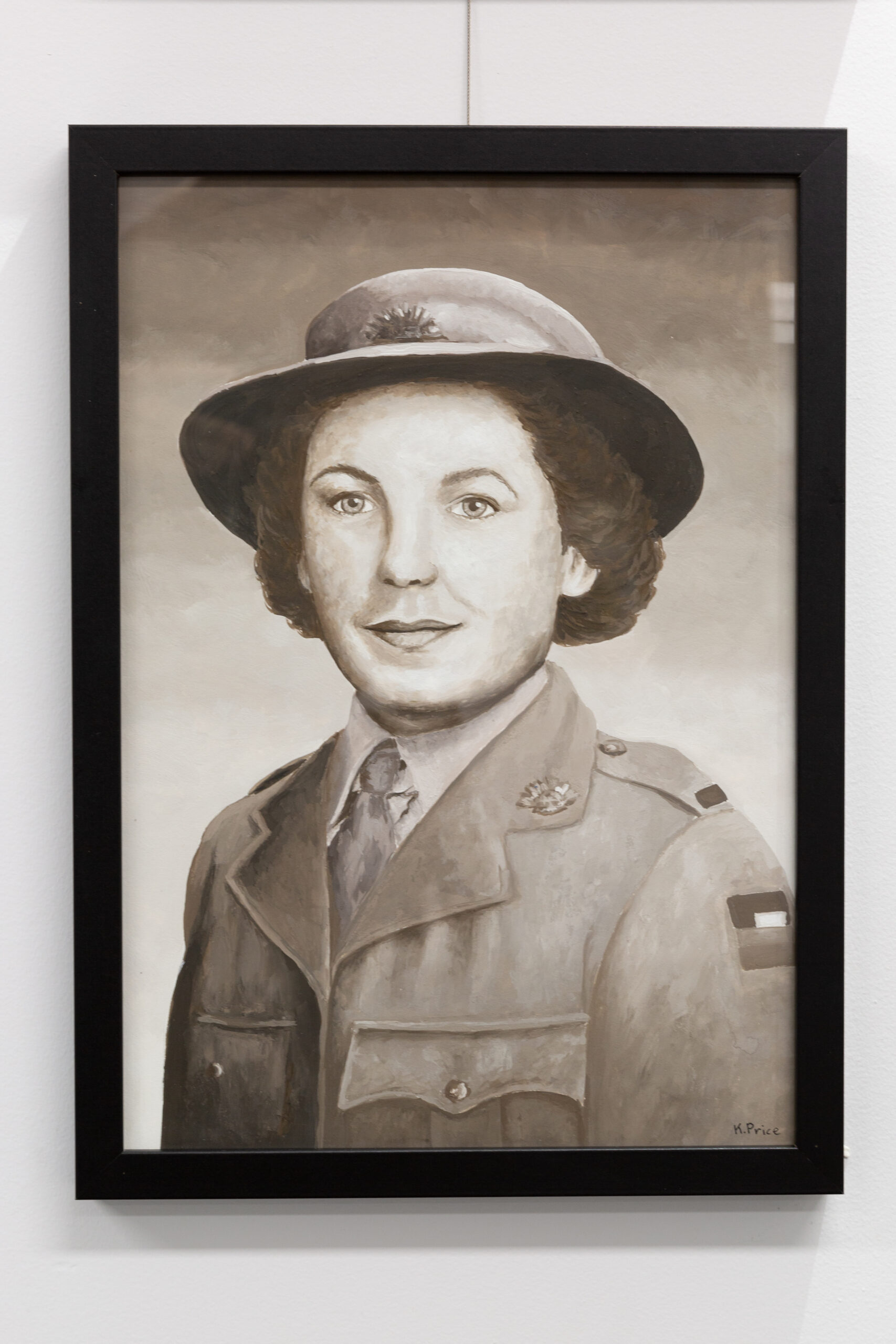 Karen Price, Sydney Price, served in WWI, 2021, gouache on paper, 45cm X 32cm.
Karen Price, Those Who Served (install view), 2021, Sam Merrifield Library. Photo by Sebastian Kainey.
Karen Price, Those Who Served (install view), 2021, gouache on paper, 45cm X 32cm.
Karen Price, Those Who Served (install view), 2021, Sam Merrifield Library. Photo by Sebastian Kainey.
Those Who Served: Karen Price
11 November 2021 - 14 January 2022
Location: Sam Merrifield Library
In commemoration of Remembrance Day on November 11, Those Who Served is an intimate exhibition of portrait paintings by local artist and arts mentor, Karen Price. Inspired by collections of sepia photographs and the accounts of family members, in addition to those of her friend's relatives, Price invites viewers to reflect on the impact and significance of World War I and World War II on a generation of young people.
Karen Price is an artist and has lived in Moonee Valley for most of her life. She is involved in local arts groups, Painting Maribyrnong and Art Tribe, and also voluntarily facilitates the craft group at Arcadia Aged Care facility in Essendon. She works in a range of media including watercolour, acrylic, gouache (a water-based medium) and alcohol ink. She draws inspiration in her paintings from a variety of subjects including people, landscapes, historic houses, flora and still life.
Email: kanprice@outlook.com
Artist Interview: Karen Price
What's your relationship to Moonee Valley?
I have lived in Moonee Valley for about 45 years and I am involved in many aspects of the area. I belong to two local art groups; Art Tribe, run by local artist, Patricia Goldby, and Painting Maribyrnong, which I organise at the Sea Scout Hall at Fairbairn Park in Ascot Vale, and sometimes employ an artist to assist us. I have had solo exhibitions at the Avondale Heights Library and Learning Centre, the Clocktower Centre in Moonee Ponds, and St Martha's Café in Essendon. I have also been involved in group exhibitions, including at libraries in the area.
---
Can you please describe your art practice – i.e. the mediums that you use and the concepts, ideas, or experiences that inspire your work as an artist?
I work with watercolours, acrylics, gouache (a water-based medium), pen, and alcohol ink. Much of my work is representational, with some more recent Impressionist-style work. My work often reflects local concerns, such as the destruction of historic housing in Moonee Valley, and the natural environment along the Maribyrnong River. My other inspirations include travelling, flora and fauna, and people too.
---
How has working as an artist during the pandemic changed or informed your approach to art-making, if at all?
I had work accepted for exhibitions including the Camberwell Art Show and the Melbourne International Garden and Flower Show, which were sadly cancelled due to the pandemic. I have not found online exhibitions to be as rewarding and have restricted my art sales to smaller works, which are more practical to send by post.
---
What pieces, projects, or collaborations are you working on now? How can we continue to follow and support your art practice?
After completing my series of gouache paintings of people in uniform for the Sam Merrifield Library, I am currently working on several projects, including some acrylic landscapes and seascapes using palette knives, in addition to alcohol ink works.
I also have a series of 32 watercolour paintings that I have created, which follows the route of the Maribyrnong River from its source all the way to the Melbourne Docks, including descriptions of each location and its history. I would love to be able to afford to frame and exhibit these in a location not too far from the river.