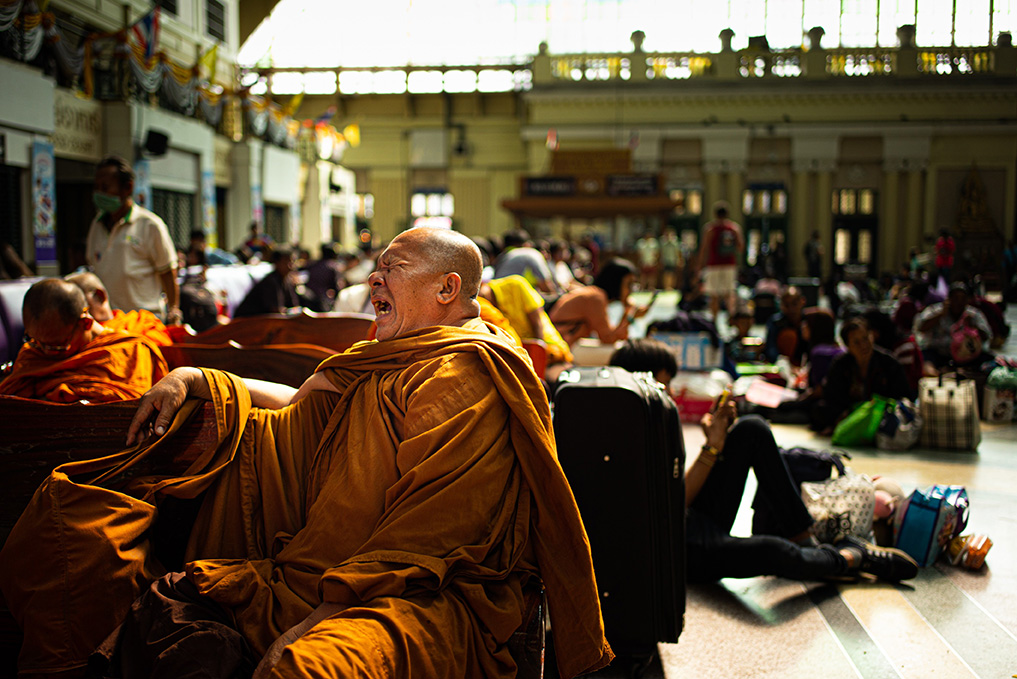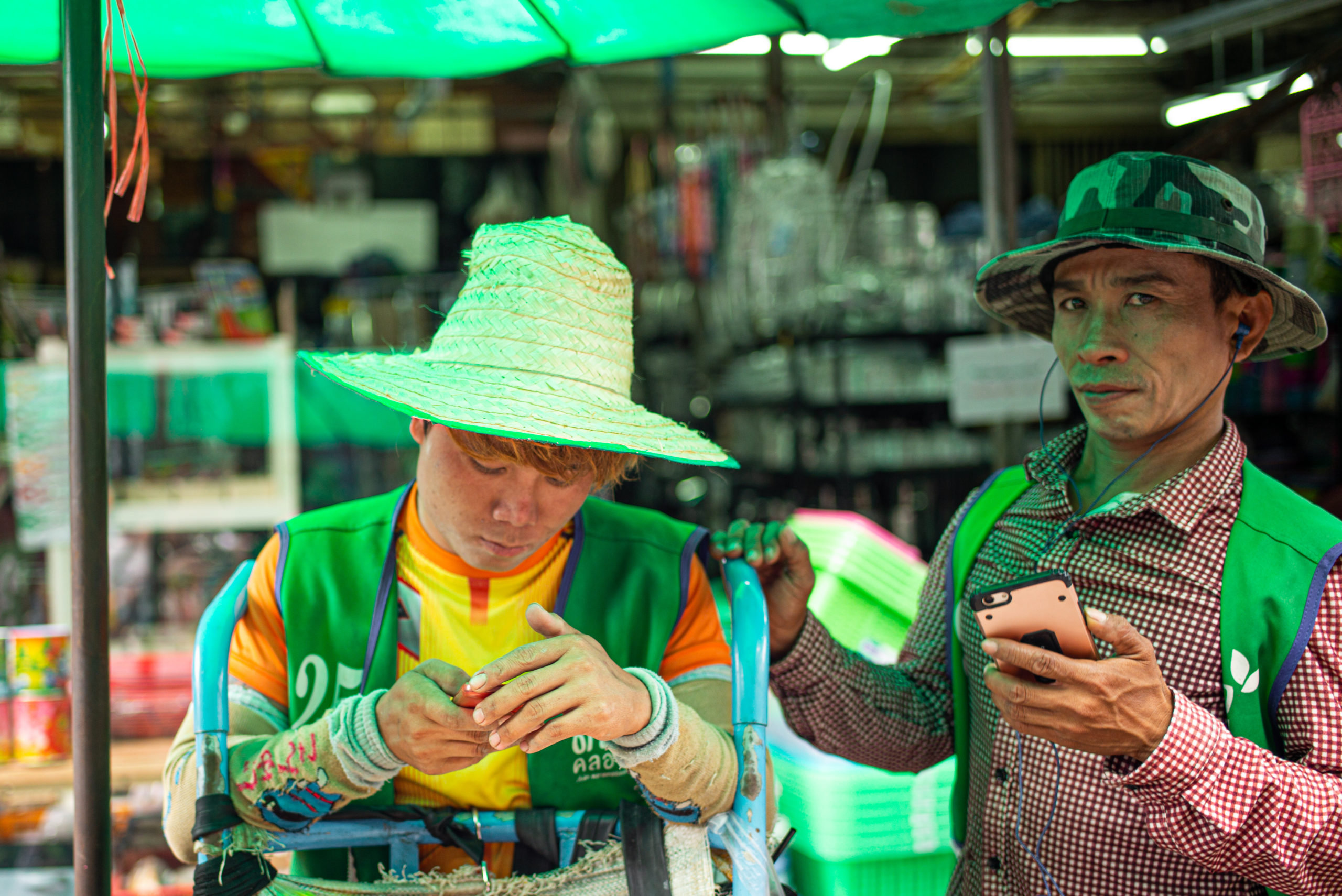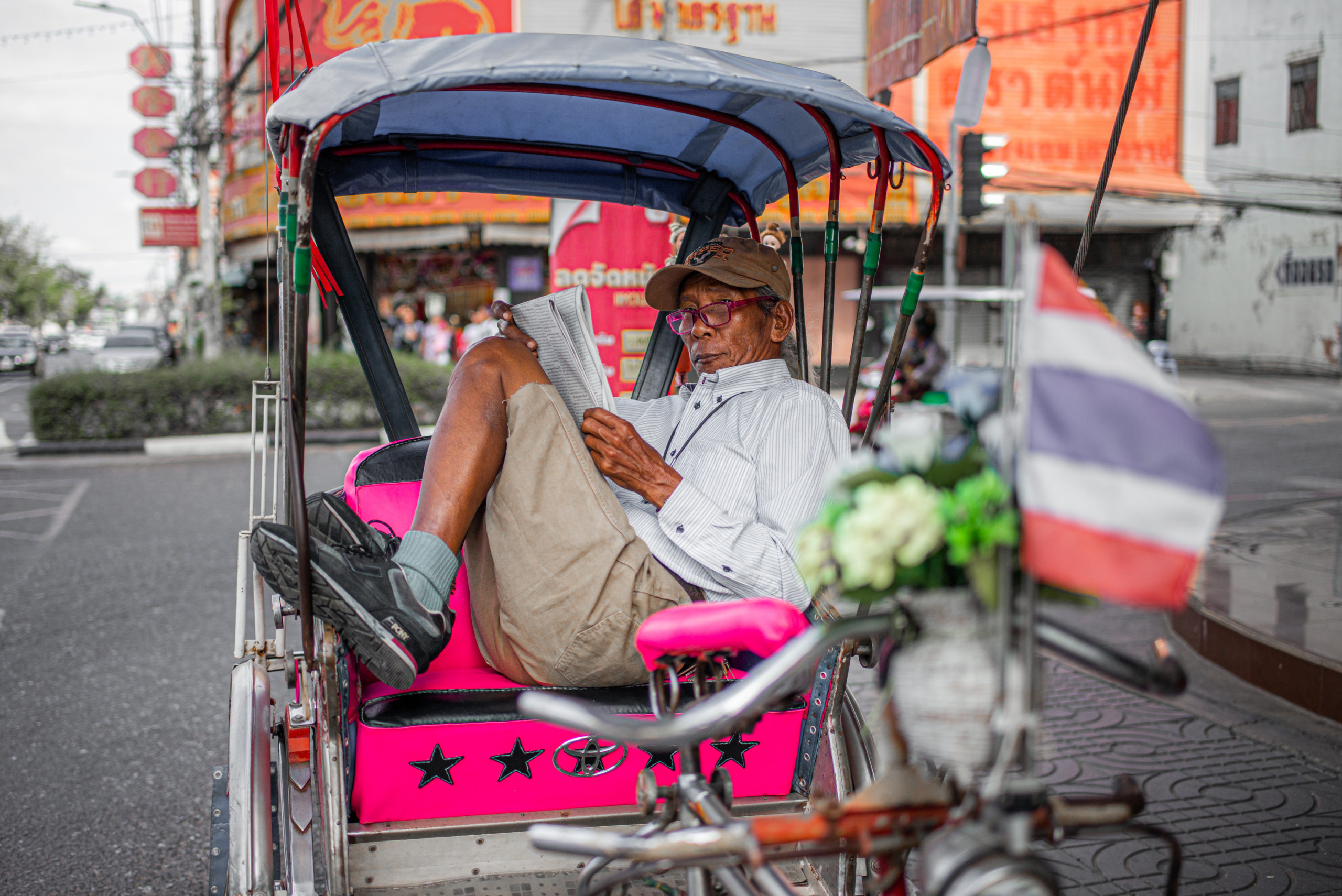 Gabriel Jia, A Waiting Monk, Bangkok, 2019, archival pigment print
Gabriel Jia, Market porter, Bangkok, 2019, archival pigment print
Gabriel Jia, Rickshaw Driver, Nakhon Ratchasima, 2020, archival pigment print
Siam Fieldnotes: Gabriel Jia
29 January 2021 - 25 April 2021
Location: Billboard Project
Siam Fieldnotes presents recent photographic works by Melbourne-based, Chinese-born photographer Gabriel Jia. These three photographs were captured across disparate locations in Thailand (ancient name Siam) and are unified through the visual and emotional translation of three colours – orange, green and pink. The photographs depict daily movements life and moments of lightness in Thailand, which are at times quiet and meditative, and others riotous and celebratory.
Presented across three public billboard locations within Moonee Valley, Gabriel hopes to communicate the delicate interconnectedness of all people from different cultural backgrounds, especially during time of physical distancing and lack of overseas traveling during the COVID-19 health pandemic.
To Gabriel, being a photographer is all about being a storyteller. The stories can be about his life and anyone else's life. As he says, "to truly tell a story you need to dig deeper than just what happened, you need to capture the intangible – backgrounds, cultures, personalities, emotions. Photography is merely a medium."
---
Listen to the videos below to hear Gabriel Jia speak about each of the photographs.
Gabriel Jia, A Waiting Monk, Bangkok, 2019, archival pigment print
Location: Incinerator Gallery, 180 Holmes Road, Aberfeldie 3040
"You can see monks pretty much everywhere in Thailand. Becoming a monk is an incredibly important (and extremely common) rite of passage for young Thai men. Ordaining shows devotion to the Buddhist faith and one's respect to parents, helping individuals gain personal and familial merit within Thai society." – Gabriel Jia, February 2021.
---
Gabriel Jia, Market porter, Bangkok,2019, archival pigment print
Location: Wallis Mall, 457 Keilor Rd, Niddrie 3042
"I spent 2 days out of my 3 days in Bangkok photographing in Khlong Toei Market, trying to capture all walks of life. The name "Khlong Toei" means "Pandan leaf canal" in Thai. It is the biggest wet market in Bangkok." – Gabriel Jia, February 2021.
---
Gabriel Jia, Rickshaw Driver, Nakhon Ratchasima, 2020, archival pigment print
Location: Muse Hair, 342A Keilor Rd, Niddrie 3042
"Nakhon Ratchasima is an inconspicuous little town in Eastern Thailand. I only spent one brief night. There. However, a tragedy happened two month later after this photo was taken, made this town the centre of the world's attention. A soldier of the Royal Thai Army killed 29 people and wounded 58 others, in the shopping mall 200m away from where the rickshaw was parked. I was badly shaken when I heard the news and from that moment on, I look at this photo in a different way." – Gabriel Jia, February 2021.
---