30 May – 23 September
Along Keilor Road, Niddrie
Kent Morris
Kent Morris art practice reveals the continued presence and patterns of Aboriginal history and culture in the contemporary Australian landscape, despite colonial interventions that have irreversibly altered the environment.
Through his artworks he is reconstructing the shapes and structures of the built environment to reflect the rhythms, shapes of and geometric designs of the Australia's First People.
The interaction of native birds and the built environment reflects continual changes to ecological systems and the natural environment. Learning from the rhythm and habits of native birds in urban spaces, he experiences how birds have adapted to the built environment, to technology and colonialism, reflecting the ways in which Indigenous cultures survive and adapt.
The locations of the photographs map Kent's connections to Country which centre around where he lives and work, my ancestral Country, family and cultural exchange.
Kent Morris is represented by Vivien Anderson Gallery, Melbourne.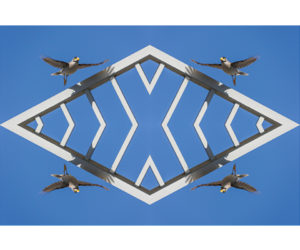 Image credit: Cultural Reflections – Up Above #2, 2016
Boon Wurrung (St Kilda) – Noisy Miner
7-ELEVEN, 387 Keilor Rd, Niddrie VIC 3042