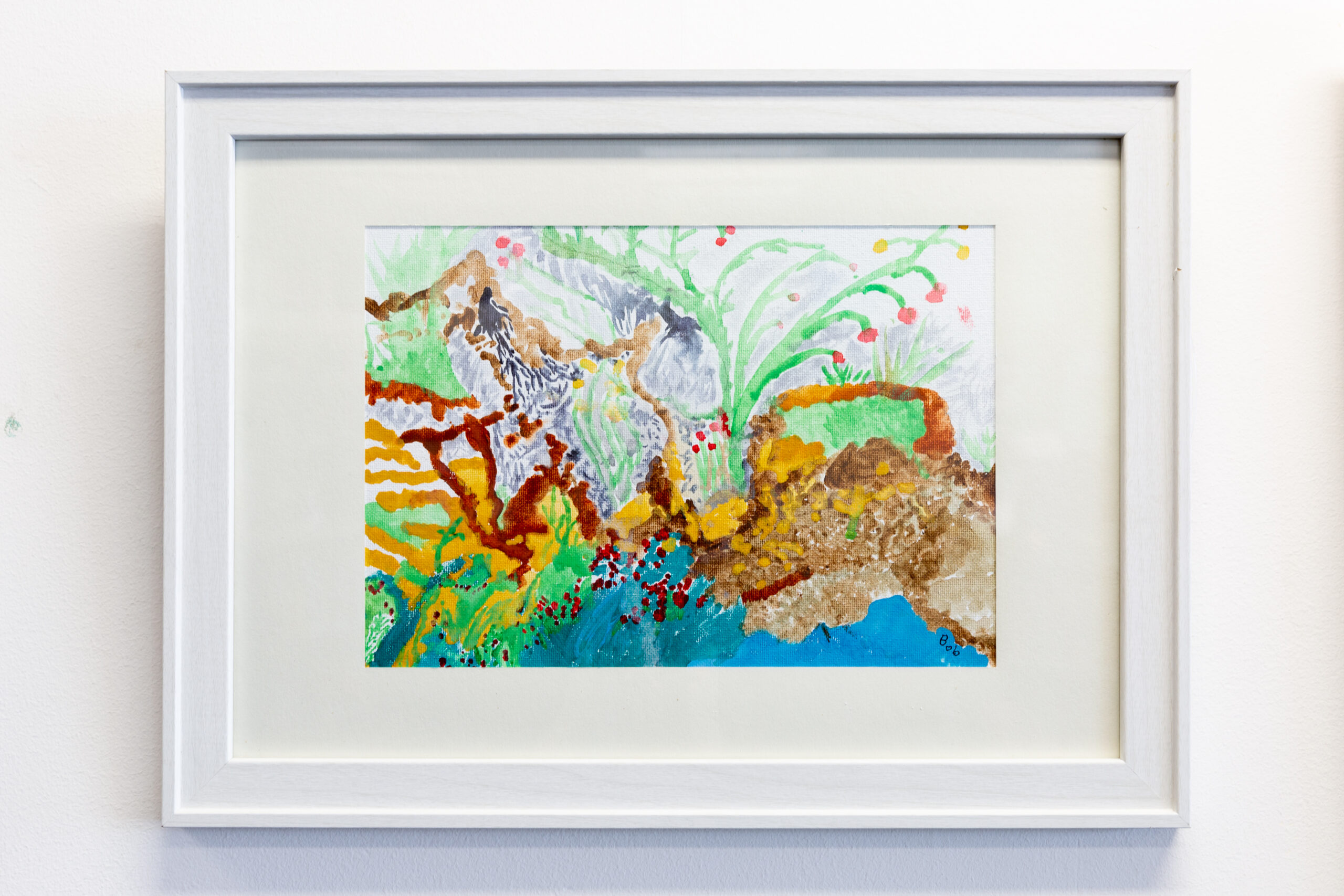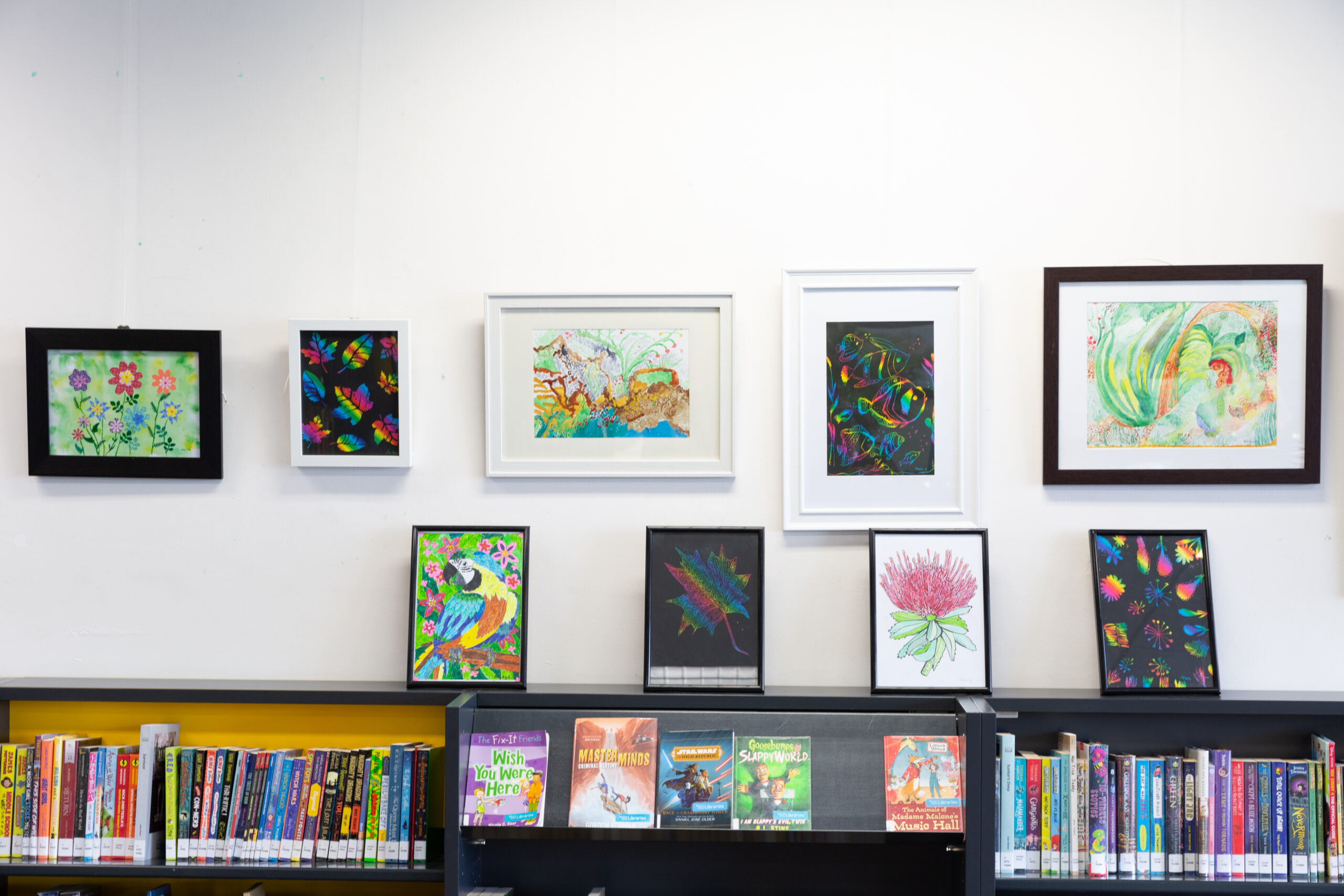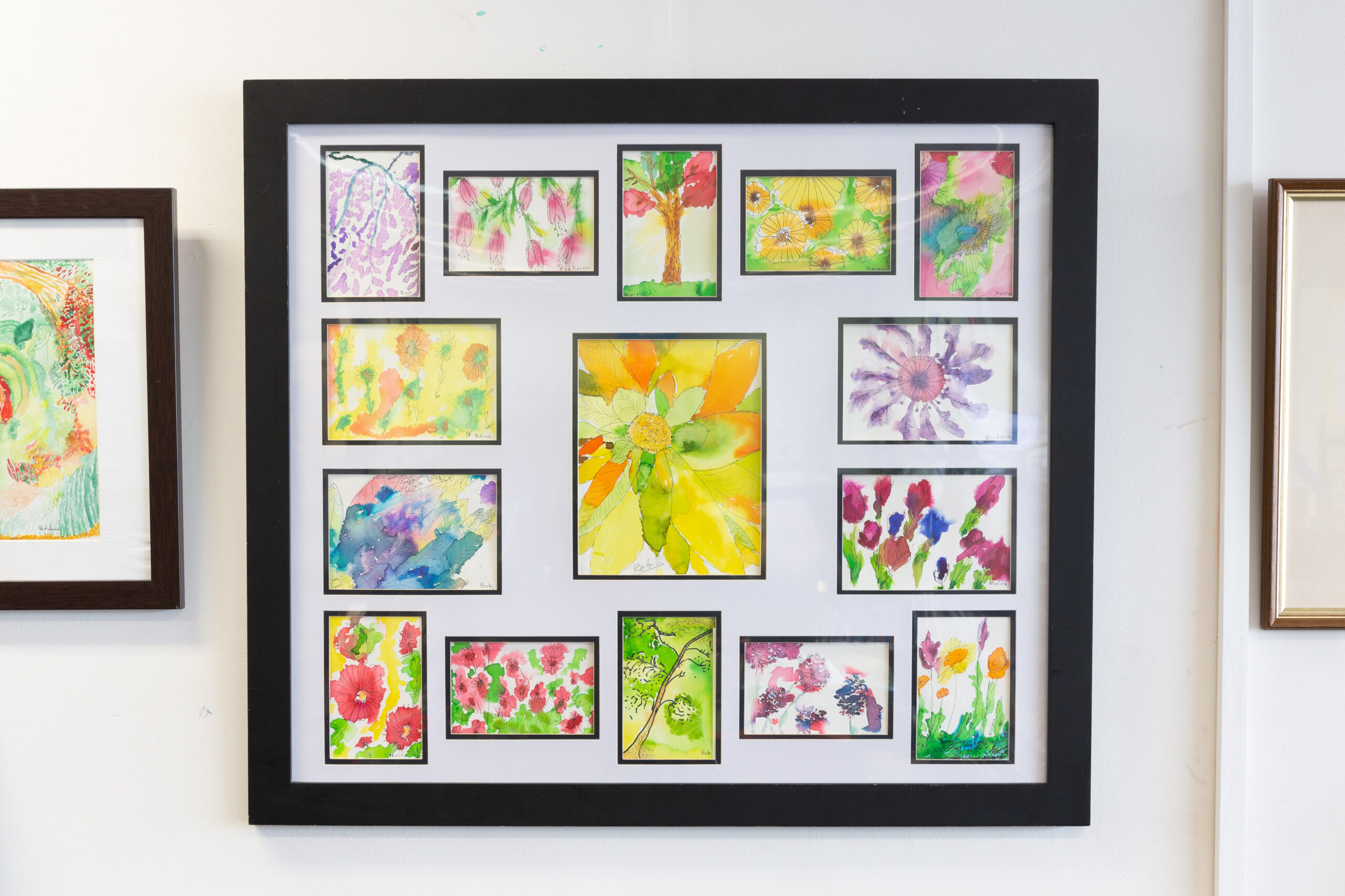 Arcadia Art Group, Arcadia 2021 (install view), 2021, Niddrie Library. Photo by Sebastian Kainey.
Bob Underwater Odyssey, 2021, Bob Lewis, watercolour, 41 x 51 cm.
Arcadia Art Group, Arcadia 2021 (install view), 2021, Niddrie Library. Photo by Sebastian Kainey.
Arcadia Art Group, Arcadia 2021 (install view), 2021, Niddrie Library. Photo by Sebastian Kainey.
Arcadia 2021: Arcadia Art Group
10 November 2021 - 14 January 2022
Artist(s): Arcadia Art Group
Location: Niddrie Library
This exhibition showcases recent solo and collaborative works created by the residents of Arcadia Aged Care services in North Essendon. The collected two-dimensional works employ a broad range of mediums including collage, coloured pencil, markers, scratchboard, and watercolour.
Many of the artists respond to thematic and conceptual prompts facilitated by the weekly craft groups, including 'The Seasons', 'Under the Sea' and 'Flowers', while other artists follow their own personal themes and inspirations. In a time when lockdowns have caused great isolation, Arcadia Art Group aims to engender pride in the achievements of residents and provide a vital link back to the community through art and creativity.
Karen Price is an artist and community services volunteer. She has been running a weekly craft group at Arcadia in North Essendon for the past seven years, with her late mother a former resident. Other volunteers have been involved in the past, including secondary students and Lifestyle staff. The residents have had several well-received exhibitions of their works in-house and hope to share their work with the wider community.
Email: kanprice@outlook.com
Artist Interview: Arcadia Art Group
What's your relationship to Moonee Valley?
Most of the residents at Arcadia have lived in the Moonee Valley area for most of their lives. For example, Marie lived in Airport West all of her life until moving into Arcadia. Some have also maintained connections with local MV communities, including children's and friendship groups run by local organisations.
---
Can you please describe your art practice – i.e. the mediums that you use and the concepts, ideas, or experiences that inspire your work as an artist?
Arcadia residents choose from a range of art materials depending on their own preferences and abilities. Their current exhibition includes painting, scratchboard, collage, and colouring-in with pencils and felt pens. Some residents also work with knitting, 3D sculpture, and cardmaking. Residents may bring their own conceptual ideas to the group or be motivated by suggested themes, including the seasons, gardens, or animals, in addition to working on decorations for events such as The Melbourne Cup, Easter, and Christmas.
---
What was your earliest experience of art? Can you describe it
"I remember drawing with pastels in primary school and using paints in High School." – Marie (Arcadia resident)
"I remember doing Technical Drawing and Isometrics at High School." – Bob (Arcadia resident)
---
Do you have a favourite artwork, artist, or exhibition? Does this influence or shape your own practice in some way?
"I'm quite curious about Pablo Picasso's work and would like to do some research on Australian painter, Frederick McCubbin, in the future." – Bob (Arcadia resident)
"I enjoy famous Renaissance artists such as Michelangelo." – Marie (Arcadia resident)
---
How has working as an artist during the pandemic changed or informed your approach to art-making, if at all?
The lockdowns affected my moods and artwork due to the isolation from family, visitors, and children." – Bob (Arcadia resident)
The lockdowns have meant that lifestyle staff at Arcadia and volunteers like myself have been restricted from running craft groups at times, in addition to limitations on the number of visitors and resident outings. There were periods when residents were largely restricted to their rooms, so we organised craft packs of materials that they could use during that time. The in-house art exhibitions, which we had been organising for the past few years were also stopped due to COVID-19 restrictions. Overall, I think that the restrictions have made the craft activities an even more important source of stimulation and interaction for the participants.
---
What pieces, projects, or collaborations are you working on now? How can we continue to follow and support your art practice?
Arcadia residents are currently working on a variety of themes and starting to make Christmas cards. We may try to make another collaboration piece involving all participants in the future as well.