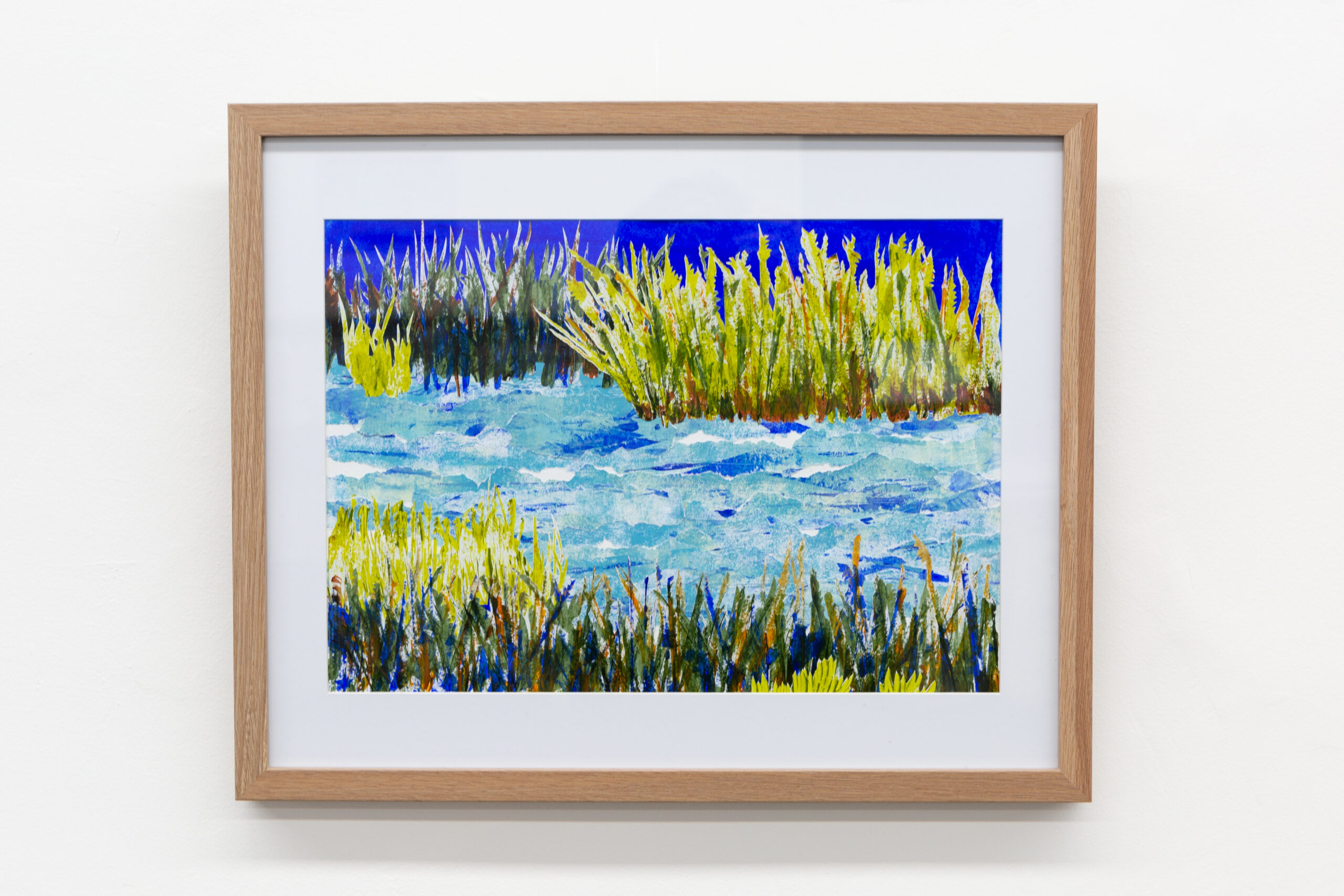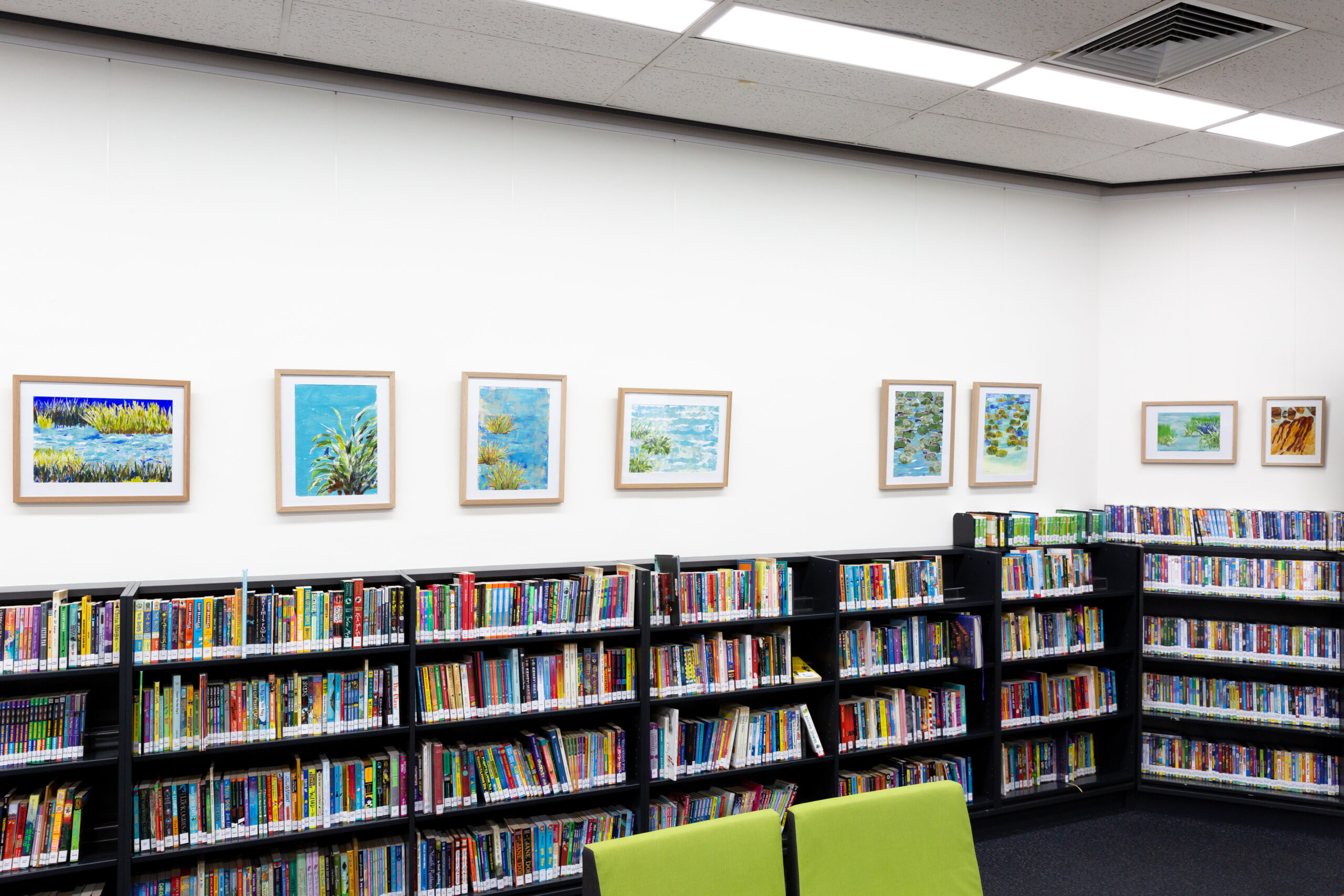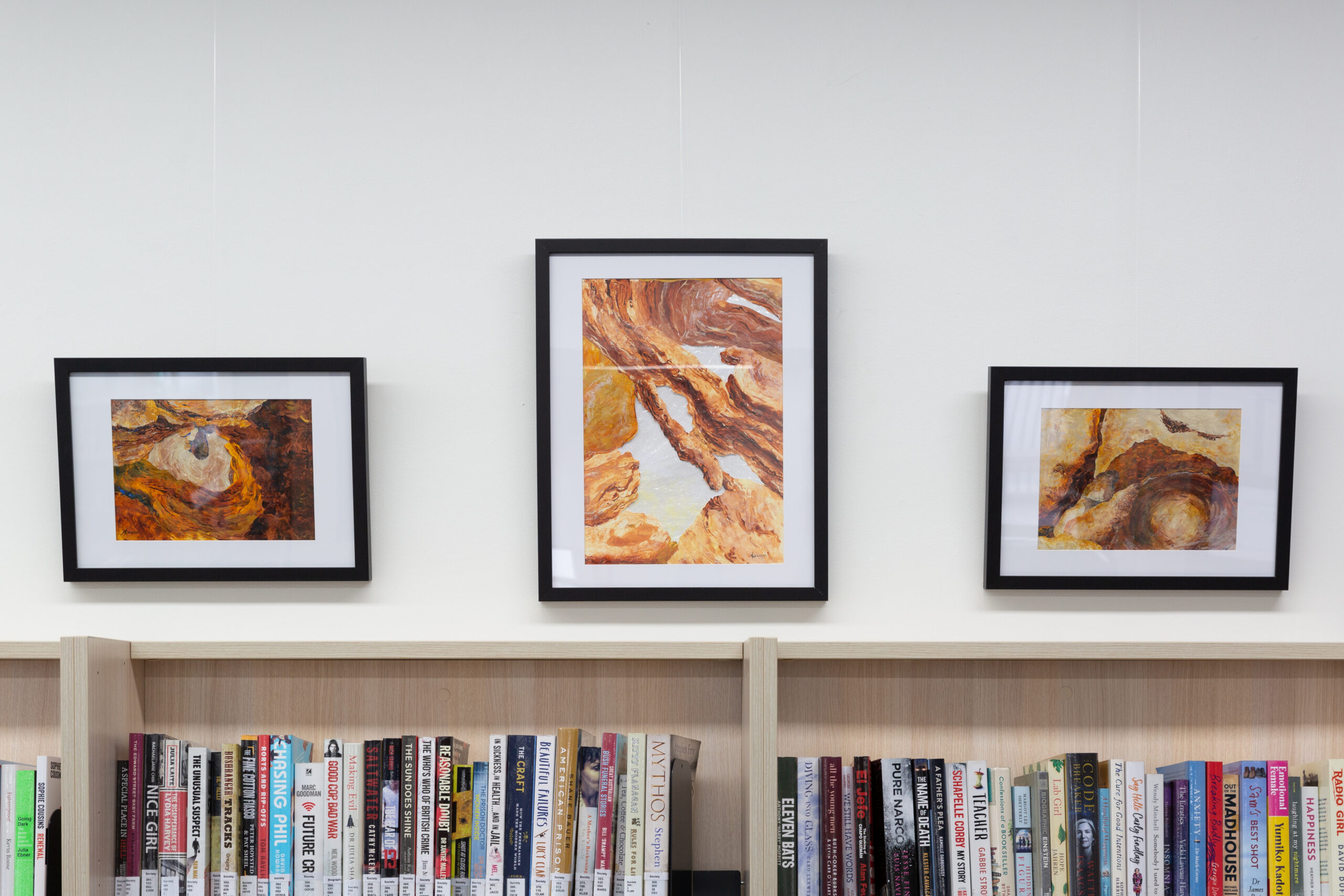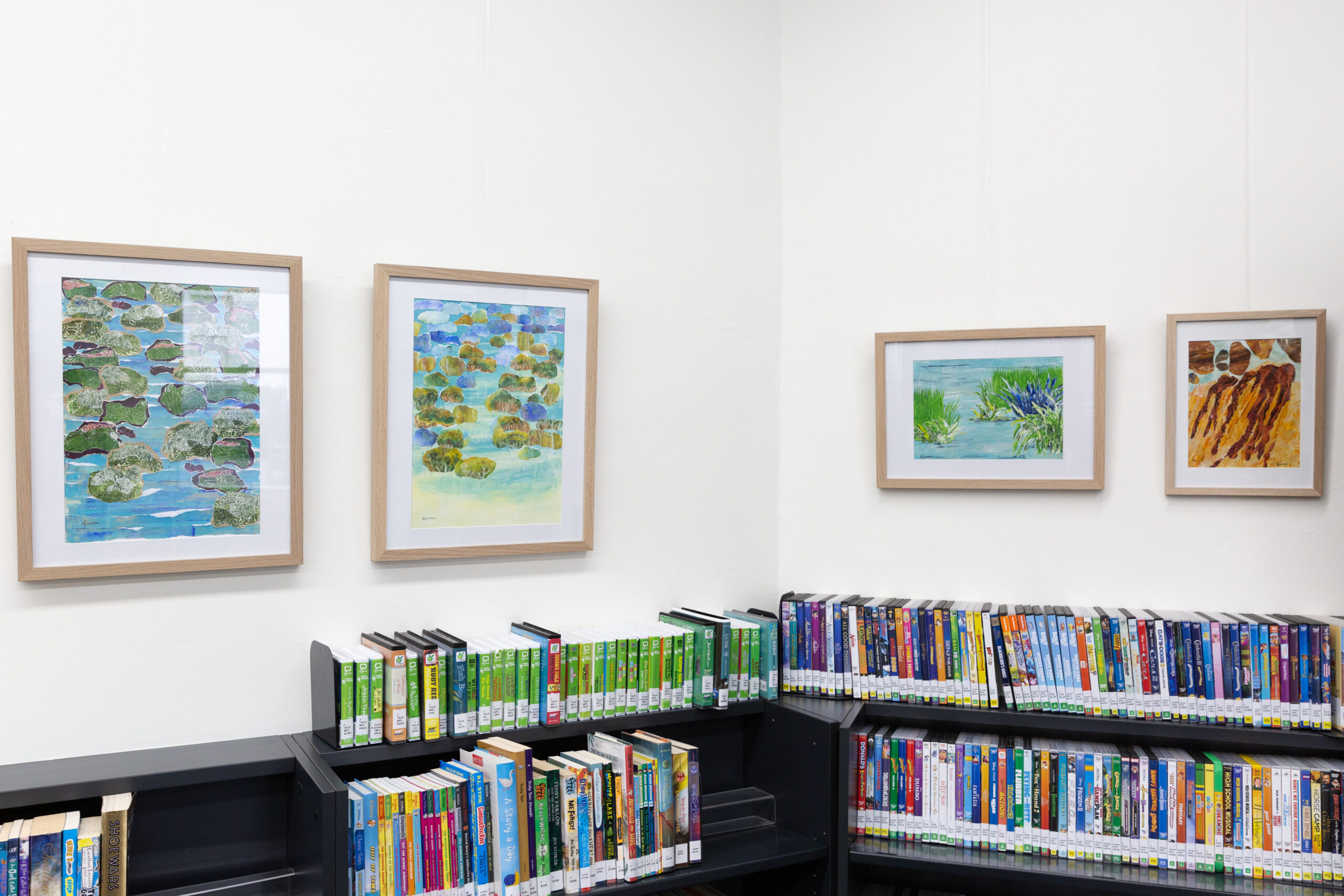 Anne Lawson, Reeds, Newlands Paddock, 2021, acrylic on paper, 41 x 29 cm..
Anne Lawson,The Worlds Between (install view), 2021, Ascot Vale Library. Photo by Sebastian Kainey.
Anne Lawson,The Worlds Between (install view), 2021, Ascot Vale Library. Photo by Sebastian Kainey.
Anne Lawson,The Worlds Between (install view), 2021, Ascot Vale Library. Photo by Sebastian Kainey.
The Worlds Between: Anne Lawson
14 July 2021 - 14 January 2022
Location: Ascot Vale Library
The Worlds Between is a vibrant exhibition of mixed-media collages exploring the complex environments of wetlands, mangroves and rockpools—worlds which exist between land and water. Lawson employs painting, cutting, and tearing techniques in her works, bringing to mind the scenes, colours, and textures of these habitats through collage. Though we are beginning to see wetlands and mangroves as critical parts of our environment, too often these habitats have been deemed expendable and seen as barriers to human development. Lawson's exhibition encourages you to enjoy the natural beauty of these environments, while considering the importance of protecting these unique worlds.
Anne Lawson is a self-taught artist and Ascot Vale resident. She creates bold works on paper, which seek to celebrate the intricacies of the natural world. Her practice has shifted from botanical art illustration to abstract mixed-media collages, allowing her to be adventurous with ideas and materials. The Worlds Between is Anne's third solo exhibition. Her work is held in private collections around the world.
Website: annelawsonart.etsy.com
IG: @annelawson54
FB: @annelawsonart
Email: annelawson54@gmail.com
Artist Interview: Anne Lawson
What's your relationship to Moonee Valley?
I have lived in Moonee Valley, on Wurundjeri Woiwurrung lands, for over 40 years and during that time I have developed deep roots and built friendships. Having a coffee in Union Road is always an opportunity to meet up with friends and greet neighbours! I also have a relationship to Moonee Valley through my art. My wetland collages were inspired by the wetlands in Ascot Chase and my dream project is to produce a series of works of the Maribyrnong River. It gives me a great excuse to wander along its banks.
---
Can you please describe your art practice – i.e. the mediums that you use and the concepts, ideas, or experiences that inspire your work as an artist?
I am a collage artist, which surprises me, as I painted botanical art works for quite a few years. Now I scrape acrylic paints over paper to cut out abstract shapes rather than detailed watercolour studies of plants. However, my inspiration always comes from the natural world, especially the plant world. I love the textures and shapes of plants in different habitats. I would love my work to help people see the fragility and beauty of vital places like wetlands and mangroves.
---
What was your earliest experience of art? Can you describe it?
As a small child I drew people that, for some unknown reason, had ladders as bodies. I called them 'ladder girls'! Then, when I was in Prep, my painting "Cat by the fish bowl" was selected for the Herald Outdoor Art Show. Would you be surprised to know it was a painting of a cat sitting beside a fish bowl? I was very proud to see it hanging with all the other paintings in the Fitzroy Gardens. My first exhibited work!
---
Do you have a favourite artwork, artist, or exhibition? Does this influence or shape your own practice in some way?
John Wolseley. His exhibition 'Heartlands and Headwaters' at the NGV blew my mind. His ability to combine watercolour, pencil, charcoal and prints to create beautiful works of fragile habitats is astounding. I love that his works are like maps, full of intricate detail, but still able to clearly show the whole. Oh, to be able to do something similar! Another way he influences me is to show that you don't have to get stuck in one disciple. You can be a watercolour artist and draw with pencil and be a printmaker and experiment with burnt sticks on paper you have buried for a couple of months. His inspiration encourages me to wonder how I can integrate the disciplines I love ~ collage, watercolour, pencil drawing and textile work.
---
How has working as an artist during the pandemic changed or informed your approach to art-making, if at all?
My art work changed dramatically, as I discovered collaging! I had moved away from botanic art, but didn't have a clear direction. I took part in an online course about representing the places we love. One of the ways to show place was by collaging. Lockdown gave me time to play with acrylic paint and printing on a gelli plate, then cutting out shapes to build up the images I wanted. The textures I discovered from these techniques inspired me to make series of collages ~ reeds, mangroves, rock pools and sand dunes. I was given time to build up a body of work to exhibit in the Ascot Vale Library, as well as in a gallery in Kyneton.
---
What pieces, projects, or collaborations are you working on now? How can we continue to follow and support your art practice?
I have just begun to get back to collaging by entering a few new pieces into a group show. I think I needed a break after creating those collaged works over the last year so my creative attention had been focused on my freeform embroidery. As we can wander further afield now, I am looking forward to exploring different environments, and playing with ideas to interpret them in my art. I am also going to be brave and apply for an exhibition in a Melbourne gallery.