Incinerator Art Award: Art for Social Change
The Incinerator Art Award call for entries closed on 18 May 2020. 
The Incinerator Art Award is the Incinerator Gallery's annual contemporary art prize inspired by the theme of art for social change.
In light of the profound impact of the COVID-19 virus and the affect that current global events are having on Australian visual artists, we have adjusted Incinerator Art Award 2020. This year it is easier to apply (and free!) and we are providing significant opportunities for future display of artworks at the gallery.
Incinerator Art Award (IAA) is Incinerator Gallery's annual art award and exhibition. Established in 2015, IAA celebrates contemporary arts practices that are socially engaged, environmentally aware, and seek to enrich community through dynamic, creative practice.
This nationally recognised award demonstrates the value and virtue art delivers to a contemporary Australian audience, underpinning Incinerator Gallery as a vital space for pluralistic, poetic and political discourse.
IAA is an inclusive and diverse exhibition that celebrates the vibrancy of community within and beyond Moonee Valley. In 2020, IAA will continue to present critical, ambitious and experimental practices, and will offer an engaged and educative program encompassing visual art, film, performance, writing, architecture and design. 
IAA pays homage to Walter Burley Griffin and Marion Mahony—the progressive architects who collaboratively designed the Essendon Incinerator in 1929 - 30—who believed that art and architecture are ethical enterprises that should aim to bring about positive social change.
Entries open: Tuesday 14 April 2020
Entries close: Midnight, Monday 18 May 2020
Shortlisted artists announced: Wednesday 15 July 2020
Delivery of works: Monday 10 August – Monday 17 August 2020
Opening night and award ceremony: Friday 28 August 2020
Exhibition dates: Friday 28 August – Sunday 1 November 2020
This year, Incinerator Gallery is offering three prizes. In light of the profound impact of the COVID-19 and the affect that current global events are having on Australian visual artists we have adjusted Incinerator Art Award 2020. This year it is easier to apply, with no entry fees  and prizes include significant opportunities for future display of artworks at the gallery.
Two artists will each receive a $4,000 artist fee and support towards the development and display of a solo exhibition at Incinerator Gallery. These exhibitions seek to provide a professional development opportunity, curatorial advice and marketing support from the Incinerator Gallery team over the course of six months, culminating in a six-week exhibition to commence in June 2021.
A People's Choice Award of $1,000 will also be awarded to one recipient at the close of the exhibition.
SELECTION CRITERIA
Artworks submitted should demonstrate a belief that cultural and creative expression can be used as a means to affect deep and lasting social change.
Applications should consider the IAA prize and the potential for a solo exhibition, however the submitted works will be not judged solely on this merit.
Short-listed works will demonstrate a relationship to the theme of the award, 'Art for Social Change'.
The Selection Panel will consist of two Incinerator Gallery staff and external panelists from Australian contemporary arts organisations. The Selection Panel will grade artworks independently, based on the response to the theme 'art for social change.'
Applications will be critiqued on communication, quality, and content. The application will also be considered artistic and ethical merit, achievability of installation and additional support material supplied by the artist.
ENTRY CONDITIONS
Entry is open to artists living and working in Australia.
Artists must be 18 years of age or older to enter.
Indoor, outdoor and performance works are accepted, the gallery can accommodate a variety of sizes and media.
Outdoor works must be able to withstand all climatic conditions.
Performance works must be able to be judged based on documentation, video footage or photographs. Performance-based application should outline equipment required, space, duration and scheduling of performance, i.e. will your performance occur for judging, how often will performance run throughout IAA.
Works must be completed at the time of your submission.
Works must be completed by a living artist in the last 5 years.
Works must not have won other art prizes or awards.
Moonee Valley City Council Employees and Volunteers, or their family members, relatives or household members are ineligible to enter.
EXHIBITION CONDITIONS
Please note, the Incinerator Gallery is hopeful to have the exhibition displayed in the gallery space, however this is dependent on government restrictions on social gathering during the COVID-19 pandemic. For this reason, the format of the exhibition of the Incinerator Art Award entries is subject to change (in gallery or online exhibitions are possible) and all successful finalists will be kept updated on how their works will be displayed as information comes to light.
The exhibition is curated by Incinerator Gallery, who have final say over inclusion of works.
The layout of the exhibition is determined by Incinerator Gallery, if the artist has site specific work they must make it known in their application.
The artist is responsible for the packaging and transportation of the work to and from the gallery.
The work must be delivered and collected from the Gallery within the time period set by the Incinerator Gallery.
Incinerator Gallery will install and de-install the work, unless the artist specifies otherwise.
Installing and de-installing must be completed within the time period specified by the Incinerator Gallery.
The artist is responsible for providing the equipment required to exhibit the work unless otherwise stated. Where possible, video-based works are encouraged to supply their own monitors – please outline in your application.
All artworks and equipment must complete with Moonee Valley City Council OH&S standards.
All shortlisted works will be insured for loss or damage by Moonee Valley City Council for the period of the exhibition.
Moonee Valley City Council will not be responsible for works not collected within the time period specified by the Incinerator Gallery unless by prior arrangement.
IMAGES & MARKETING CONDITIONS
The artist will include in this application a high-resolution image (at least 1600 pixels wide at 300DPI) of the entered work with your entry.
It is recognised that authorship and copyright of works entered belongs to the artist.
Short-listed artists give permission for Moonee Valley City Council to use images of entered work for marketing purposes associated with Incinerator Art Award and Incinerator Gallery for five years from the date of entry.
Short-listed artists may be required to submit a short video talking about their submissions connection to the theme of art for social change for an online campaign
The artist will be attributed to the work when reasonably possible wherever the image and video/s is reproduced.
SHORT LISTING & JUDGING
Judges are selected by Incinerator Gallery. It is ensured that judges have the appropriate credentials to make a critical assessment of the entries.
Incinerator Gallery shortlists works based on the selection criteria and exhibition rationale outlined above.
Incinerator Gallery reserves the right to accept or reject any works submitted for consideration on any grounds.
All decisions are final and individual feedback is not provided on outcomes.
SUBMISSIONS & PAYMENT
This year, Incinerator Gallery is wavering the $30 entry fee. Entries to Incinerator Art Award 2020 are free.
Artists may submit one work per entry.
Submissions will only be accepted via the online form before midnight 18 May 2020.
All information upon submission of the application must be true; incorrect information may deem short-listed works ineligible.
MORE INFORMATION
If you still have questions about the Incinerator Art Award please contact the Incinerator Gallery at incinerator@mvcc.vic.gov.au or on 03 8325 1750.
.
Find out more about the Incinerator Art Award from 2019 winner Ash Perry and our Gallery Team Leader Richard in this call for entries video.
Learn more about our 2020 judges
Andy Butler
Program Curator Westspace. Artist, writer and curator. 
Andy Butler is an artist, writer, and the Program Curator at West Space. His has appeared in The Saturday Paper, The Monthly, Overland, Runway and Art + Australia, and in publications for ACCA, Buxton Contemporary, MUMA, Samstag Museum and more. Recent curatorial projects have been developed with BLINDSIDE, Bundoora Homestead Art Centre and Next Wave, his work has been reviewed or profiled in the Saturday Paper, ABC RN, RRR, Art Guide and more. He has recently exhibited at Firstdraft, Bus Projects, the Substation and Footscray Community Art Centre. He's on the boards of SEVENTH Gallery and Emerging Writers' Festival.
Esther Anatolitis
Deputy Chair, Contemporary Arts Precincts; Honorary Associate Professor, RMIT School of Art
Esther Anatolitis is one of the nation's leading advocates for the arts. Her practice rigorously integrates professional and artistic modes of working to create collaborations, projects and workplaces that promote a critical reflection on practice. With a background in architecture, broadcasting and news media, Esther has held leadership roles across all artforms and platforms including Craft Victoria, Melbourne Fringe, SBS, Express Media, the Emerging Writers' Festival, Regional Arts Victoria, and most recently with NAVA. Esther has served numerous board, policy, advisory and juror roles, is a former curator of Architecture+Philosophy, Digital Publics and Independent Convergence, and has taught into art, architecture and philosophy programs at universities across Australia. Esther's work is regularly published, and is collected at estheranatolitis.net
Hannah Presley
Curator of Indigenous Art, National Gallery of Victoria
 Hannah Presley is an Aboriginal curator based in Melbourne, she is currently curator of Indigenous art, National Gallery of Victoria. Presley was the inaugural Yalingwa curator at Australian Centre for Contemporary Art where she curated A Lightness of Spirit is the Measure of Happiness in 2018. In 2017, she was First Nations Assistant Curator for Tracey Moffatt at the 57th Venice Biennale, working alongside curator, Natalie King. Presley draws on inspiration from her early roles working in Central Australian Art Centres and as Exhibitions Officer at Araluen Galleries, in Alice Springs, Presley had the privilege of coordinating a number of shows including the annual Desert Mob exhibition. Presley has since worked in curatorial roles with the Koorie Heritage Trust, Footscray Community Arts Centre and Craft Victoria, also initiating and coordinating the Victorian Aboriginal Weaving Project across a number of years. Recent curatorial projects include Every Second Feels Like A Century, West Space, Melbourne (with Debbie Pryor); Weaving Country (with Vicki Couzens), Footscray Community Arts Centre, Melbourne (2017); Hero Worship, Craft, Melbourne (2016) (with Debbie Pryor).
Incinerator Art Award 2019 winners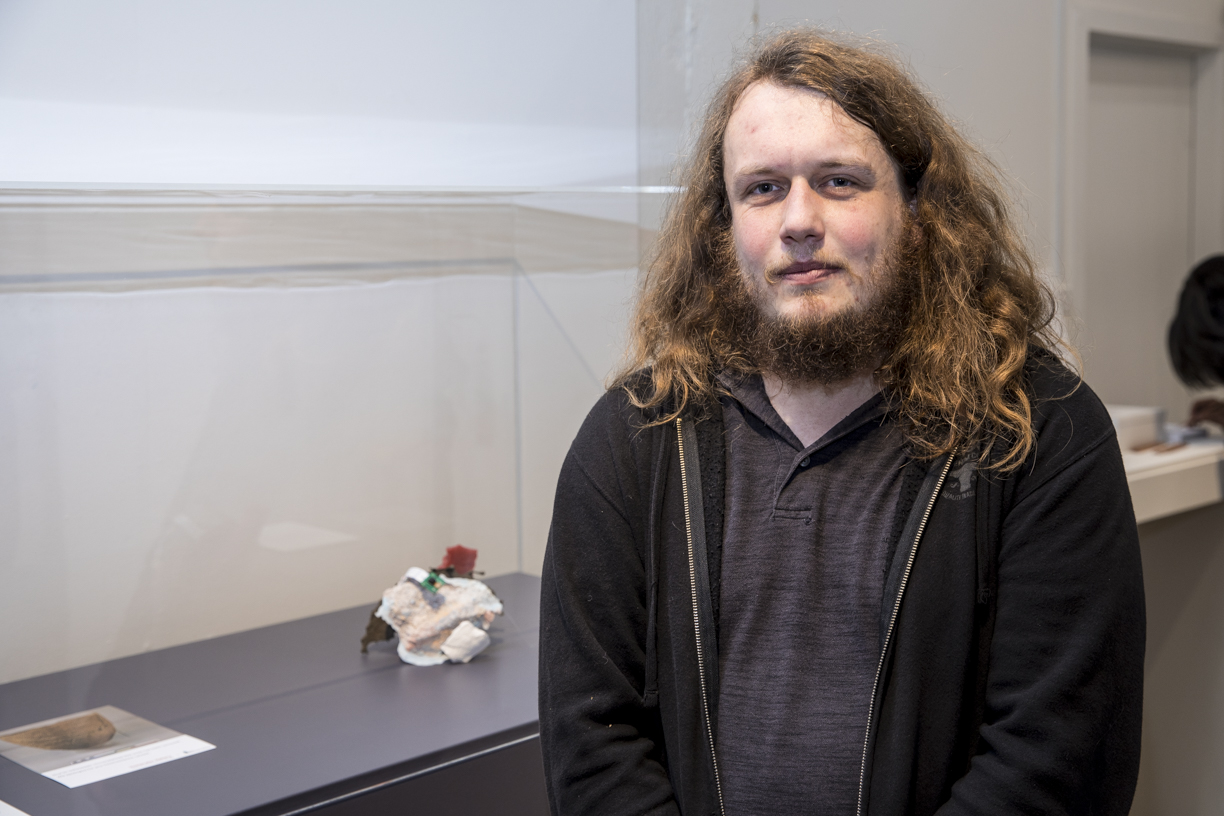 Ash Perry was the winner of the 2019 Incinerator Art Award Boathouse prize for his work, Country Observes. 
Country Observes is from a larger series of works which convey the importance of Quandamooka culture and history. This work rejects literal depictions of natural forms through the casting of significant rocks from Minjerribah (North Stradbroke Island) into resin. The resin rocks are then used as the casing for low-fi surveillance devices. The sculptures are placed back into the environment to record the everyday; from littering, the movement of animals, to overhearing conversations. Becoming observers of everyday events these devices imply the customary beliefs of the Yoolooburrabee (Quandamooka peoples) that the country is alive with spirit and continues to observe the events that occur.
Amala Groom was the recipient of the 2019 Incinerator Gallery Award for her work, The Visibility of Blackness.
The Visibility of Blackness is a performance of the remembering of BE-ing; of the past, present and future. Narrated through generations of the artist's matrilineal family, those that have come before and those that will come after, this performance demonstrates the oneness of the Aboriginal experience cross the indivisibility of time.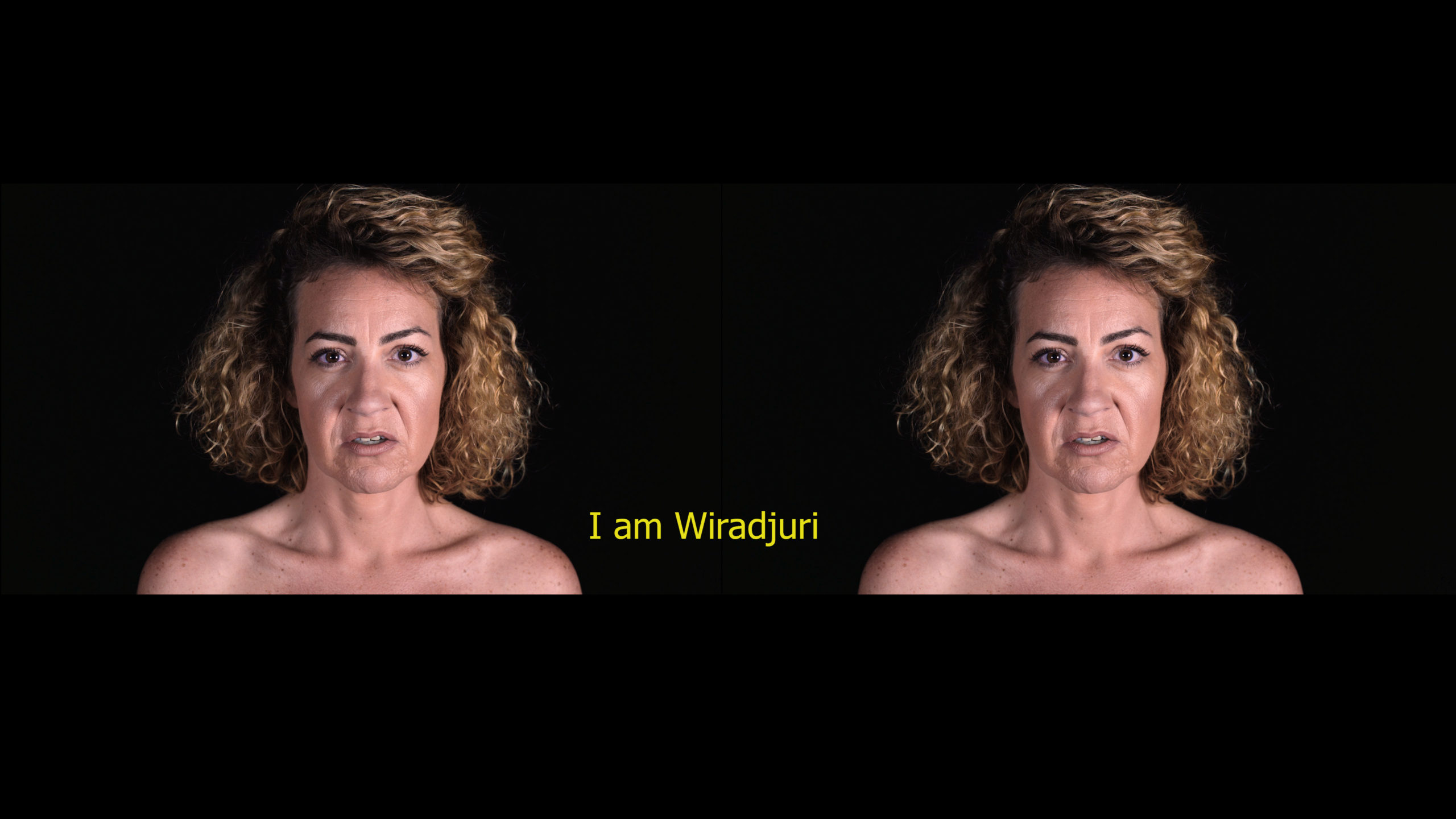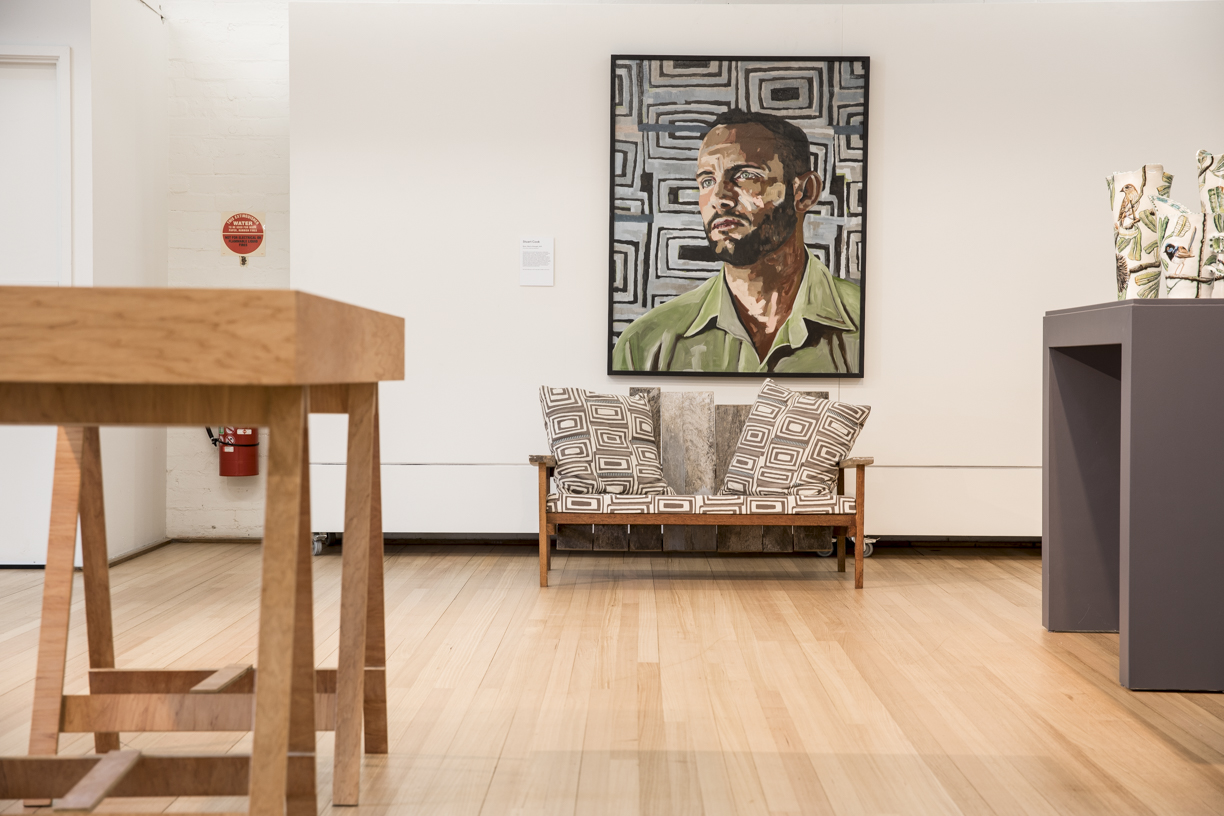 Stuart Cook was the winner of the 2019 People's Choice Award for his work Ryan, Fabric of thought. 
This portrait is one of a series that has been a collaborative process between the sitters—individuals who are transitioning from life in prison—and myself. They examine our thought patterns and how these fit within the fabric of greater society.  For many, words do not come easily when the topic is themselves. Each subject chose a swatch of fabric to represent their particular pattern of thought. This provided a medium in which they could express their thoughts and feelings about their place in the world. The furniture, upholstered in the same fabric, brings the subject's thoughts beyond the 2D plane of the painting. This allows the viewer to interact, to sit in someone else's fabric and gain greater understanding of another's perspective and experiences.
2019 Incinerator Art Award exhibition opening
You can view the entire 2019 Incinerator Art Award program here.
If you have further questions please contact the Gallery on 03 9243 1750 or at incinerator@mvcc.vic.gov.au.