Art for Social Change | 28 August – 1 November 2020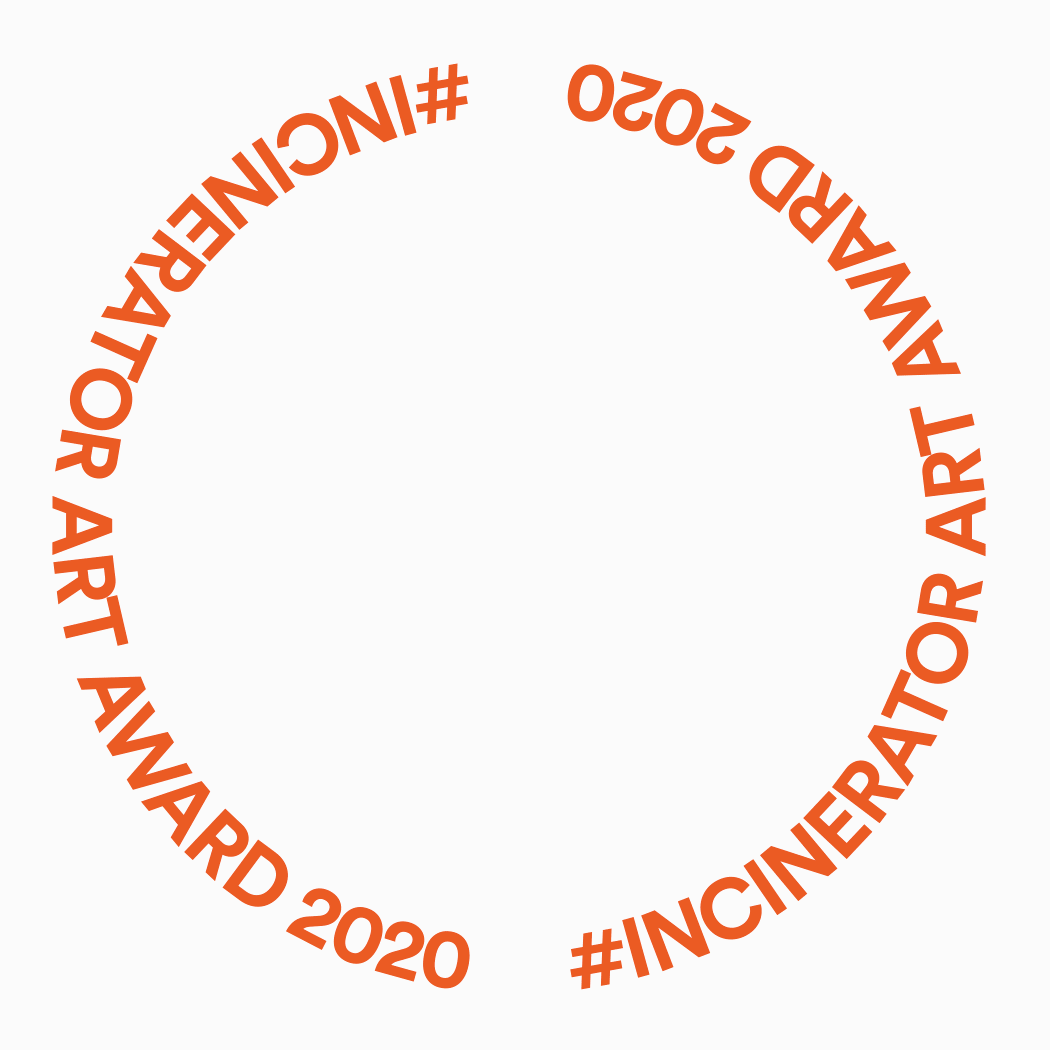 The Incinerator Art Award is Moonee Valley's premier visual arts prize attracting artists from across Australia to respond to the Award's call to action – art for social change.
This year 22 artists who explore diverse and topical themes surruonding social justice have been shortlisted for the Award.
In 2020, for the first time, the Incinerator Art Award is presented exclusively online to create accessiblity and awareness during the COVID-19 pandemic, and to underscore the imperative social and political role art plays during the time of physical distancing.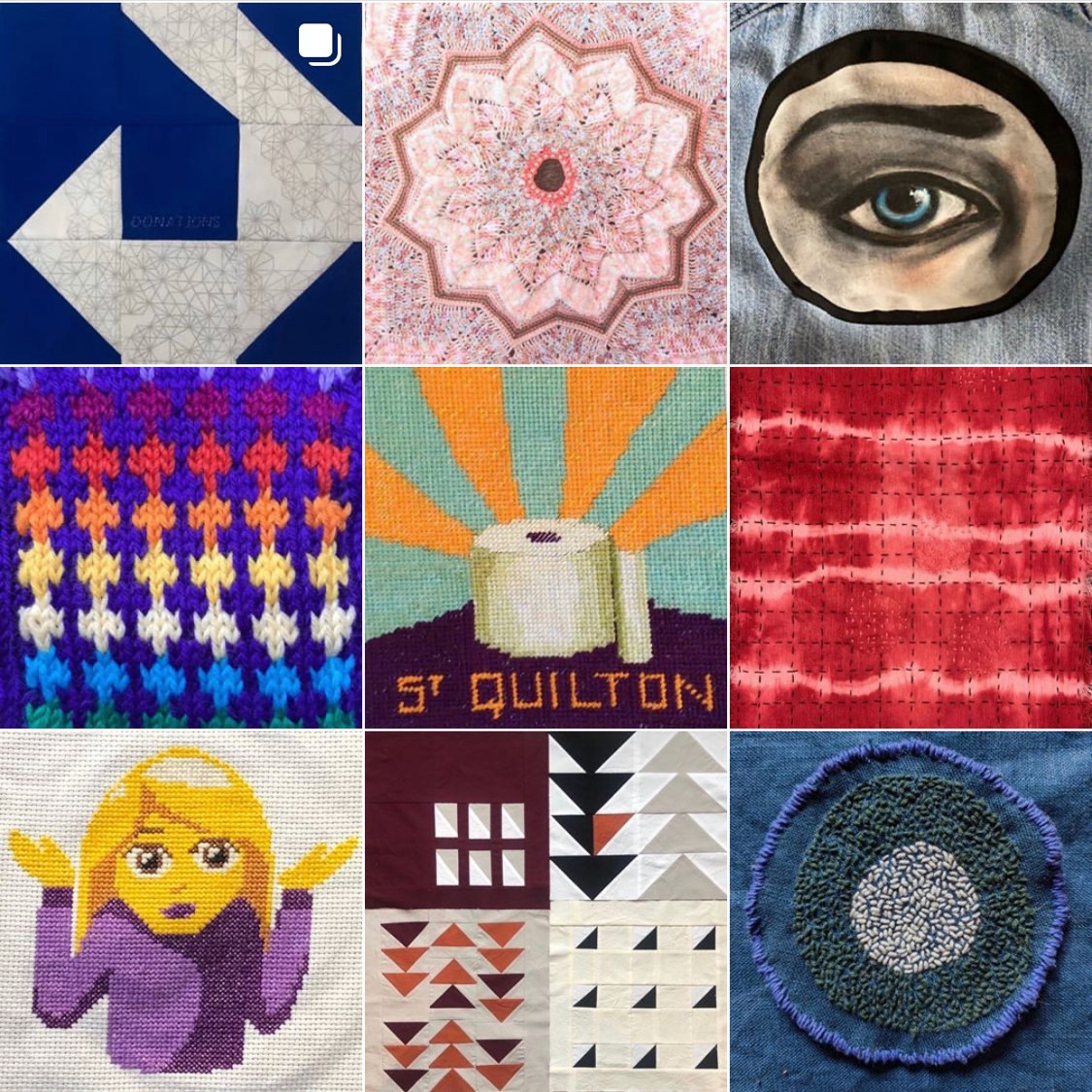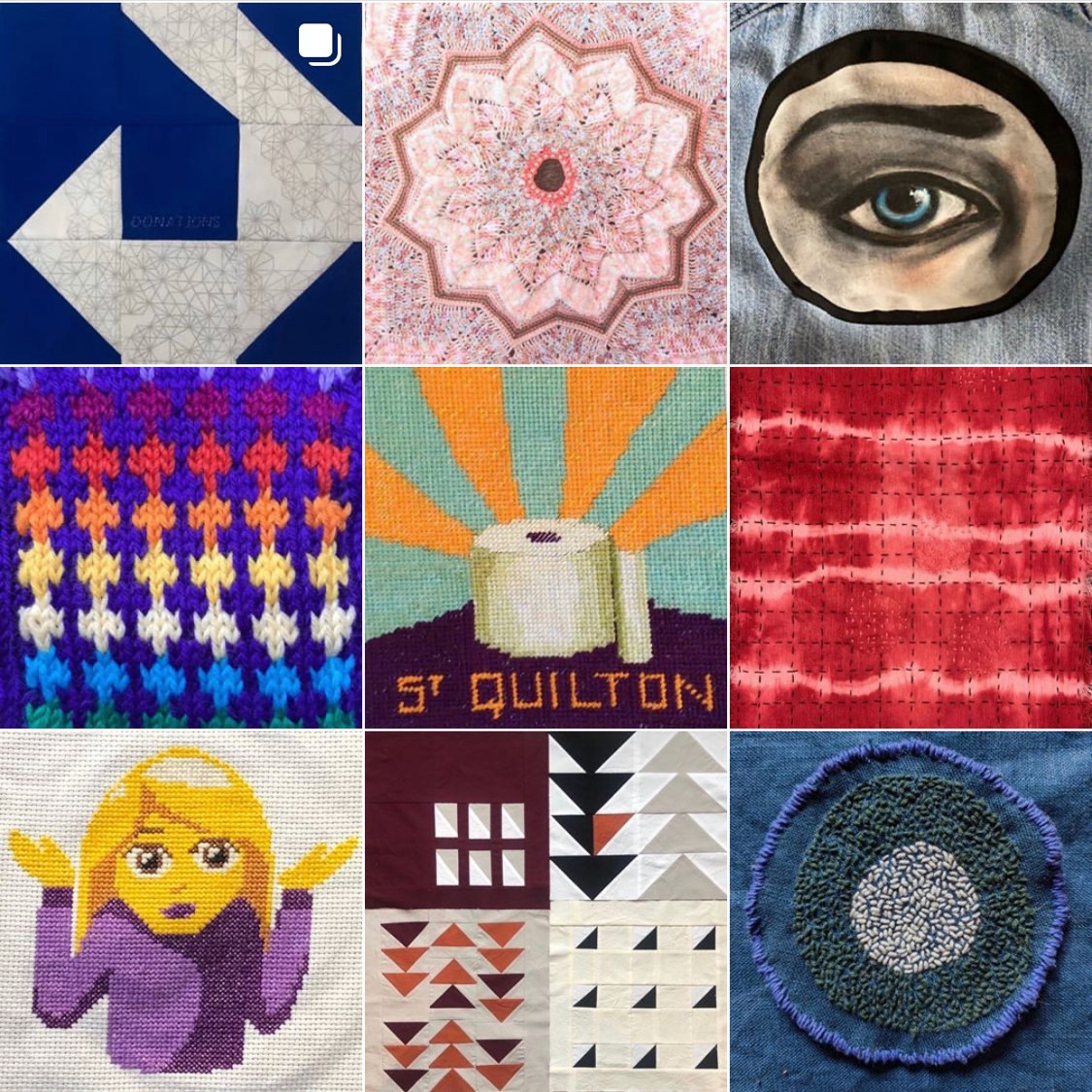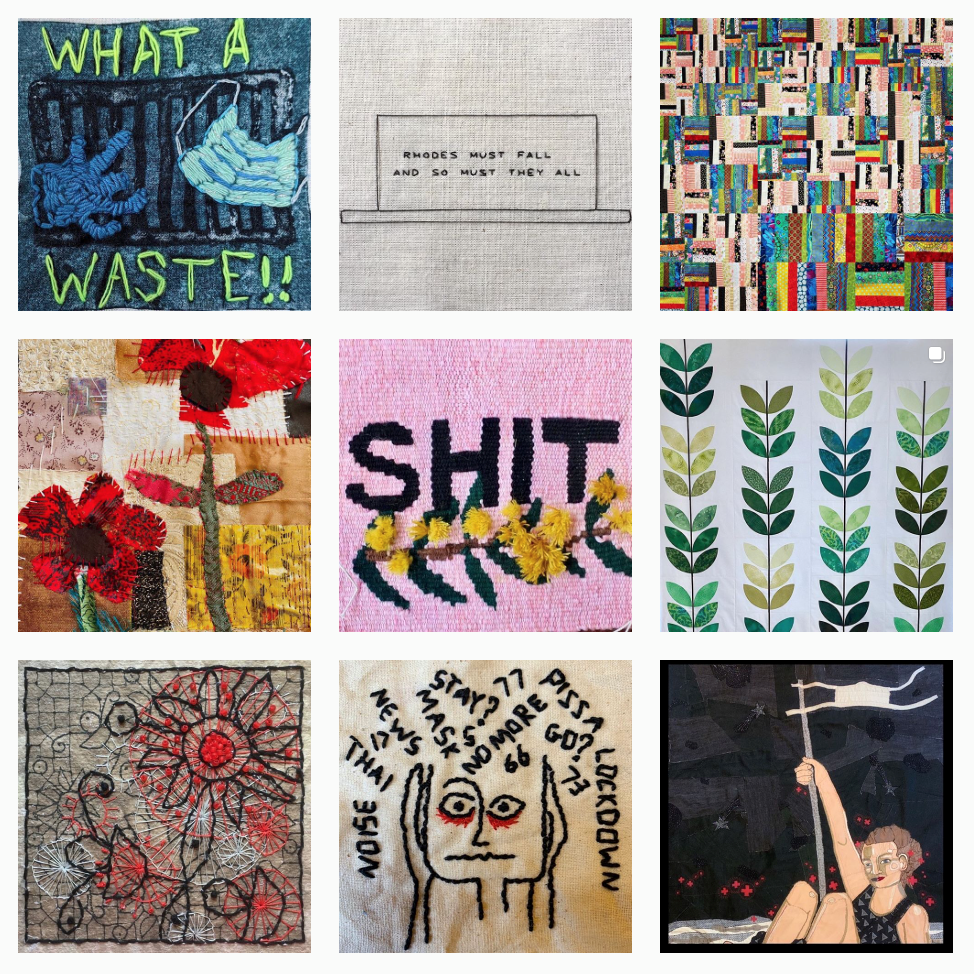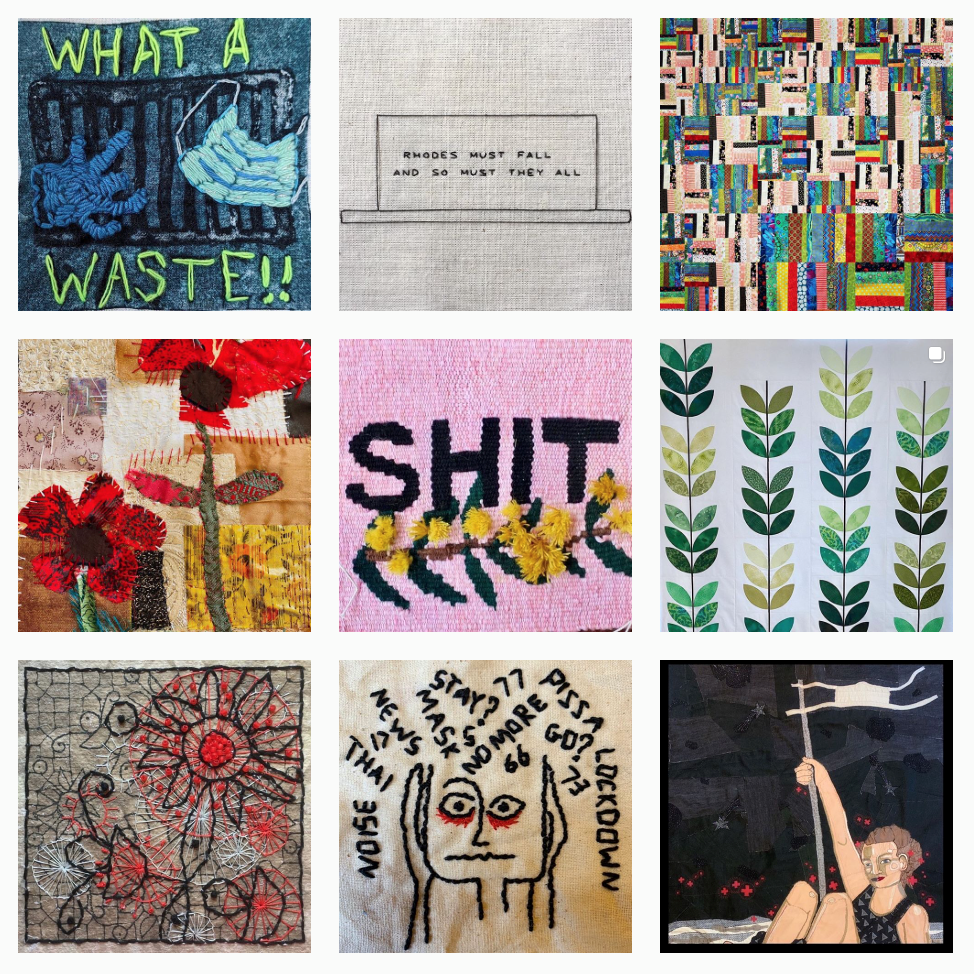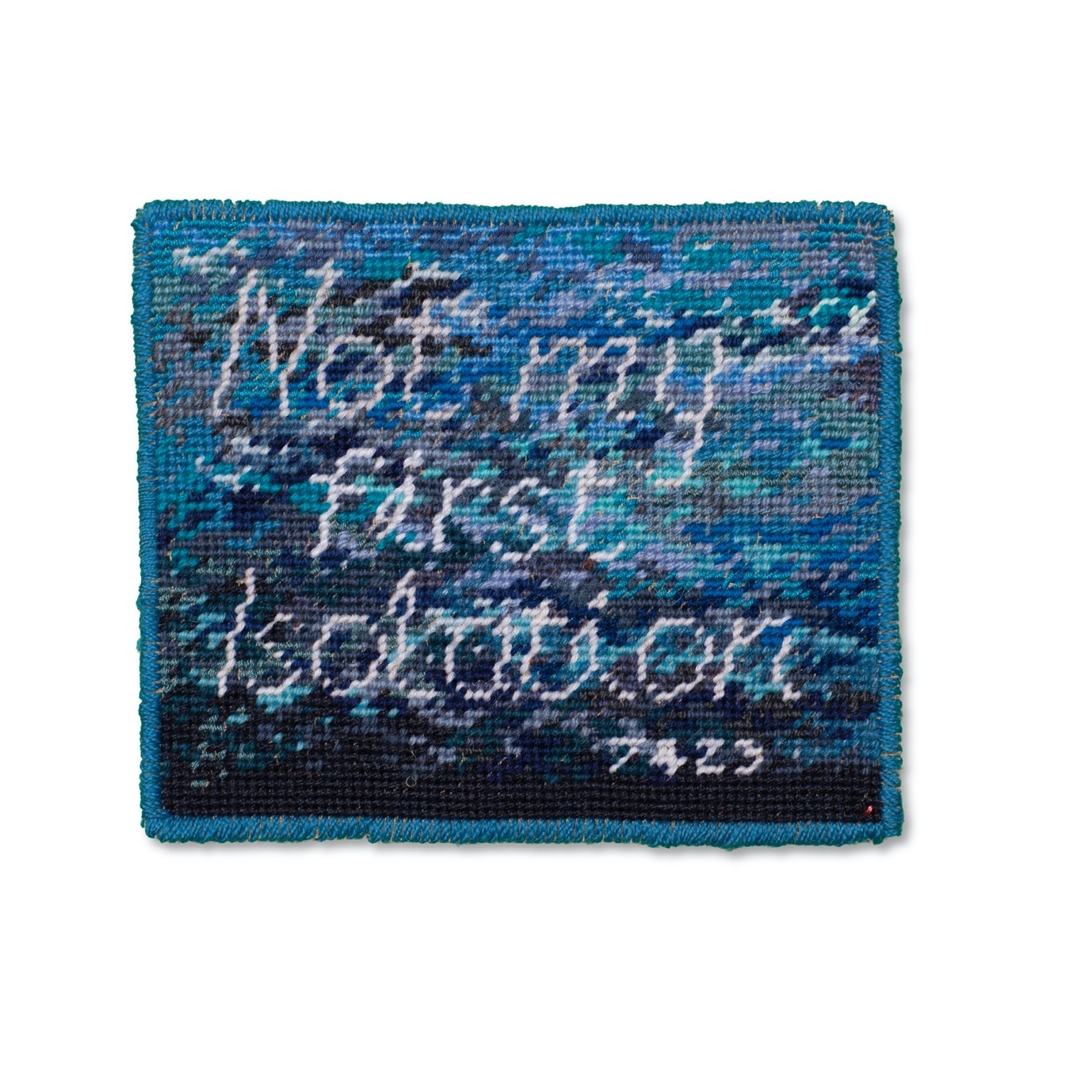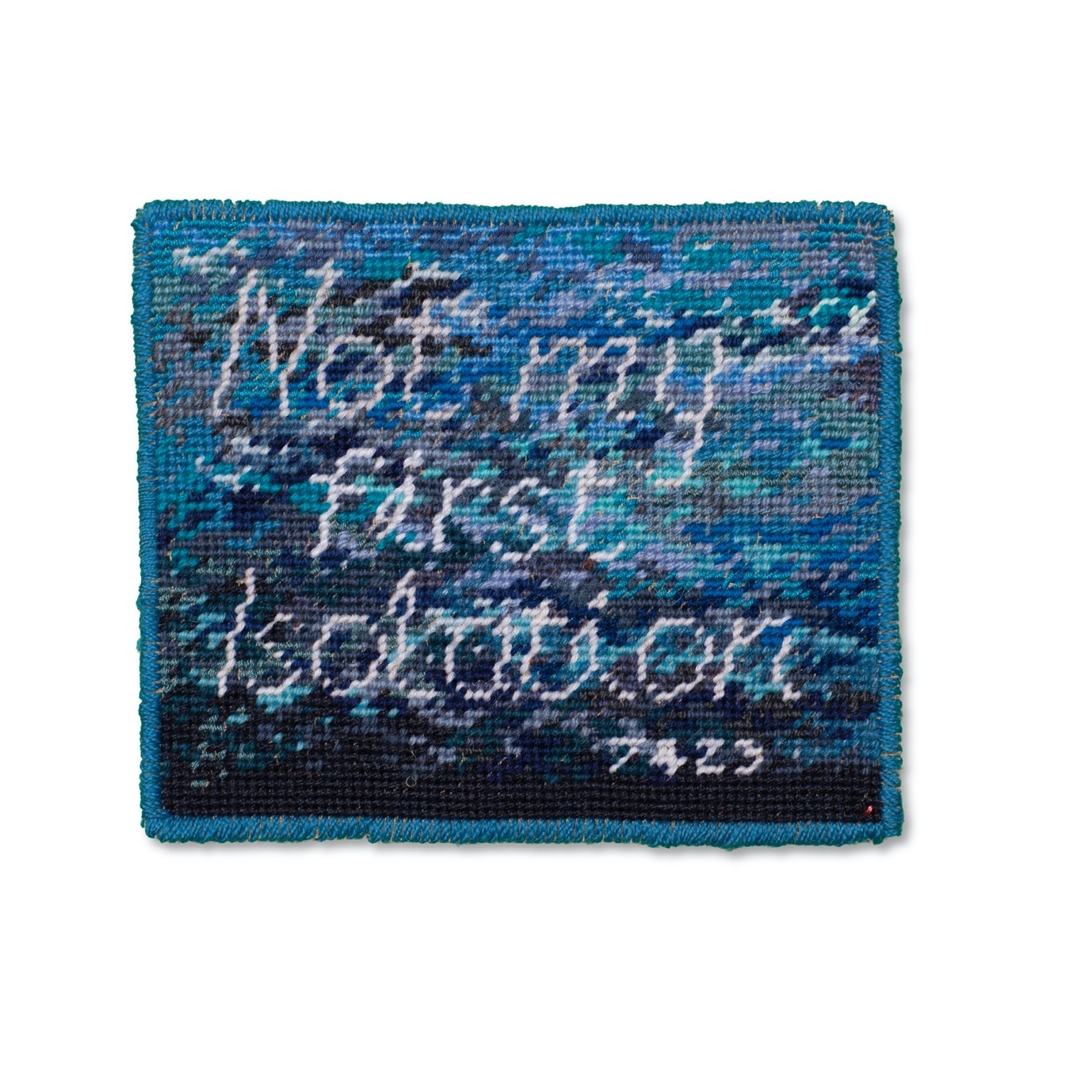 ---
Images 1 + 2: @Covid19quilt Project, screenshot of the @covid19quilt featuring various artists 2020, digital quilt (Instagram). Presented artists: @sing.to.the.sea, @silvielissa, @rebeccannmc, @nicky_______g, @mmck1960, @mmarshallsea, @saladaki, @david_lowe_art, @sew_spring, @nerissact, @emilgrimble, @vngjewelry, @cookeart, @misscathelizabeth, @ozkiwiquilts, @mandy_ridley_artist, @nekemp, @tracie.noles.ross. Courtesy of @covid19quilt Project.
Image 3: Michelle Hamer, Day 7423 2020, Hand stitched wool on canvas, 17cm x 20cm. Courtesy of Michelle Hamer
The COVID-19 Global Quilt Project – @covid19quilt – is a digital quilt started in April 2020 on Instagram by artists Kate Just and Tal Fitzpatrick. This project gathers, narrates and shares diverse experiences of COVID-19 by inviting participants to submit photos of textile pieces they have created during/in response to the pandemic. Each contribution is accompanied by a short text written by the maker that personally reflects their experience. The accumulating virtual quilt joins the hands of crafters around the world. The project will continue indefinitely, forming a unique time capsule which records the challenges and concerns facing communities around the world.
Award-winning artist Kate Just and her collaborator craftivist Tal Fitzpatrick both deploy traditional craft forms and participatory practice. Their projects use the power of craft to address social justice issues of our time including violence against women, refugee and asylum seeker rights and LGBTQIA rights. This is their first collaboration.
Visit this project via instagram.com/covid19quilt/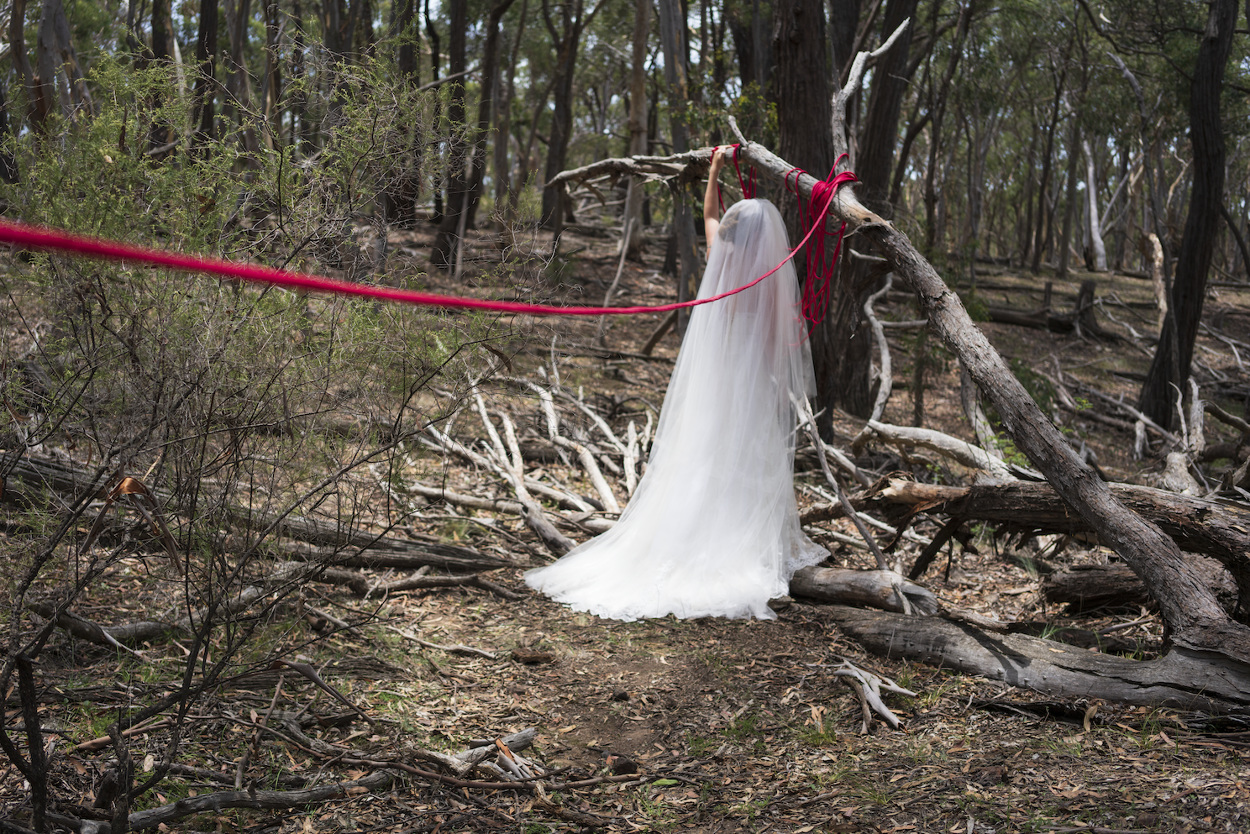 ---
Amala GROOM, The Union 2019 (production still), single-channel video, 4K UHD video, colour, sound, 11 mins 11 seconds. Courtesy of the artist.
In 'The Union' (2019) Amala Groom draws upon lived experiences and Aboriginal ceremonies. A red rope representing the miwi (spirit) connects a network of gum trees in a forest near Groom's home in mid-western New South Wales. Adopting the persona of a displaced and distressed bride, Groom uses the rope to navigate and decolonise Country in a performance that reimagines the wedding ritual as a balancing act between the physical and astral body, where the 'marriage of self' is the primary relationship.
Amala Groom is a Wiradyuri conceptual artist whose practice, as the performance of her cultural sovereignty, is informed and driven by First Nations epistemologies, ontologies and methodologies. Her work, a form of passionate activism, presents acute and incisive commentary on contemporary socio-political issues.
Production Credits
Commissioned by Carriageworks for The National 2019: New Australian Art, curated by Daniel Mudie Cunningham. Director of photography: Dale Collier. Costume: Kristine Townsend. Sound design: Dale Collier. Additional audio recordings: Billy McPherson and Stu Hunter at The Habitat Studio, Sydney. Artist assistant: Kristine Townsend. Artist development: Time Place Space NOMAD 2018: Arts House, Melbourne. The artist thanks Coby Edgar and the Southlands Emerging Art Award.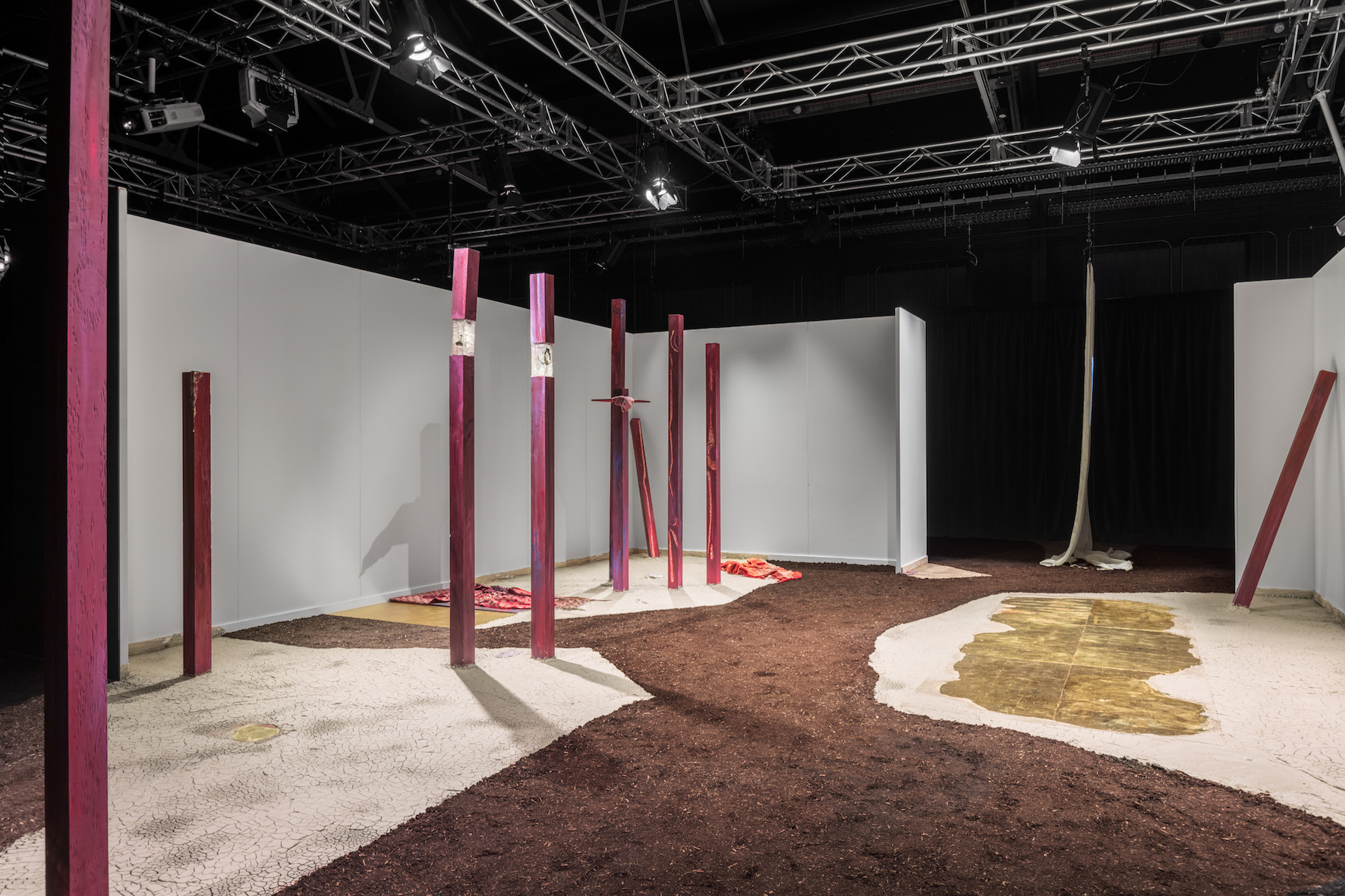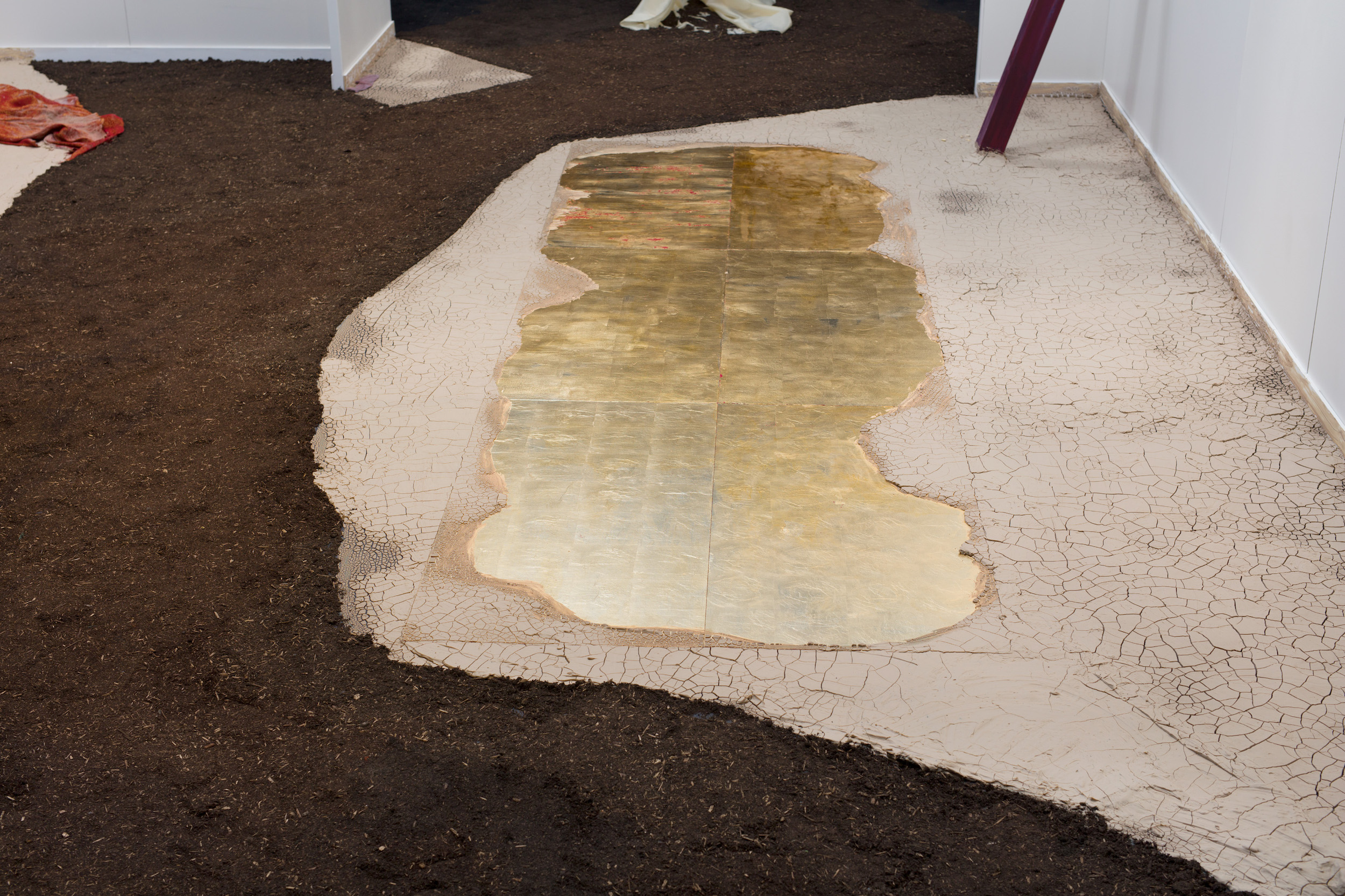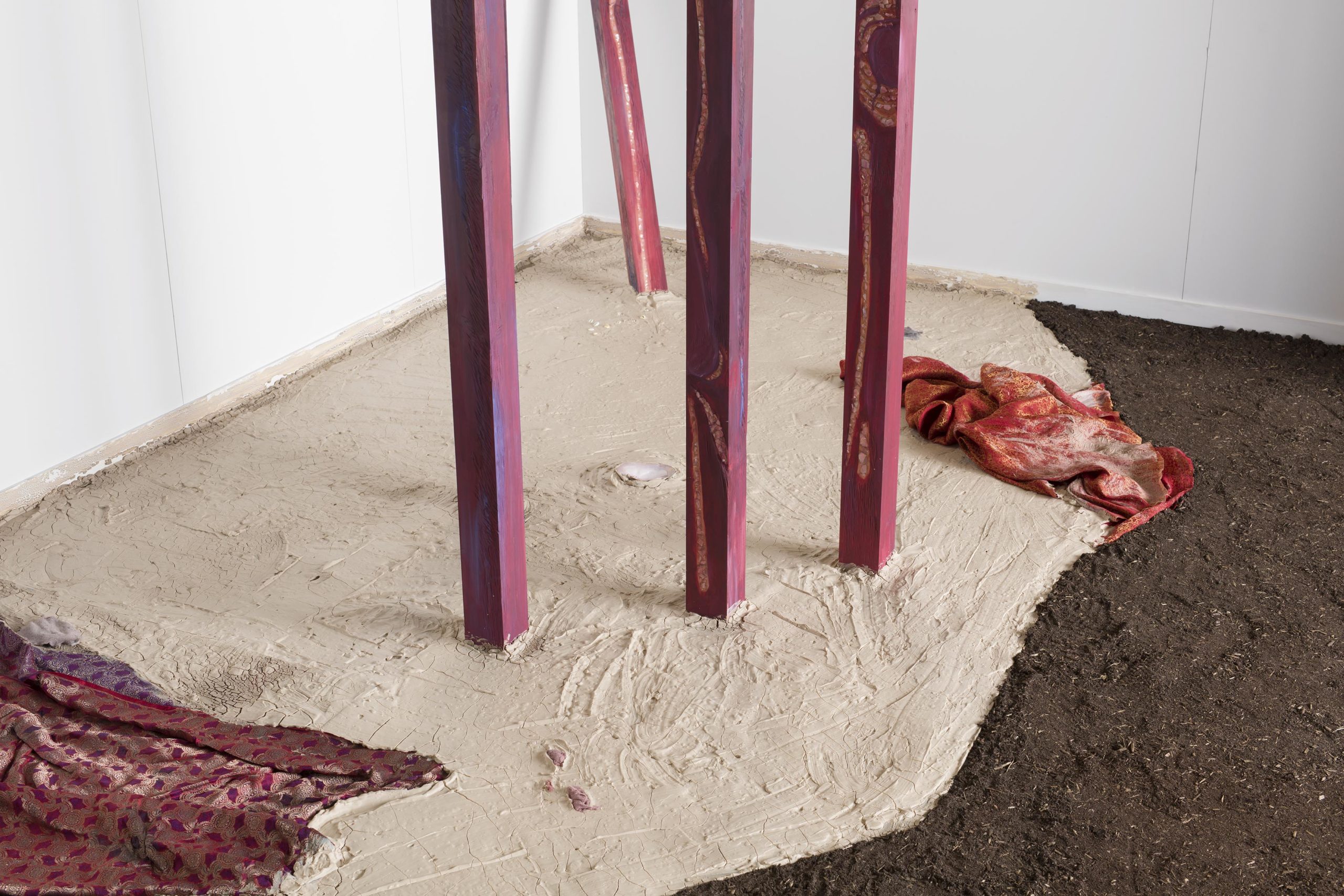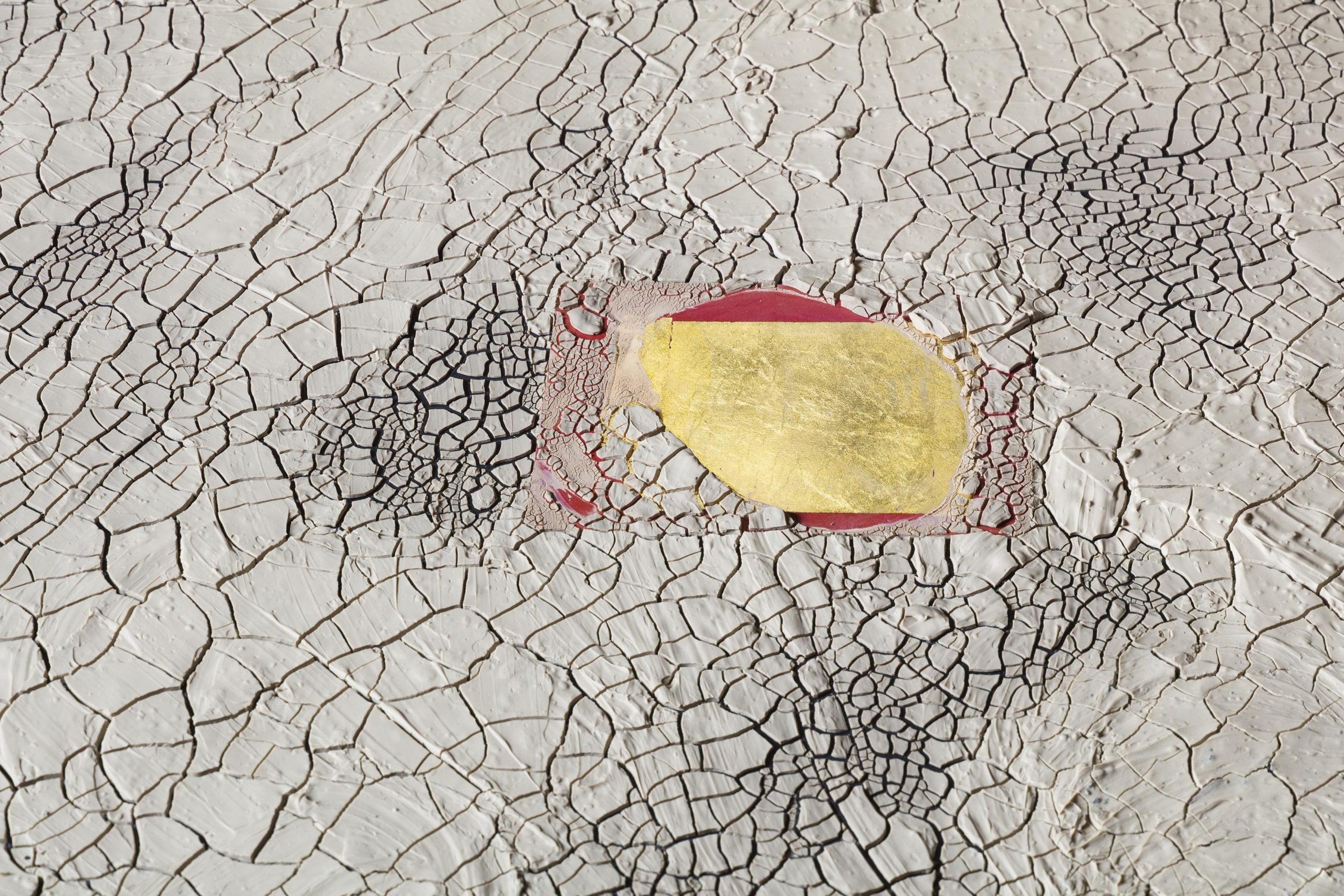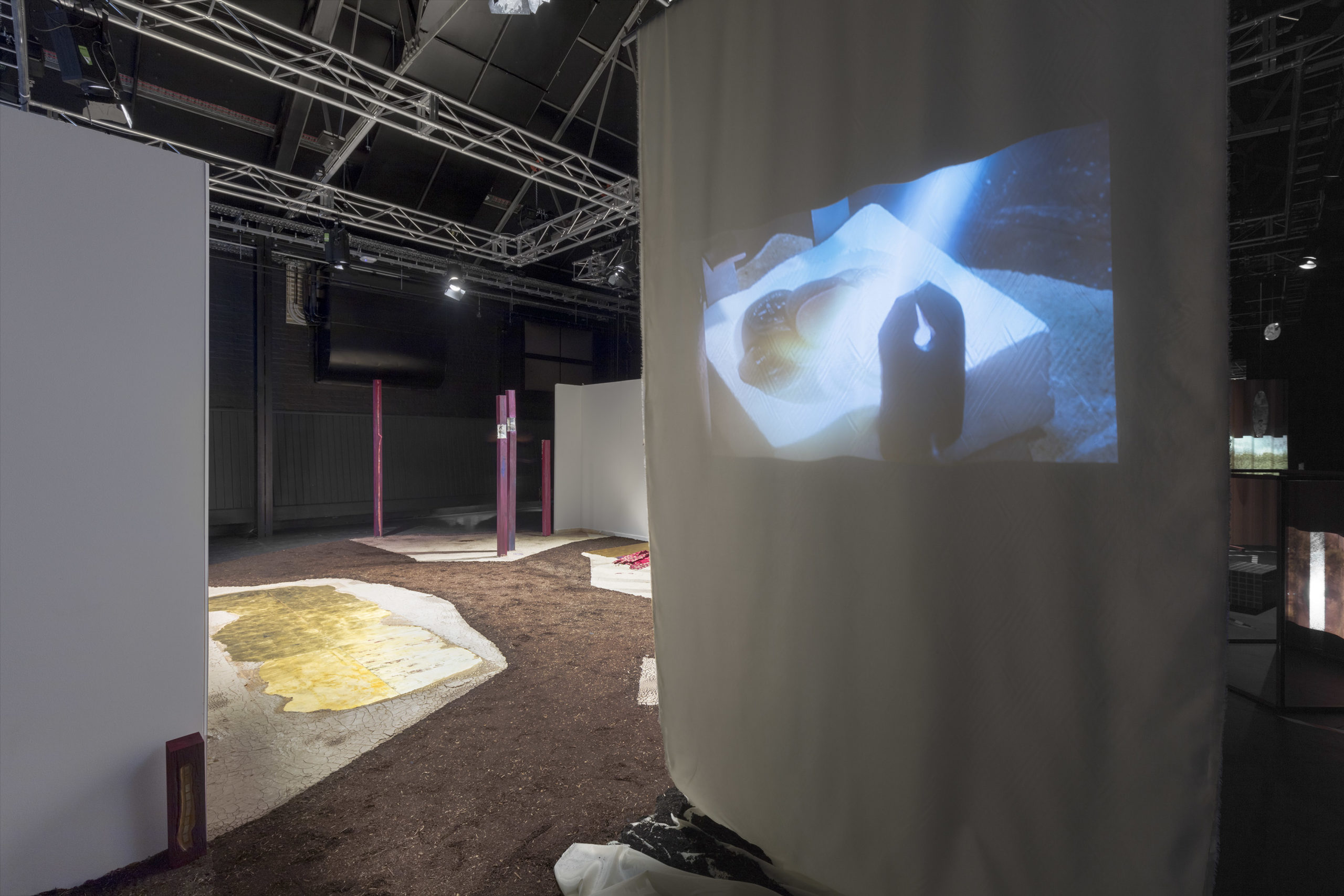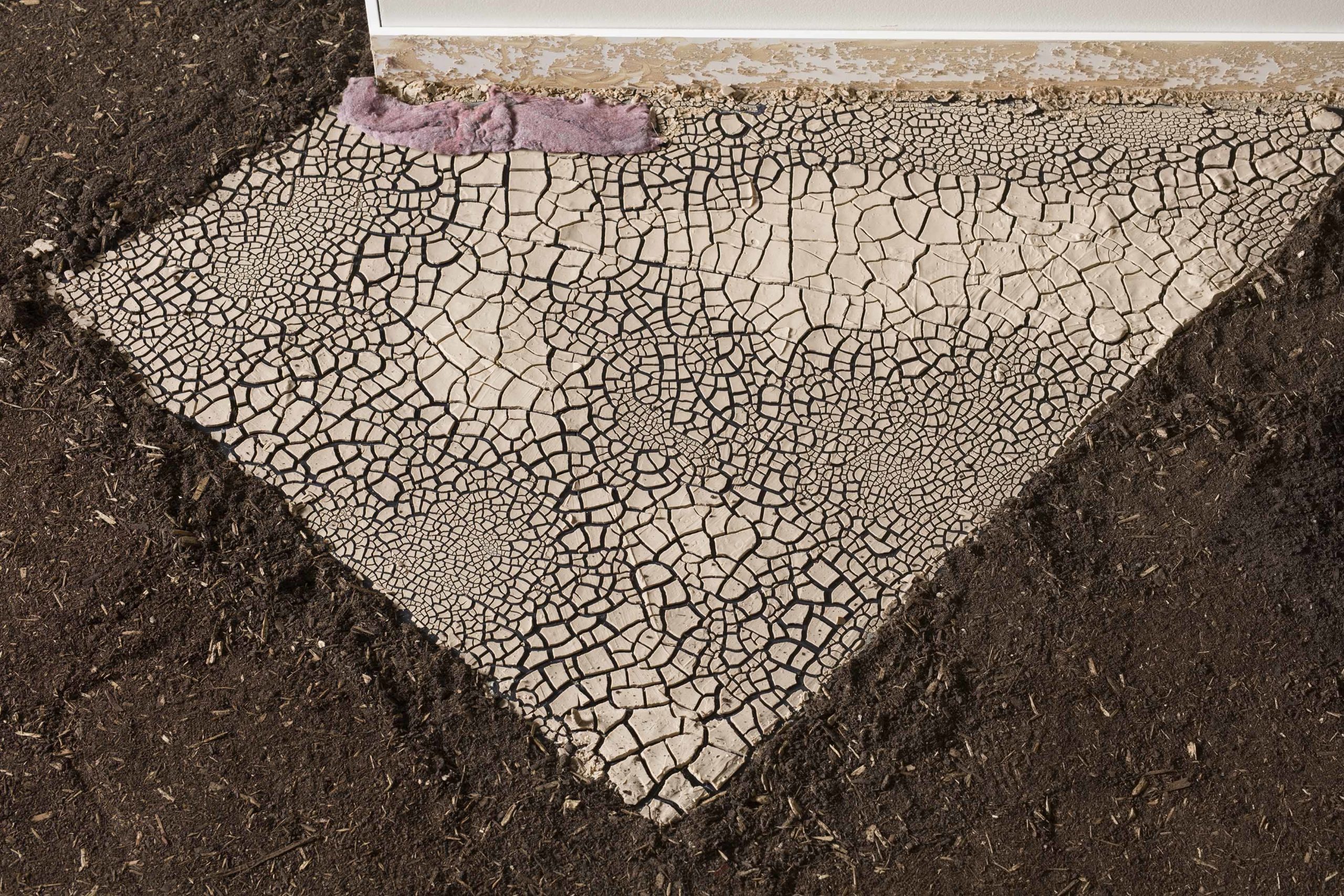 ---
Azza ZEIN, Taskscape: Migrant lines in the depositing of movement 2019, clay, mica golden leaf on MDF, potting mix soil, cowrie shells, video projection. Variable dimensions. Courtesy of the artist. Photo by Matthew Stanton.
'Taskscape' locates the displaced or migrant entity, be it human or non-human­, as a by-product of economic conditions. Azza Zein's practice starts from the observation that standardisation and industrialisation are the mechanisms of erasure. Zein observes how the current economic system imposes on human and non-human entities, and how consequently migrant materials have been isolated or uprooted from their origins. Taskscape, a term borrowed from the anthropologist Tim Ingold, escapes the dichotomy between labour and leisure, the separation between land and labour. In recognising the material history of migrant materials – the invisible labour that is traced on their skin, the multiplicity of the spaces they have visited – this installation imagines an alternative socio-economic system.
Azza Zein is a Melbourne-based artist and writer. Her artwork comments on the dematerialisation of the economy. She has exhibited in solo and group shows in Melbourne and participated in art-residencies in Argentina, India and remotely the Santa Fe Art Institute Labour residency. She recently completed a M.F.A. at VCA.
THE BUREAU
FOR THE ORGANISATION
OF ORIGINS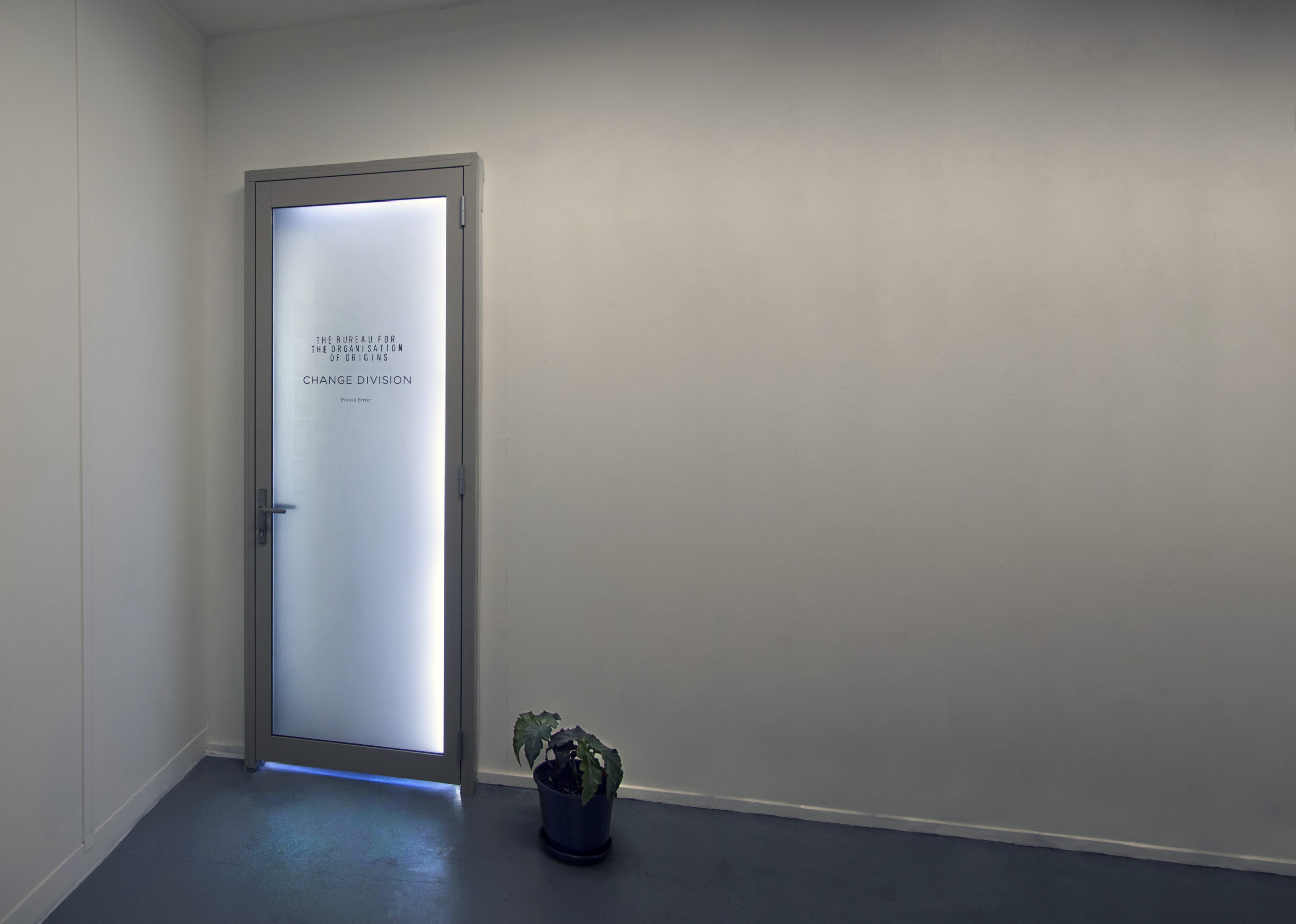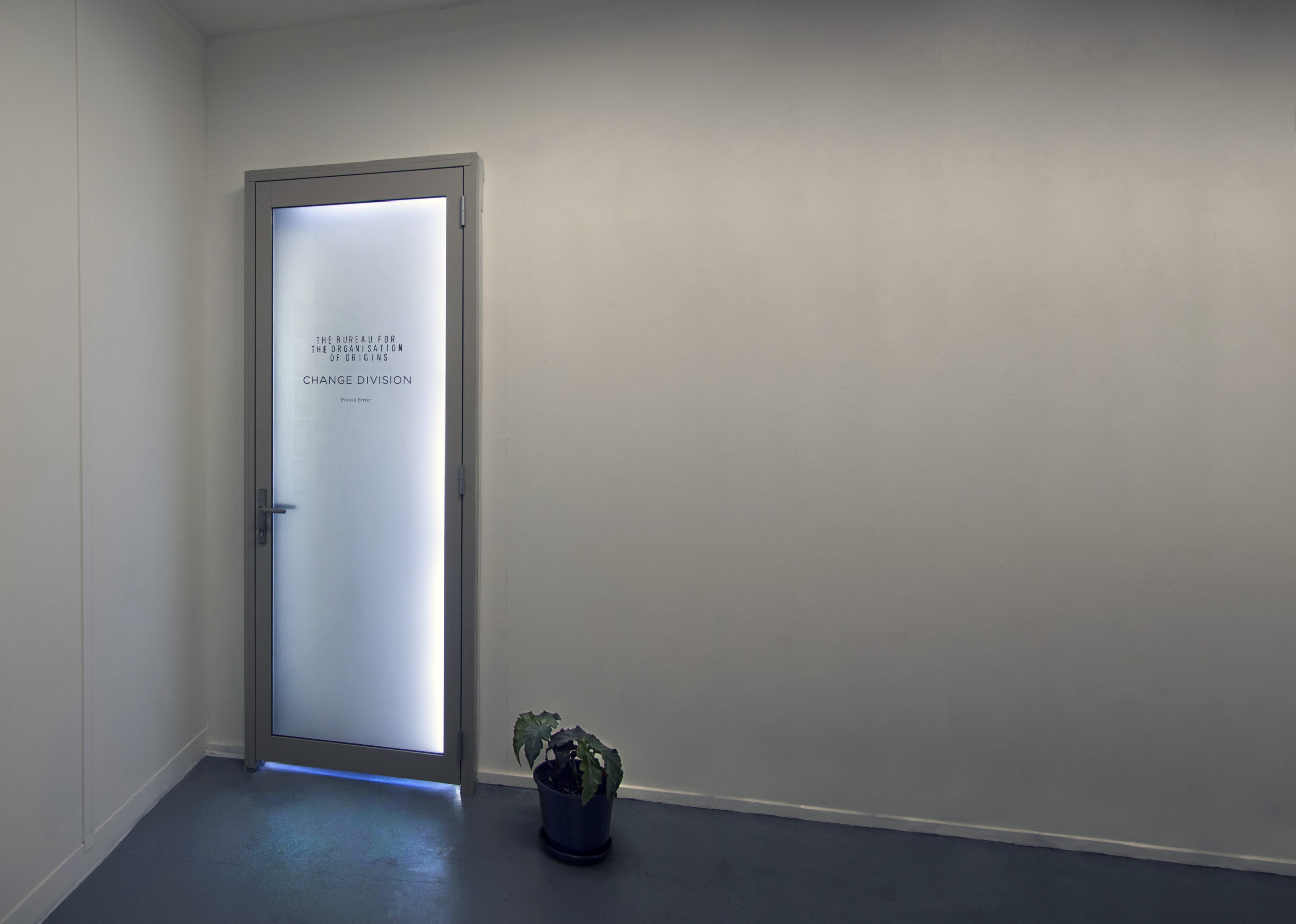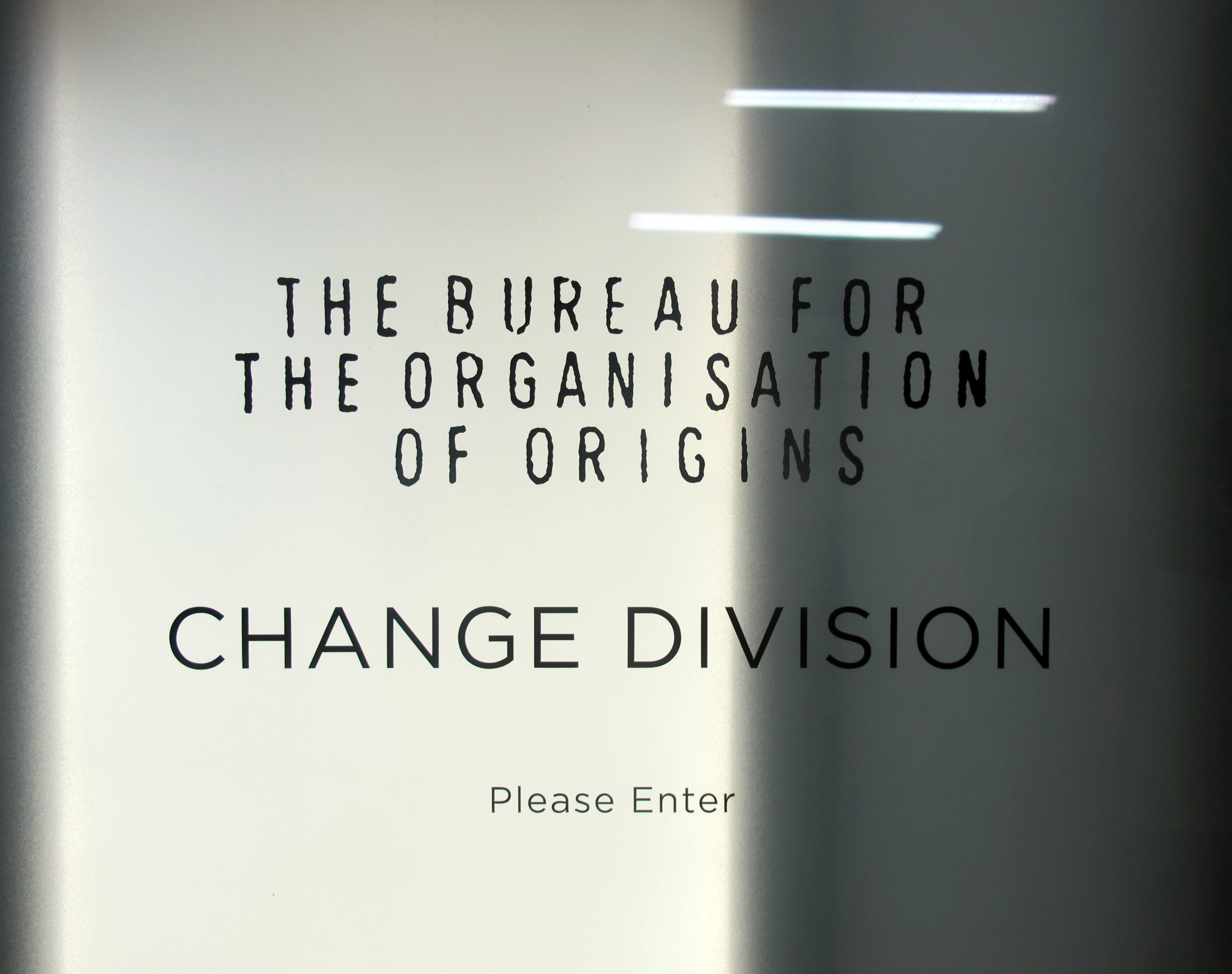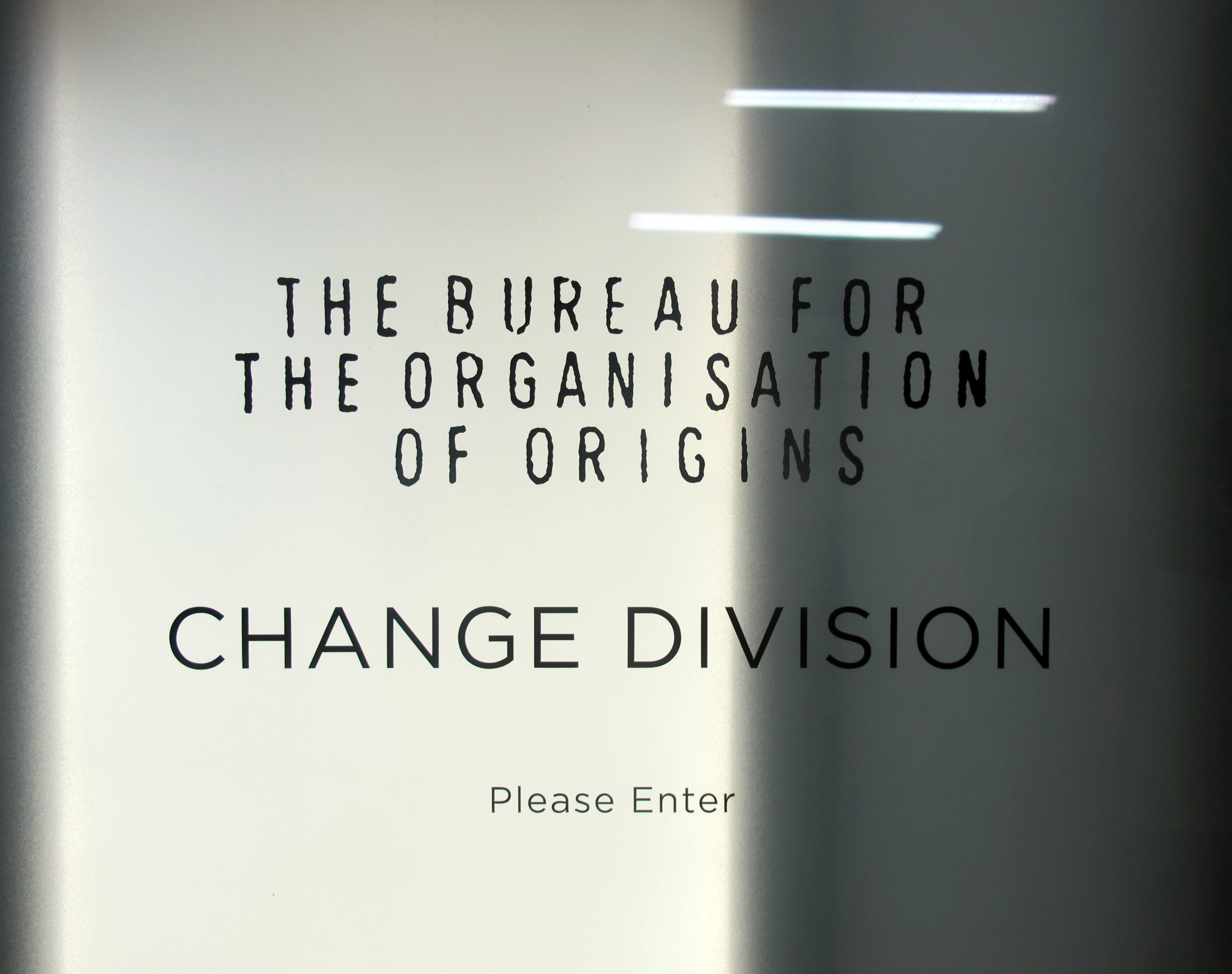 ---
The Bureau for the Organisation of Origins (BOO), Change Division 2020, Aluminium door and frame, vinyl lettering, lights, 240 x 90 x 14cm. Video documentation with sound. Courtesy of the artists.
 Some doors are open. Others are not. Some suggest activity occurring within while remaining obscured to the outsider. The Change Division of The Bureau for the Organisation of Origins has its lights on. It feels like things are happening, but are they? Is this a door that can be opened, or does it just feel that way? What do they do at the Change Division? A labelled doorway of frosted glass lit from within suggests an entrance into a Division dedicated to change or perhaps one for changing our divisions. The sub-labelling reads 'please enter', but the door is locked!
The Bureau for the Organisation of Origins (BOO) has had to relocate its CHANGE DIVISION to an undisclosed location for the duration of the Incinerator Art Award. Experiencing the DIVISION may be heightened/boosted through the framework of online media. DIVISION is therefore highly avoidable in real space and time.
The Bureau for the Organisation of Origins is an ongoing, multidisciplinary and collaborative artistic project. It assumes the framework of a bureaucratic entity to provide a relational context for a broad range of creative gestures. Attending administrators for the IAA are Benjamin Sheppard and Peter Burke.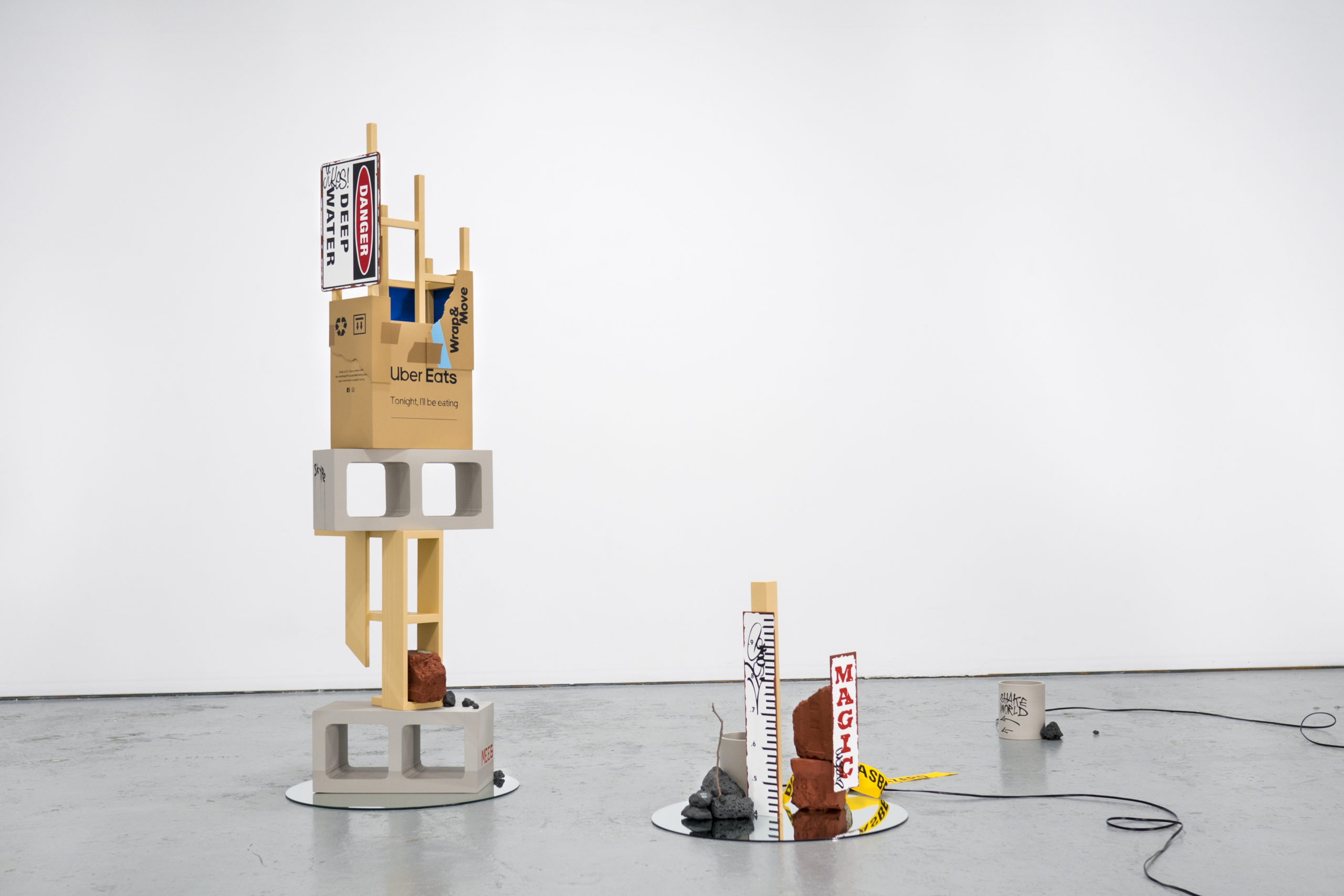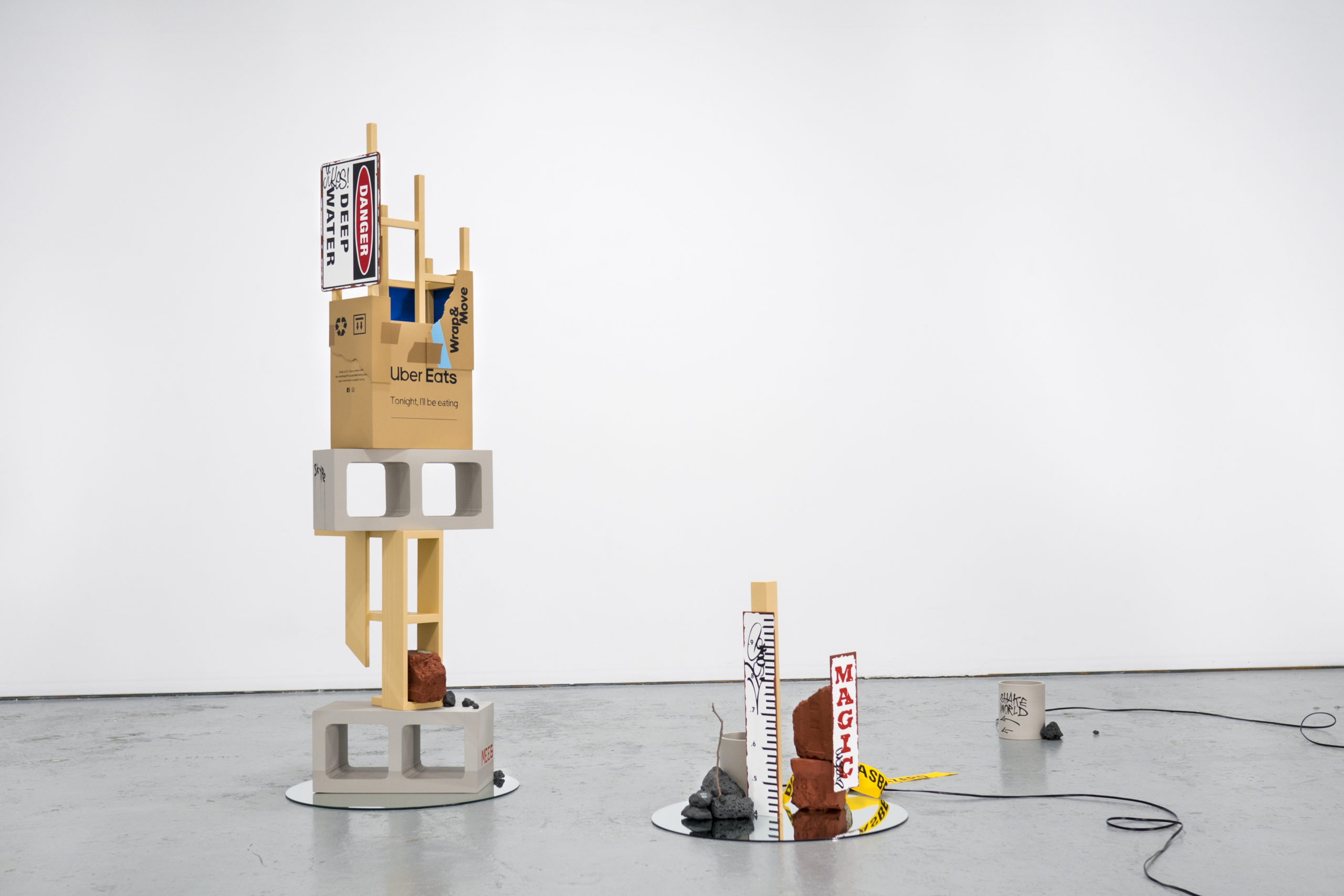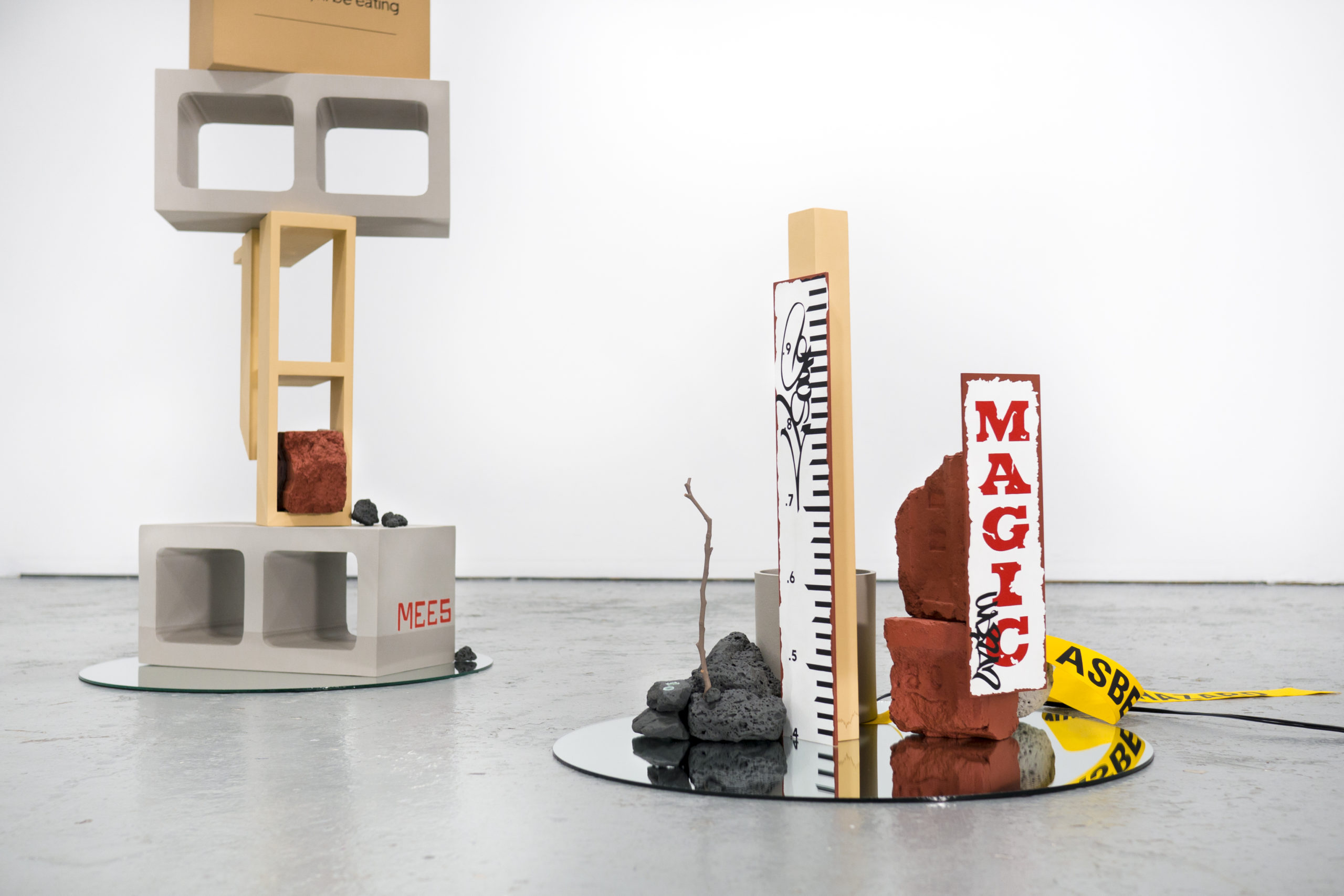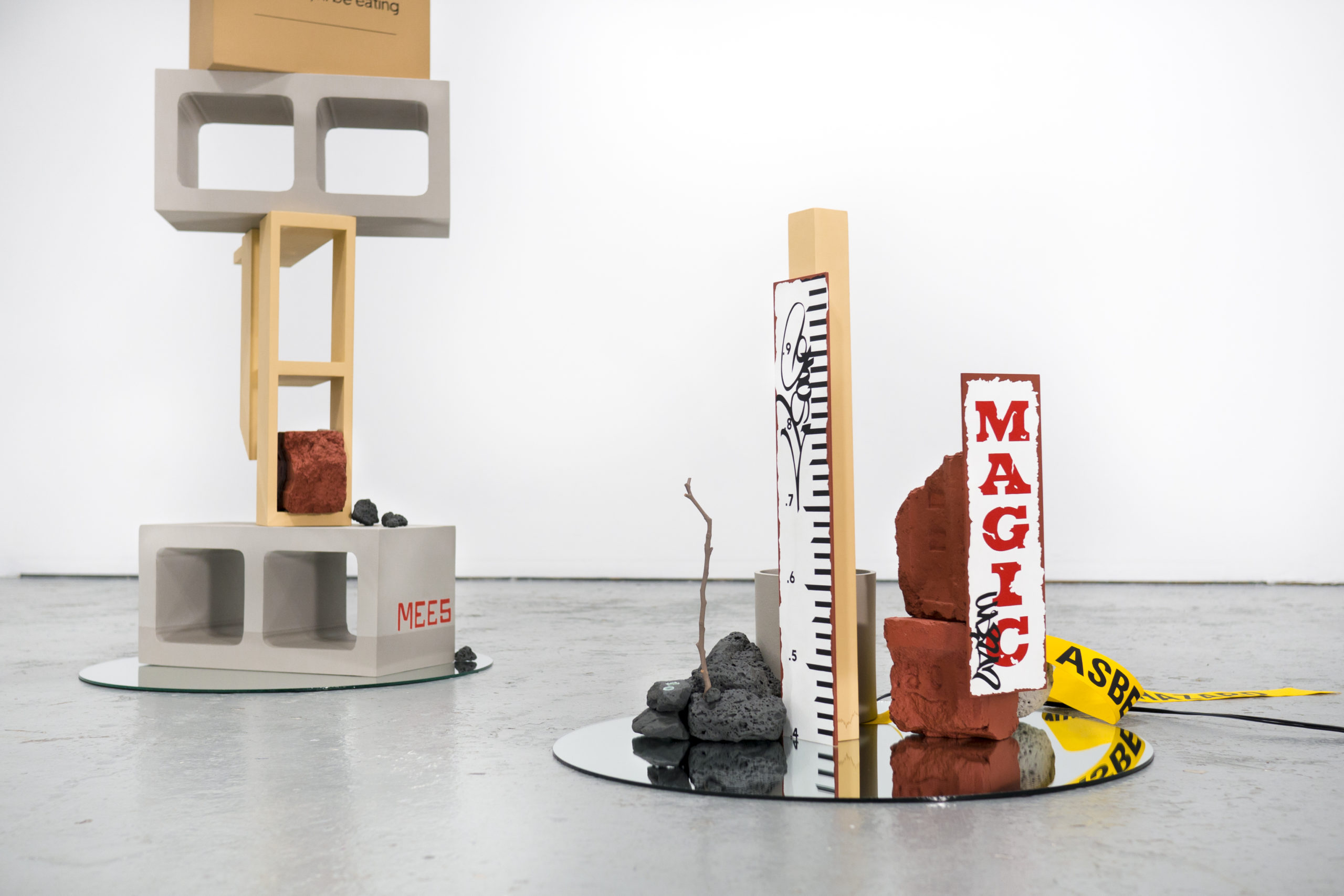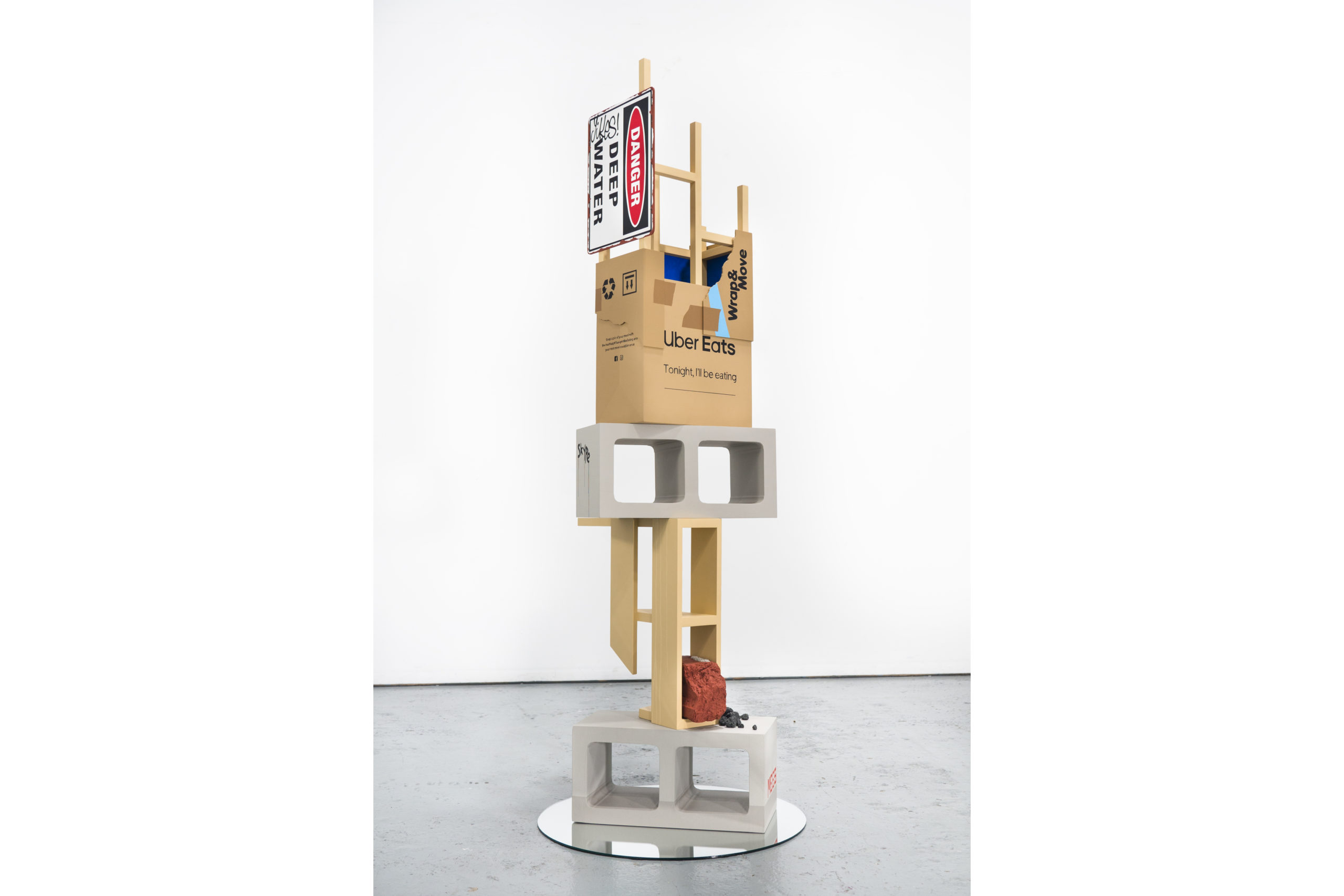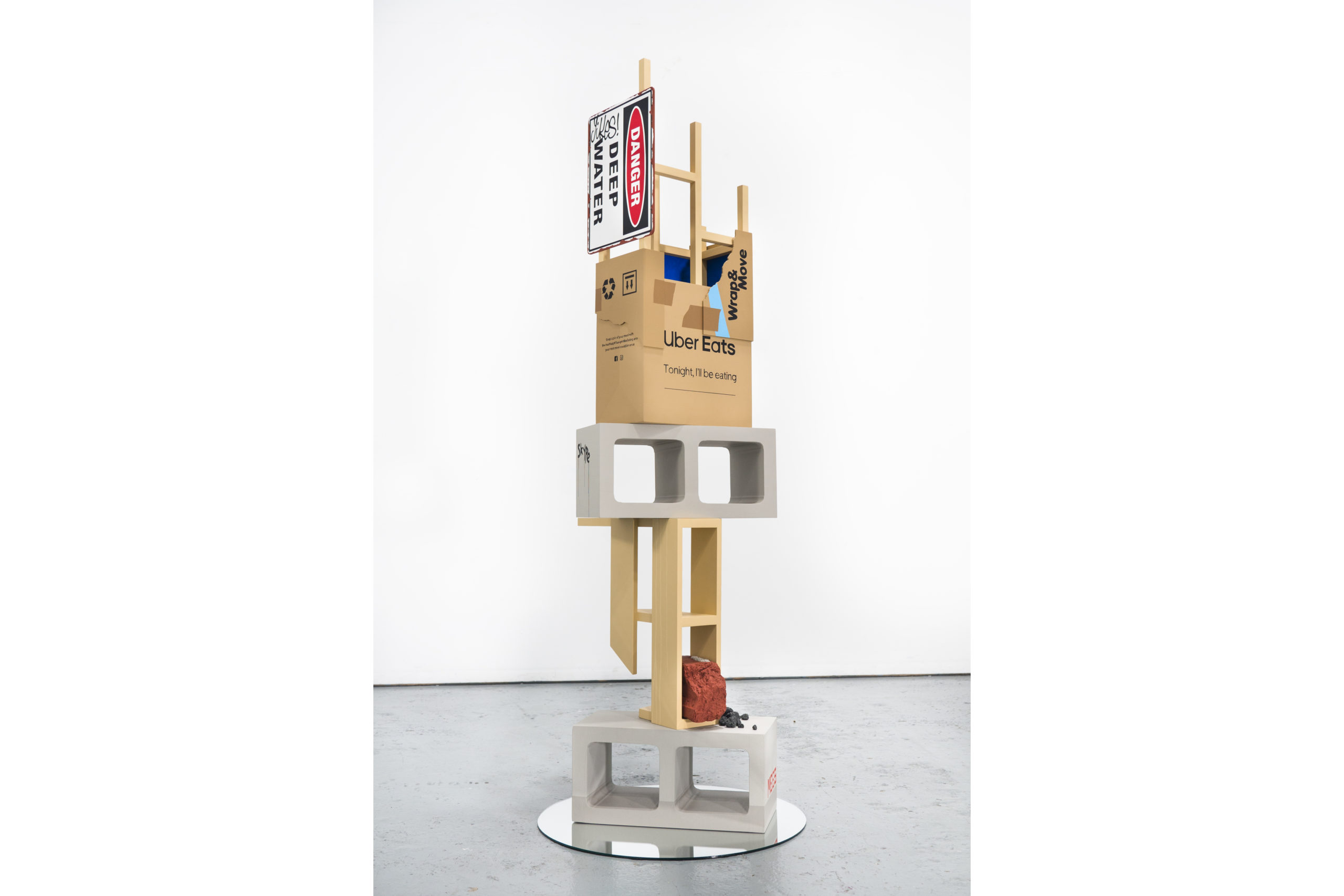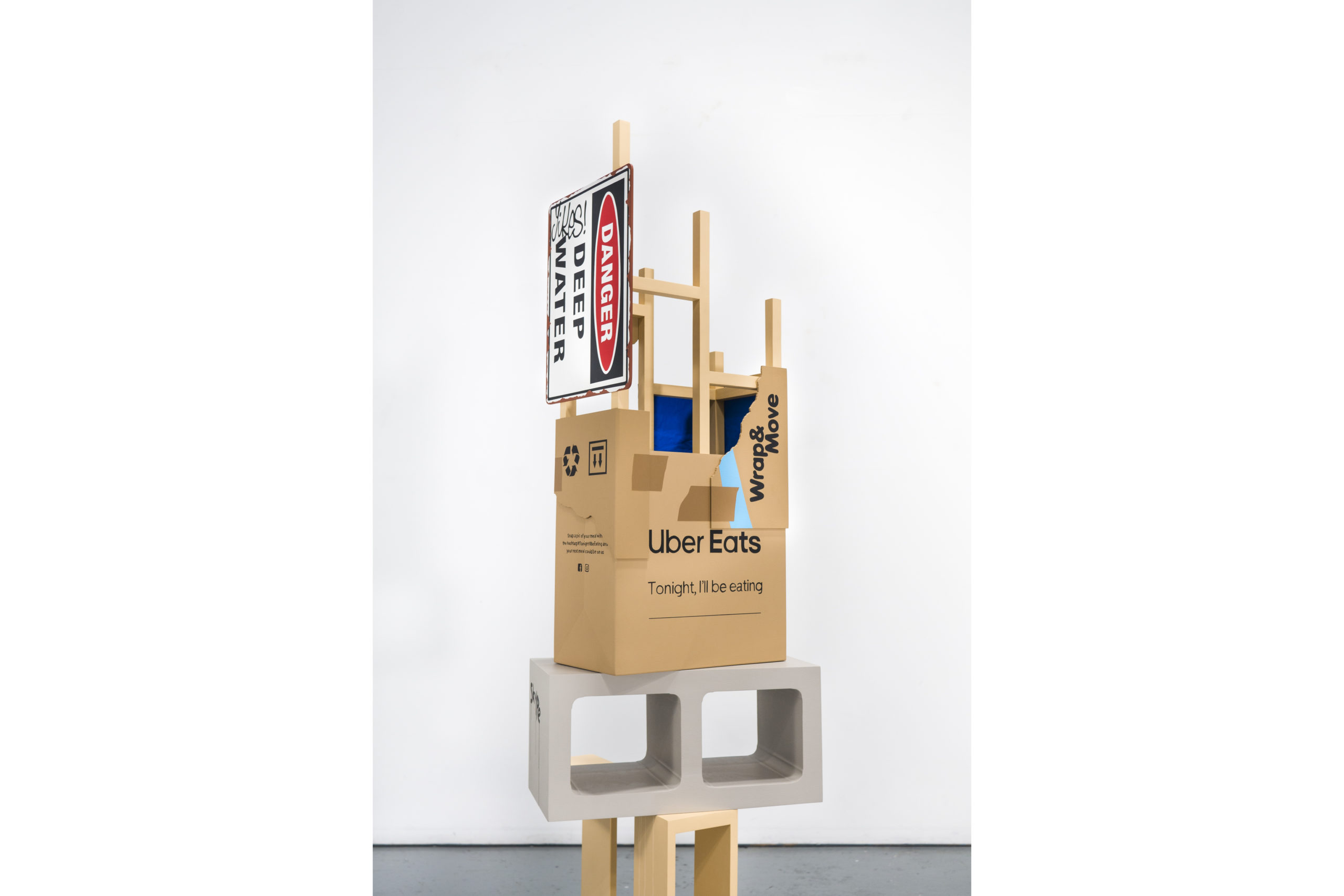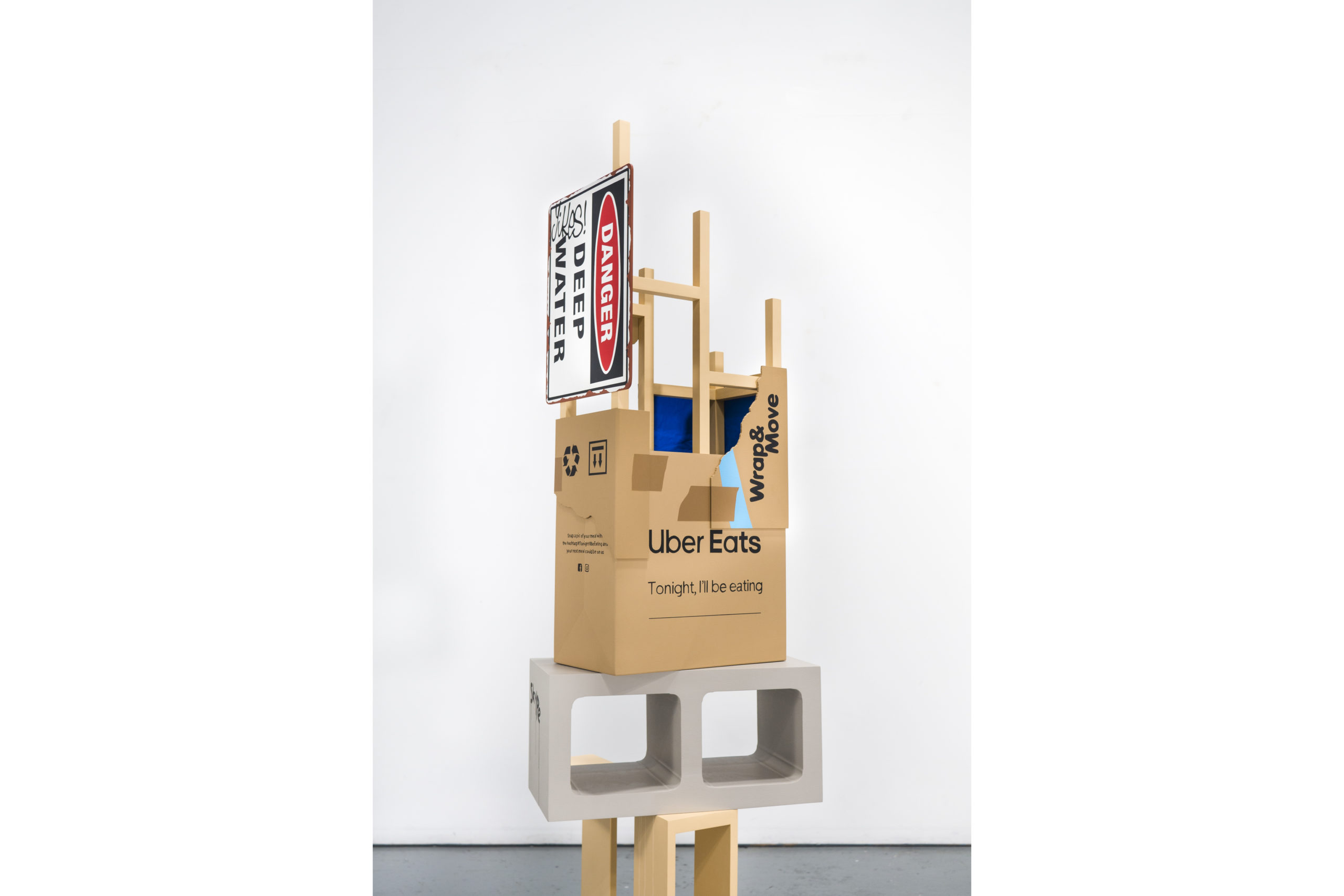 ---
Carly FISCHER, It's easy to forget how old this place is 2020, Pine, MDF, basalt, bricks, ceramic, sticks, cotton, adhesives, acrylic paint, paper, mirrors, speakers/mini amp and 10-minute soundscape (mixed in collaboration with Edwina Stevens). Courtesy of the artist.
'It's easy to forget how old this place is' reflects on in-between spaces and times during COVID-19 and how restrictions have shifted awareness towards noticing the smaller details, layers and ecologies of our local areas. Sourced from wanderings around the local streets, construction sites, old industrial zones and ancient Merri Creek of Coburg/Brunswick, where forgotten fragments have been left to their own entangled ecologies, the installation reconstructs collected objects and sounds into alternate narratives of time and place. Shifting these fragments from peripheral accumulations to intimate encounters, the installation considers how noticing the smaller details and interactions within our local areas can create political, cultural and environmental awareness.
Carly Fischer (Melbourne) is a sculptural/audio installation artist investigating alternate narratives of place that question broader cultural and colonial perspectives. She completed an MFA at Monash University in 2015 and a BFA Honours at RMIT. Recent exhibitions include Incinerator Gallery, Bundoora Homestead Art Centre, Art Gallery of Ballarat, Warrnambool Art Gallery, Centre for Contemporary Art, Glasgow, KWADRAT, Germany and MU Artspace, Netherlands.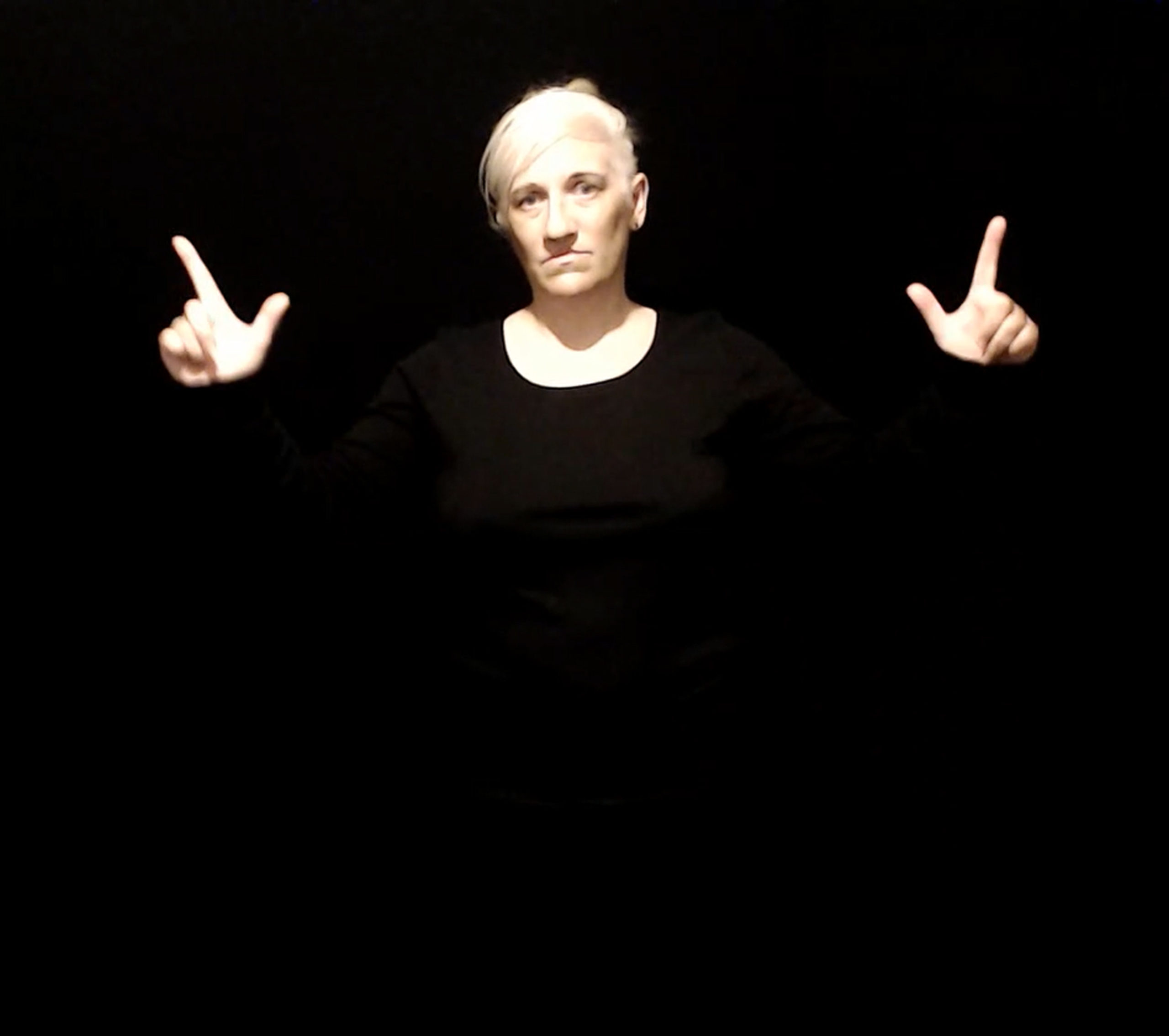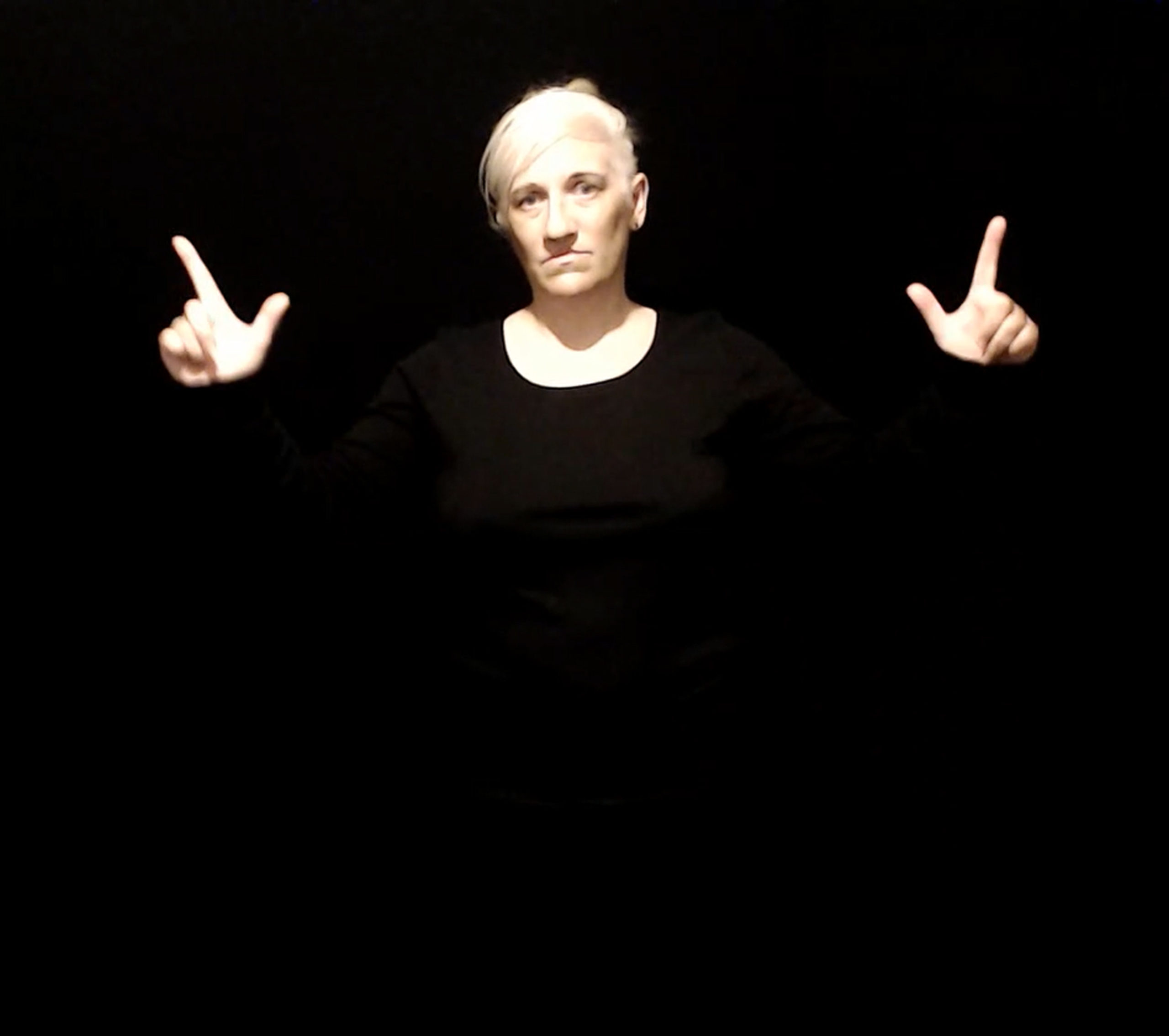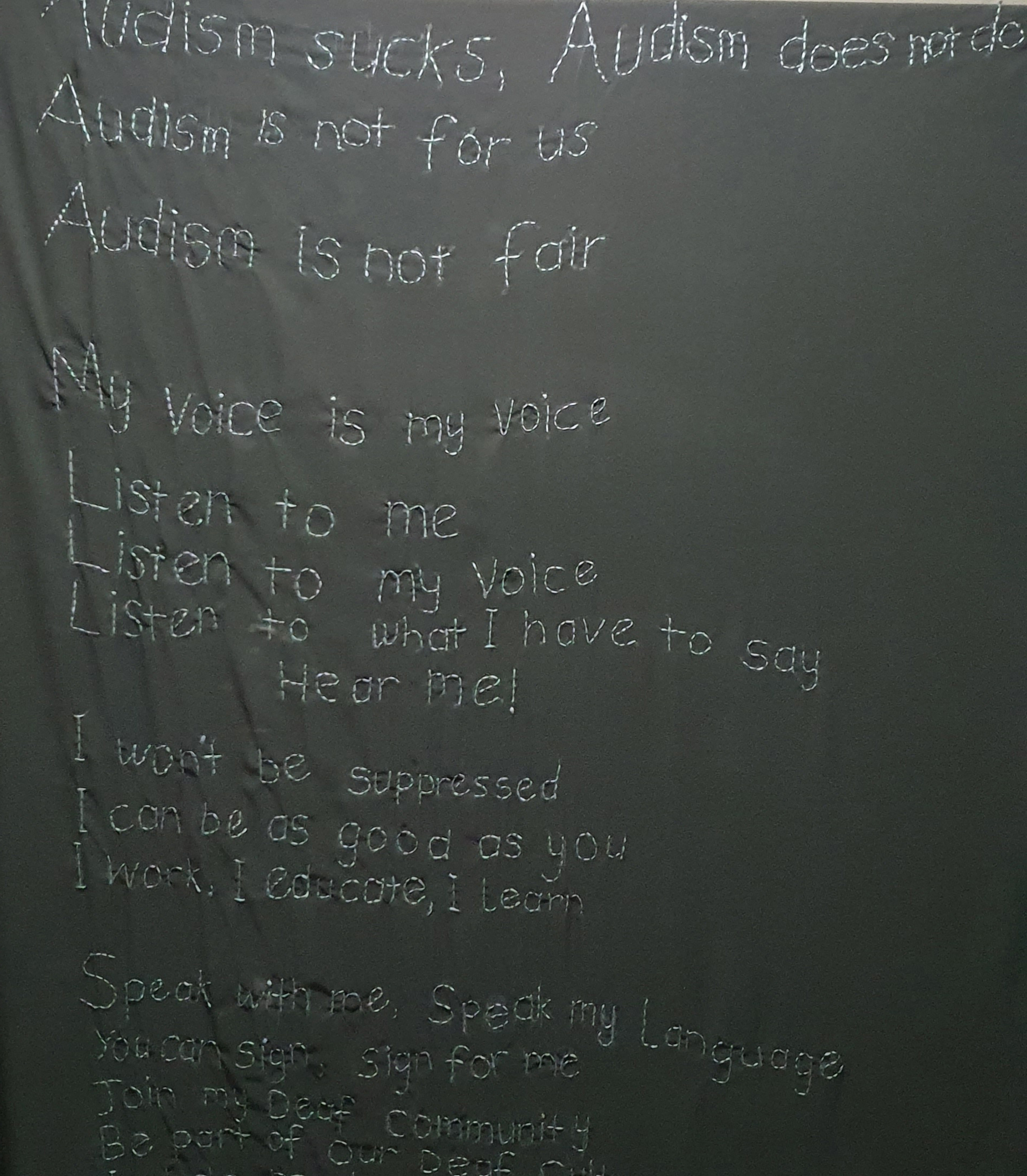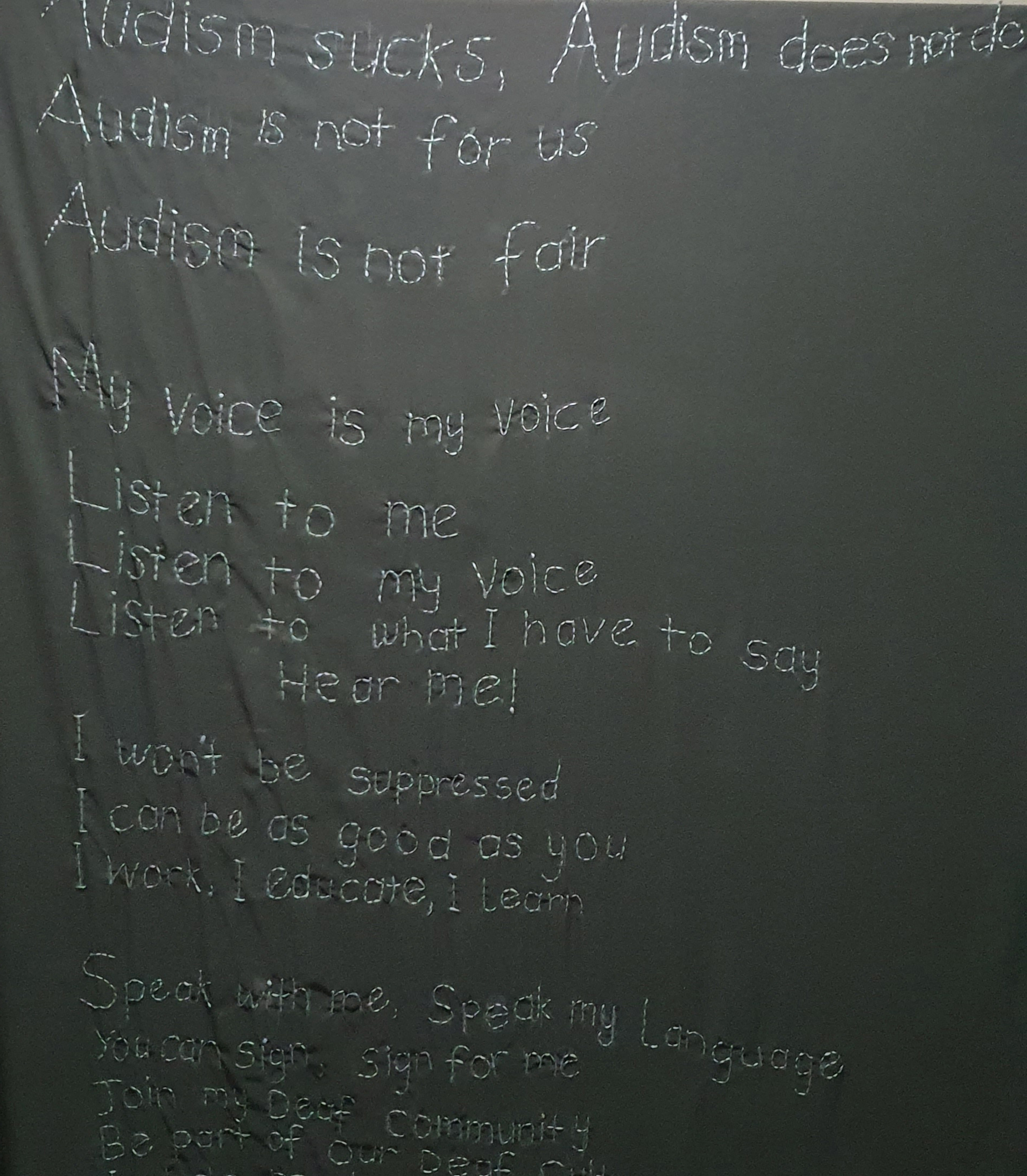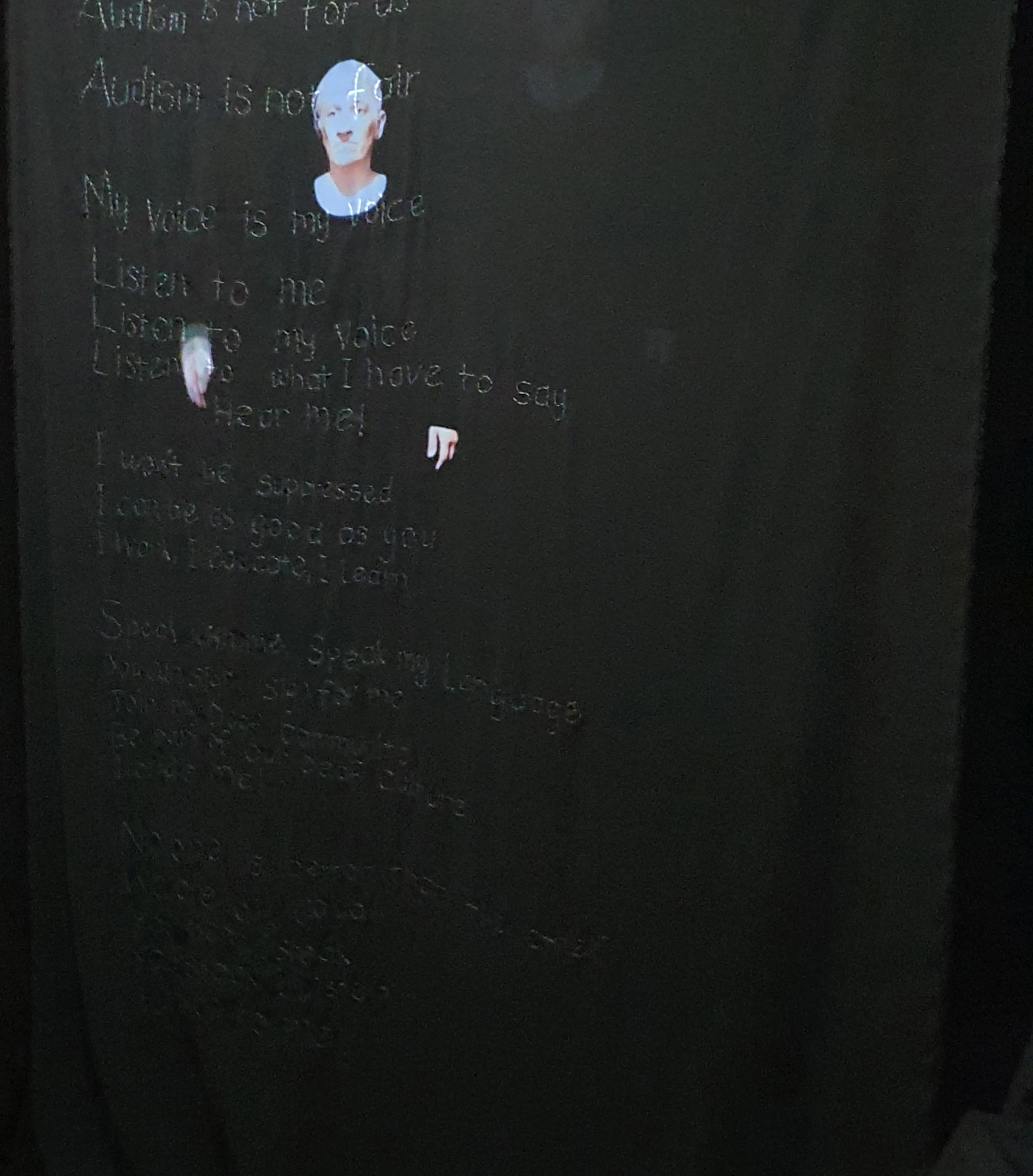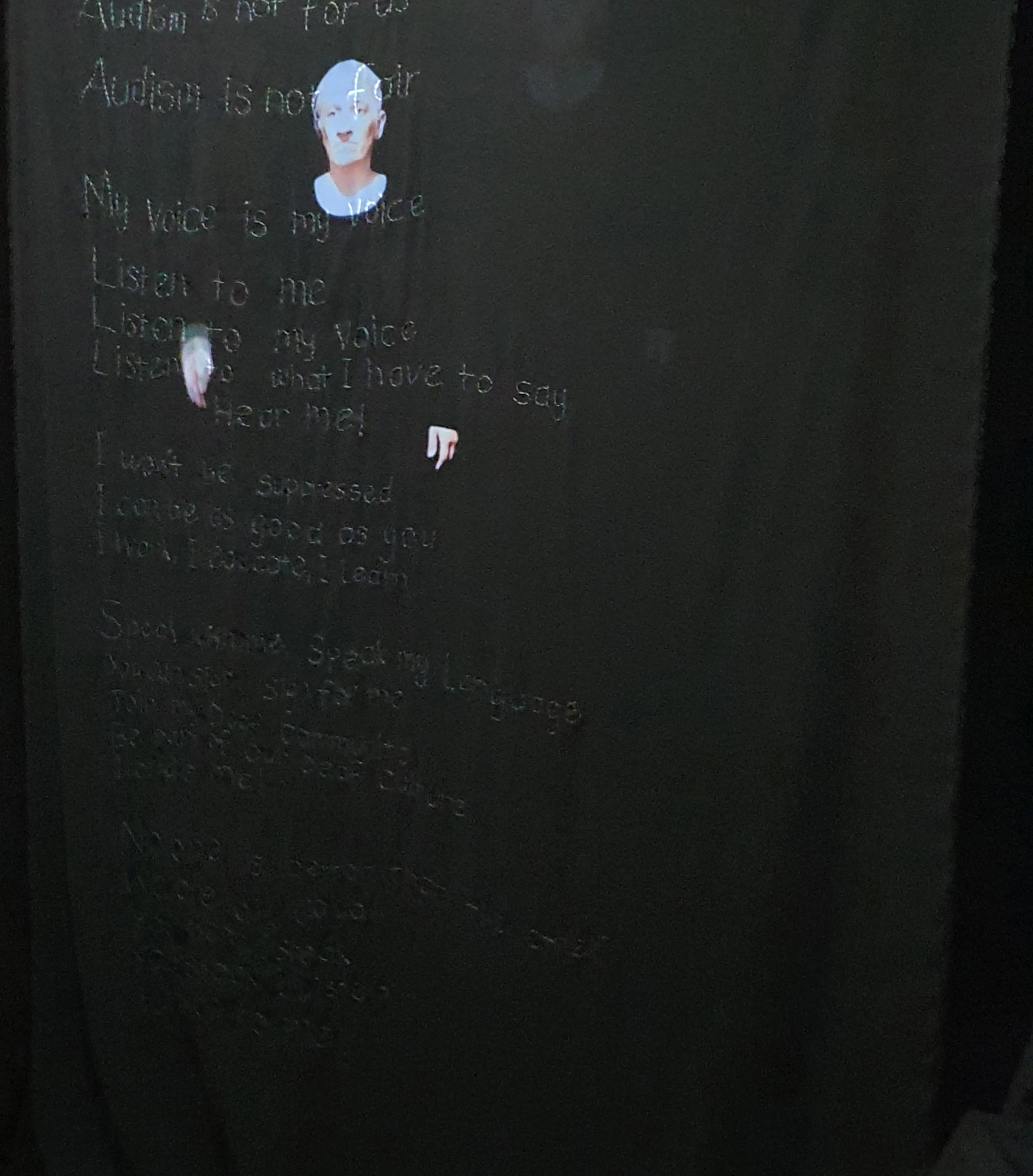 ---
Chelle DESTEFANO, Deaf Voices 2020, video and textiles, 2.5m x 1.5 m. Courtesy of the artist.
As a Deaf woman, Chelle Destefano has watched Deaf peers in the Deaf community and feels that they do not have a voice. Chelle often feels that they are affected by audism – a form of discrimination such as general lack of willingness by communities or professionals to accommodate the Deaf community, making them audists. COVID-19 has thrust Deaf access needs and interpreting into the spotlight, bringing awareness to the issue and social change. Chelle's performance aims to raise Deaf voices through performance poetry in Auslan – the black sheer veil curtain is a metaphor for barriers between the Deaf and Hearing.
Chelle Destefano is a Deaf visual artist in Melbourne. She is studying Master of Contemporary Art at VCA. Recently, Chelle stepped out of painting boundaries and began working in multi-disciplinaries for the past two years, in performance, textiles and sculpture to inform of social issues in the Deaf community.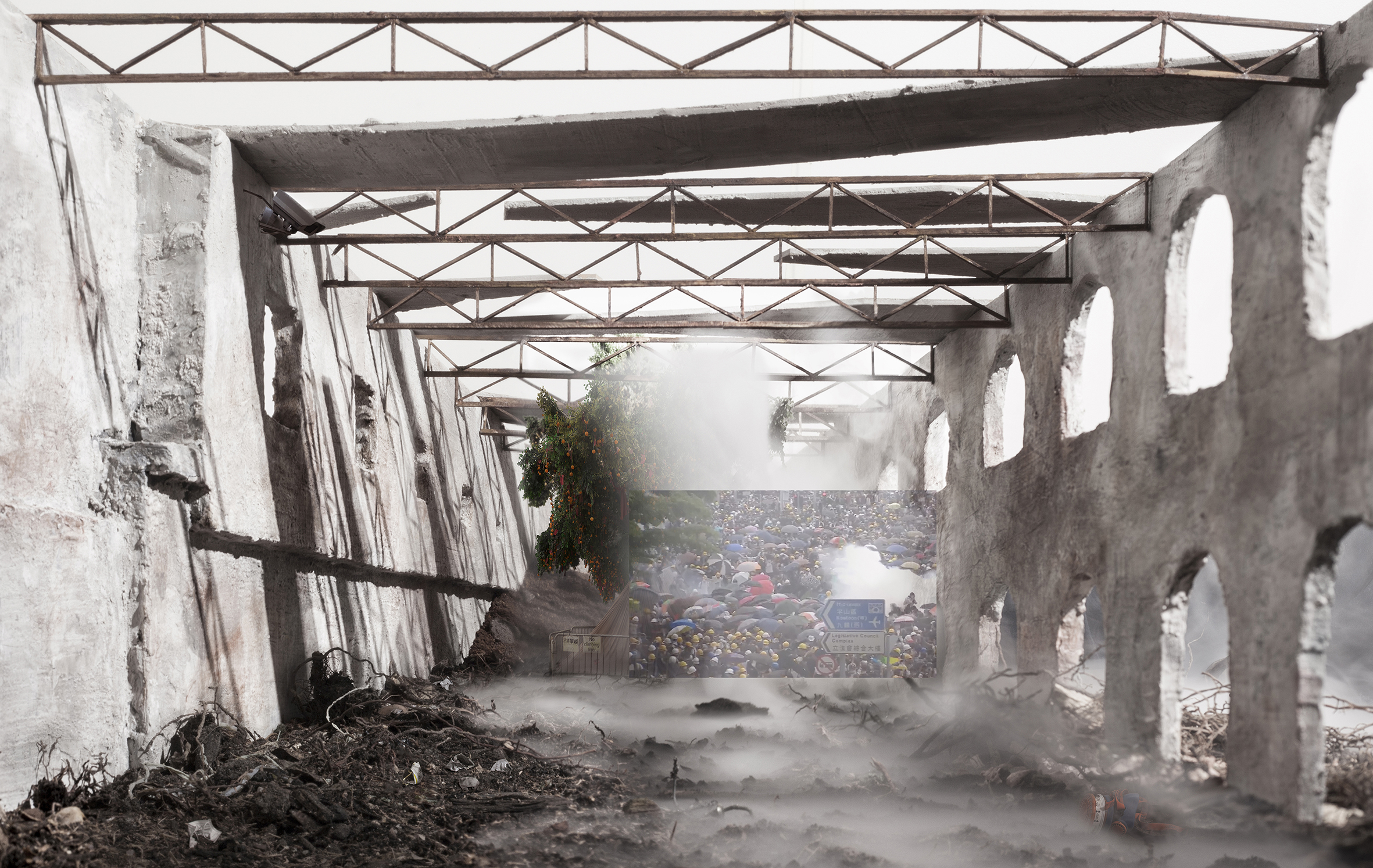 ---
Cyrus TANG, I wish 2019, 2 channel video, 2 mins 4 seconds. Courtesy of the artist and Arc One gallery.
In Chinese culture, the wishing tree is identified as possessing a special religious or spiritual vale. The worshippers write their wishes on the paper and throw it to the wishing tree. I photographed the wishing tree in Lam Tsuen, Hong Kong and placed it digitally into my fabricated model, which represented the ruin of HK city.
Since March 2019, there have been a series of protests in Hong Kong over the extradition bill which related to human rights and rule of law protections. For the first time in Hong Kong history, riot police used tear gas and smoke bombs to beat back protesters.
The fog that drifts through scenery is not a romantic mist but a toxic cloud of tear gas, drifting in from recent scenes of demonstration against the extradition bill in Hong Kong.
Born in Hong Kong, Cyrus Tang moved to Australia in 2003. She finished her Degree (Hons) of Fine Arts at Victoria College of the Arts, Melbourne in 2004, and her Master of Fine Arts (Research) in Monash University, Melbourne in 2009. In these years, Cyrus has been participated in national and international residencies. She is currently represented by ARC ONE Gallery in Melbourne.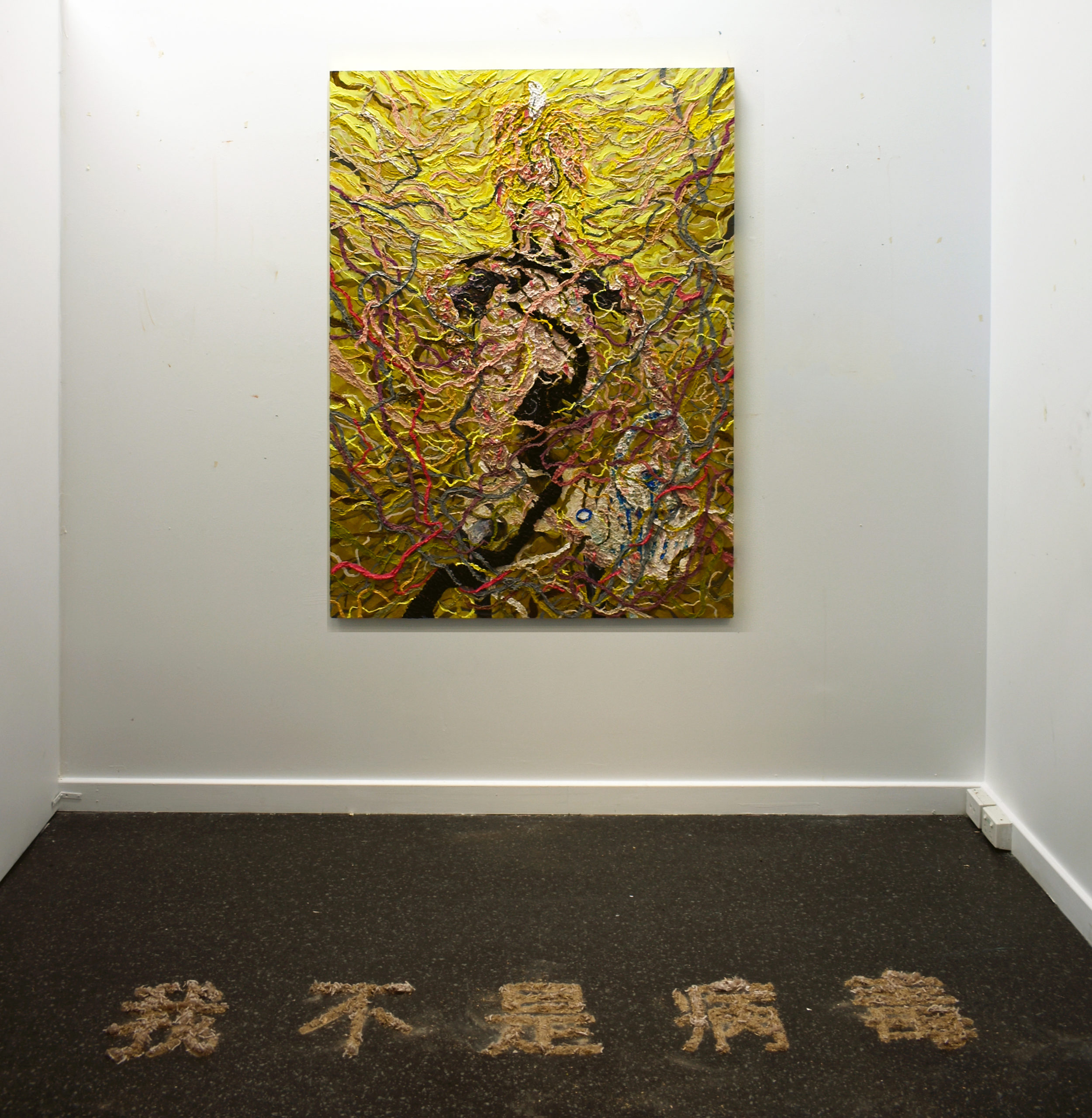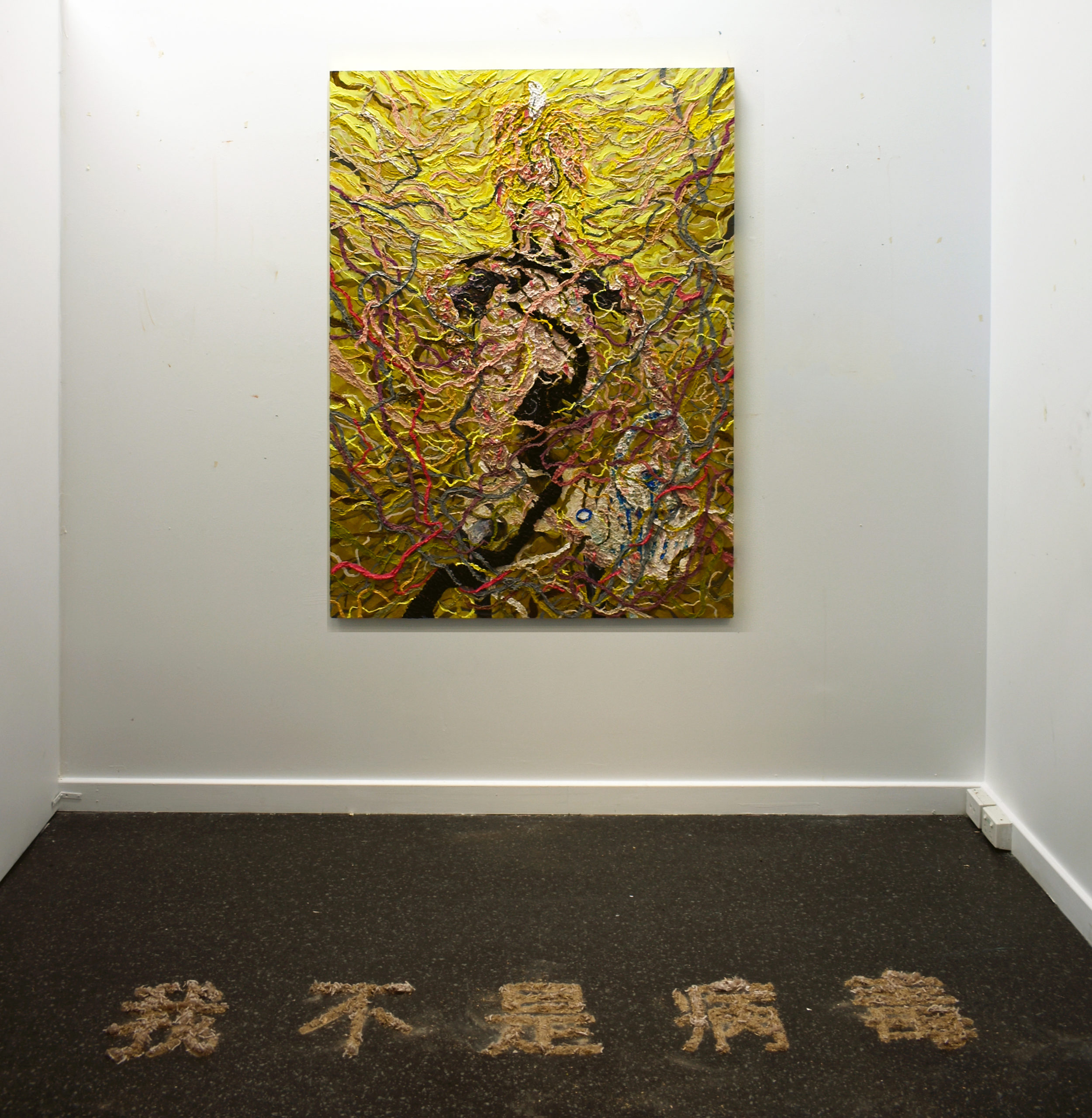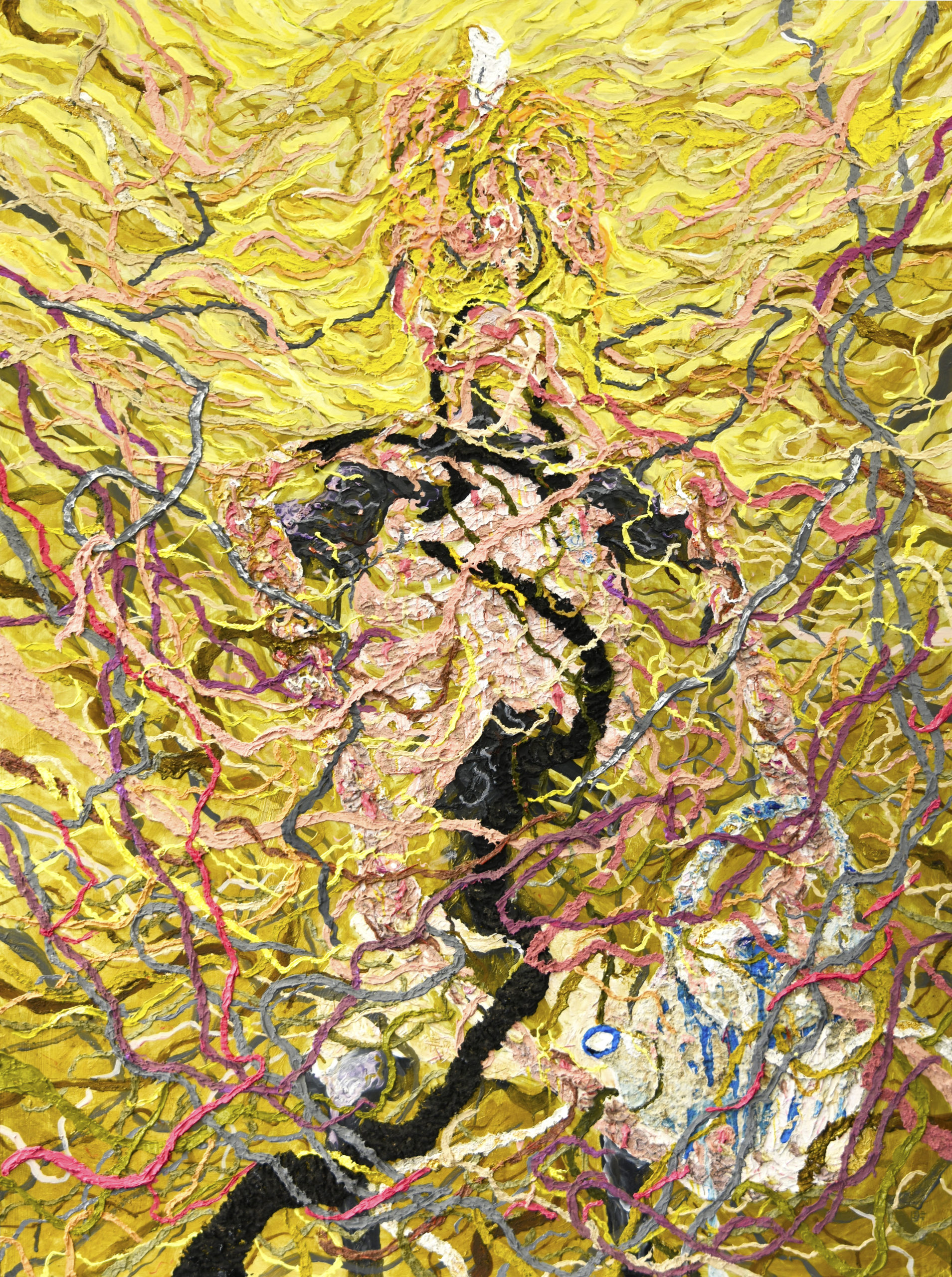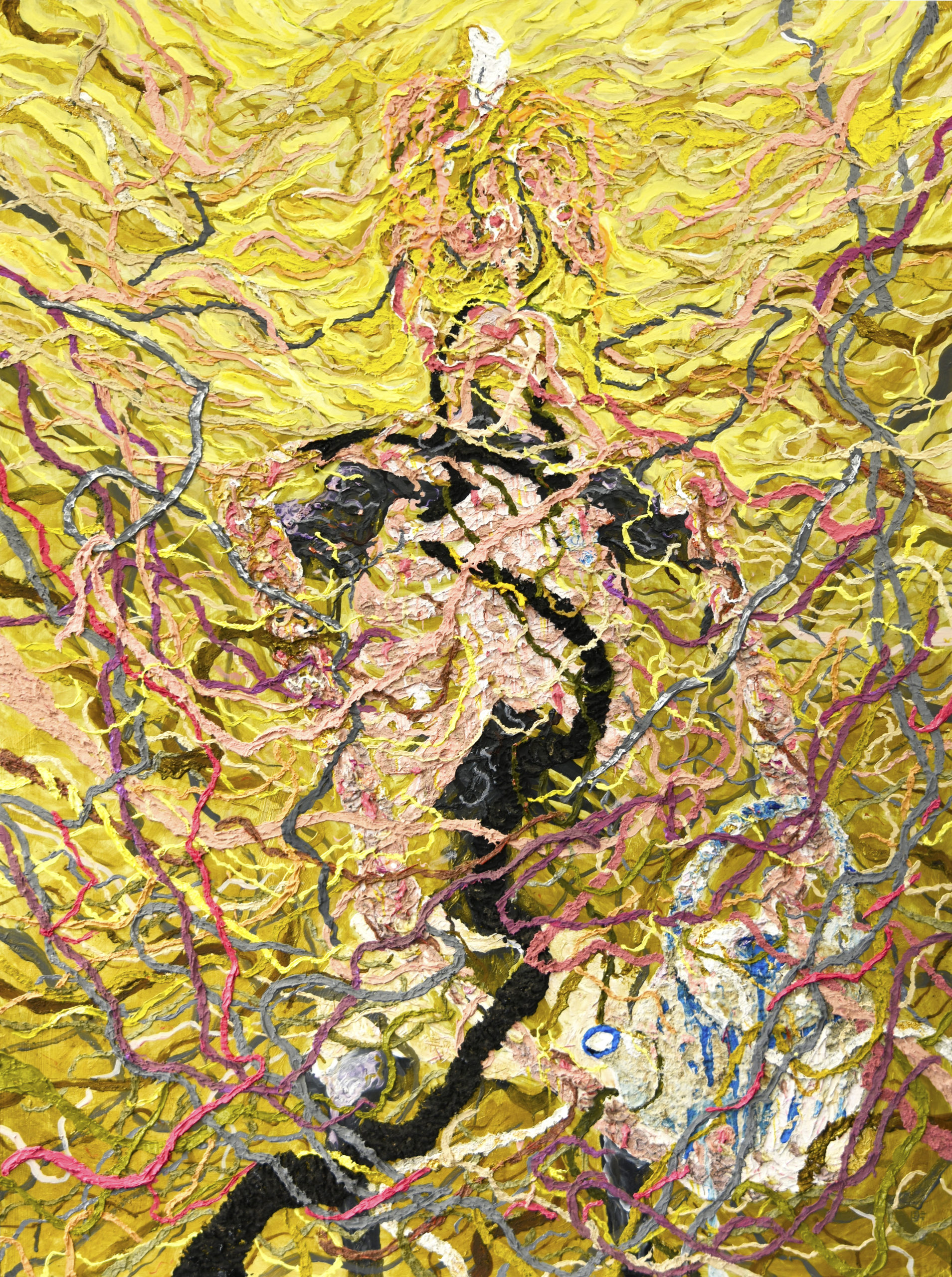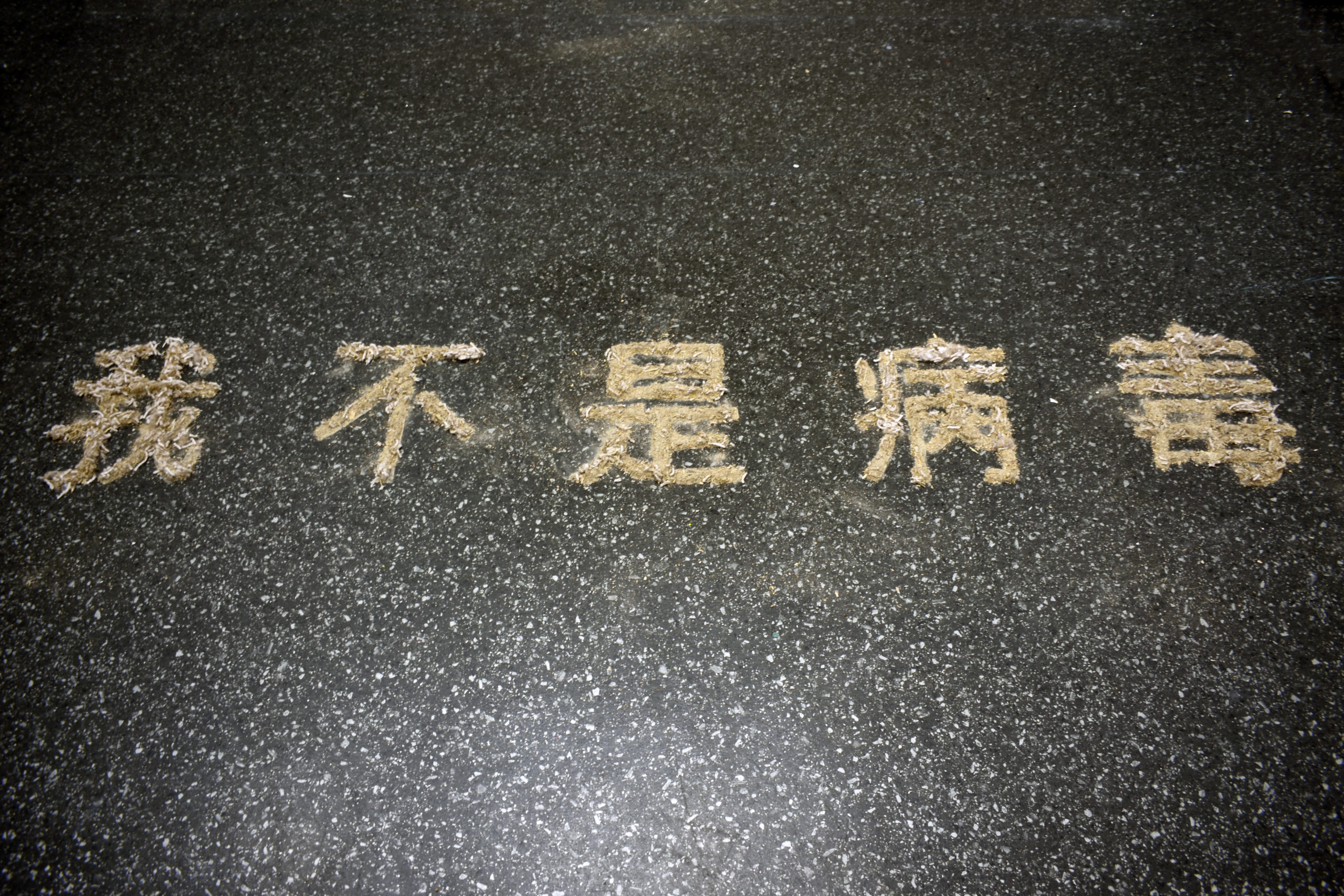 ---
Desmond MAH, I am not a virus (我不是病毒) 2020, oil, acrylic, incense, pandanus, Oolong, eucalyptus extract on board, 120cm x 90cm x 3.5cm. Courtesy of the artist.
'I am not virus' points to the surging reports of individual discrimination, particularly of marginalised Asian-Australians during the COVID-19 pandemic. The Australians who were evacuated from Wuhan—predominantly of Chinese descent—were quarantined on Christmas Island, infamous for its offshore detention centre. In addition, US president Donald Trump's politicisation of COVID-19 as the 'Chinese virus'—potentially an assertion of environmental racism referred as 'Atmo-orientalism' (Hsuan)—frames Asian people as atmospheric threats to White bodies and minds.
The Chinese words in this installation consist of native plant materials and yellow sandalwood incense, and spell out the work's title as a protest towards the racist narrative of the 'Chinese virus'. The skeleton depicted in the painting speaks to concerns of life and death, and offers the viewer some Chinese tea as an indiscriminate gesture of friendship during this hostile climate.
Desmond Mah is a Singapore-born, Chinese-Australian artist—drawing on both his hybrid Chinese heritage and his Western locality. Mah explores cultural authenticity through personal narratives, shared memories and Chinese mythology. His practice is concerned with diaspora, migration and alienation connected to his own lived experiences of a tension-filled mix between Chinese traditions and globalising Western culture. To navigate these tensions, he focuses on the subjective nature of olfactory perception—embedding cultural and environmental smells into his work.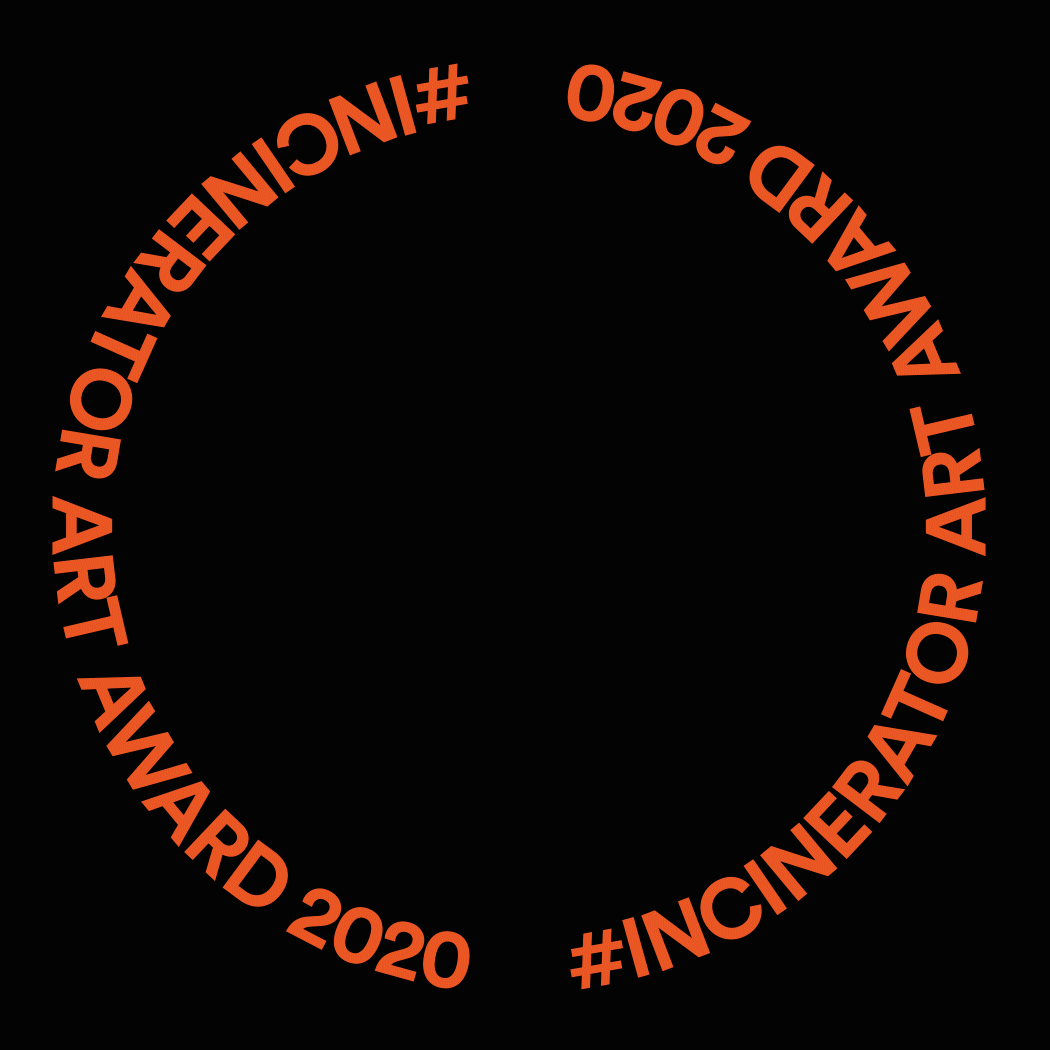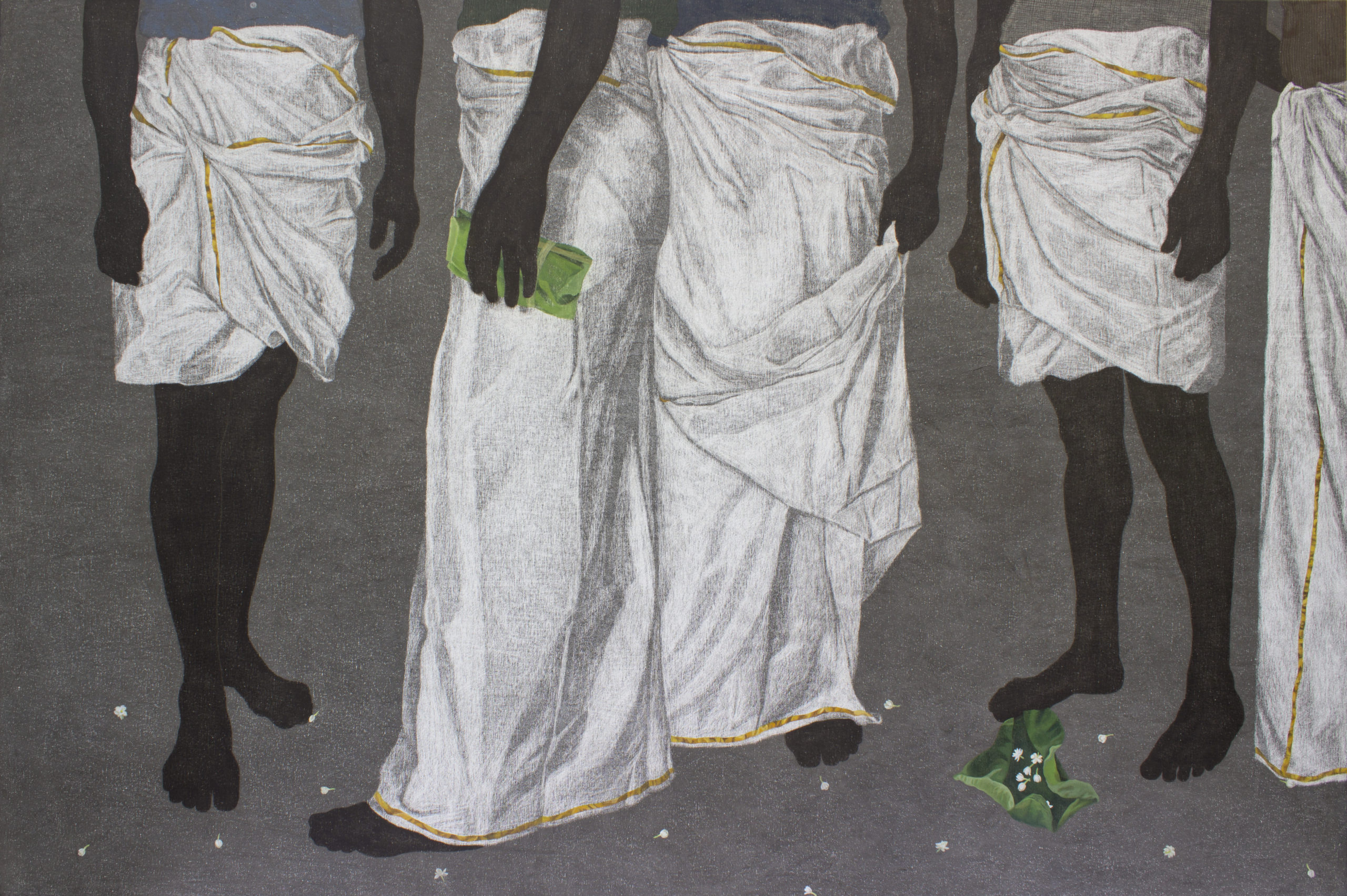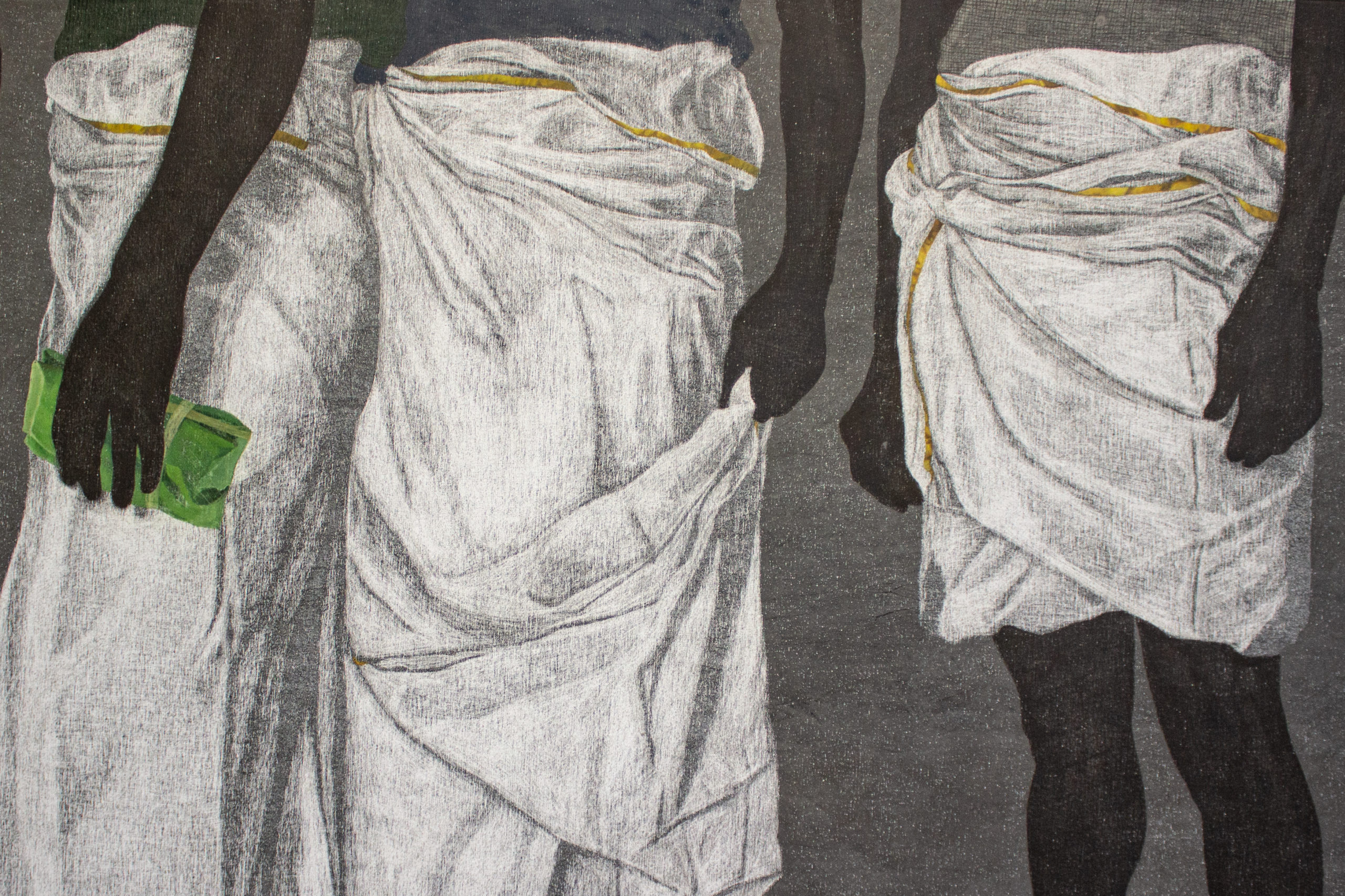 ---
Devi SEETHARAM, Jasmine (Series: Brothers, Fathers and Uncles)' 2019, acrylic on canvas, 122 x 191 x 4cm. Courtesy of the artist.
The series 'Brothers, Fathers and Uncles' confronts the social dynamics of Devi Seetharam's home community in South India, a supposedly matriarchal society that in reality has always been patriarchal and actually only ever matrilineal. The depicted men wield authority to occupy space, wrapped in traditional white wrap arounds- a self-granted symbol of purity, status and morality. Seetharam has depicted their dark Dravidian skin, tackling their valued beauty standard, the ground littered with different fallen culturally tied details (such as jasmine flowers that women adorn in their hair and that are used as temple offerings) expressing the passing of time as their presence weighs on.
Devi Seetharam is an Indian artist, based in Melbourne, Australia. She completed her Bachelors in Fine Arts- Painting from LASALLE College of the Arts, Singapore 2011. Before moving to Australia in 2016; Devi grew up living in China, Cambodia, South Africa, India, Switzerland, Thailand, Taiwan, Singapore, Mauritius and the United Arab Emirates.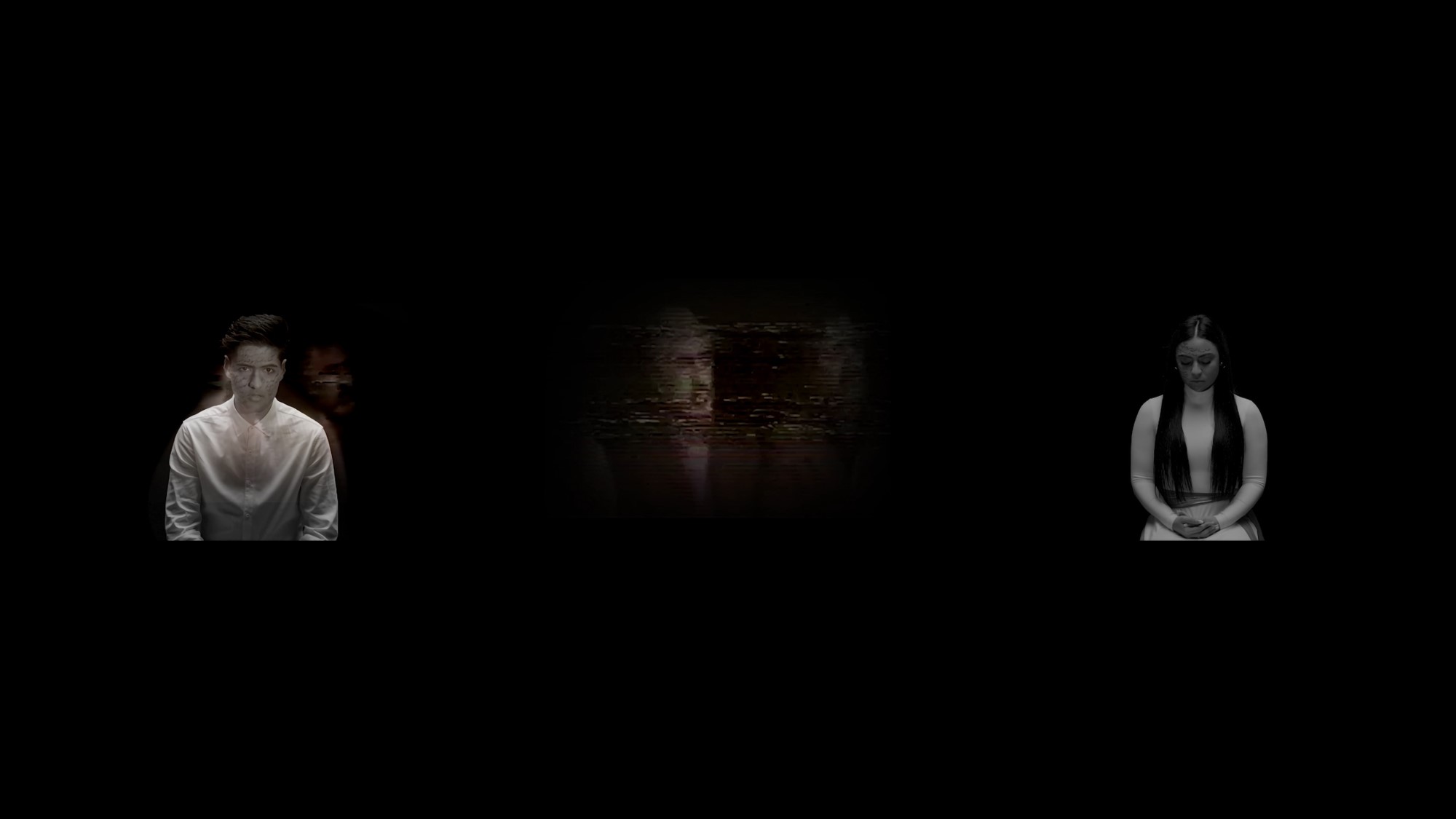 ---
Elham ESHRAGHIAN, The End is Glorious, If We Only Persevere 2019, three-channel video installation with sound. Courtesy of the artist.
'The End is Glorious, If We Only Persevere', is a three-channel video installation, poetically expressing Eshraghian-Haakansson's mother's experience of displacement after escaping Iran in 1979, during the revolution. The film predominantly focuses on the religious persecution of the Bahá'ís of which her family is part. The films poetic and somewhat ambiguous style calls for a wider reflection on one's own experience and the ability to empathise with the Other, whether a refugee arriving to a new country or a host welcoming someone into a country. Empathy for all humankind, especially today, may not be an impossible ideal to attain.
Elham Eshraghian-Haakansson is a Bahá'í multi-media and installation video artist. She graduated in Fine Arts from the University of Western Australia, School of Design (2017) and is currently continuing her research. Eshraghian has exhibited nationally and internationally, currently working on several new major works looking at intergenerational dialogue and communal care.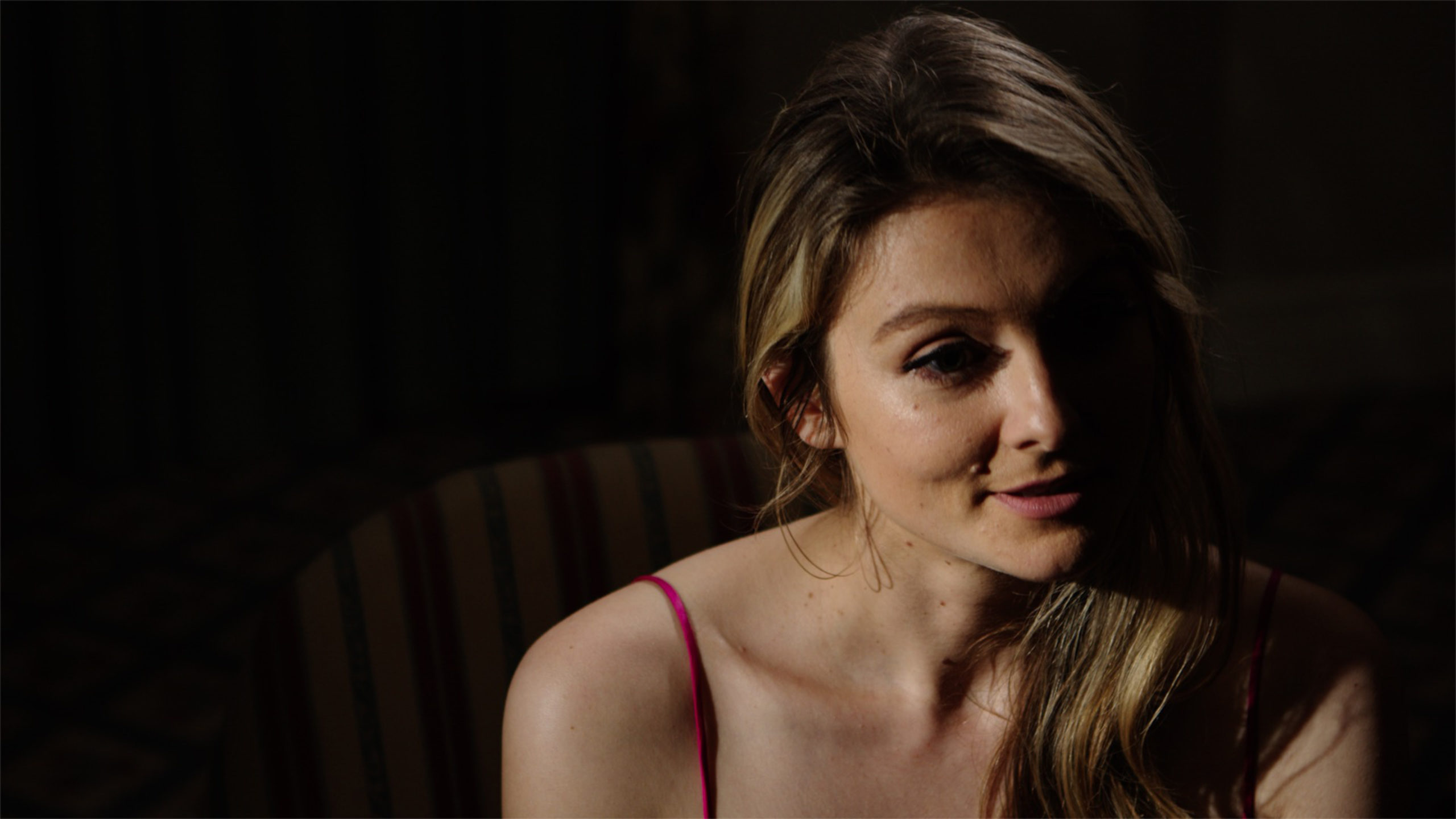 ---
Georgia BANKS, A Four Letter Word 2020, video and sound, 8 mins 14 seconds. Courtesy of the artist.
Content warning, this artwork contains references to sexual assault.
Follow Georgia Banks' journey auditioning for a popular reality TV dating show; will the artist succeed in her quest to find true happiness? And how much will she have to give up, to be given away? A Four Letter Word is a raw, and somewhat absurd account of the artist's foray into this strange cultural phenomenon. Follow along as the artist attempts to understand what it is that has us all tuning in—or perhaps more accurately tuning out—to reality television, in our obsession with finding true love.
Georgia Banks' works begin with an invitation and a provocation. Sometimes they are met with an overwhelming response, sometimes no one answers at all. She does not value either of these outcomes over the other. In recent years she has been banned from Tinder, sued by the estate of Hannah Wilke, and awarded Miss Social Impact in a national beauty pageant.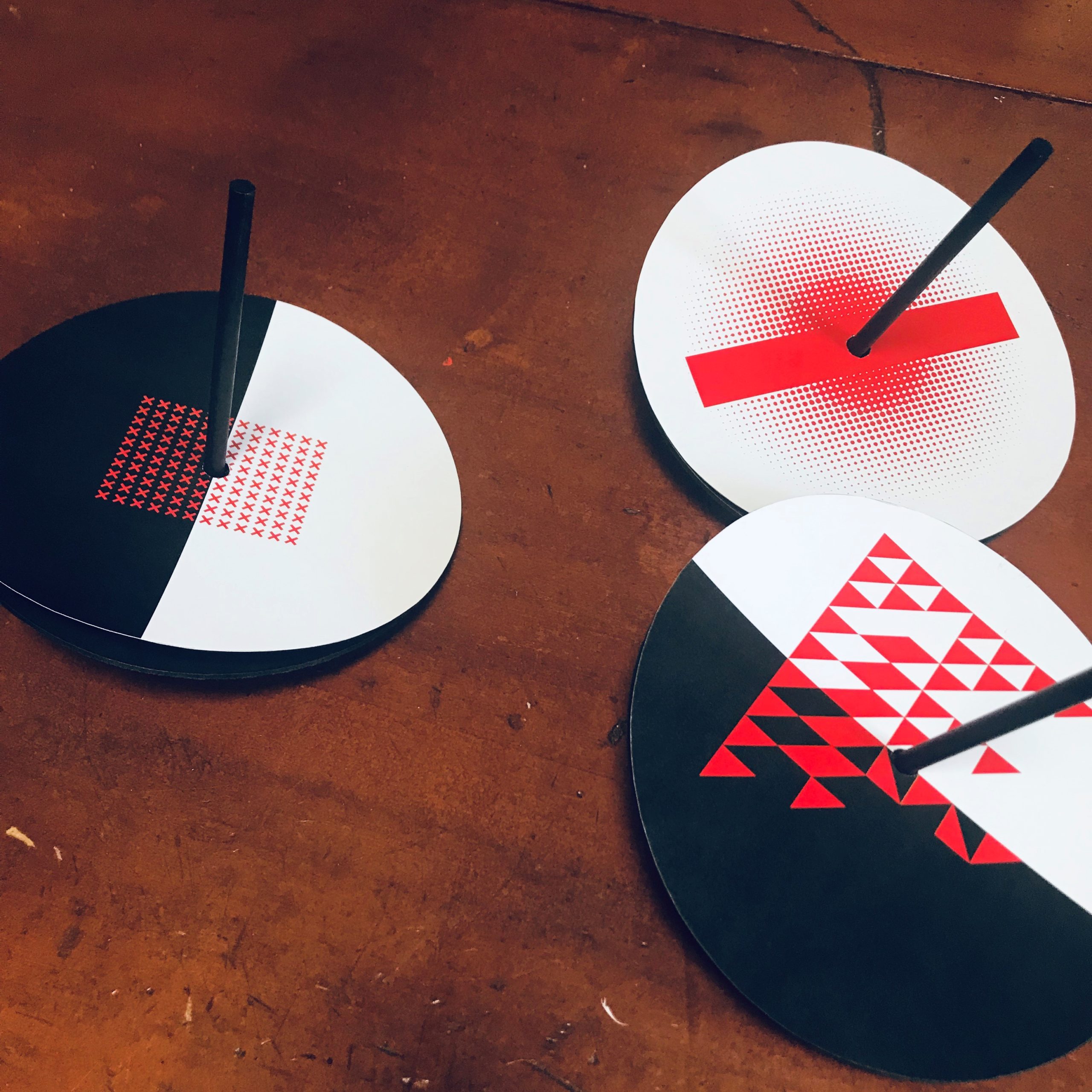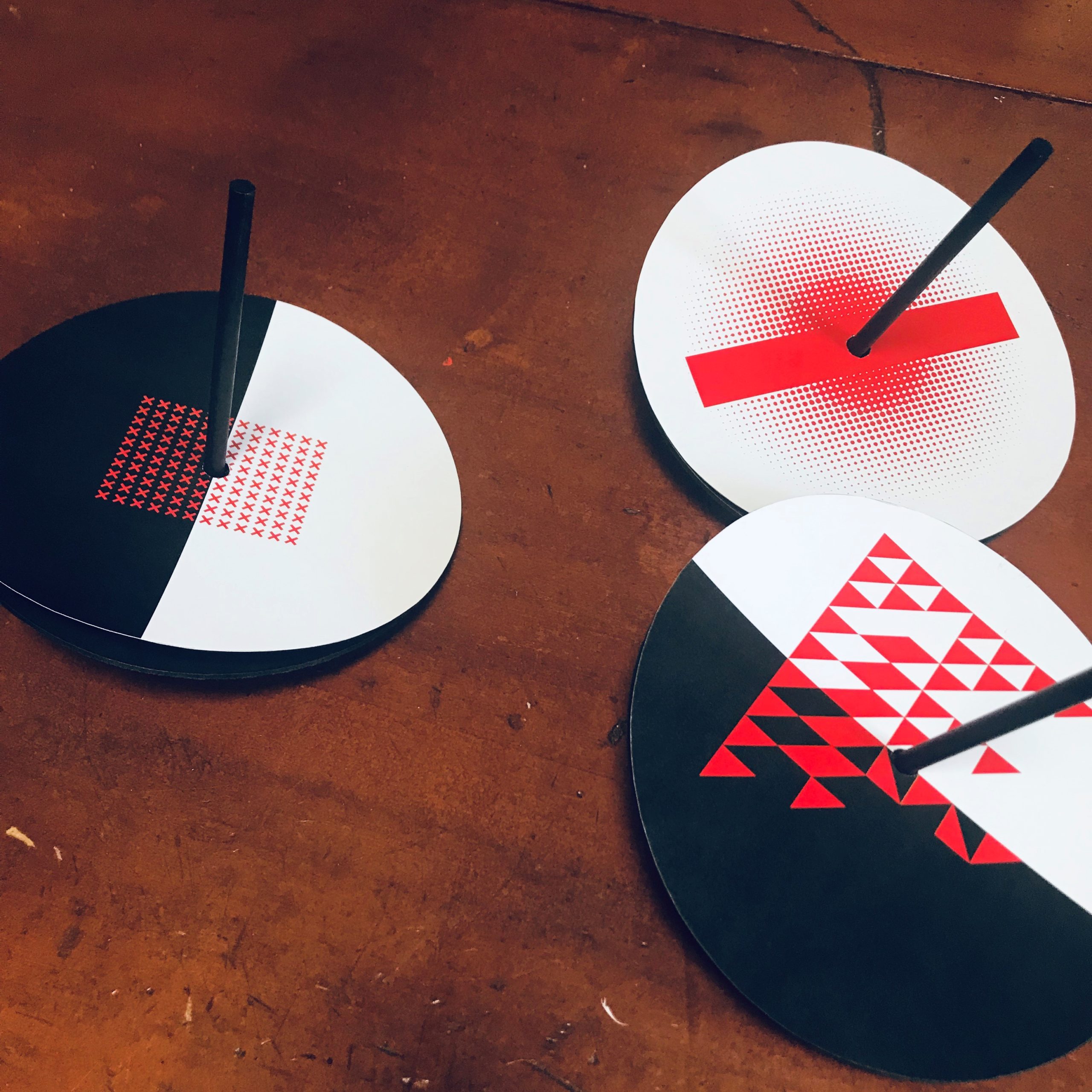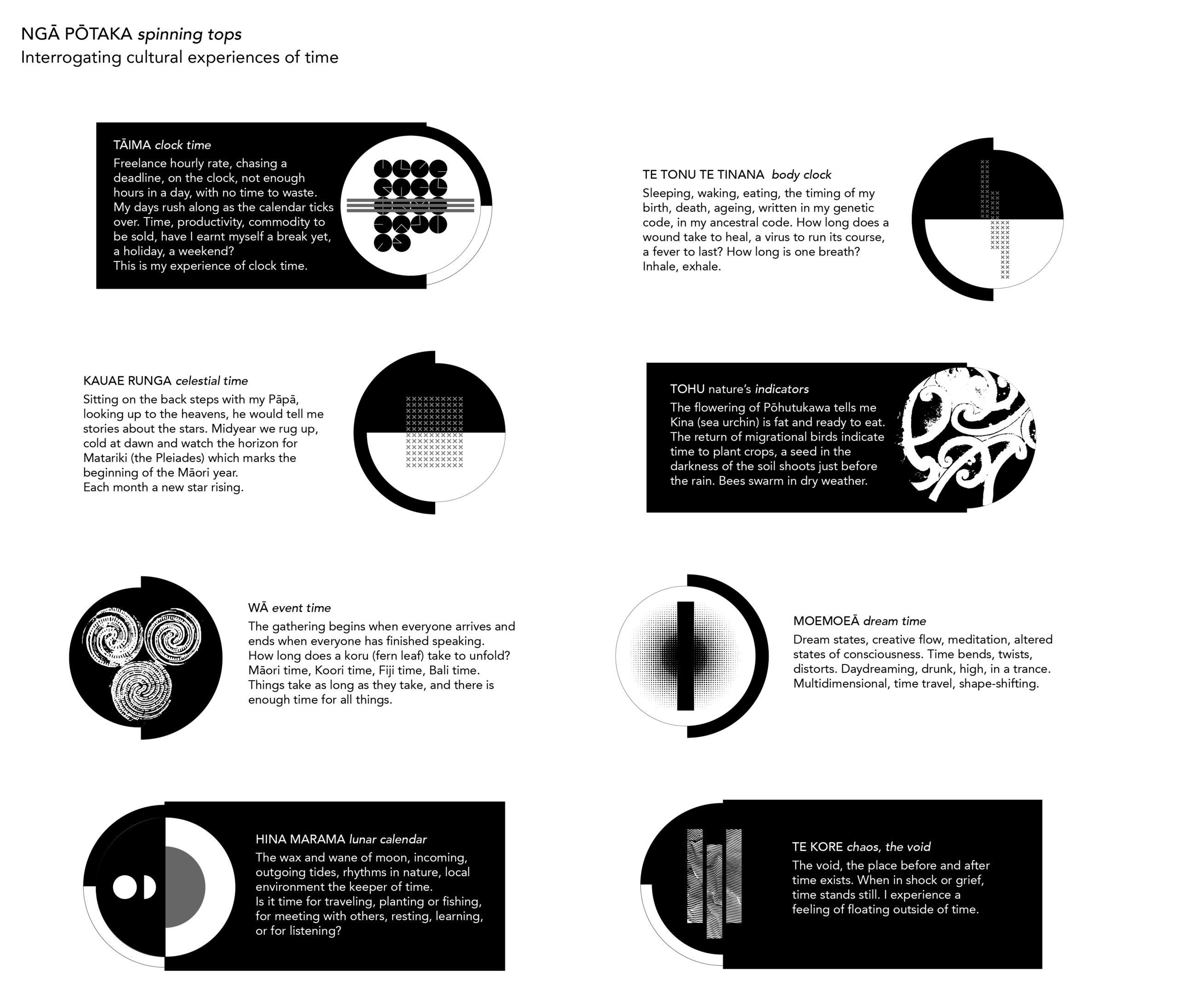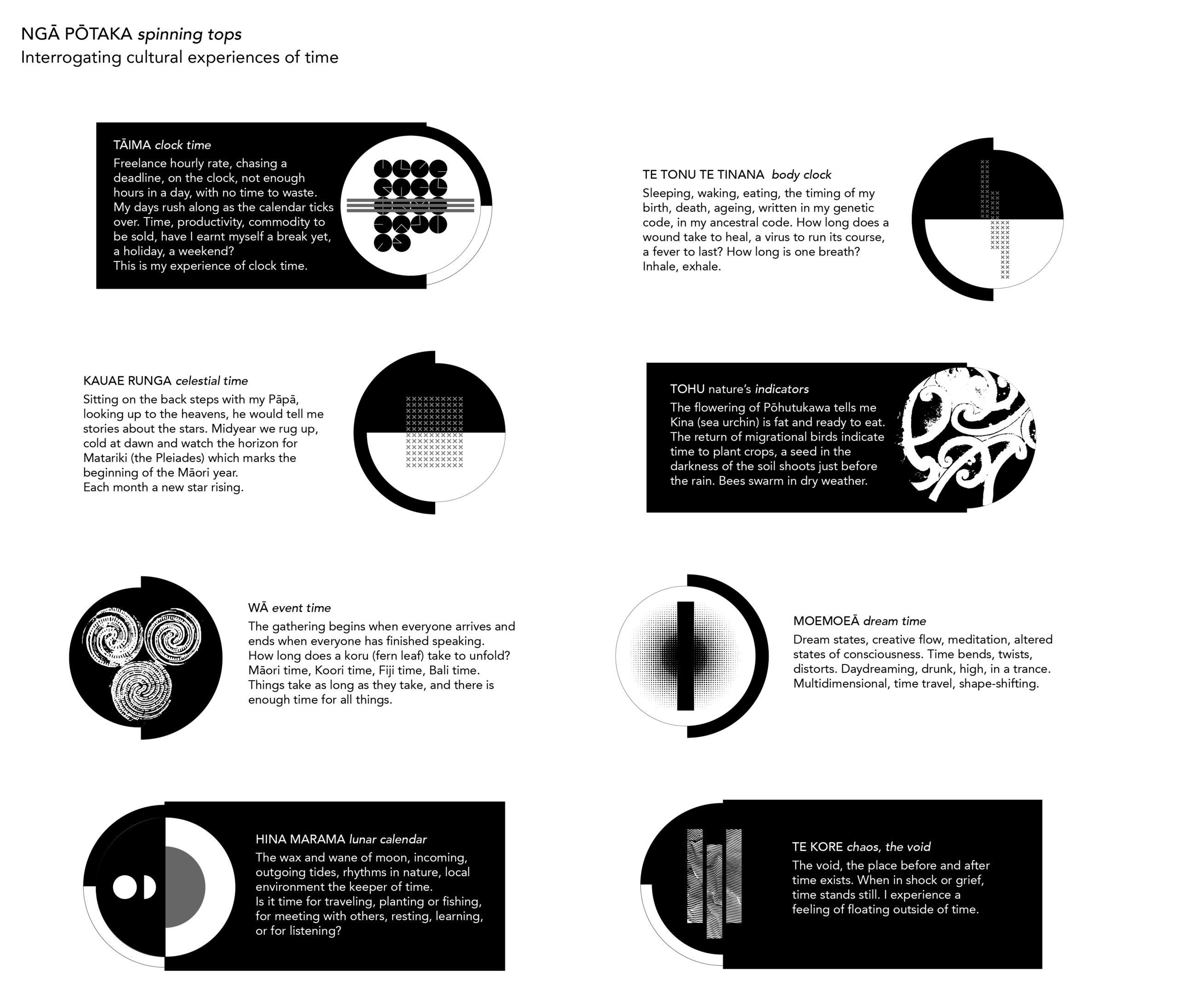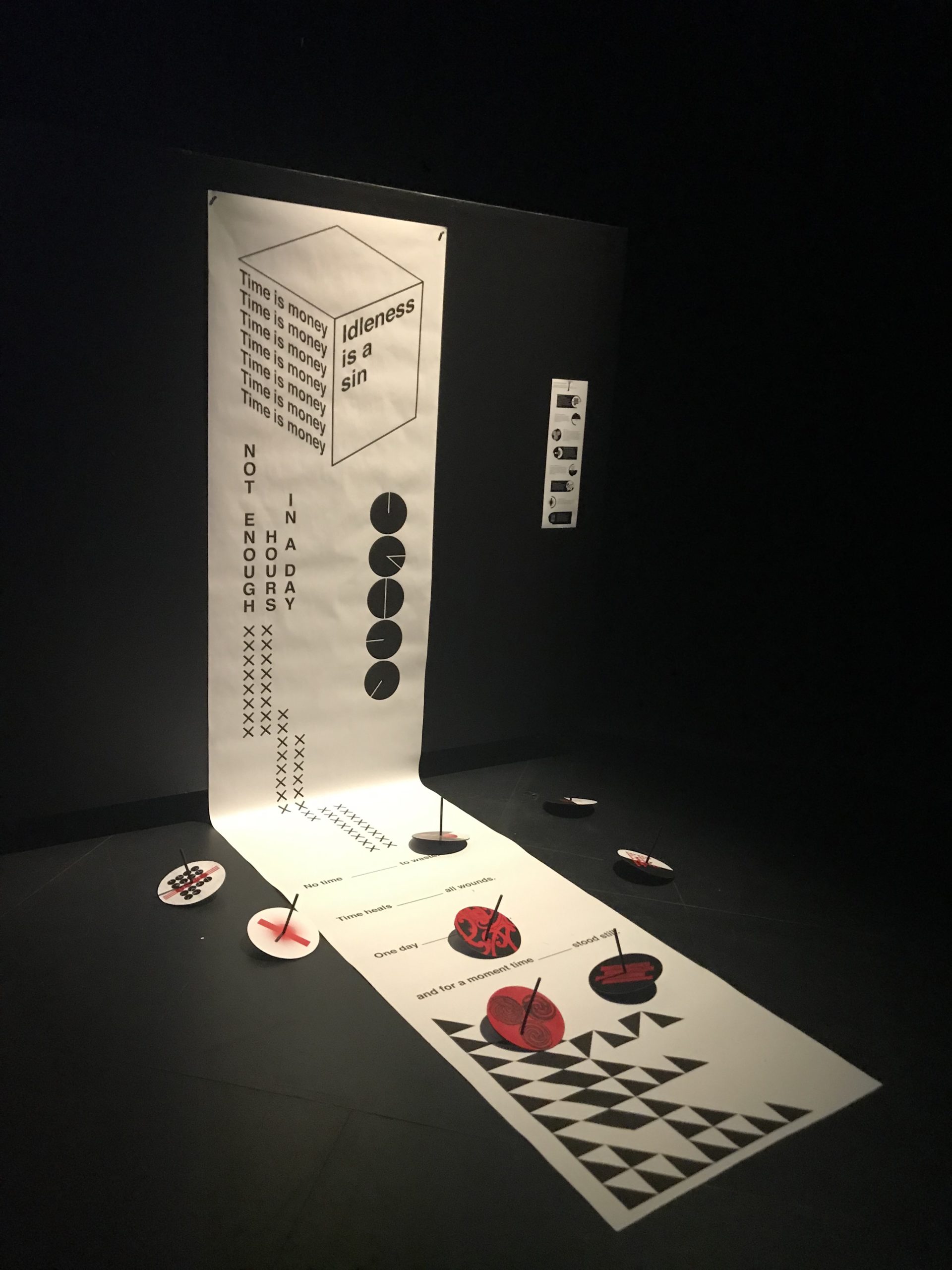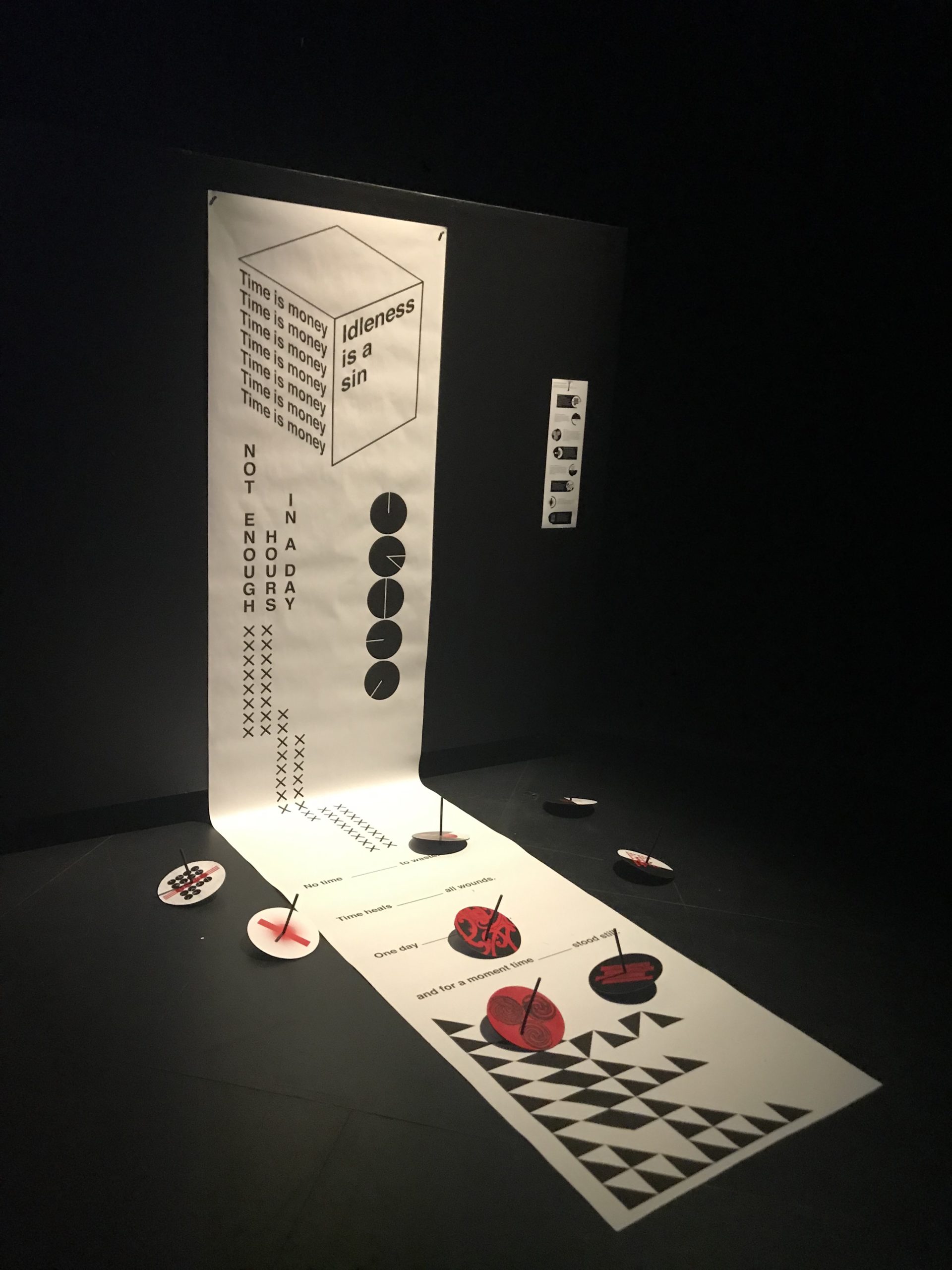 ---
Hineani TUNOA ROBERTS, Ngā Pōtaka (Spinning Tops) 2019, iconography, digital printmaking, wood, paper, 80cm x 400cm. Video documentation with sound. Courtesy of the artist.
'Ngā Pōtaka (spinning tops)' interrogates cultural concepts of time, contrasted with an experience of time sold as a commodity of production. Taking inspiration from her indigenous Māori culture and graphic design background, Hineani Tunoa Roberts represents eight experiences of time, as iconographic spinning tops. The work asks the questions; how do definitions of time impact and change society? Ngā pōtaka is the beginning of a conversation around cross-cultural world views, shared knowledge and decolonisation. During the COVID-19 stay home restrictions, many people experience time in a new context, stepping outside of usual clock determined timescapes. How does our experience of time change our relationship to others and to our environment?
Hineani Tunoa Roberts (ko Rongowhakaata iwi) works as a media artist in Naarm (Melbourne). Her work takes inspiration from visual symbolism found in traditional Māori art and its strong design principles. She combines digital printmaking techniques, digital technology and design process to bring cultural iconography into a modern context.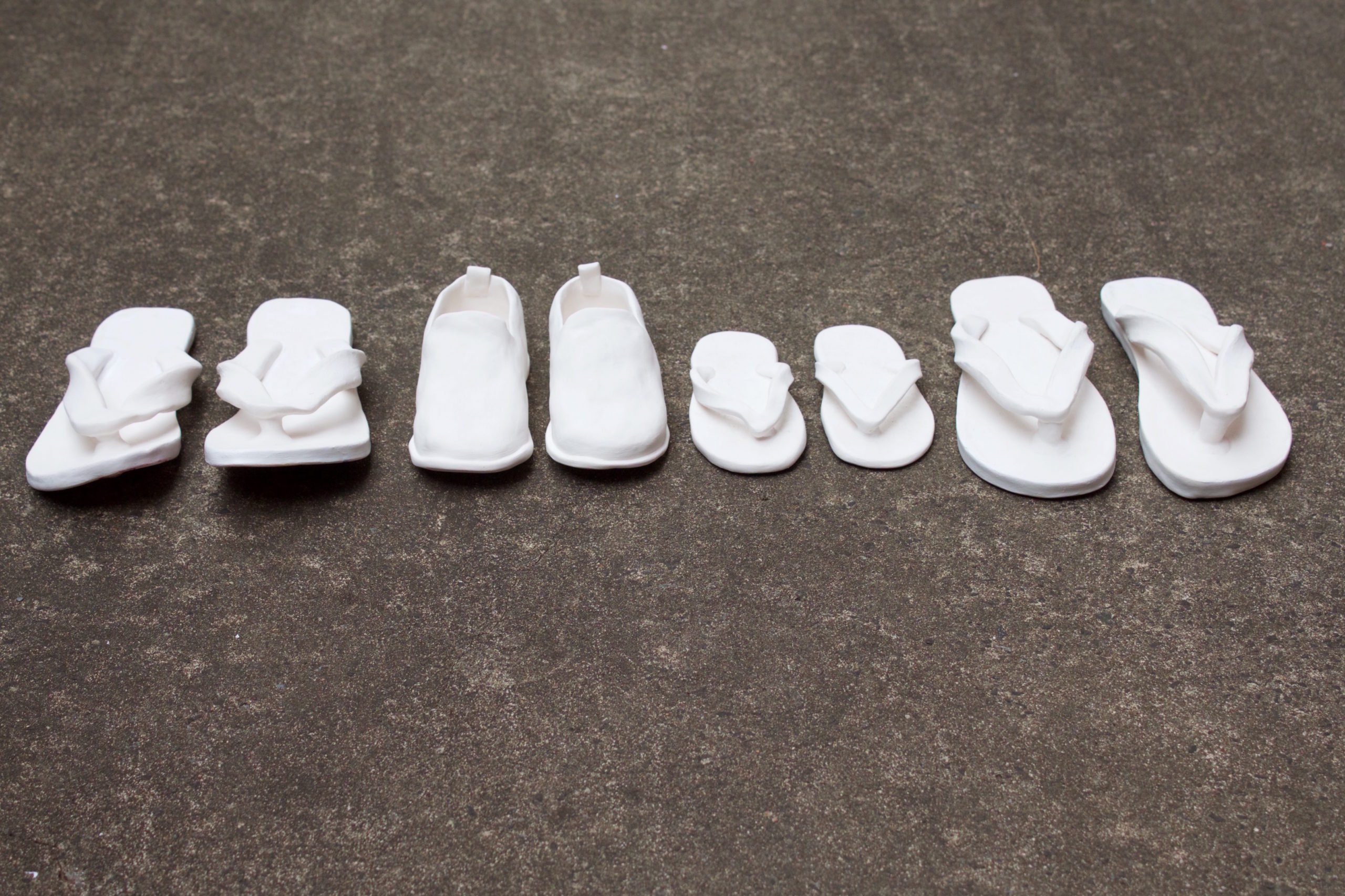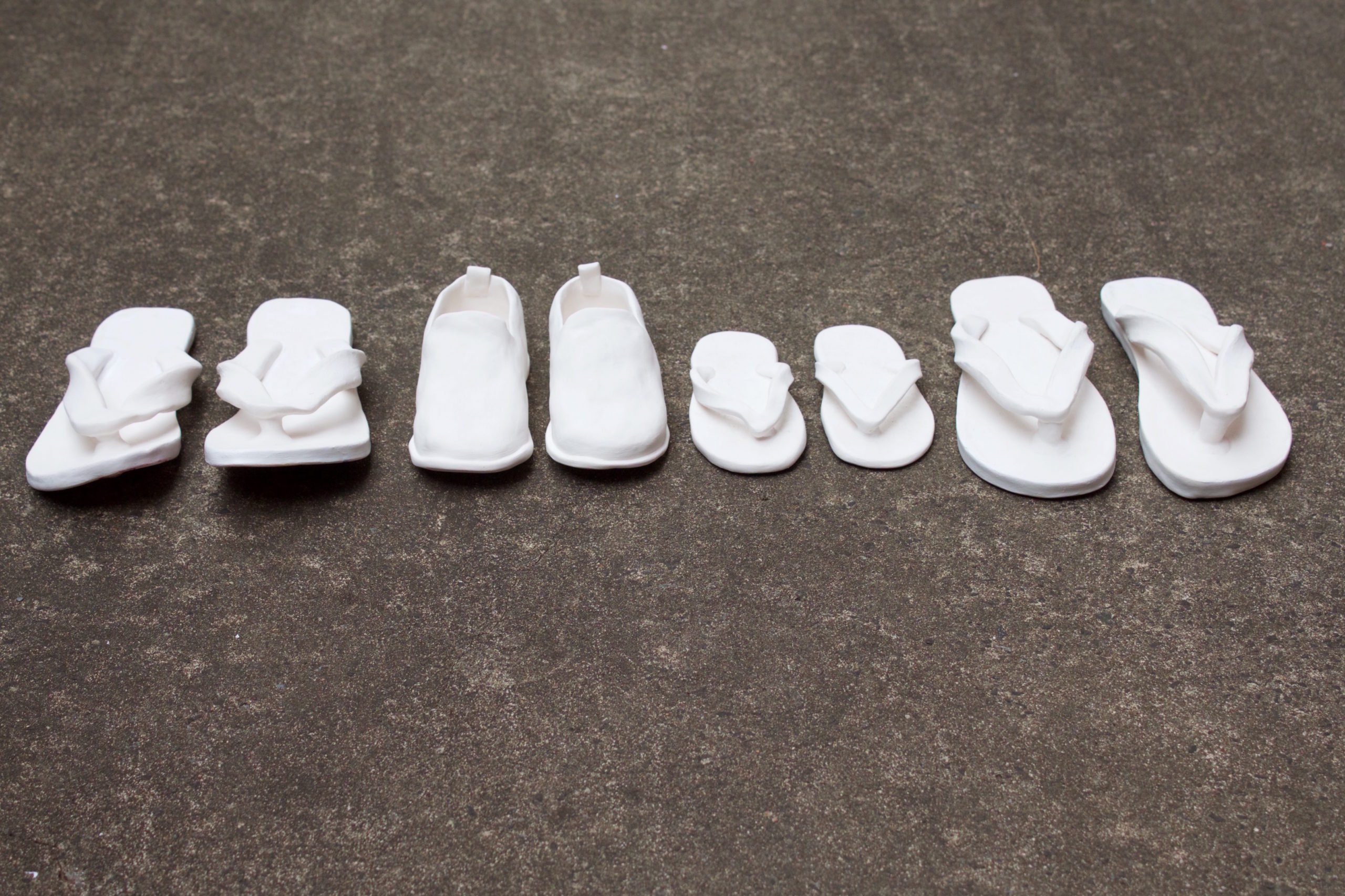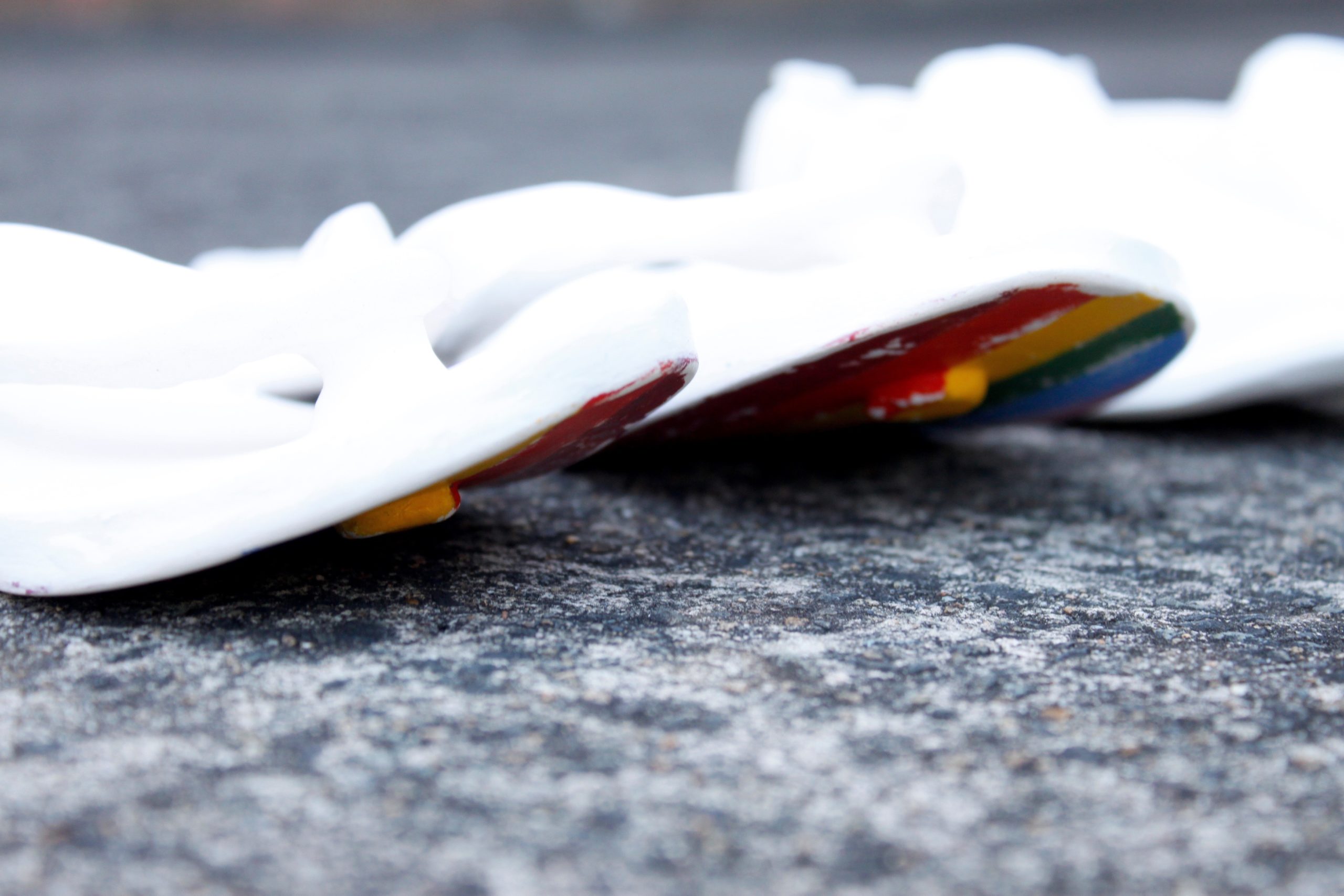 ---
Jayanto TAN, La Familia (after Felix Gonzalez-Torres) 2020, ceramics, with underglaze rainbow colours underneath the thongs. Courtesy of the artist.
This ceramic work visualises themes of remembrance and narrative history. For Jayanto Tan, as a Chinese-Sumatran immigrant living in Australia, these objects revive memory of family loss. After the heat of the bisque firing process, the mud that the work is constructed from becomes pure white objects that resemble bleached bones, representing dysfunction, shame and rejection. The work also suggests something that is exotic and familiar, which for Tan is inescapable. It creates a bridge of healing from the past to the present, from trauma to healing – asking questions about identity, belonging and home. The resonance of Queer culture suggests the ritual of commemoration and relates to an aura of personal history, recalling the oeuvre of Cuban-American minimalist artist Felix Gonzalez-Torres' Untitled (Perfect Lovers).
Jayanto Tan is an emerging visual artist who was born and raised in a small village in North Sumatra. As a Chinese-Indonesian immigrant artist living in Sydney, who fled poverty and political repression in search of a better life, his practice blends Eastern and Western mythologies with the reality of current events.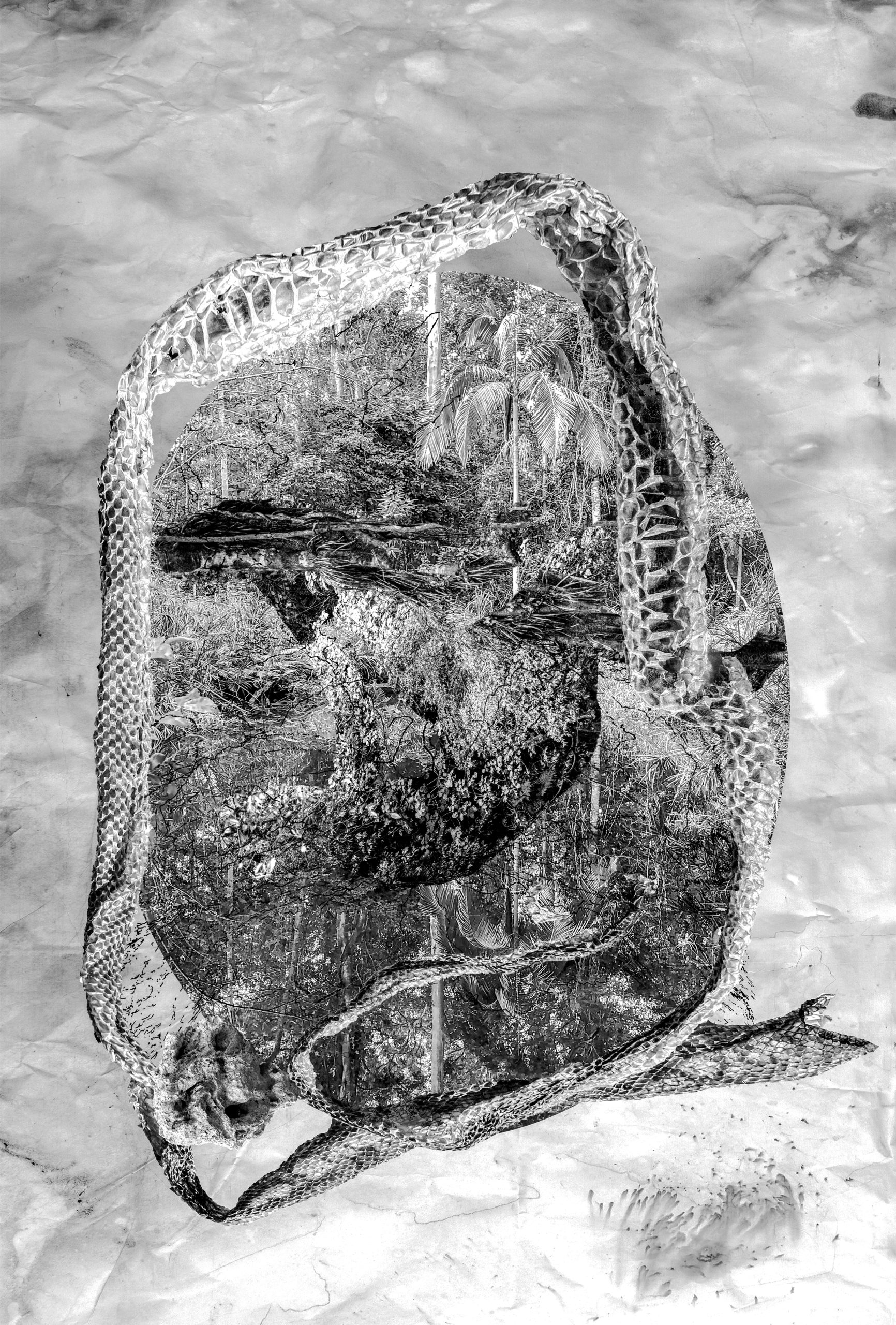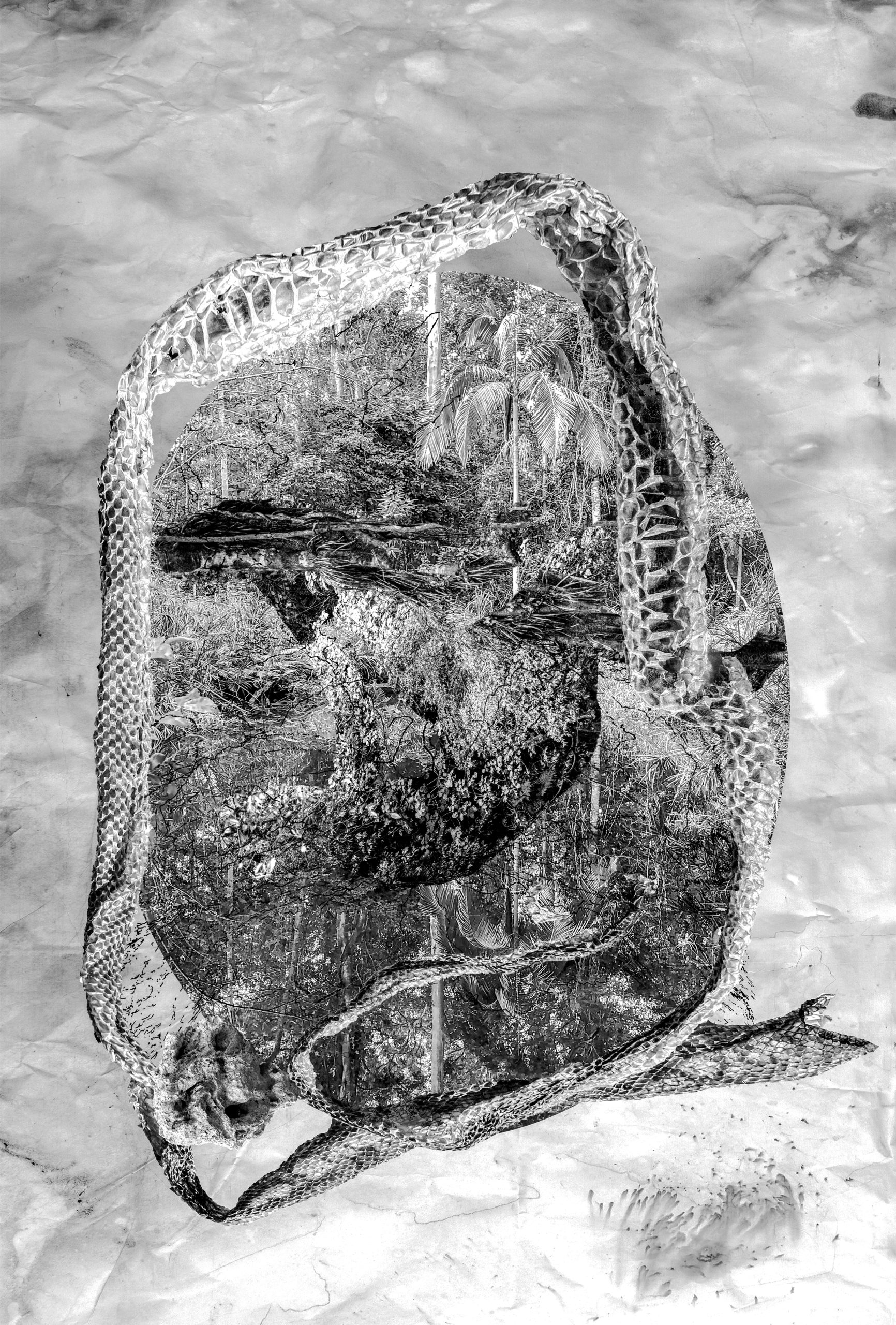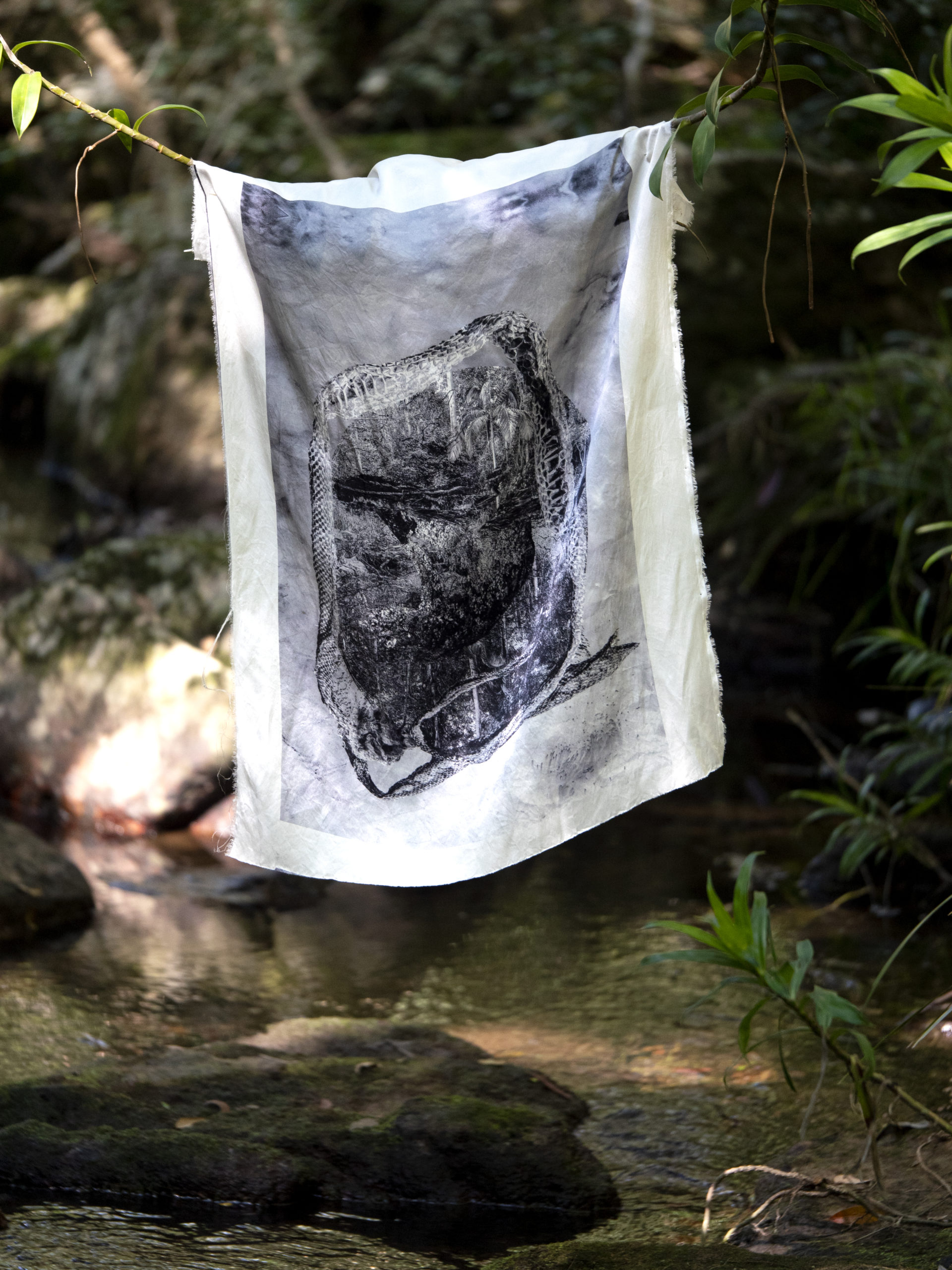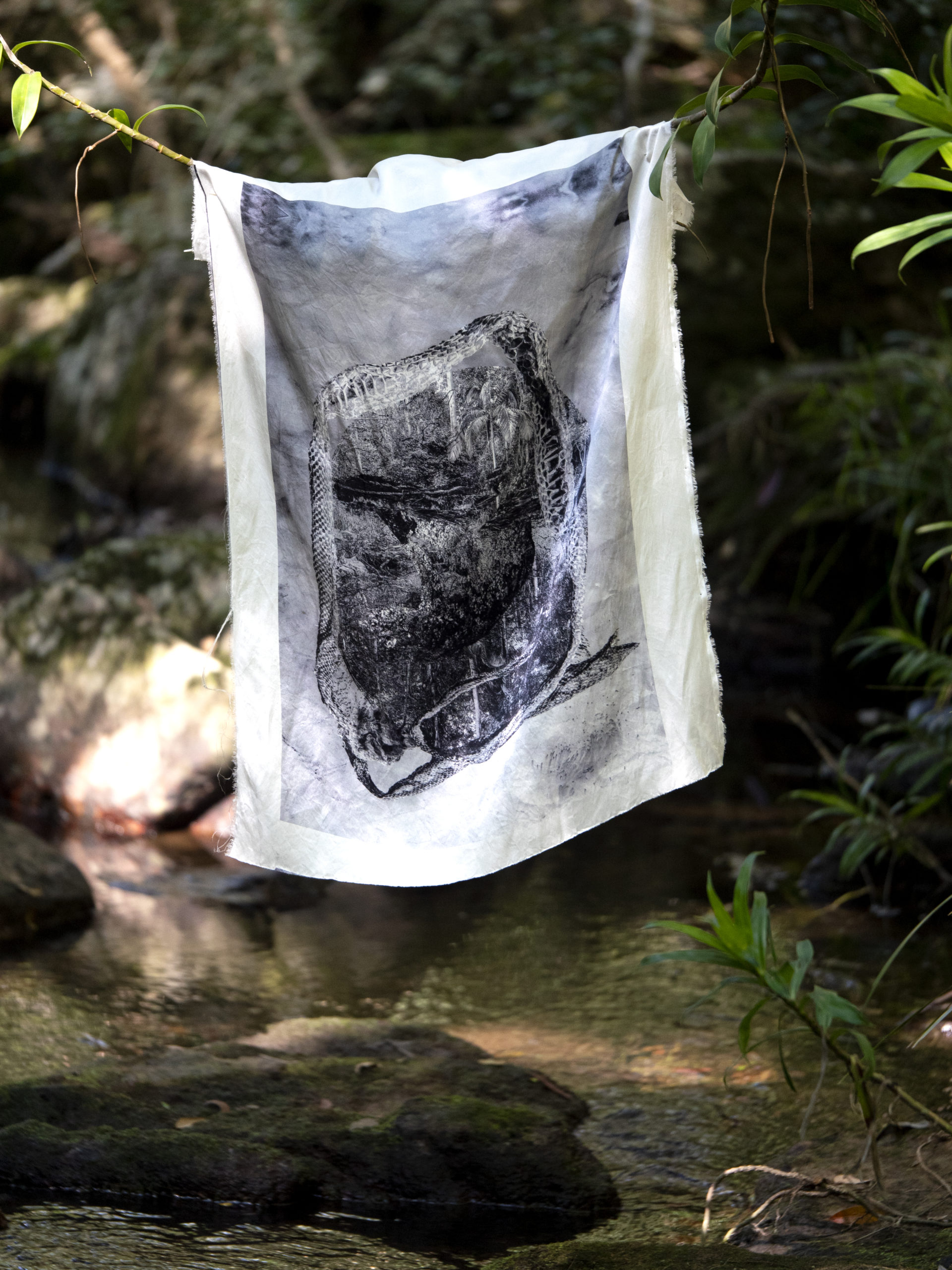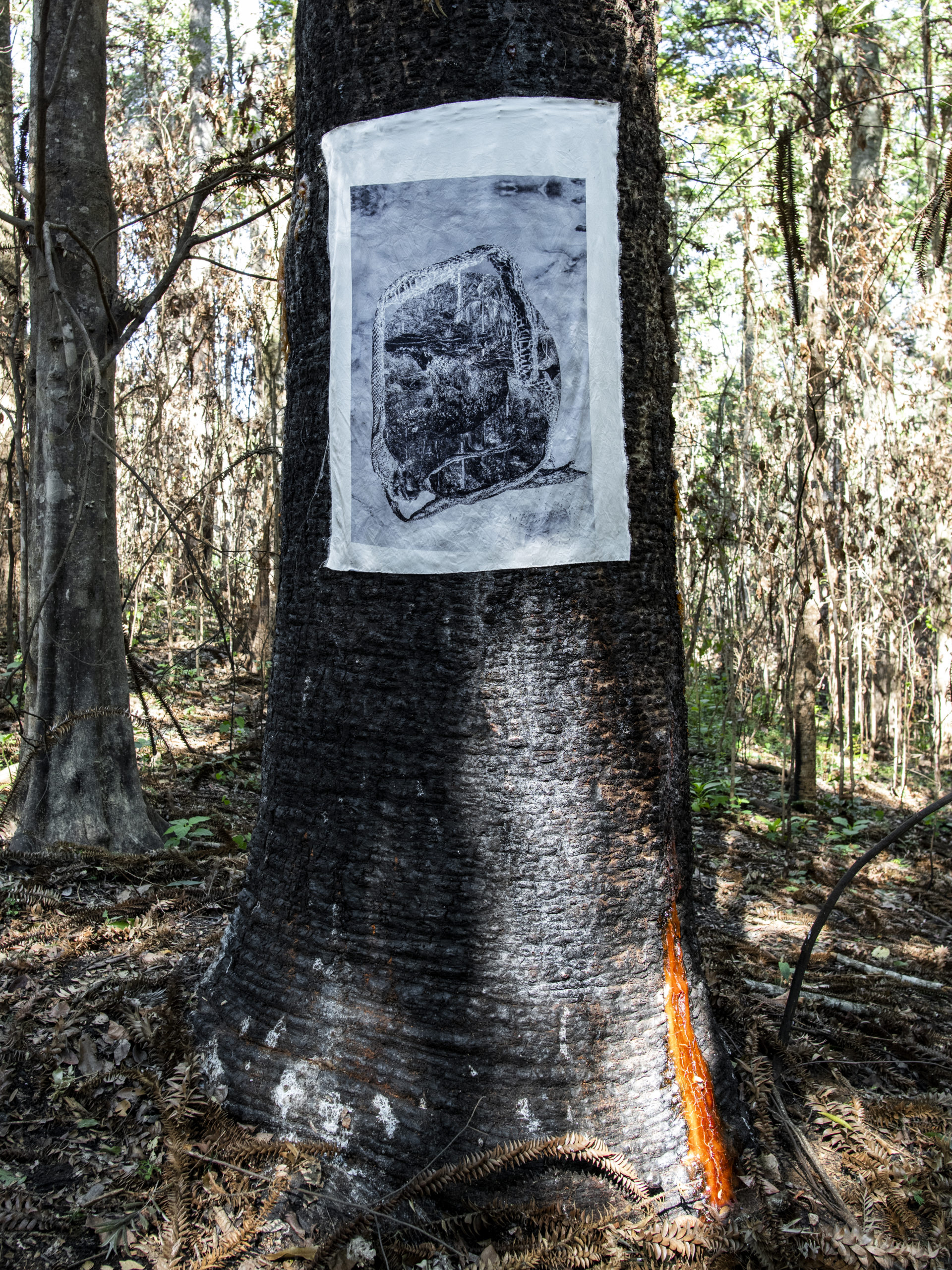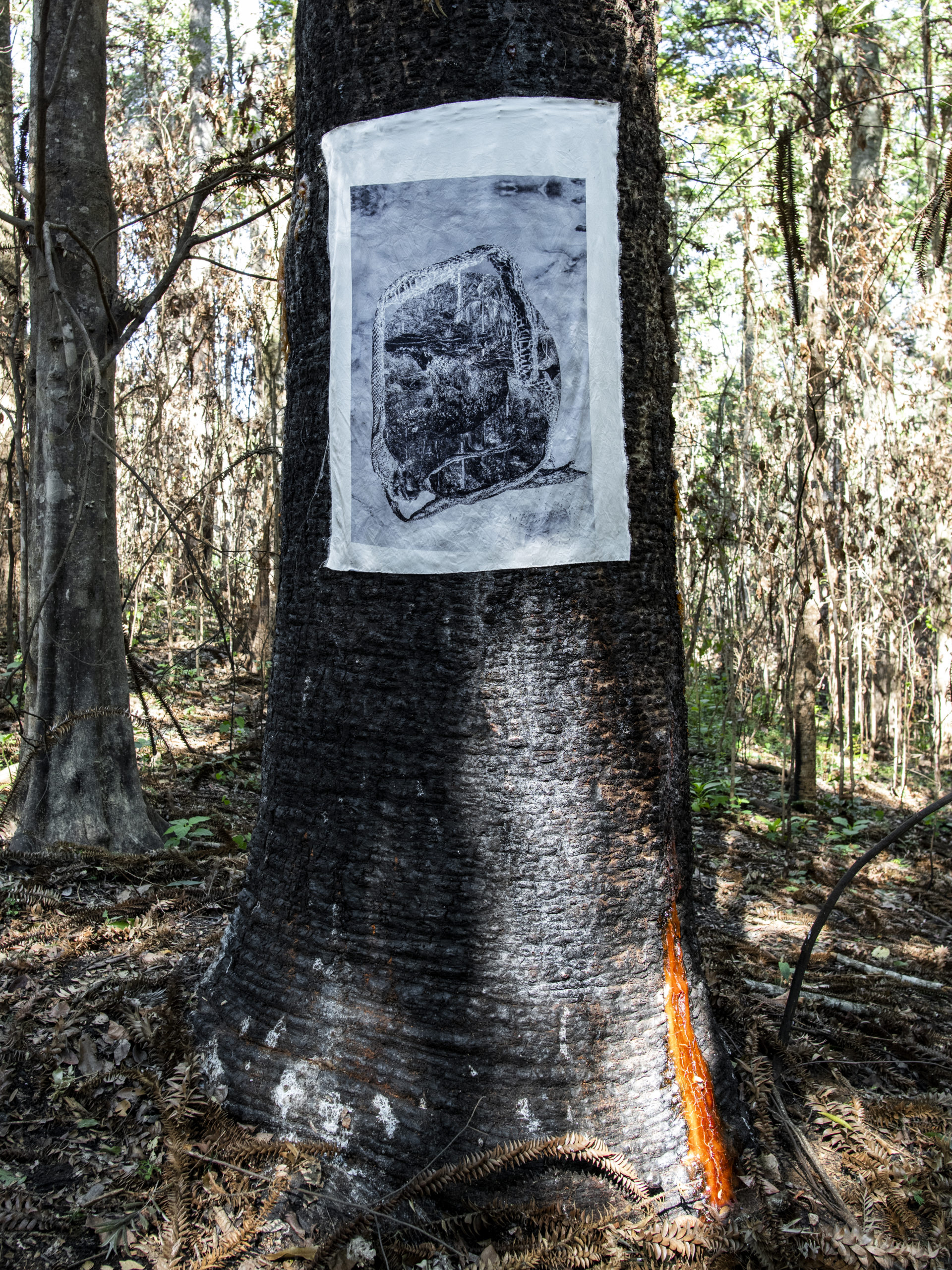 ---
Karla PRINGLE, We were paradise 2020, outlines of commodified bodies (porn) re-embodied in commodified landscapes (stolen land), sensorimotor site drawing, dredged coral concrete circa18C, snake skin, plant ink shroud, digital collage, printed on silk, hung from silky oak with sensory drawing. Video documentation with sound. Courtesy of the artist.
"We were paradise, the land and I. We were capitalism's insatiable appetite. I was a prepubescent beauty queen enmeshed in a backdrop of everlasting sunsets. I'd conjured lightning heating oceans with my sultry body. My dewy mouth gushed waterfalls over 'virgin' forests. This was the commodification of women and land. Virgins and terra nullius. My body was owned and used; the land, stolen and sold. I try to re/pair my relationship between my body and my environment. I use outlines of hyper-sexualised pornography re-embodied within stolen land. I'm coupling bodies with place, not as backdrops to entice consumption, but as embodied beings: connected 'in Country' through their relationships with living environments. I hope this contributes to change patriarchal and colonial disembodied destruction, and works to create a narrative for the engagement of sentient multi-species connection, reverence, inter-guidance and rapport."
Karla Pringle is a re/emerging artist living on Kabi Kabi land, Sunshine Coast, Qld.  She investigates the re-embodiment of place, documenting her complex relationship and history with her environment. Her work questions ties between inherited violence, sexual abuse, disembodiment, and the unmentioned wars of colonialism, and tries to find a place of healing within it.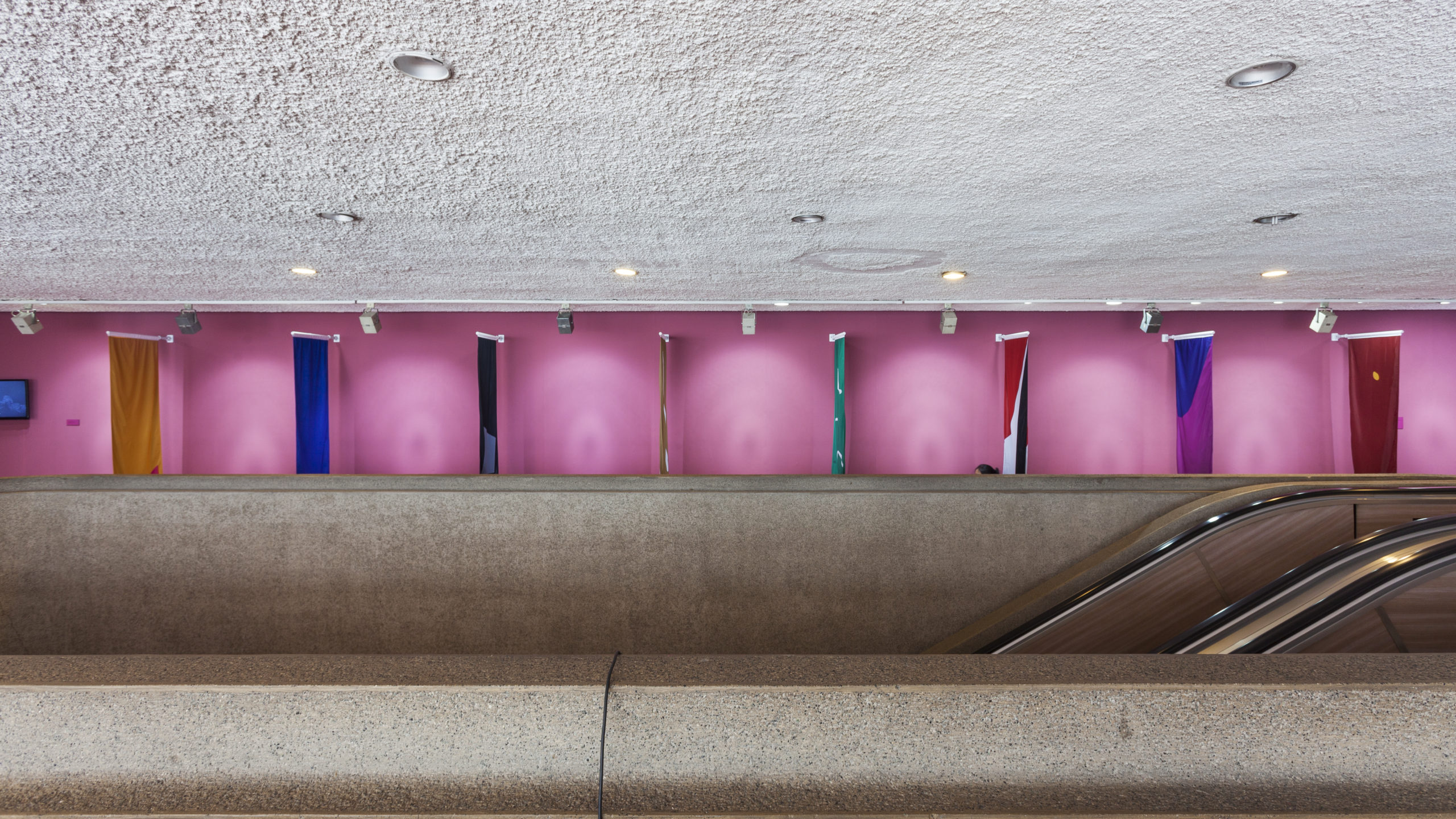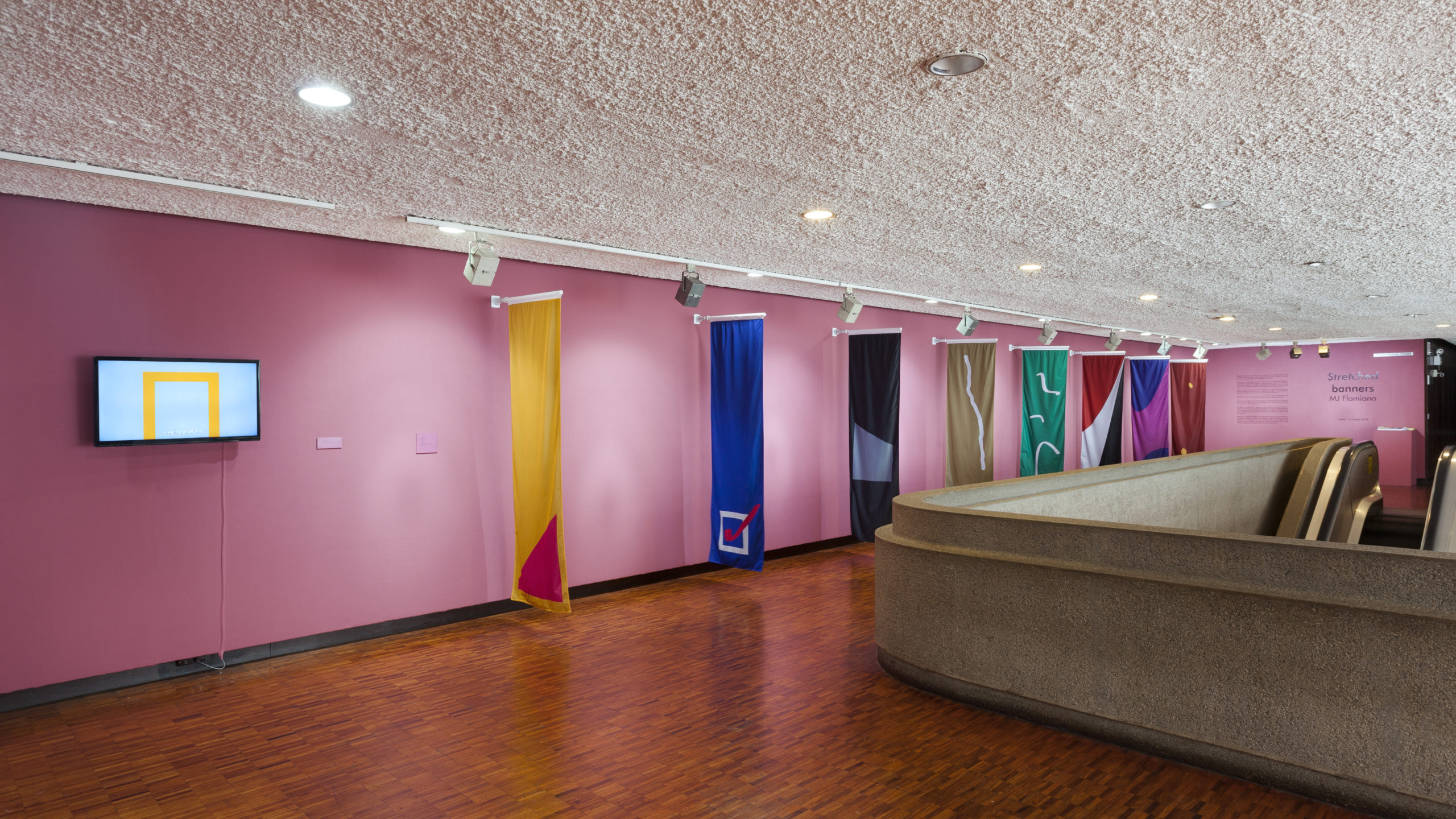 ---
MJ FLAMIANO
Unstretched histories 2018, single-channel video, 3 mins 25 seconds
Aeroplane 2018, textile, 200 x 60cm
24hr labour 2018, textile, 200 x 60cm
Concrete 2018, textile, 200 x 60cm
Coconut 2018, textile, 200 x 60cm
Tapeworms 2018, textile, 200 x 60cm
Coca-cola 2018, textile, 200 x 60cm
Allegory of our progress 2018, textile, 200 x 60cm
Raised first 2018, textile, 200 x 60cm
Courtesy of the artist. Special thanks to the Cultural Center of the Philippines.
'Stretched banners (unstretched histories)' was first exhibited at the Cultural Center of the Philippines (CCP) in 2018. The work explores the 'political as personal', recalling the social and cultural impacts of the Marcos dictatorship on my familial history and explores the complex ties between these events and the contemporary significance of the CCP.
Architect and scholar Professor Gerard Lico regards the CCP and other cultural institutions created under the Marcos regime as 'allegories of [our] progress' and 'methods of illustrating and retaining state power under martial law'. Inspired by Lico's rich and poetic theses, I have created an installation of 8 banners accompanied by a single-channel video work which grapple with the weight of these histories as a second-generation Filipino-Australian artist.
MJ Flamiano is a visual artist and community arts worker living in Naarm Melbourne. She endeavours to present critical and often playful investigations into sites and their cultural significance. Her present focus is on exploring Filipinx histories and diaspora through installation, video, printmaking and text.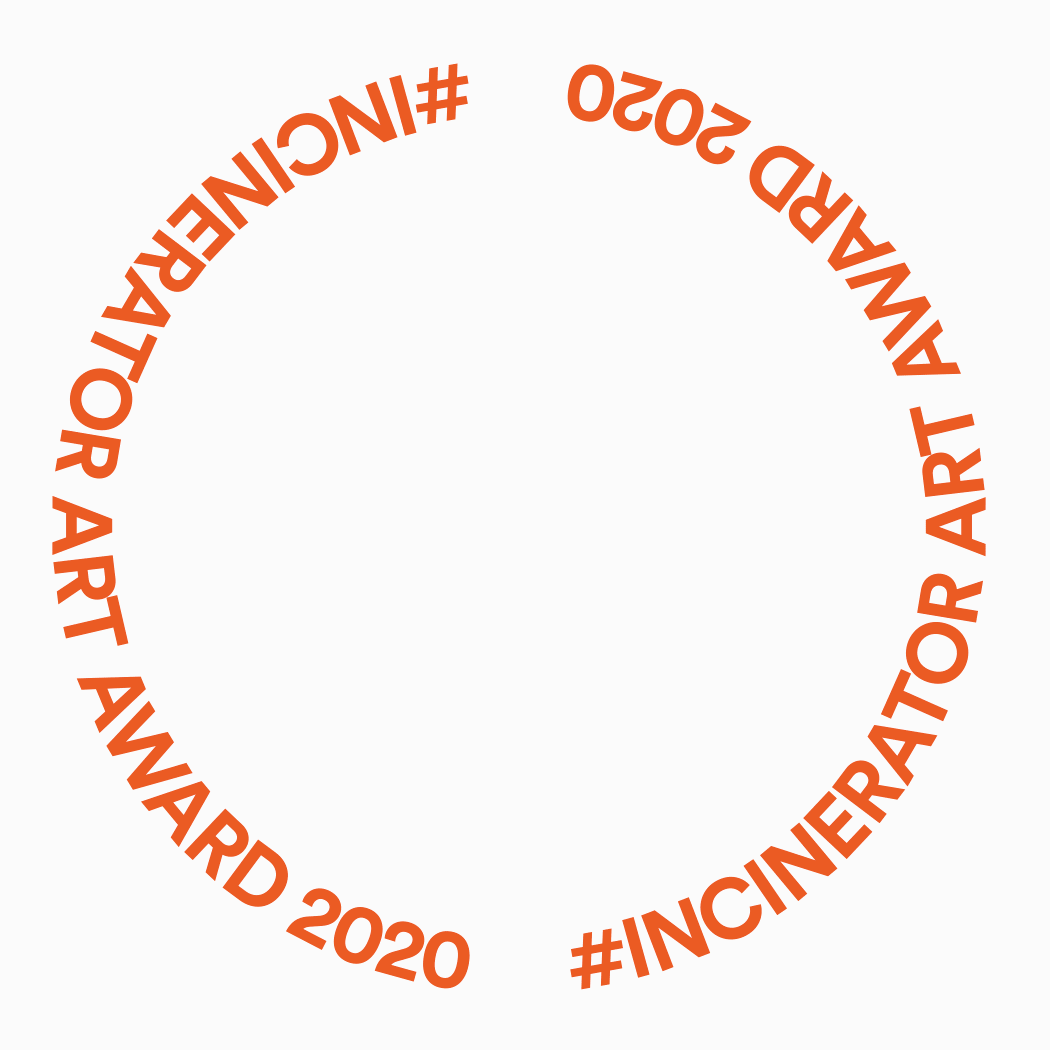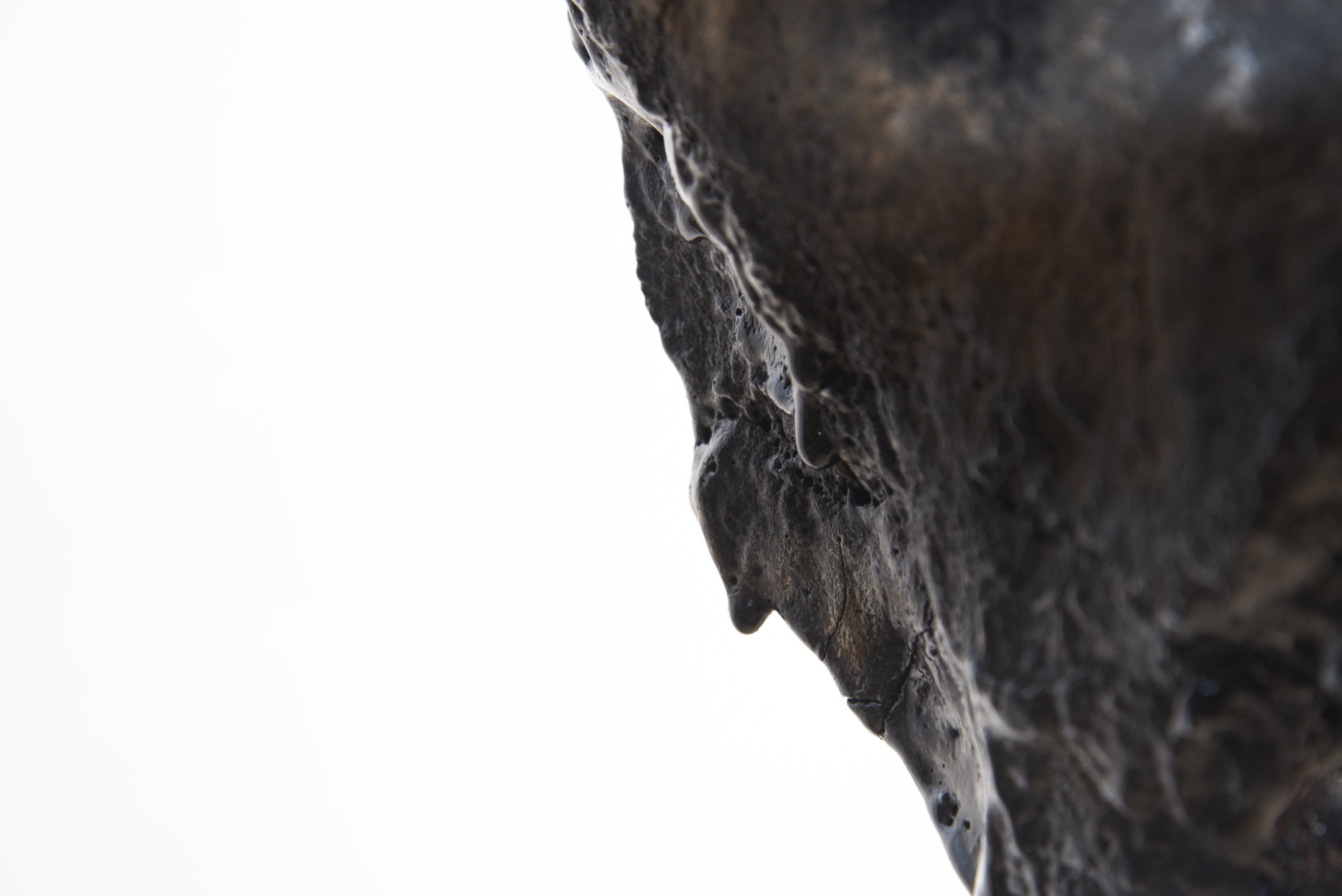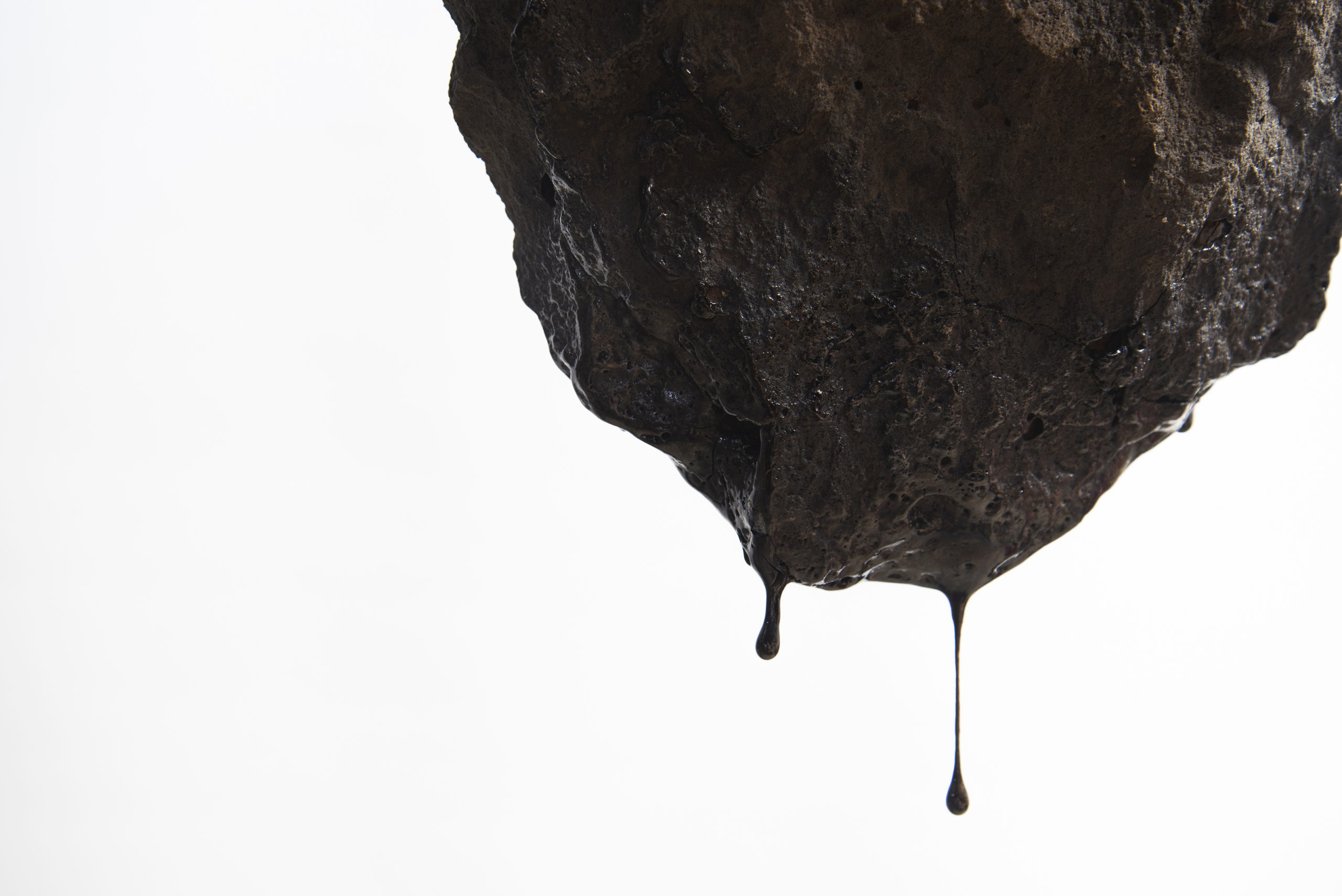 ---
Nicholas BURRIDGE, Rivers of Stone 2020, basalt, volcanic glass, stainless steel, 50 x 29 x 20cm
Melbourne sits on the world's third largest volcanic plain, a place where lava has flowed for millions of years. From liquid to stone to dust – again and again. This geological history has shaped the Western district with shallow fertile soils, grassy plains, and abundant durable rock, making it one of the most plentiful as well as exploited ecosystems in Australia. 'Rivers of Stone' is part of Nicholas Burridge's ongoing research into Victoria's Western Volcanic Plain. Burridge's practice activates the emblematic material basalt, transforming it back into 'fluid-rock' in an act of remembrance. Through material and process his practice illuminates the invisible geological forces that define our lives. 'Rivers of Stone' encourages us to look back across the anthropocenic landscape in order to step forward into a future that considers our relationship and impact upon geological climates.
Nicholas Burridge grew up in rural Victoria and is now a Melbourne based multi-disciplinary artist who completed his BA in Fine Arts at Monash University in 2016. He is currently completing a residency at the Living Museum of the West investigating the volcanic history of the western region of Victoria.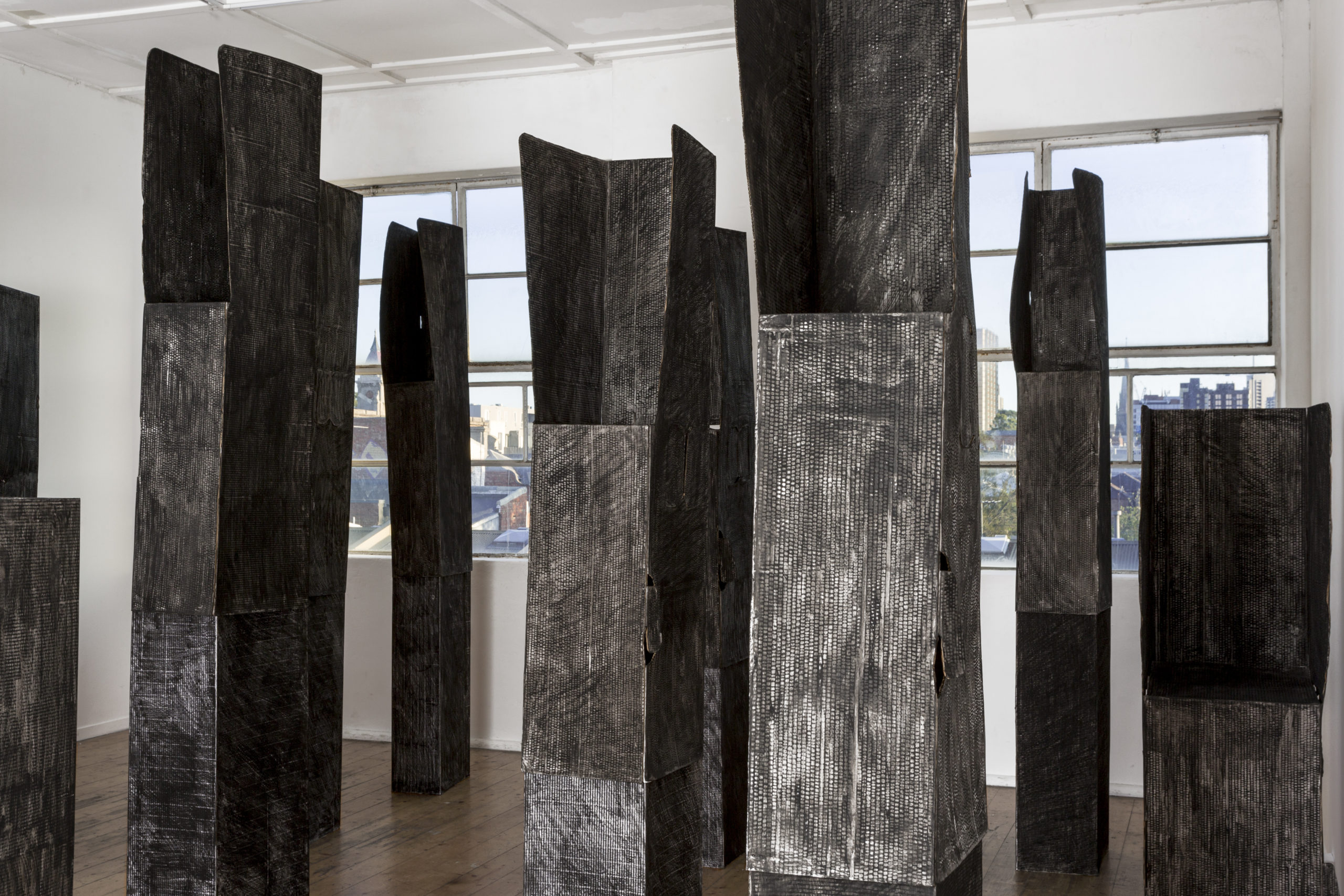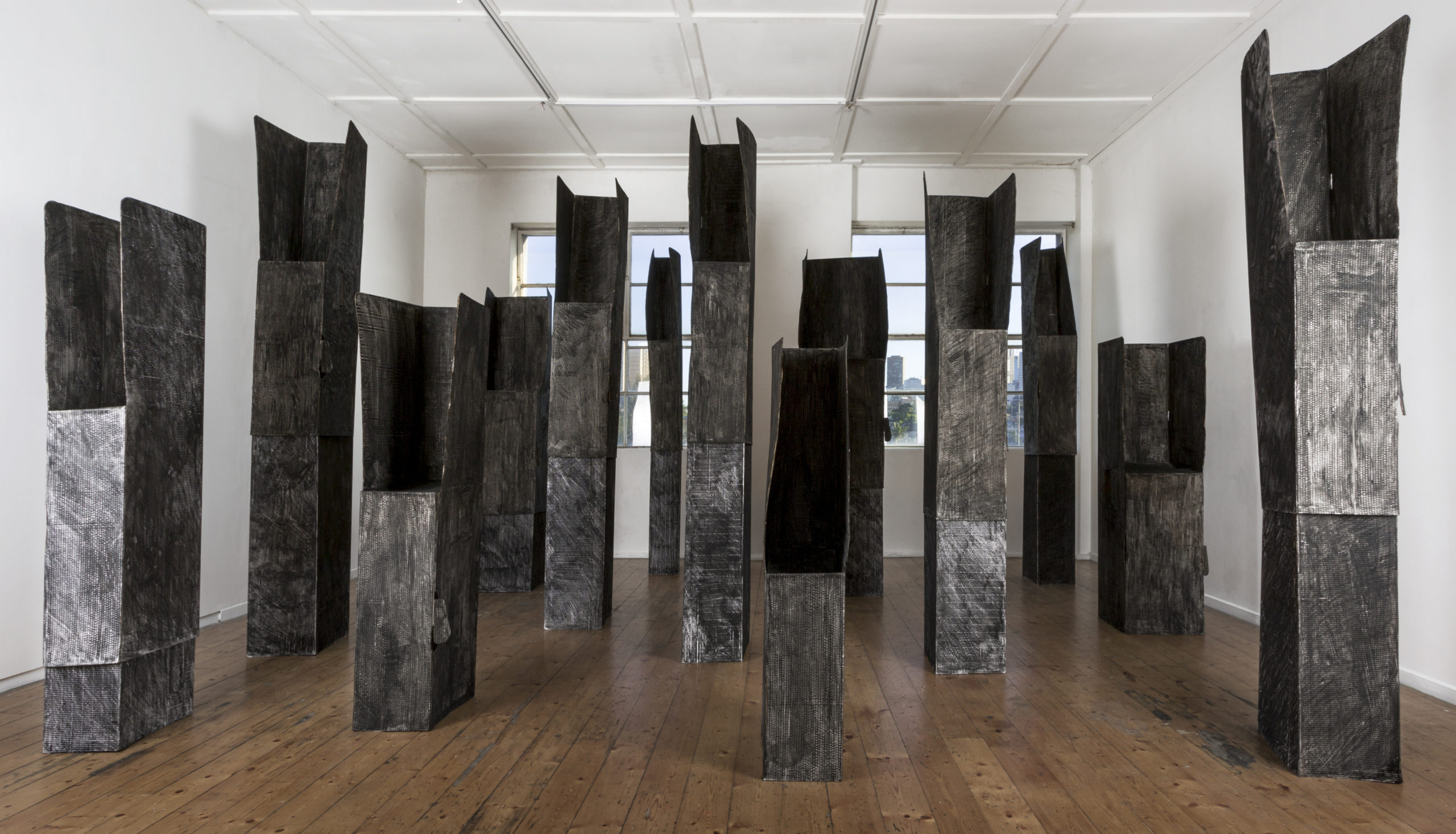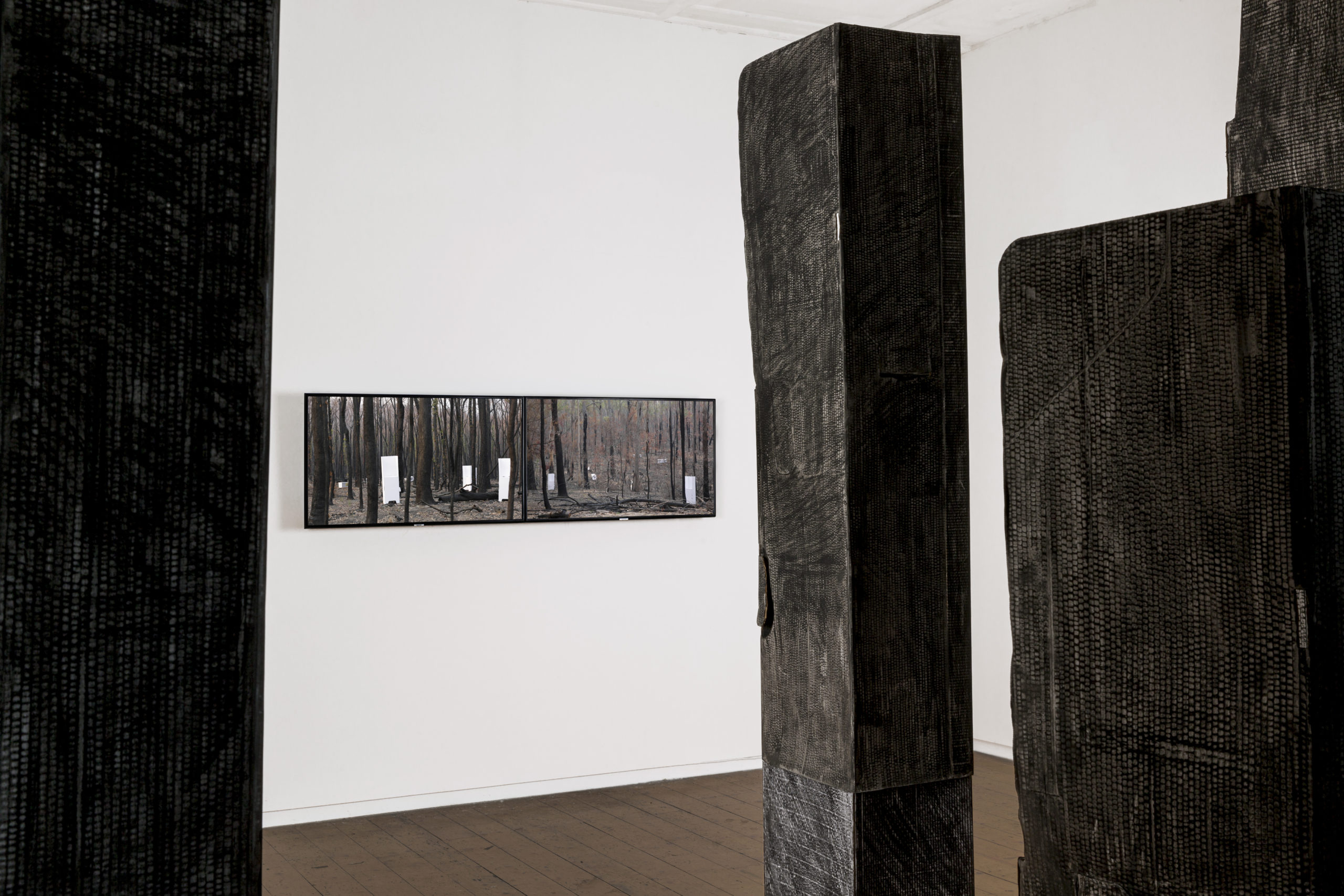 ---
Nina SANADZE, Re election Day!, 2020, two-channel video with sound and a cardboard installation, dimensions variable. Image by Lucy Foster.
Examining our fragility, personal agency and responsibility, 'Re election Day!' is an attempt to poetically restage the election day as a day of judgement and reckoning.
Presented as an installation and a two-channel video, Nina Sanadze has placed the original cardboard voting booths amongst the burned-out forest in the aftermath of the New Year Fires. A participant in the waiting game, the viewer is invited to observe the booths fall one by one, as if wounded, in this ghostly forest swept by the wind.
The installation component presents the same booths which have undergone metamorphosis into the charcoaled towering forest, creating a visceral landscape to walk through and experience.
Nina Sanadze's artistic practice variously employs sculptural form, installation, public art, performance and film to reflect upon the embedded psychology of built environments and communities. Utilising the contrived dysfunction of the sculptural form, she playfully reveals the historical failures of ruling regimes. Materialisations might range from 'unmonumental' sculptures to absurd performance gestures, variously configured as to enable form and materiality to function allegorically.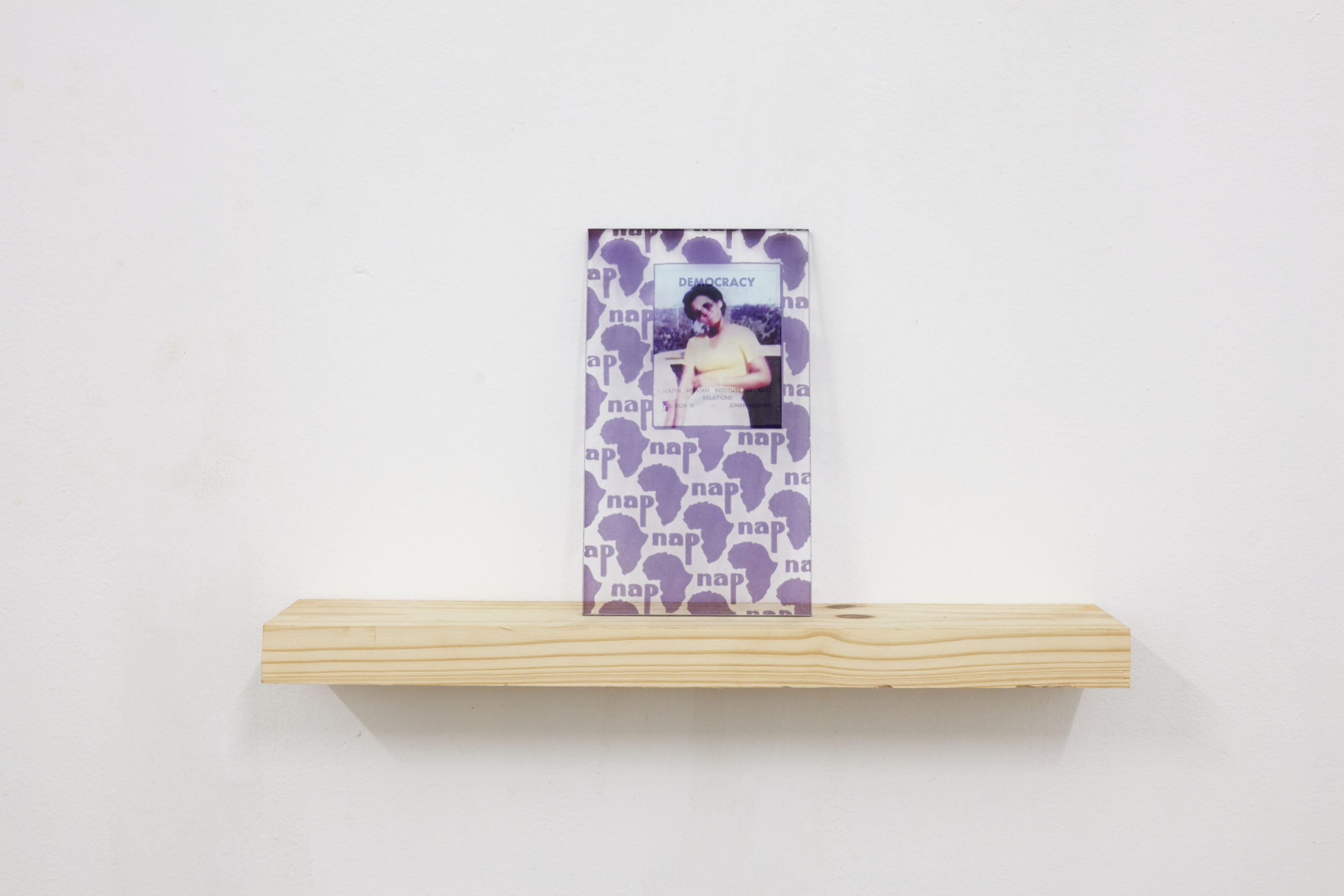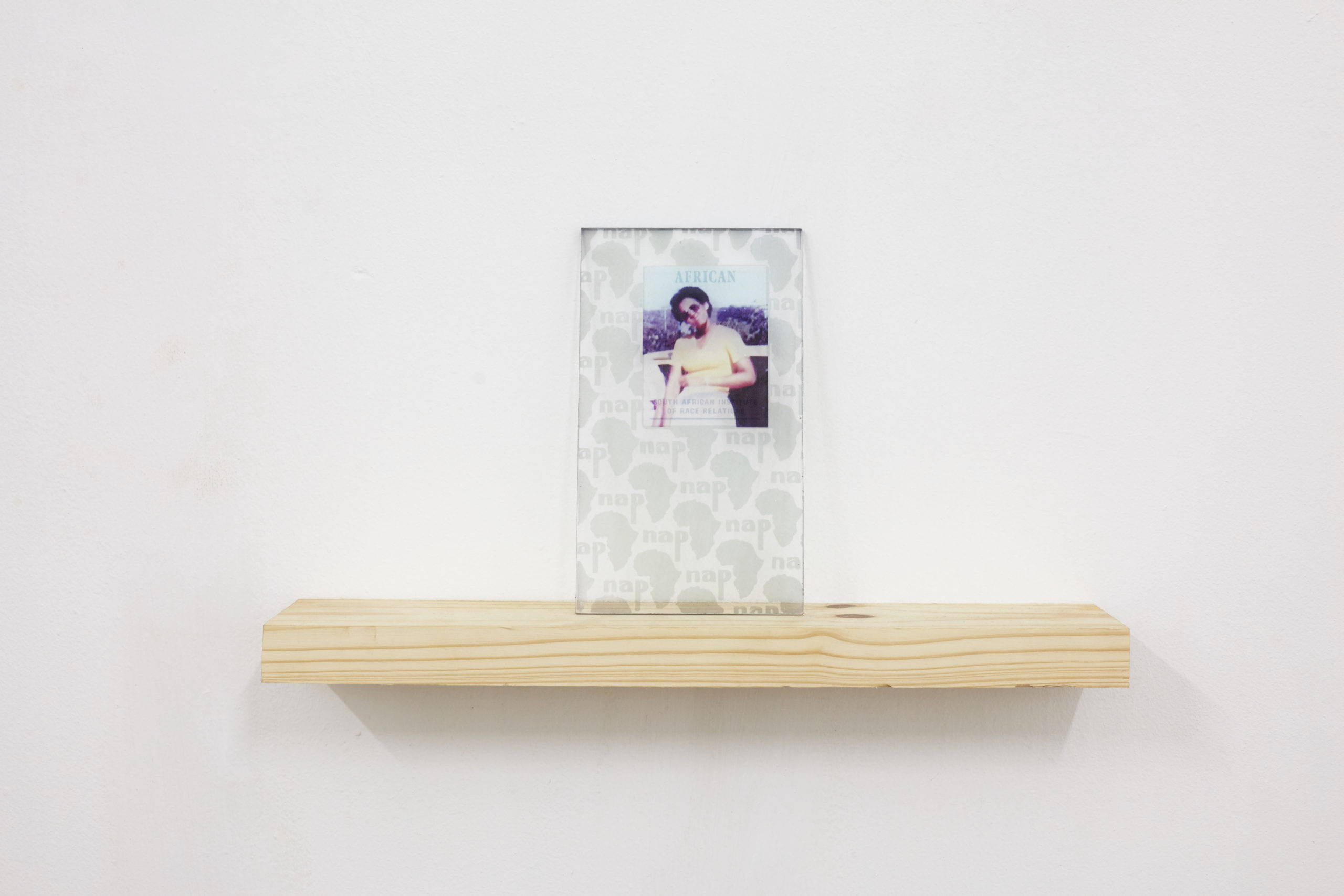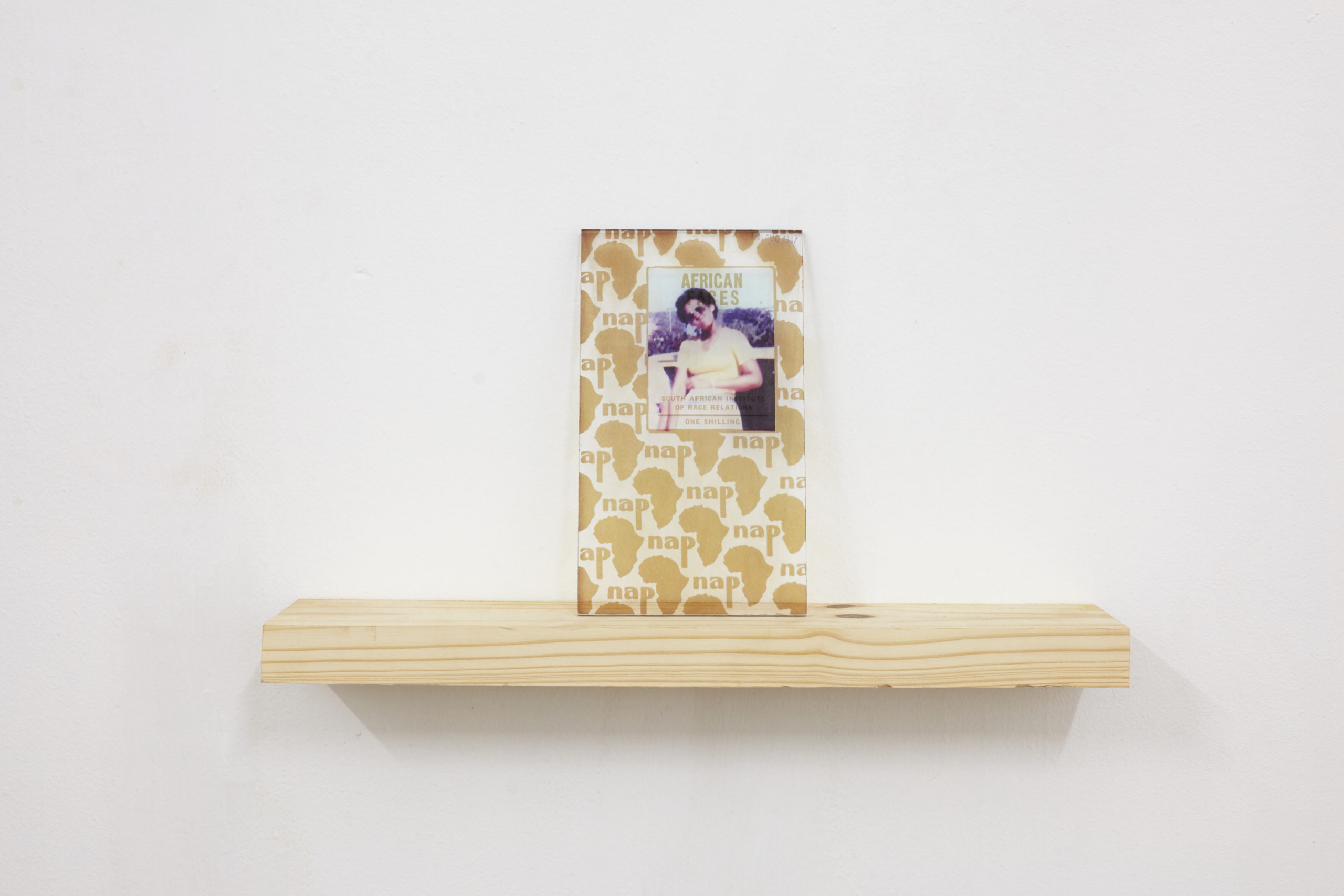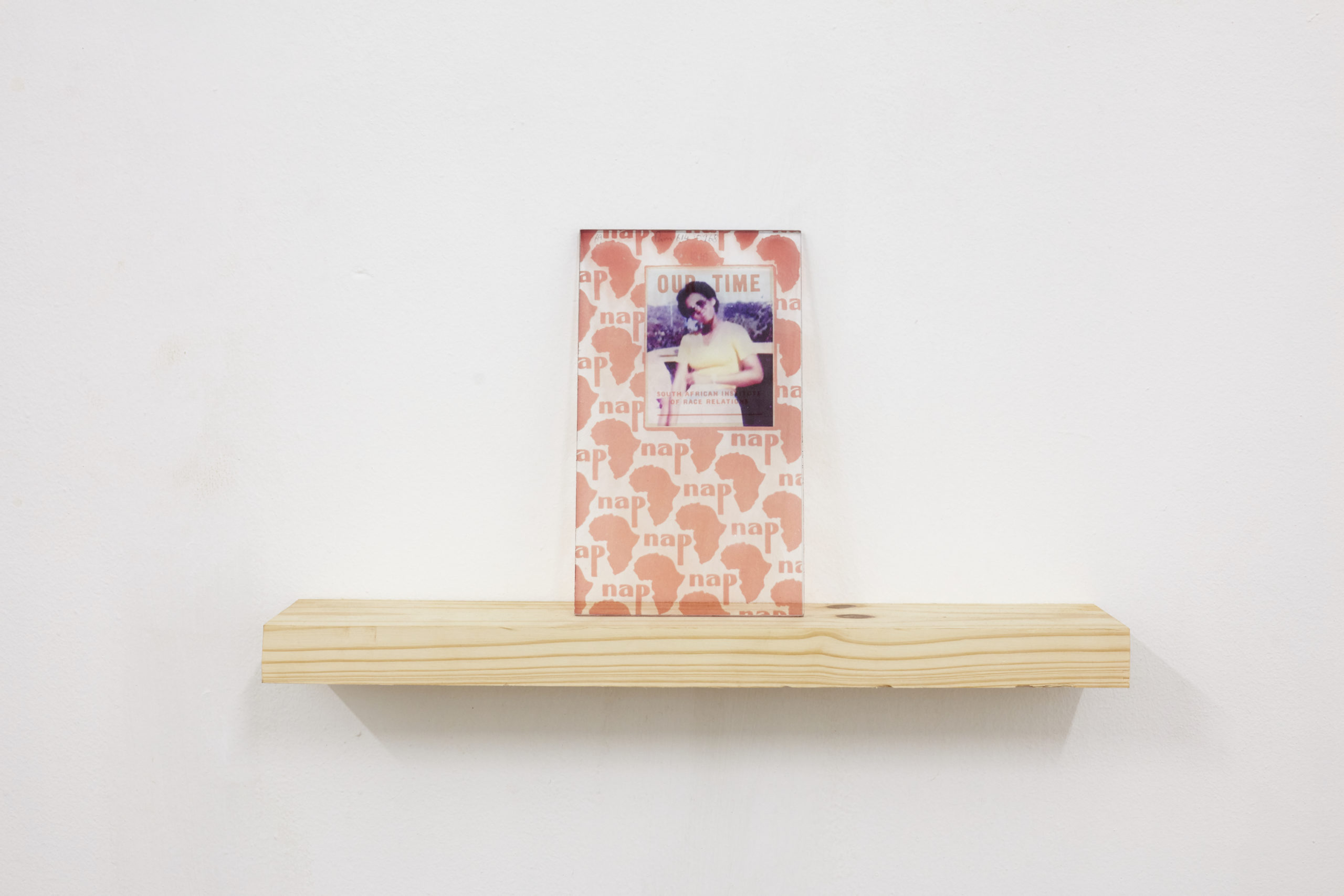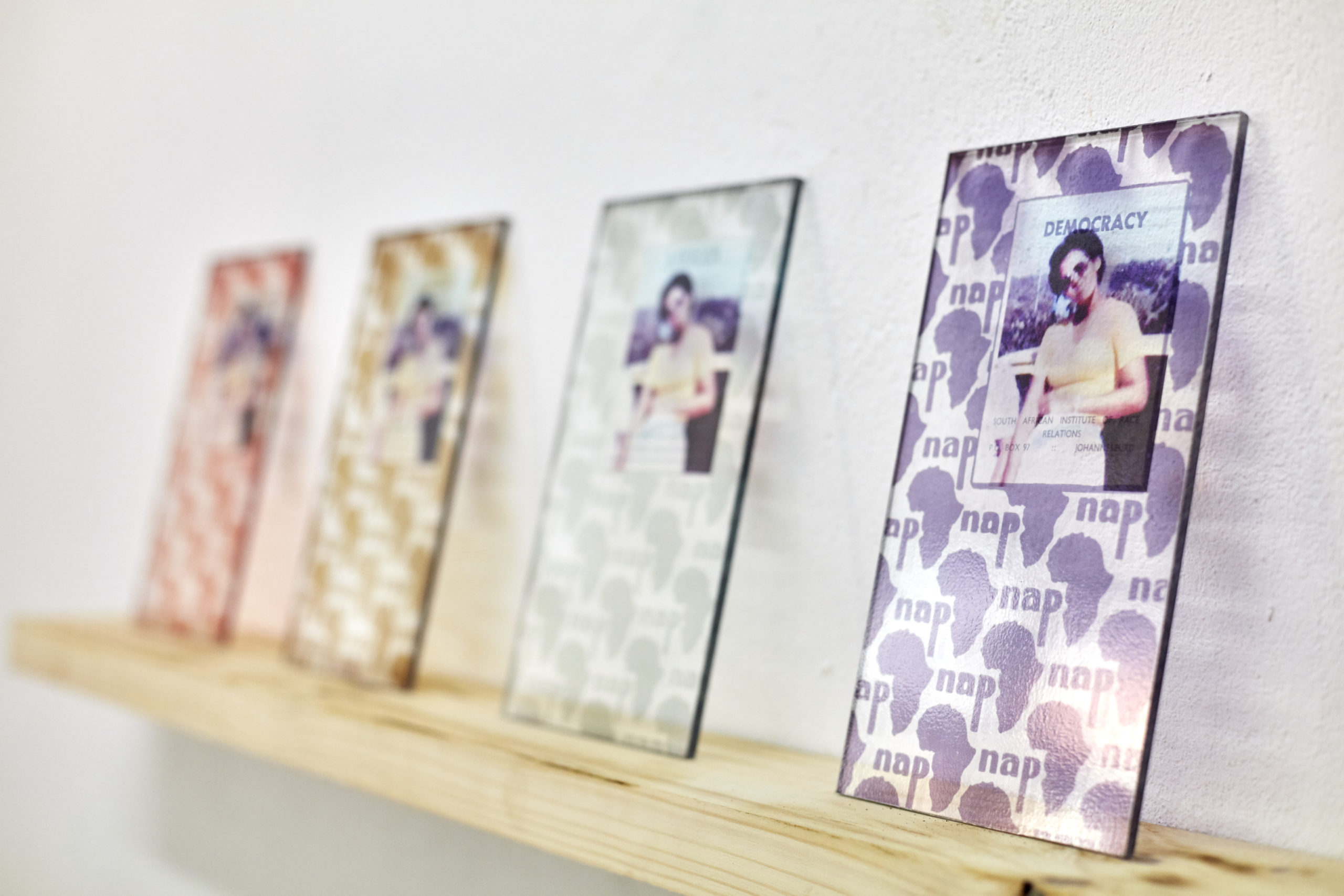 ---
Roberta RICH, Our Time, African Faces, African Unionism and Democracy 2018, digital prints on acrylics with fabricated pine shelf, all have edition 1/1 + AP. Each acrylic measures 14cm x 23 cm on pine shelf. Courtesy of the artist. Photo by Zelé Angelides.
A cupboard of broken light fittings and print paraphernalia stands dormant in Johannesburg city centre. Piles of framed publication covers dating from 1944 - 96, of loaded titles of texts, pamphlets and lectures about southern Africa, ranging from 'Civil Rights and Present Wrongs' to 'Vanishing Lands and Migrant Labour,' published by the South African Institute of Race Relations, is found.
'Our Time, African Faces, African Unionism and Democracy' responds to authorship politics of the found archive through a process of exploring presence and absence of Brown and Black voices. Referencing museological displays and Apartheid histories, the 'New Africa Pamphlet' now posits appropriated text, interlaced with photographs of the artists mother, as an attempt towards 'anarchiving' via self-determination, with the hope to reclaim and reimagine Black and Brown histories and identity.
Roberta Rich is a multi-disciplinary artist, responding to constructions of identity; often referencing her southern African diaspora identity and experiences. Rich has exhibited projects at Blak Dot Gallery, Melbourne (2017), Wits Art Museum, Johannesburg (2017), Arts House, Melbourne (2018), Gallery MOMO Cape Town, (2018), FELTspace, Adelaide (2018), Firstdraft Sydney (2019) and Metro Arts, Brisbane (2019).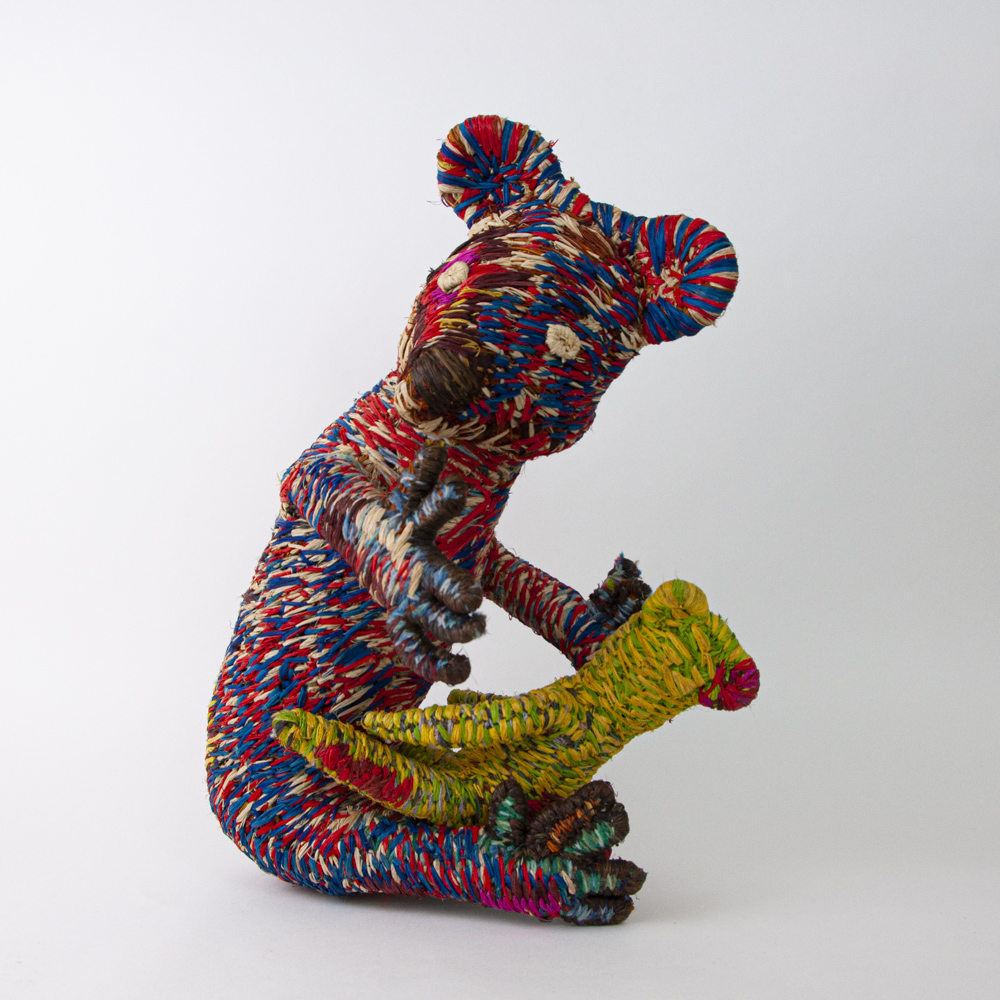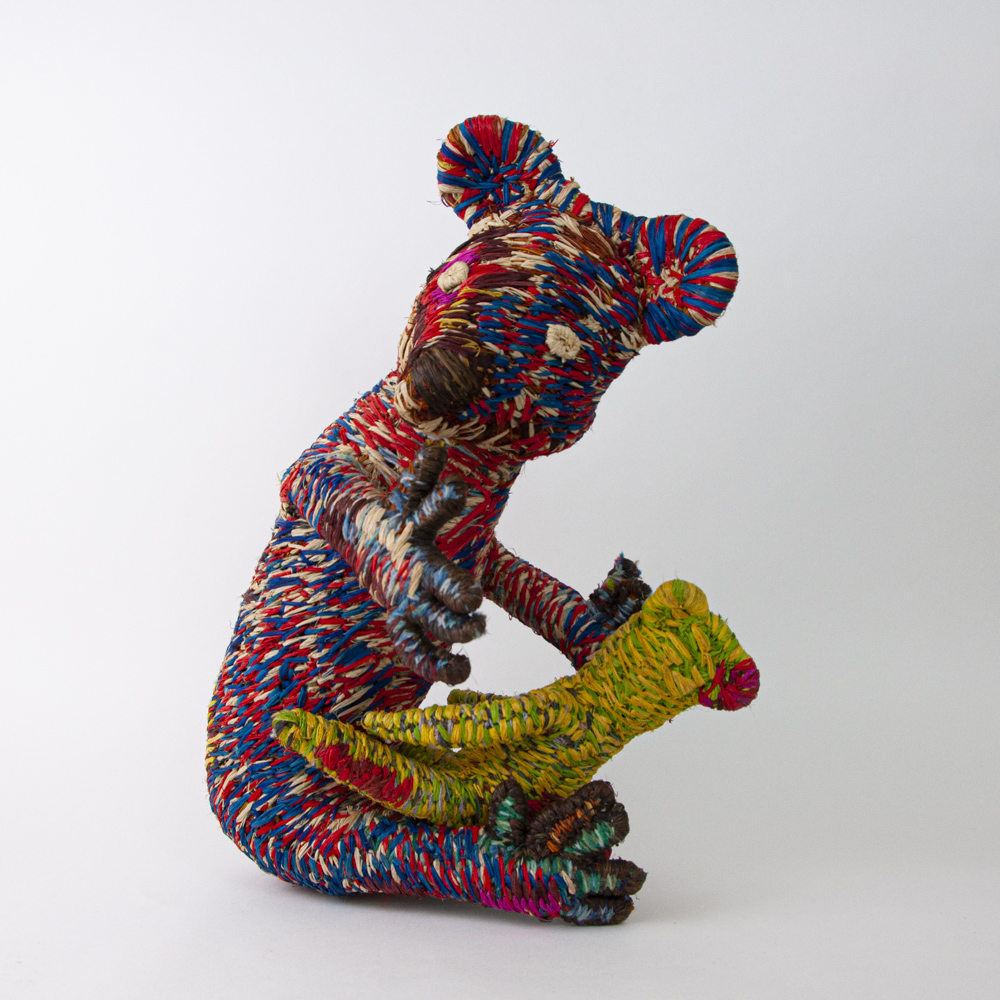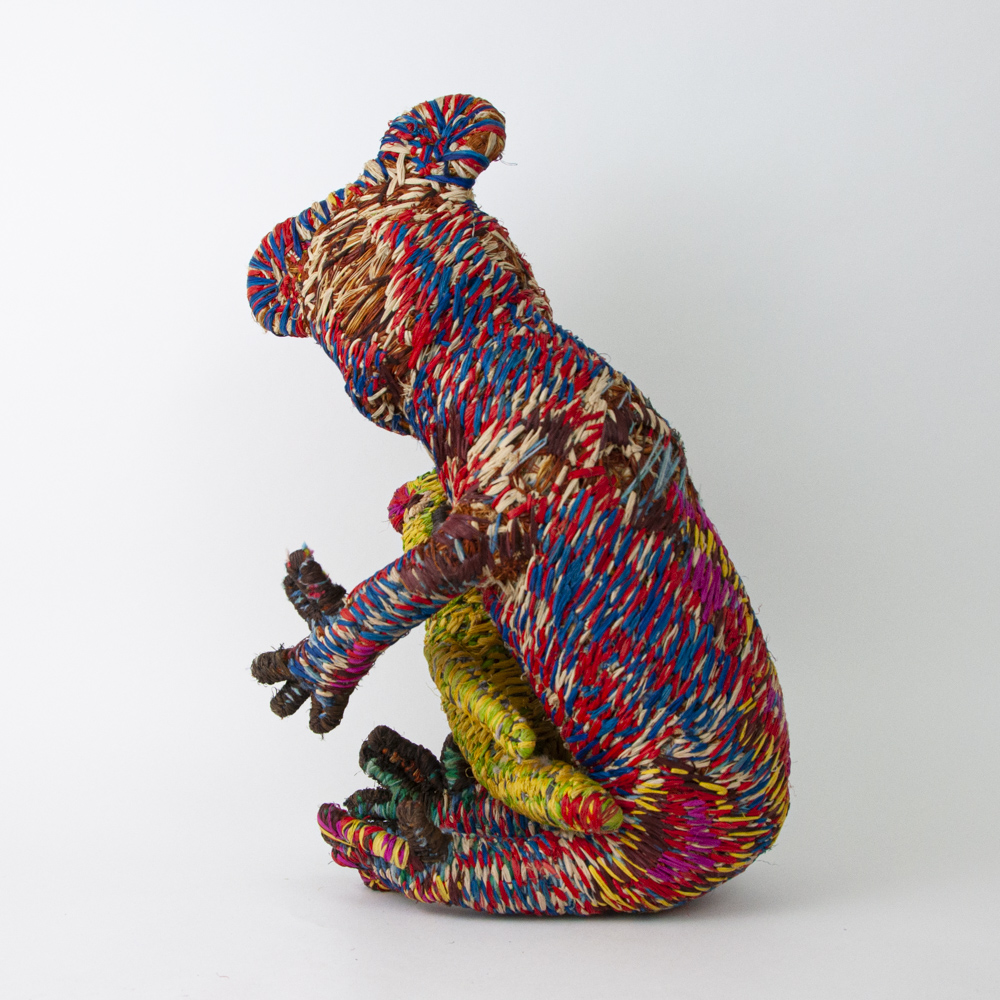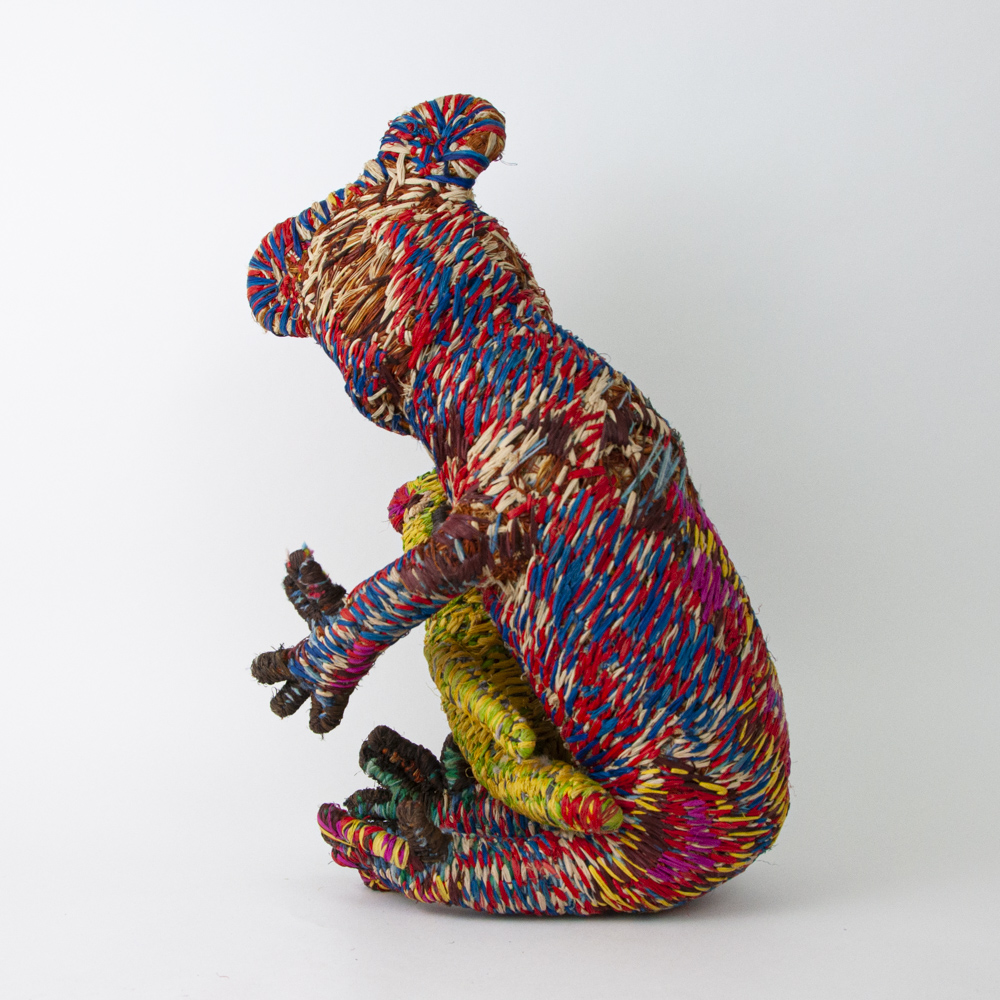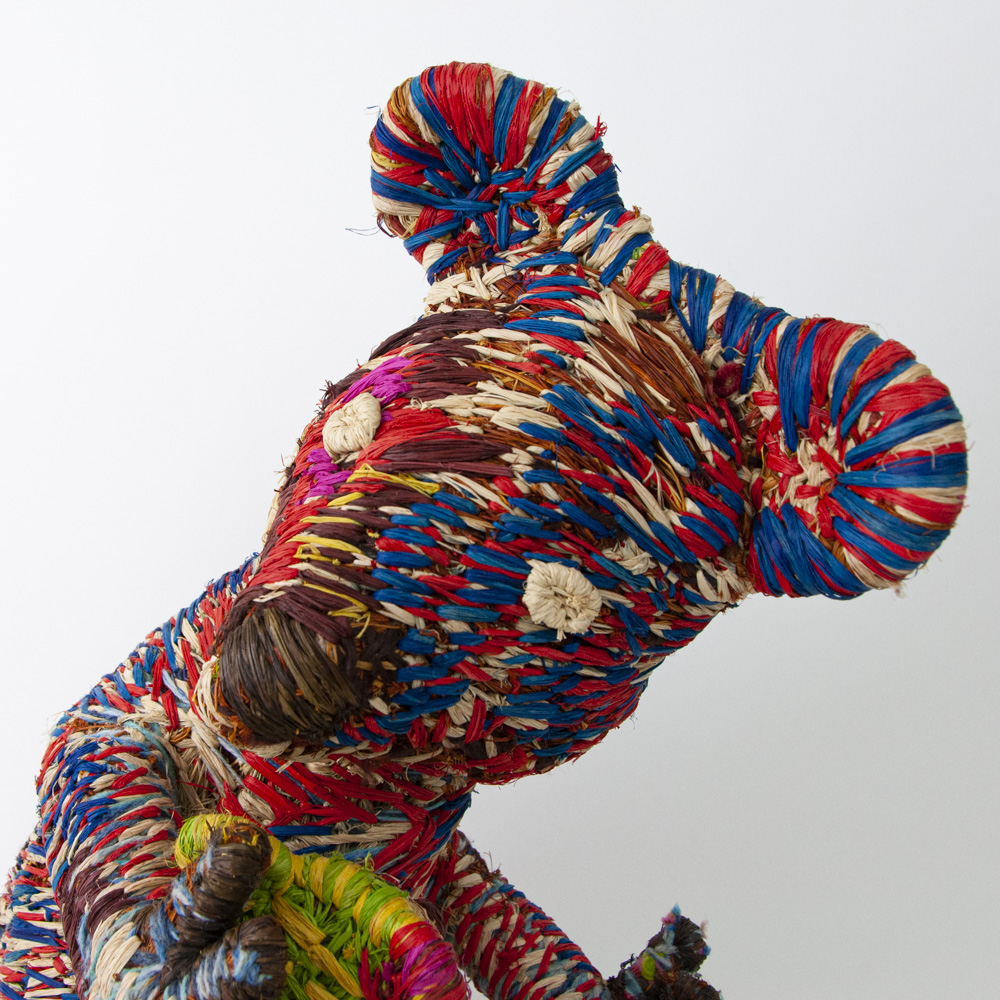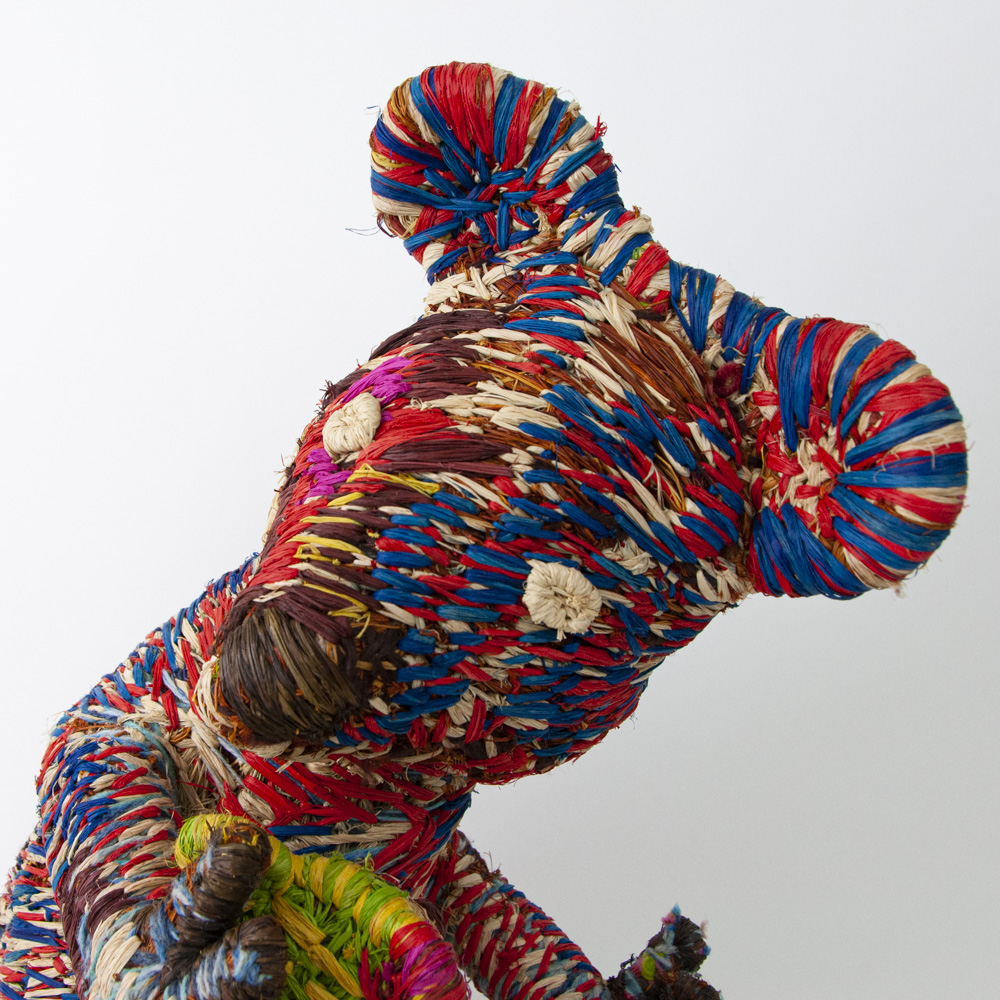 ---
Sally FOSTER (Tjanpi Desert Weavers), Caring for Country, Caring for Climate 2020, fibre Art Sculpture, 56 x 35 x 18 cm. Courtesy of the artist and Tjanpi Desert Weavers.
Yarnangu (Ngaanyatjarra people) are worried about the damage being caused to Country by climate change. We need to look after the land and the animals if we want to stay strong, keep culture alive and for our children.
Sally Foster's work is an examination of her people's concern about climate change. It shows a mother koala with her joey with burnt patches over their bodies. Foster made this work after she saw the koalas being burnt in bush fires over summer. As Foster says, "We know these fires are being caused by not looking after the land." She stitched both the koalas in Australia's national colours to show that it is a responsibility of all Australians to look after the land and stop climate change.
"I'm from a small community a long way from the big cities. Tjanpi is how I can tell this important story, and speak to people all over Australia."
Sally Foster is an artist belonging to the Ngaanyatjarra language and cultural group and lives in the remote community of Irrunytju (Wingellina), Western Australia.
Sally is the daughter of Kunmanara Foster, a previous Director of NPY Women's Council, important senior law-woman and much loved Tjanpi artst. Sally's mother began teaching her to make Tjanpi in 2012, however it was not until 2018 that she began creating more regularly.
Tjanpi Desert Weavers (Tjanpi meaning 'wild grass') is an award-winning, Indigenous governed and directed social enterprise of the Ngaanyatjarra, Pitjantjatjara and Yankunytjatjara Women's Council (NPYWC).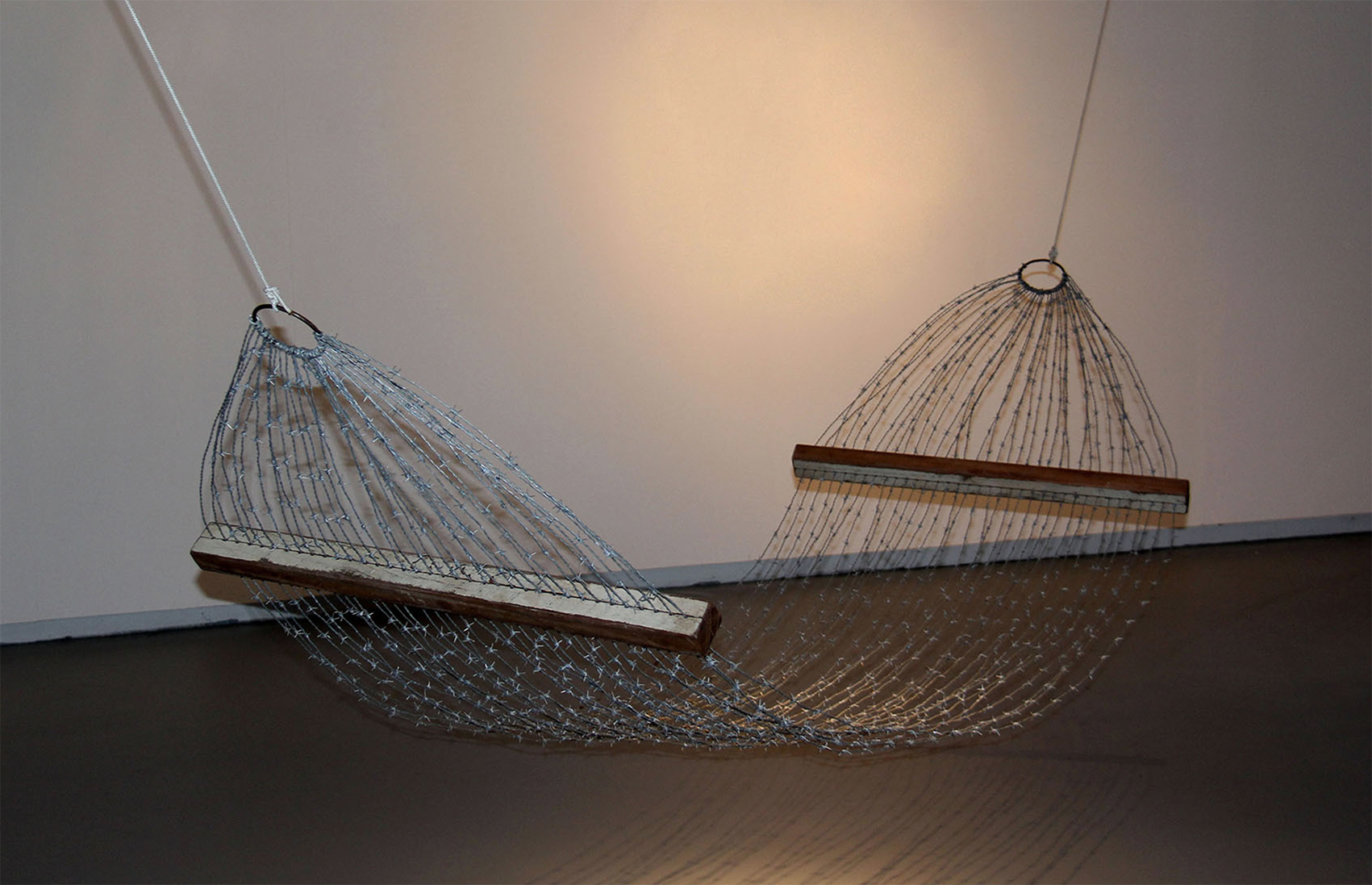 ---
Sha SARWARI, Forced Leisure 2015, barbwire, Australian hard wood, steel and nylon rope, 300 x 65cm.
In 2014, Sha Sawari worked as an interpreter for a detention centre on Manus Island. Forced Leisure is a direct response to his time spent on the Island surrounded by the Indian Ocean. During this time, Sawari felt it was like a "sick joke" to situate people seeking asylum in a rundown and crowded space surrounded by a paradise-like place.
This work speaks of the Australian Government's shameless demonstration and abuse of power and resources that affects thousands of refugees annually. Locked up in both offshore and onshore detentions around Australia, refugees' lives are spent in limbo, not knowing when will they experience freedom.
Sha Sarwari is a multidisciplinary visual artist born in Afghanistan and living in Australia since the year 2000. His work is percolation of material investigation and form, within his work, he embeds multiple layers with the intent to create a visually poetic encounter. His work speaks of a place that exists between two worlds, longing and belonging, with a pointed reference to the political discourse around migration, identity, place, memory, nationhood and personal lived experience.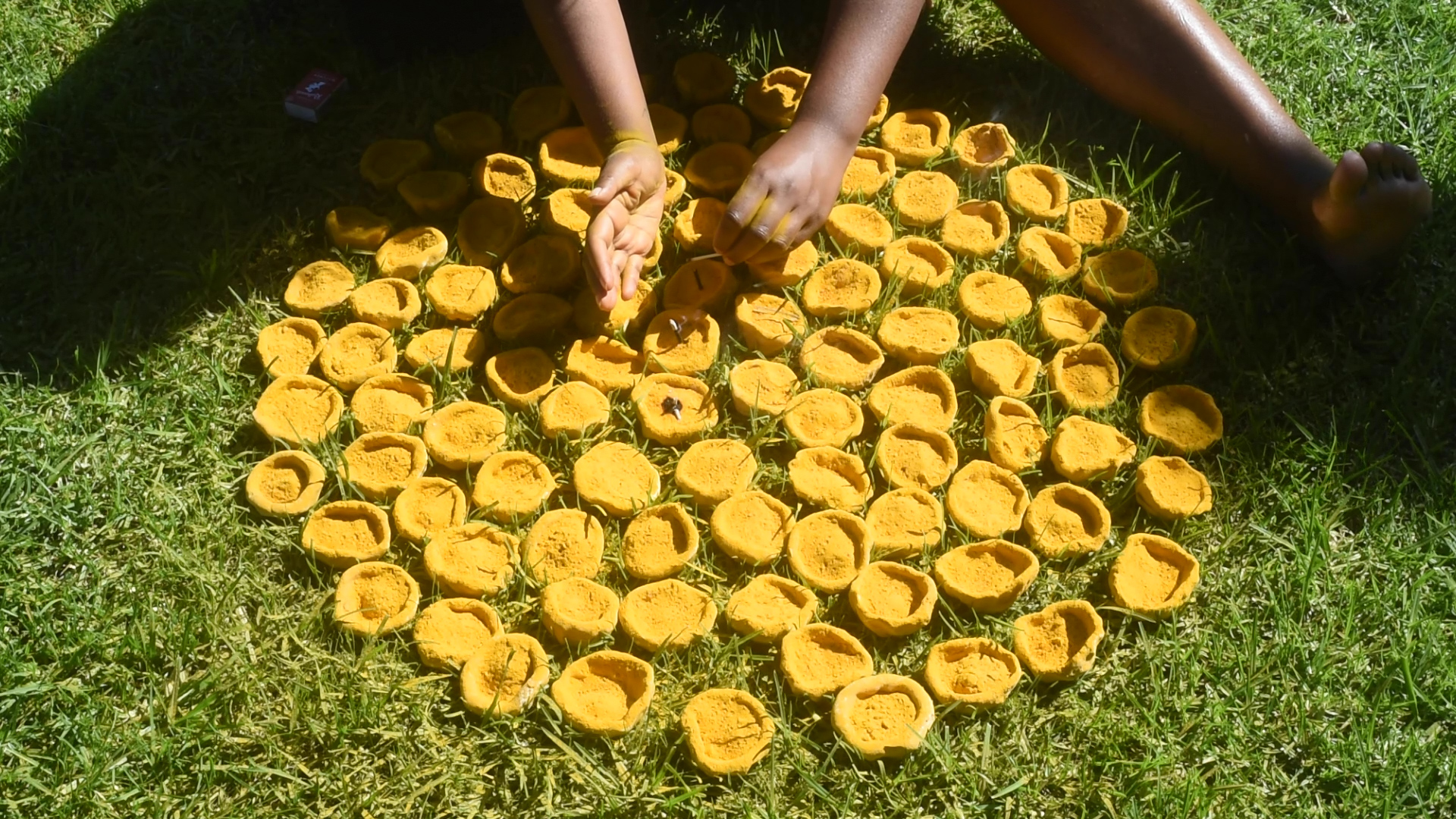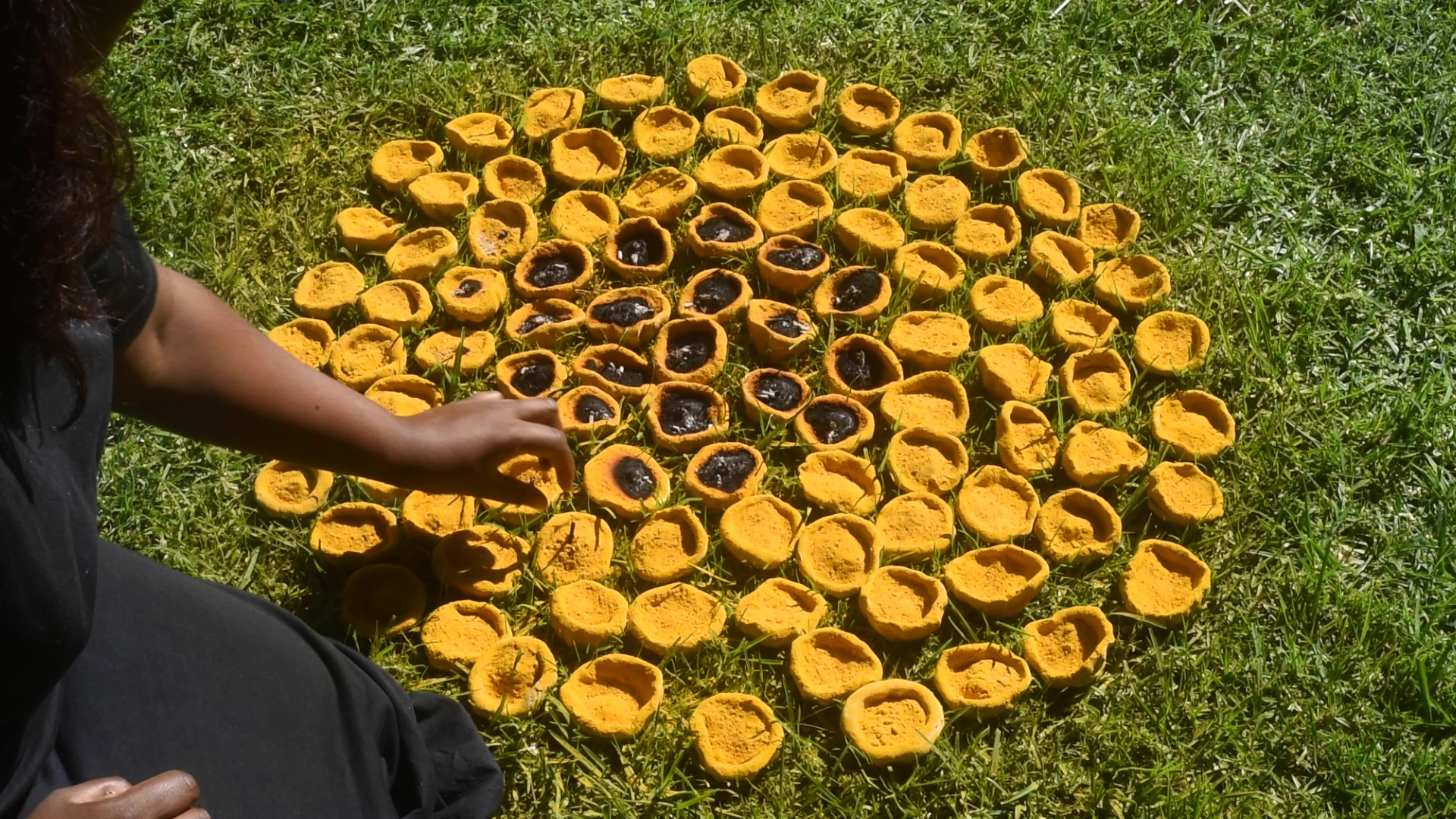 ---
Shivanjani LAL, Baaro 2020, video with sound, and performance. Courtesy of the artist.
In 'Baaro', a durational performance, Shivanjani Lal sets light to 100 small handmade turmeric bowls at her family home in western Sydney. Burning haldi (turmeric) is a healing ritual passed down by Indian women. Burning is used in hawan's as an act of cleansing and renewal. Burning is how sugar is formed. The artwork reflects on the movement of the Indian community in Fiji, who were brought to the Pacific Islands as indentured labour to work on the sugar plantations. The artwork reflects on the complexity of these relationships to place, history and journeys made by the artist and her community.
Shivanjani Lal is a twice removed Indo Fijian Artist living on unceded Darug land. She is tied to a long history of familial movement; her work uses personal grief to account for ancestral loss and trauma.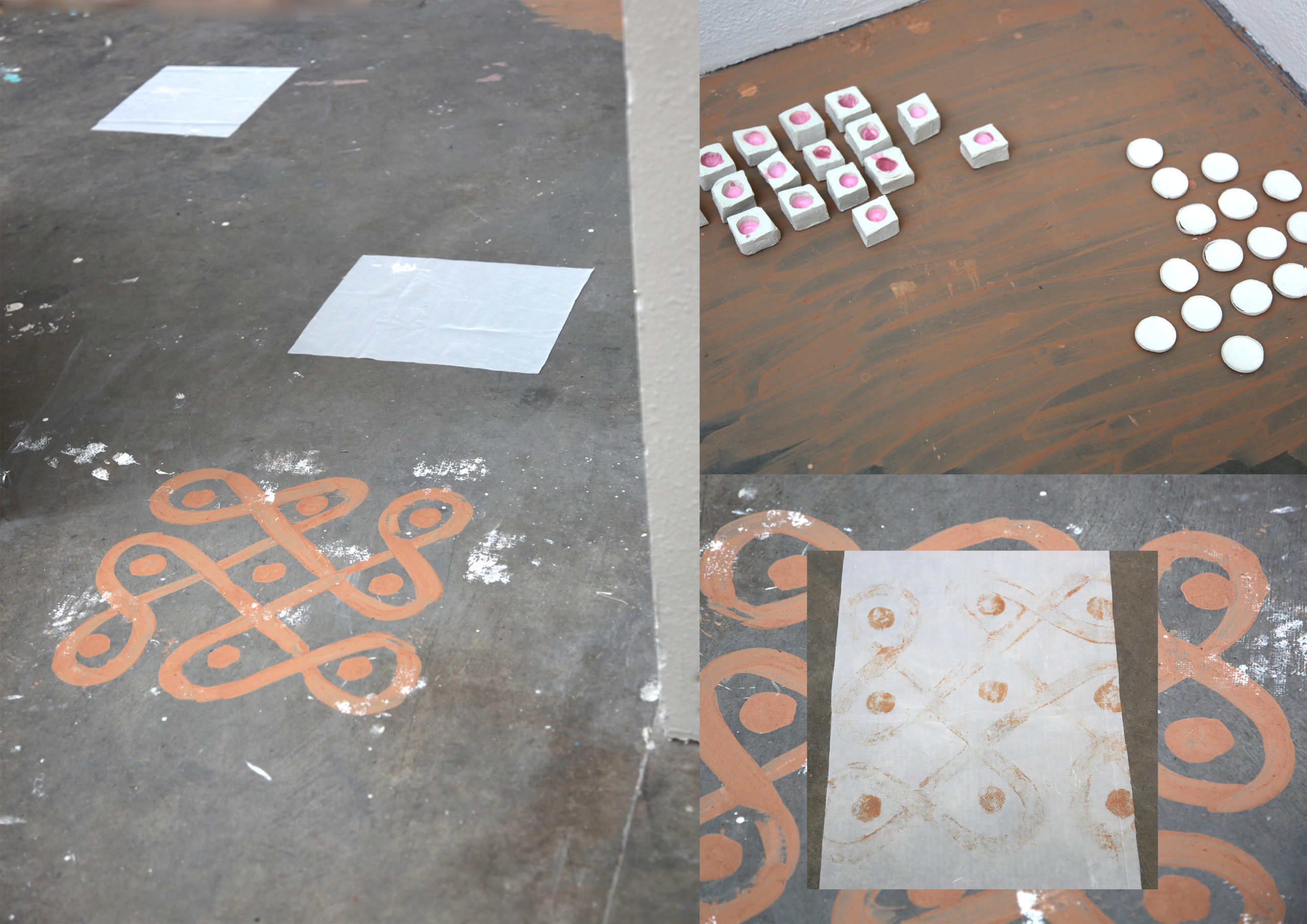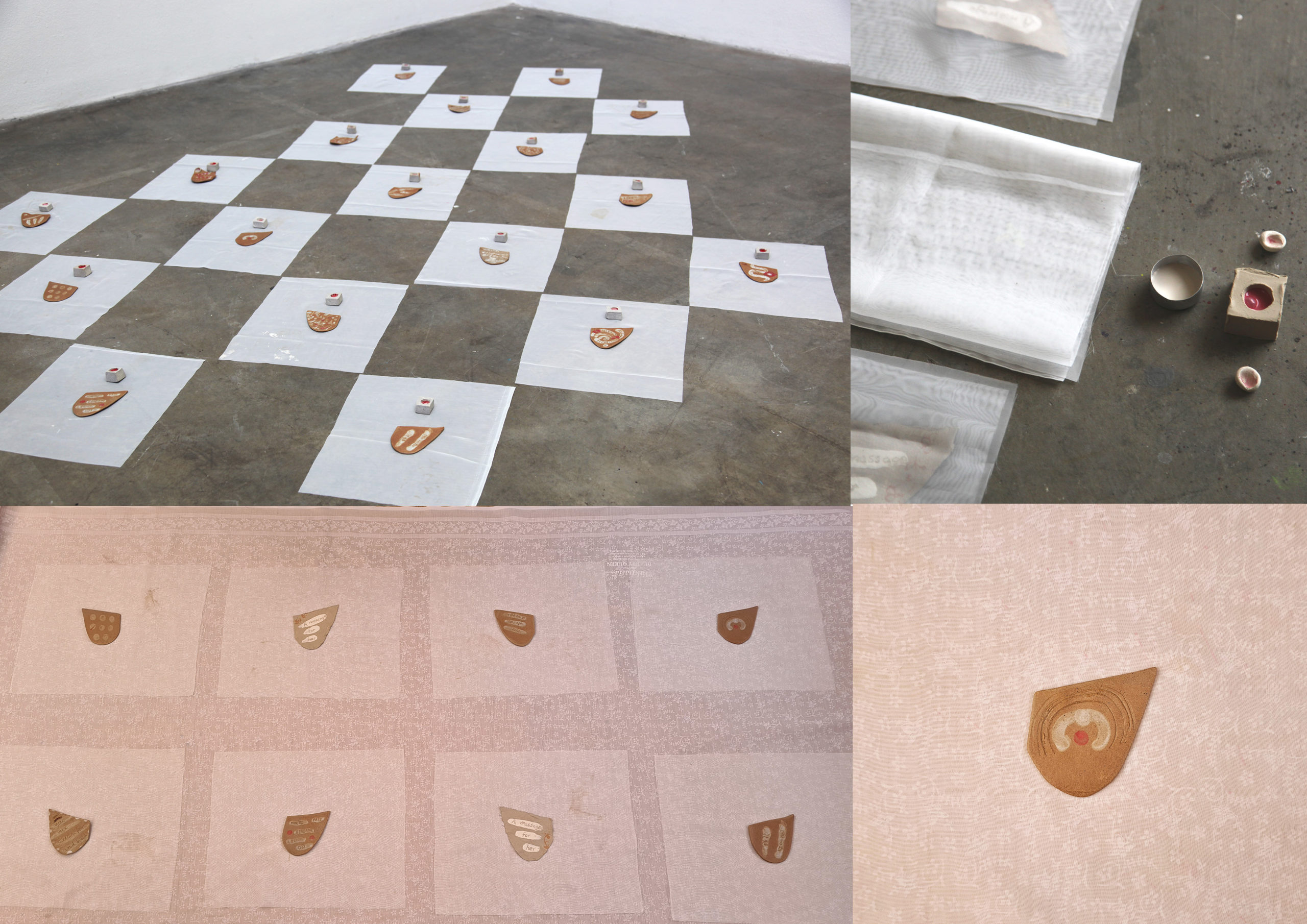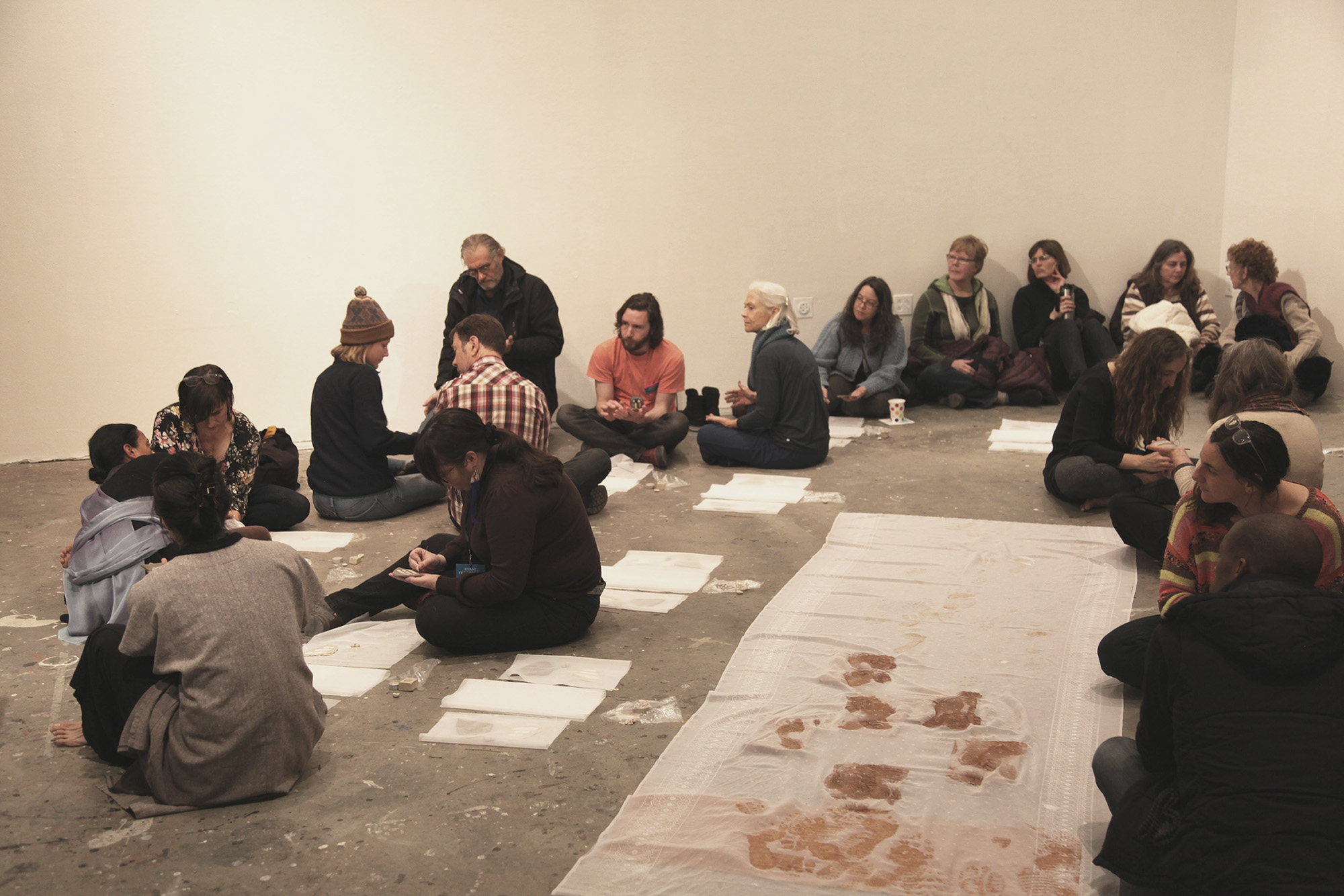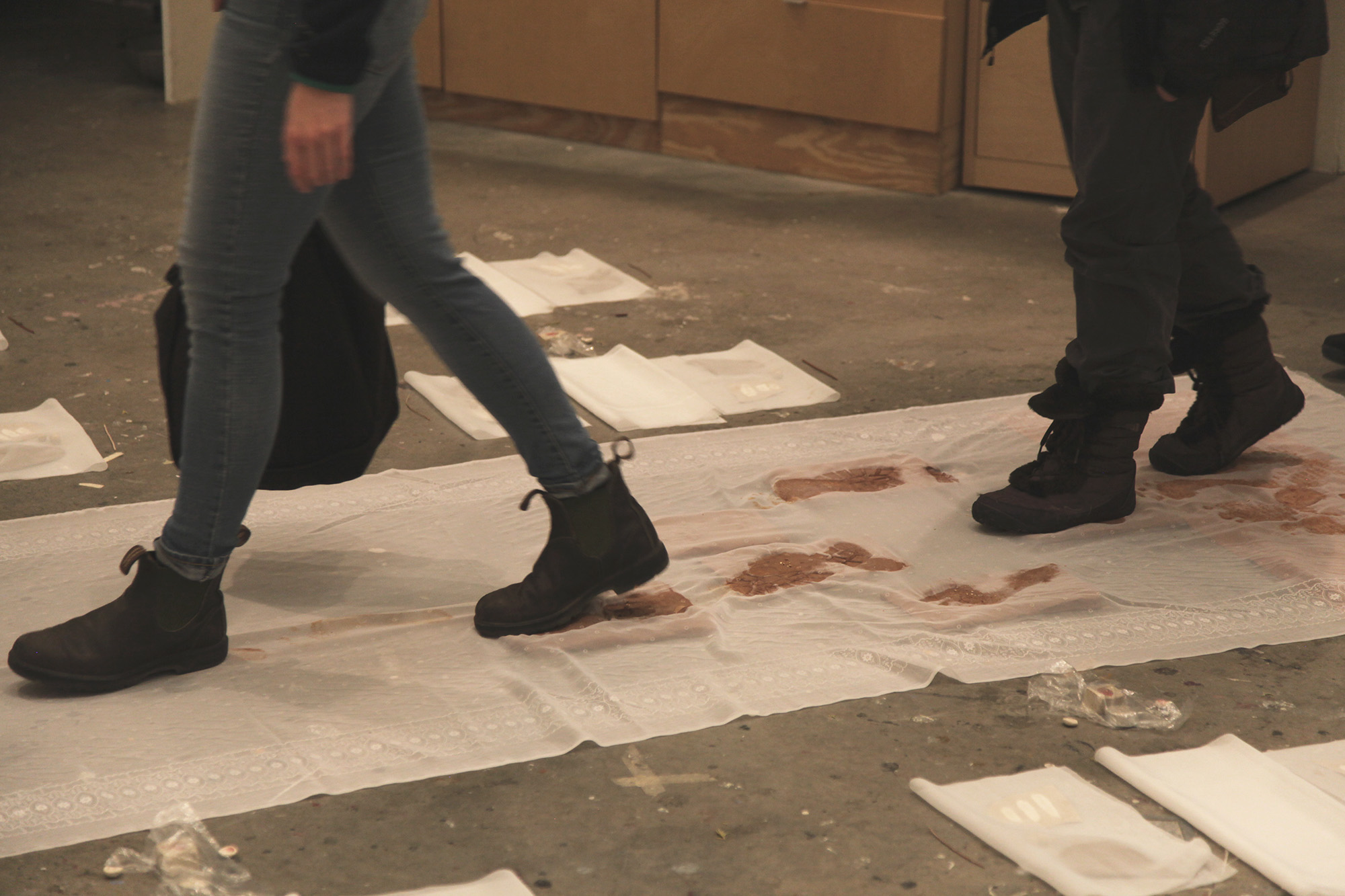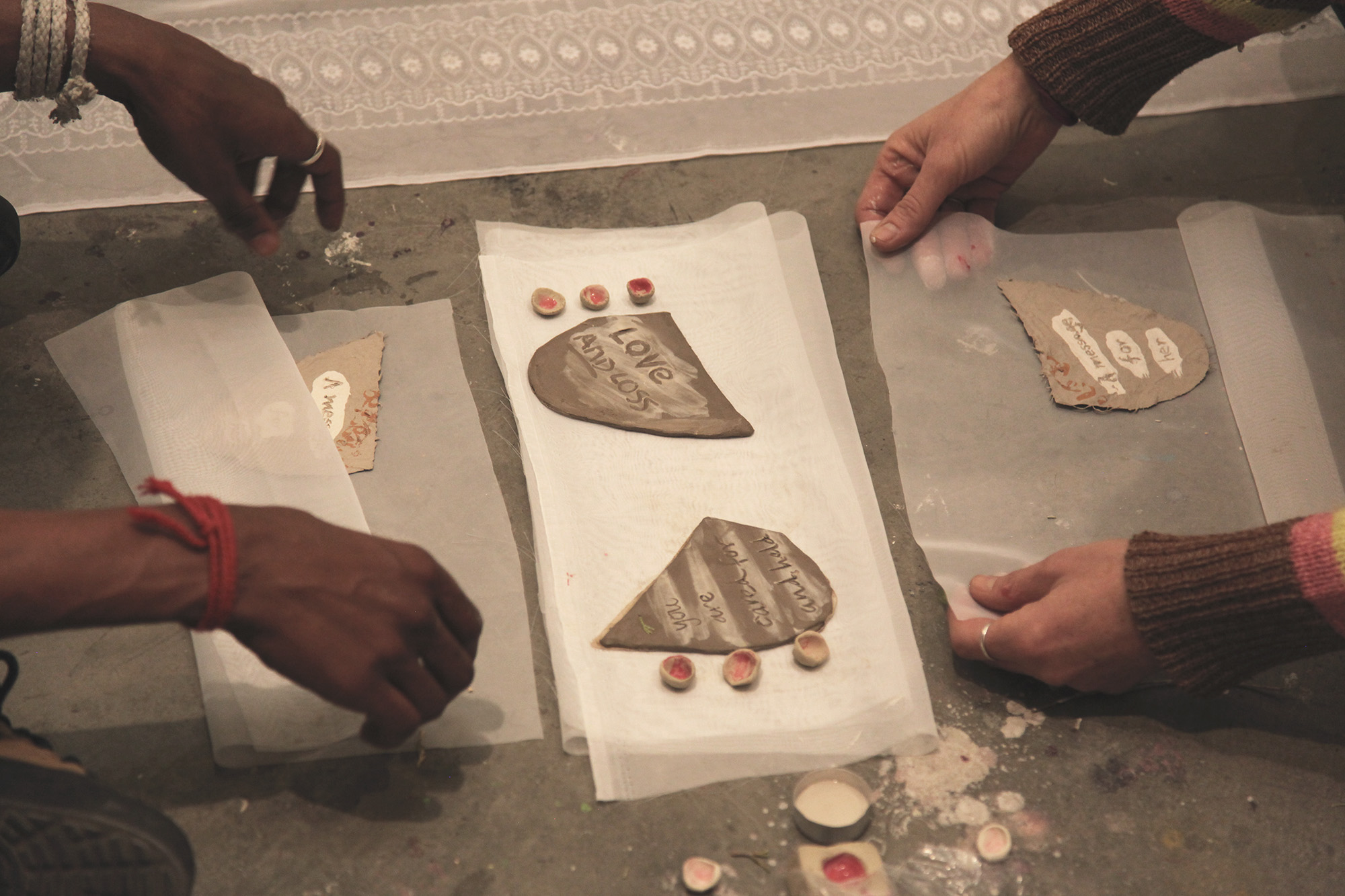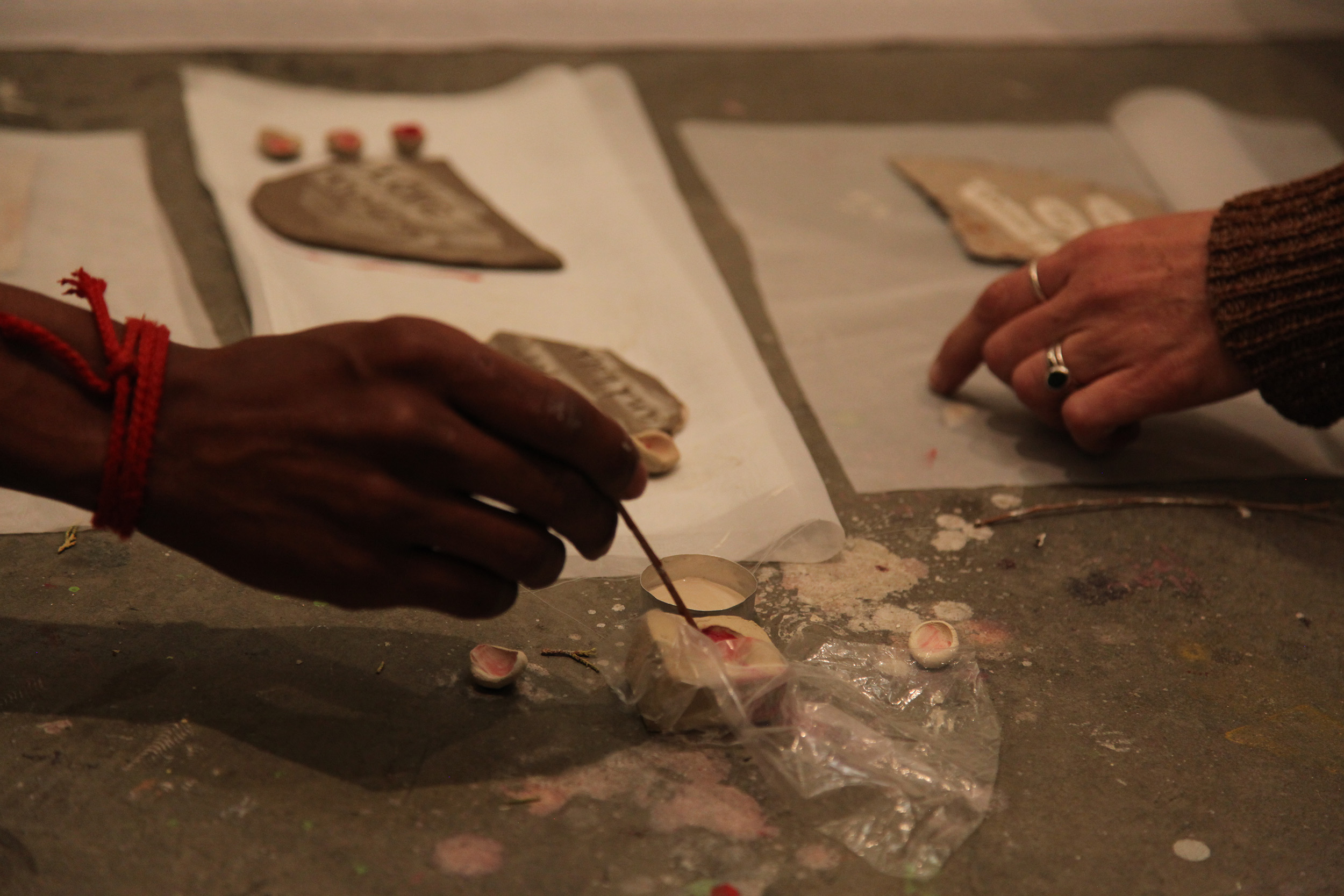 ---
Varuni KANAGASUNDARAM, Palm Reading: path for one lies in the hands of all 2019, ceramic, clay, textile, installation 270 x 180 cm. Courtesy of the artist.
In 'Palm Reading: path for one lies in the hands of all', different traditions connect through the universal language of humanity, which has no boundaries of a singular tradition.
An installation is created from the participatory experience 'A Message for Her' – a guided ritual for community performed during a residency exploring social change. It addressed women mourning the loss of men to the civil war in Sri Lanka. Participants sat in pairs on the floor with a white sari in the middle that signified 'her' mourning. They expressed and recorded messages using natural materials on palm-shaped clay pieces. These 'palm readings' provide a healing, leaving traces on the white sari as a lasting memory and acknowledgement of loss experienced by community.
Varuni Kanagasundaram's creative practice incorporates ceramics and textiles alongside performance and community participation. Her work investigates cultural rituals of women, drawn as an expression from migrants of South Asia. In her practice, acknowledgement of loss, transience, memory and healing are explored through the translation of rituals. Through these rituals, Kanagasundaram seeks a universal language to speak across traditions.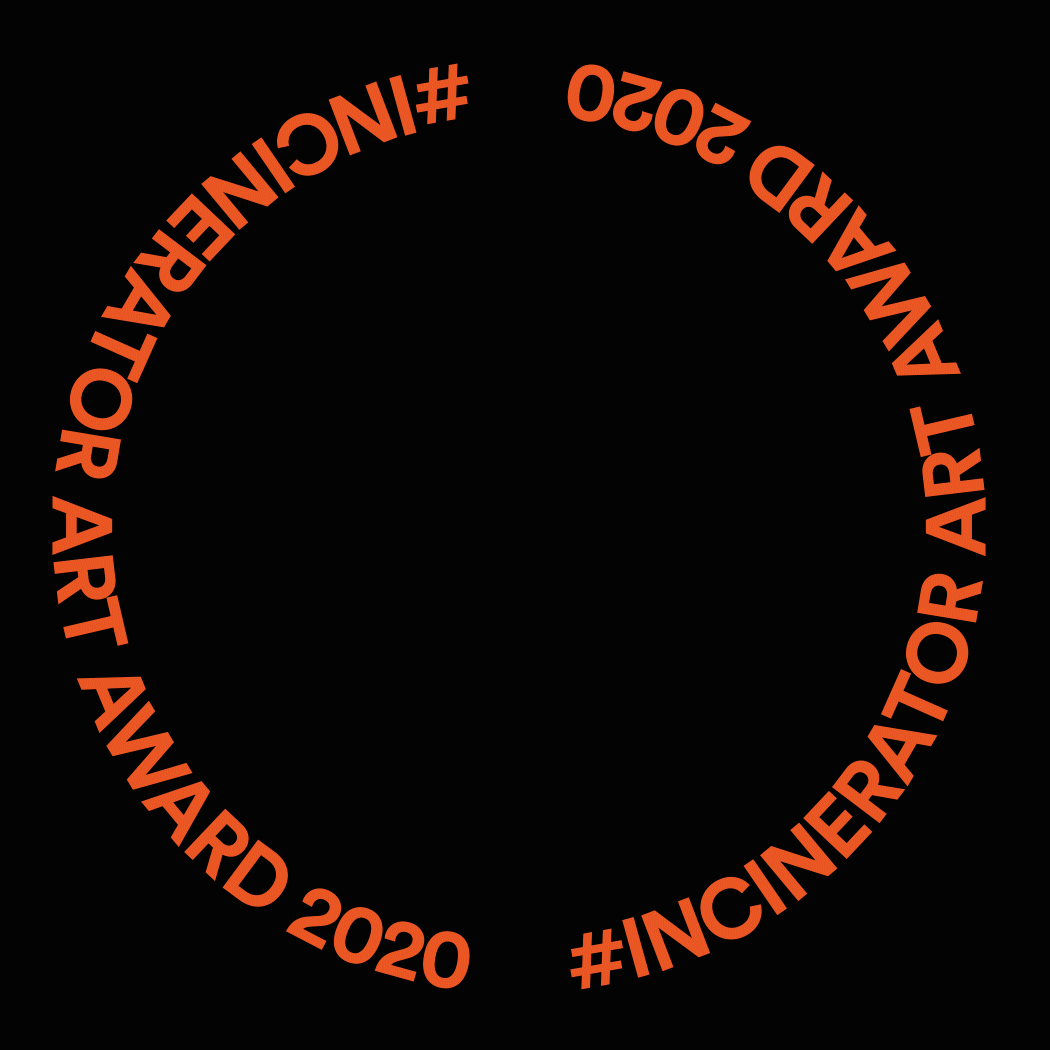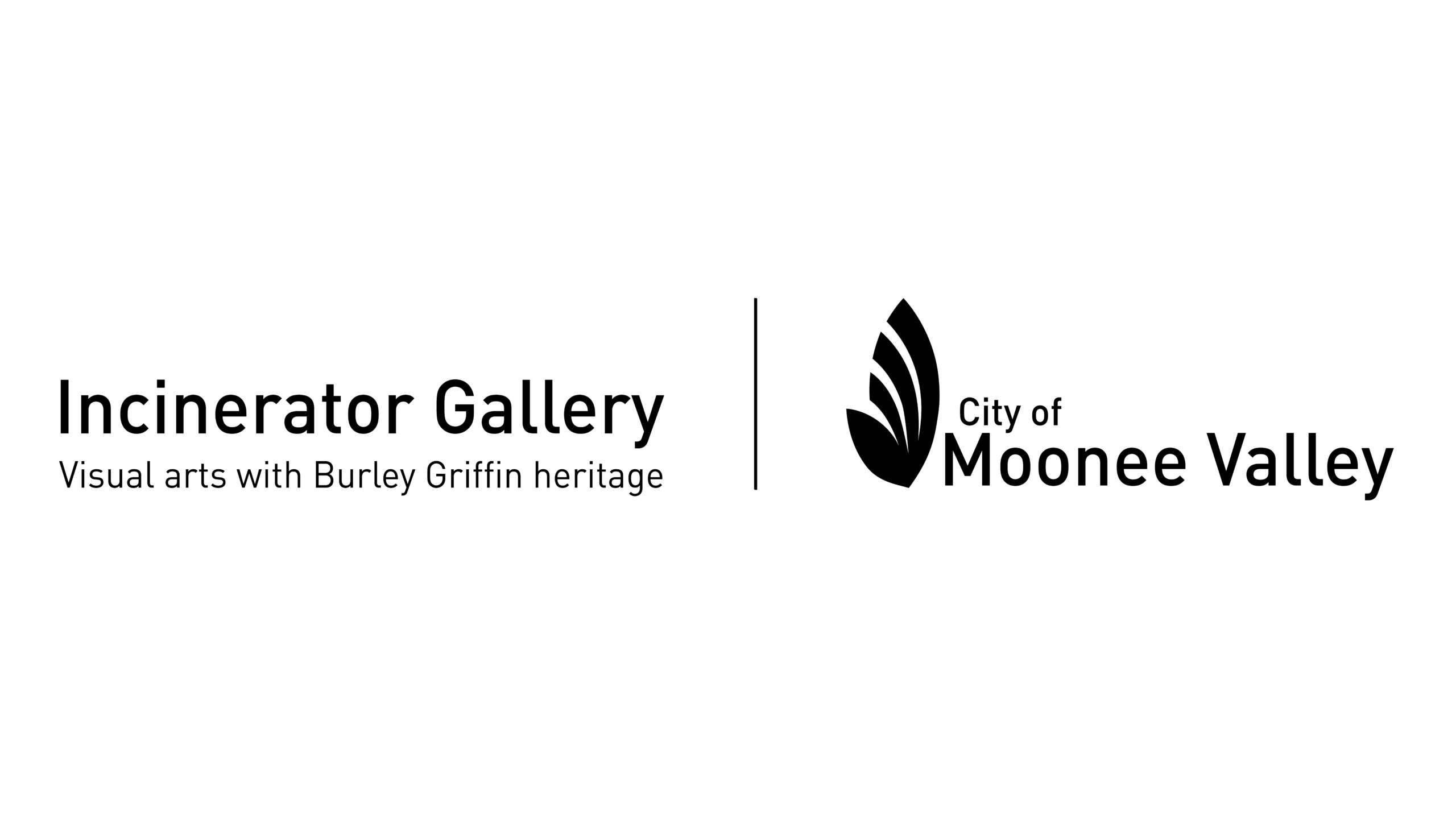 Incinerator Gallery and Moonee Valley City Council respectfully acknowledges the Traditional Custodians of the land on which Moonee Valley is located – the Wurundjeri woi-wurrung People of the Kulin Nation; and we pay respect to their Spirits, Ancestors, Elders and their Community Members past and present. Council also extends this respect to other Aboriginal and Torres Strait Islander Peoples who call Moonee Valley home.